Weddings have a lot going on for the bride and groom. You're under constant pressure to not forget a single detail or to make sure that everything turns out perfectly. One thing people never seem to mention is getting the right gift for parents at weddings. They've been with you since the beginning. Your parents have been supporting you throughout this whole process and now it's time to say "thank you." A personalized wedding gift idea that they can use is a great way to tell them "thank you for all your help!" The gift for you parents needs to show all just how thankful you are for all the help they've given you with your wedding!
Pour One Out for Your Parents Wedding Gift
Wine. It's one of the best ways to celebrate at a wedding, and it is also a great way to show appreciation to your parents for helping. They'll love getting a gift that allows them to relax now that their son or daughter has gone through the biggest and most important day of their lives! As a gift for the parents at your wedding, they will love this decanter set because each time they drink from it they'll remember how great they felt seeing you walk down the aisle!
Signs of a Good Gift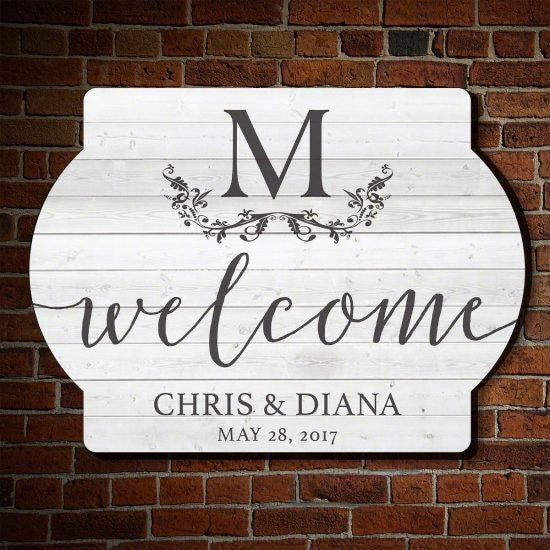 Gifts for parents at your wedding can be something as fun and bold as their own sign! They'll love the personalized features of their names and the date of their wedding on this new stunning piece of home decor! It is the perfect gift for parents because it will remind them of their wedding and the great years they have spent together. To thank your parents at your wedding, get them a gift to thank them but also makes them remember how great their wedding was too!
When Whiskey Lovers Unite!
A full decanter set with its own bar tray is one of the nicest ways to show your parents how thankful you are for all of their help and support. After the wedding is over, a relaxing drink between them, yourself, and your partner will be a great way to have all four of you finally catch your breath. They'll love the aesthetics of the presentation set and even when they're not drinking from it you can guarantee they'll keep this set of wedding gifts for parents out on display as a centerpiece for their house.
Cut Out the Same Old Gifts
For your parents' wedding gift, you should help create some more great memories. They've had your wedding, but keep the good times going with a little fun in the kitchen. Everyone knows great food makes great memories, so get them cooking with their own personalized cutting board. A cutting board makes a great gift for your parents because it is something you know they'll use almost every day! Practical gifts for parents are always one of the best gifts you can give!
The Perfect Wine Set
Wine is one of the best ways to unwind from a stressful even like a wedding. No matter how smoothly it goes, you can't deny that everyone involved wasn't at least a little stressed. Help your parents relax with a wine set that covers everything they could ever want! Pair this gift set with a great bottle of wine and watch the stress just roll off of them! You'll also know that they get to use this personalized wine set for all of their needs for years to come!
143+ WINE GLASSES YOUR PARENTS WILL LOVE
A Picture-Perfect Gift
Gifts for parents at your wedding can be as simple as a perfectly framed photo of you and your SO at the altar or from a great moment in the reception. Capture a moment that will be special for the rest of your parents lives so they can see it every day. But you don't want to put this memory in some normal frame. No, make sure you get a high-quality picture frame that is just as sleek and stylish as you and your SO were on the day of your wedding!
Awesome Engraved Wine Glass Set
Nothing is a better celebratory drink than wine! For your parents, get them a wine set they'll be proud of. They'll love the display box that their new engraved glasses come in! This set is perfect for your parents. They have enough glasses for themselves and when they have company over, they are sure to have glasses for their guests too! They may even use them around the time of your first anniversary when you go to their place to celebrate!
Personalized Sign for Your Parents
Get a sign to commemorate the love your parents have for each other! This sign is perfect for a wall in their house or to rest above their mantle! Without them, you know this wedding would have been much harder to pull off. Celebrate the people who were there to support you during your wedding day and the whole process of planning before it. They'll love a sign that shows just how much they love each other after the years they have spent together!
Great Gifts Come in Great Packaging
Gifts for parents at weddings can sometimes not hit the mark, but if they love whiskey, they're going to love this set! The personalized display box will be a fantastic centerpiece in any living room. However, don't let the box take away from all the other great pieces. They will love their customized glasses for their favorite whiskey. Lastly, they'll be able to keep their whiskey as chill as they were when they helped you out at the wedding with their own set of whiskey stones
Lights! Camera! Snacktion!
If your parents are huge movie fans, nothing will beat their own personalized movie sign! Give them the experience of the theater at home but without the sticky seats and crowds. They'll love seeing their names up in lights on the cinema sign. After weeks of planning and nights out with you and your SO, they'll be looking forward to a night in. Let them fill their drinks with their favorite beverage, grab their go-to candy, and enjoy watching movies at home!
A Spa Retreat
When people think of ways to relax one of the top methods that comes up is a spa day. A great parent wedding gift will be a couple's spa retreat that has been paid in full. They've been almost as stressed as you throughout this whole process and now your rewarding them with a day of bliss and relaxation. They've been there with you helping you stay calm under pressure but getting stressed themselves, so help them out a bit to unwind. Let them get all those knots, aches, and pains massaged out as a thank you for helping you achieve the best wedding you could've ever dreamed of!
Commemorate the Wedding
They've got pictures that seem to span the entirety of their relationship, but nothing yet for your marriage. For your parents' wedding gift, give them a shadow box as the perfect present! It'll hang on their way and each time they add something in the box, it will bring them back to your wedding day! This gift will always put a smile on their face because it reminds them of the happiest day of your life!
Have Them Chill Out with Class
A great idea for your parents wedding gift will help them enjoy their favorite drink even more. They love wine and you've got a cool new way to chill their go-to drink! A heavy personalized wine chiller will have all their new wines held steady while staying chilled to perfection. The solid marble creates a stable base so even at the busiest of dinner tables they can pass the plates without fear while providing nice cool wine. If your parents never have room in the refrigerator for their wine, try a wine chiller. Set the bottle in the marble 30 to 60 minutes before serving for the optimal wine temperature.
Whiskey Loving Wedding Set
This decanter set is ideal for the parents who like a unique twist in the way they drink their whiskey. Give them a decanter and glass set that is elegant as it is awesome. Your parents will love this as a gift for being there for you at your wedding. They know the twisted glass will look fantastic on their end table when it is filled with their favorite whiskey! This set is a great way to help them relax after helping you with planning and getting all the details just right.
301+ DECANTERS FOR MOM AND DAD
A High Energy Gift
Although they definitely needed the energy when they were helping you with the wedding, an espresso machine is the perfect gift for the parents who need a little pick me up throughout the day. Getting them their own machine is a great gift for your parents at the wedding. This machine is fantastic for your parents if they are always on the go or make many espressos a day. Everything is fully automatic, so all they have to do is load it up and they're good to go. Keep them just as energized now as they were when they helped you plan your wedding!
A Pretty Chill Gift
Make sure your parents stay chill with their very own cocktail glasses and ice bucket. This set is a great gesture from the bride and groom for their parents as a gift. Your parents will know you have gone the extra mile with this gift when they see you've had each piece of this set engraved for them. Nothing beats a gift that they can use right away, and your parents are sure to start making their favorite cocktails as a way to unwind after the wedding!
A Sign of Relaxation
You've been going over the details for months and trying to keep calm, but to be honest, you're pretty sure that your parents are even more stressed about the wedding than you are. To help them unwind, the perfect parent wedding gift is a set of wine glasses and a family sign to hang up in the house. Wine has always been a great way to celebrate things starting or ending, so mark the end of the wedding planning with a gift that lets some of the most important people in your life to sit back and relax after all the stress.
The Coolest Bar Car Around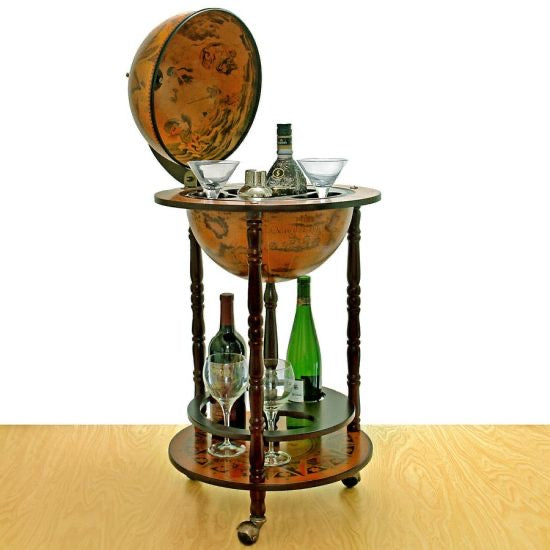 Gifts for your parents at your wedding need to feel grand, and what better way to do that than with a globe bar cart? This is a great gift for them because it works with any decor and it will always have their drinkware ready! Even when they're not using it, this cart becomes a fantastic conversation piece. With guests over, it will be hard for anyone to not ask about the fantastic looking drink cart and where it came from. Give your parents the ultimate gift with this globe bar cart!
Custom Wine Box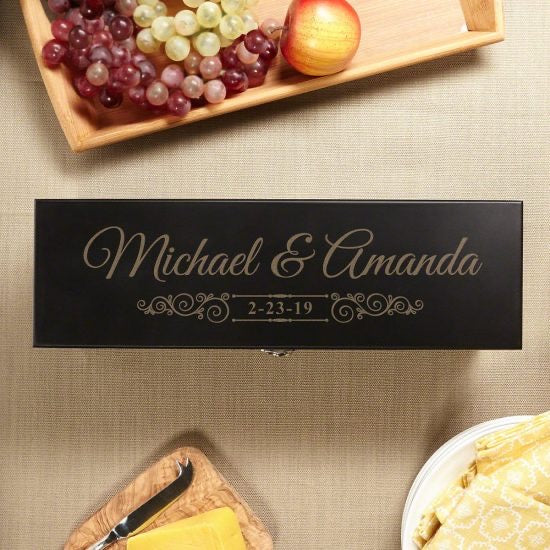 You've decided to get your parents a bottle of wine but you feel like you should do more than that. Place the bottle of wine in this fabulous wine box. They can set it aside and save it for when you and your SO have your first or fifth anniversary. Then, the four of you can sit down and share another memory. This wine box will be a fantastic gift for our parents at the wedding because it will bring you and your parents closer together as you create more memories as a family!