When it comes to wedding gifts, the bride and groom have so many items on their registry that you don't know which one to pick. Why not put a couple of them together in a gift basket? The best wedding gift basket idea is an assortment of items that both the bride and groom can enjoy together as newlyweds or something they can use for years to come. Plus, your gift is more likely to be enjoyed than other wedding gifts because you got them a gift basket full of goodies they can both use rather than a single item that only the bride wanted! Whether you choose a relaxing, romantic, practical, or decorative gift, any of these wedding gift basket ideas are wonderful choices for the happy couple!
A Monogrammed Decanter Set They'll Cherish Forever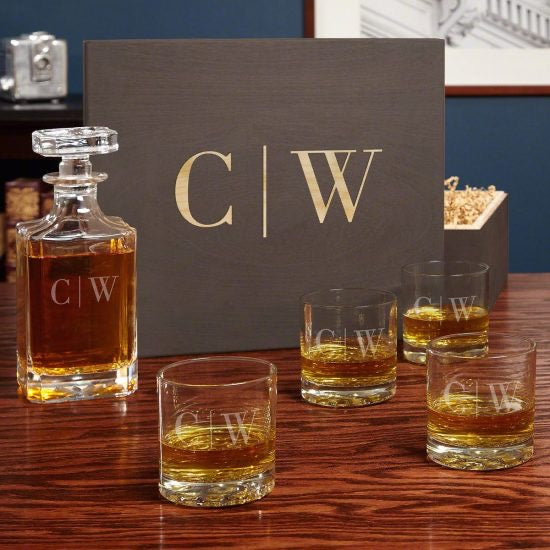 Wedding gift basket ideas don't get better than this! The bride and groom will be in awe of this six-piece decanter set that's monogrammed with their initials. They will definitely be excited to try out the glasses for romantic drinks as newlyweds, and the whole set is perfect for displaying in their new home together. Every time they look at this gorgeous decanter set, they'll fall in love all over again even 50 years from now!
Wine Wedding Gift Basket Idea
There's nothing like a glass of wine together as husband and wife, and you can make sure this momentous occasion is extra special by getting them these unique wine tumblers. The insulated stainless steel tumblers are super durable and virtually unbreakable, just like their marriage! As they lounge by the pool and enjoy some Moscato or toast to a romantic evening together with some Merlot, these tumblers are sure to be enjoyed for years to come.
Elegant Whiskey Gift Basket
Having drinks together as a couple is important, especially once you tie the knot! With this beautiful whiskey gift basket, the newlyweds can enjoy romantic drinks together in style whenever they want. The elegant whiskey glasses will make them feel like royalty as they sip on their drinks, and they will adore the wooden gift box engraved forever to show when their marriage was established. They can keep the whiskey glasses and stones in the box in between uses or they could store keepsakes from their wedding inside!
Unique Wedding Gift Basket Idea They'll Love
For those of you who are completely stumped on what to get the bride and groom as a gift because they either requested cash only or no gifts at all, a nice bottle of wine is always a great wedding gift. However, you can do a little better than just sticking the bottle in a cheap gift bag or putting a bow on it. This beautiful personalized wooden wine gift box is one of the most unique wedding gift basket ideas! The inside of the box is lined with luxurious satin and the lid comes with an assortment of wine tools for the couple to enjoy the bottle of wine as soon as they open the box.
Romantic Decanter Gift Basket
How gorgeous is this decanter set? With a decanter to share and their own beautiful glasses, this lovely set is a must-have for any newlyweds. Perfect for having their first drinks together as a married couple after the ceremony or honeymoon cocktails, this amazing decanter set is sure to be the sight of many special occasions. In fact, the glassware is so beautiful that it deserves to be on display all the time so that they can use the handsome box to store wedding keepsakes in!
499+ GIFT BASKETS THEY WILL LOVE > 
Relaxing Gift Basket
The newlyweds can finally relax once the wedding is over, and this thoughtful wedding gift basket idea will help them do so! Calming tea, candles, luxurious bathrobes, some tasty treats, and more await them as soon as they get started on their honeymoon. Thanks to your lovely gift, the bride and groom can take a moment and revel in their wonderful day now that they're husband and wife. Plus, once they've tried everything out in the basket, it's perfect for holding towels or toiletries in the bathroom.
A Gift Basket to Remind Them of This Day Forever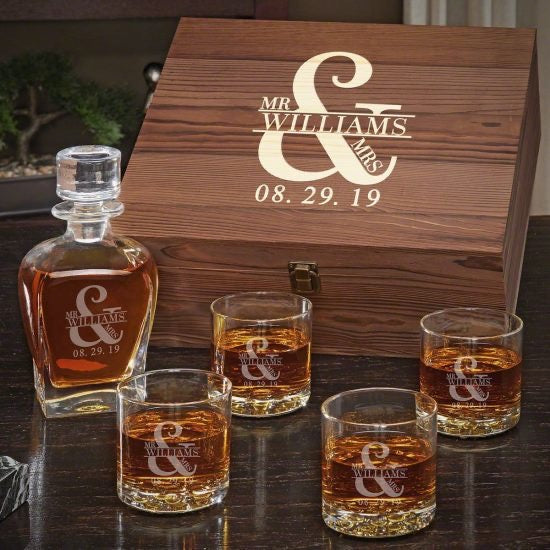 A couple's wedding day is the most important one of their lives and they will want to remember it forever. This beautiful personalized gift basket that features their new shared last name and wedding date is one of the best ways to remind them of their special day. Every time they use this set for romantic drinks on every anniversary or date night, they'll fondly remember the moment they shared their first drink together as husband and wife.
Wine Gift Basket to Use Together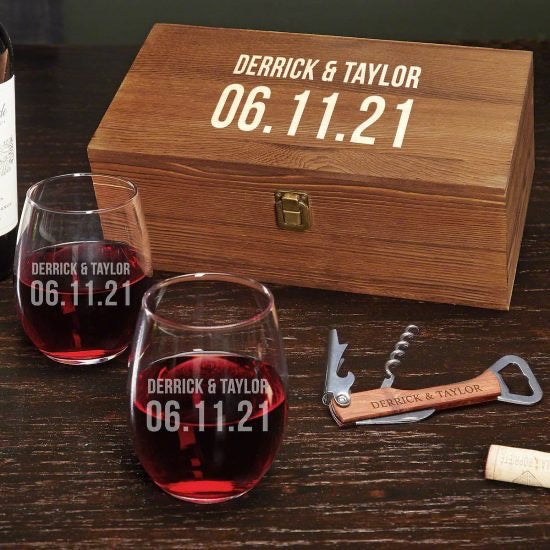 You've probably heard the saying, "The couple that drinks together, stays together." This romantic wine gift set is the perfect gift for the newlyweds to share their first drink together as a married couple! They will love using these wine glasses at their wedding reception, to celebrate on their honeymoon, and for every anniversary from now on. Of course, make sure to get them a bottle of wine to go with the set so that they can enjoy it with their new custom glasses right away.
Personalized Wedding Gift Basket Idea
How lovely is this complete personalized whiskey decanter set? Entirely engraved with the bride and groom's new last name, this beautiful set is sure to be enjoyed by the happy couple and their loved ones for years to come. With the glassware on display, they can use the large wooden gift box to store wedding keepsakes such as photos, the bride's veil, the groom's tie, and more!
A Gift Basket to Enjoy on Their Honeymoon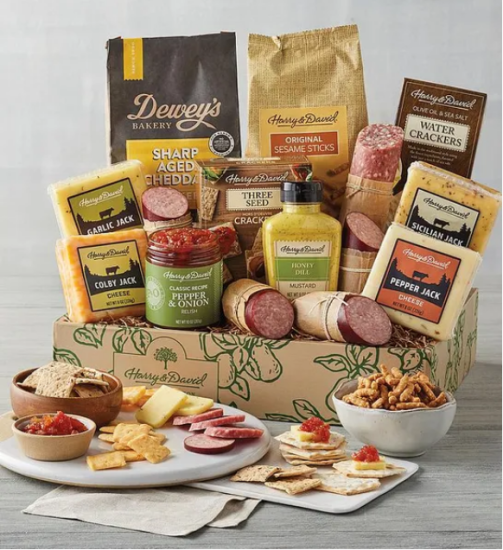 With this romantic gift basket, the bride and groom can get started on their honeymoon with tasty treats such as summer sausage, crackers, cheese, fudge, popcorn, and fudge! They'll have been too busy to eat much with all of the craziness of the wedding day, so they're bound to be hungry when they get to the honeymoon suite. Thanks to your thoughtful gift, they can enjoy some delicious food and the fact that they're now married!
Not Your Average Wedding Basket Ideas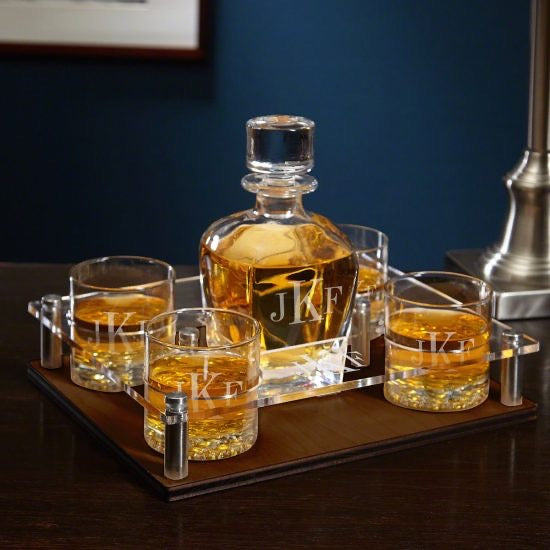 Okay, it's not technically a wedding gift basket, but how stunning is this presentation set? The newlyweds' initials engraved on everything is a testament to their union as the personalization will last forever, just like their love for one another. This gorgeous set is meant to be on display front-and-center for all to see and enjoy using it for drinks on special occasions such as every anniversary from now on!