Your wedding is quickly approaching, but you're missing one essential thing: wedding glasses! You've got to have champagne flutes, wine glasses, beer glasses, or all three! Wedding glasses are often used as gifts to the wedding party as a way for the bride and groom to say "thank you for being part of the wedding." Some couples like to have special wedding champagne flutes for the wedding toasts as well, and often keep them as a wedding gift or keepsake for them to use for every following anniversary. Whether you're looking for custom glasses for bridesmaids, groomsmen, or for yourself, we tracked down the best of the best!
Personalized Champagne Flutes for Everyone
Giving champagne flutes as gifts to the wedding party is more popular today than ever. Traditionally given at the rehearsal, your bridesmaids and groomsmen will be honored to receive these personalized wedding champagne flutes! Each one is engraved with their name and the year you're getting married. You could even step it up a notch and get personalized wedding favors for your guests as a bulk order too!
The Ultimate Wedding Beer Glasses and Gifts for Your Groomsmen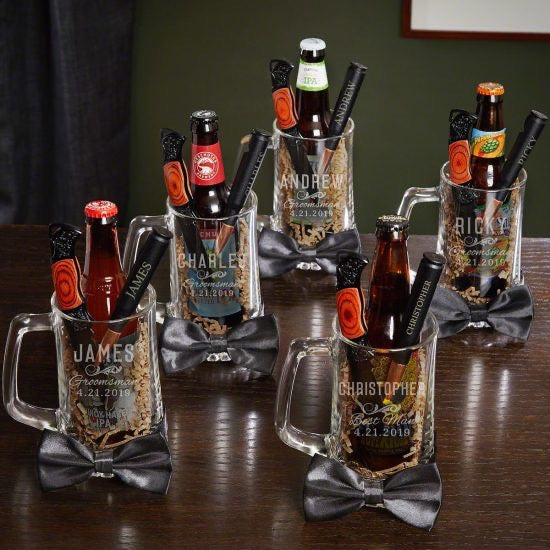 As the groom, it's your responsibility to get gifts for your groomsmen. You want to get your bros something special, like these awesome beer mug gift sets! Each personalized beer mug comes with a black bowtie, a bullet bottle opener, and a pocket knife. How cool is that? Plus, there is plenty of room inside the mugs for a custom bottle of beer. MobCraft creates custom brews and labels for your wedding as a unique and memorable drink for everyone at the wedding to enjoy. Afterward, it makes an awesome keepsake! You get to choose the flavors and the appearance of the label to create a truly one-of-a-kind beer no one has tried before. Pair these beer mug gift sets with a custom MobCraft beer and you've got totally awesome wedding favors that everyone will enjoy!
His and Hers Custom Wedding Glasses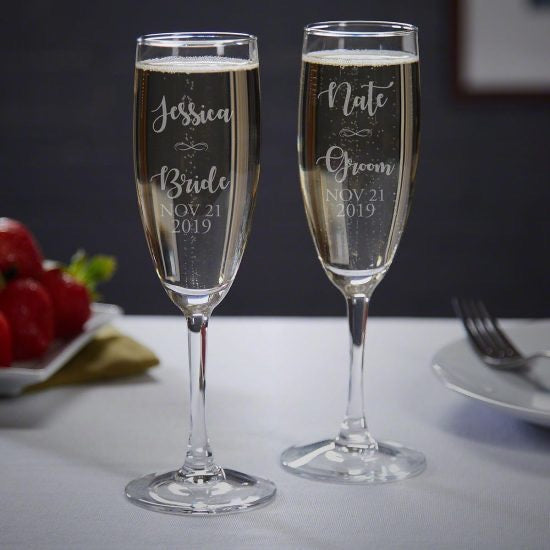 Looking for a special pair of wedding champagne flutes for you and your love to use at the reception and treasure forever? These adorable his and hers flutes are engraved with your names, titles, and the date of your wedding. You'll use them for your wedding toast and every anniversary for the rest of your life! They would also make lovely wedding gifts for anyone you know.
Cute Custom Wine Glass
Have you seen a cuter wine glass than this? Probably not! Everyone in the wedding party would enjoy getting these adorable custom wine wedding glass as a gift. Or, you could give them as favors for your guests! You can choose the two lines of text below the engraving to be unique for you as well, such as "The Henderson Wedding, John and Julia Forever" or "Thank You For Celebrating With Us." The options are endless! You could get a custom set for you and your future husband or wife, a different set for the wedding party, and another for the guests.
Mr. and Mrs. Stemless Champagne Flutes
The big day is almost here! What are you going to use for your wedding toast at the reception? Is everyone going to use the glasses provided by the venue? Or do you and your soon-to-be-husband or wife want to use special champagne flutes? If you're thinking the latter, these lovely stemless personalized wedding champagne flutes are perfect for that special moment. After the wedding, you can use them at home for years to come! Every time you use them to celebrate special occasions such as your anniversary, you'll remember your beautiful wedding, thanks to these great wedding gift ideas.
178+ WINE GLASSES FOR EVERYONE>
Cute Coffee Mugs for the Bride and Groom
Who says wedding glasses have to be champagne flutes? For the bride and groom who love drinking coffee together every morning, these cute his and hers nesting mugs are perfect. From the heart-shaped handles to the gorgeous floral design, these adorable mugs are actually made to fit perfectly together. You can customize the two lines of text below the floral design one side of the mug while the other is labeled with "The Mrs" or "The Mr." These mugs would make the best wedding gifts!
Give Your Wedding Party Their Own Whiskey Glasses
Not everyone likes to drink wine or champagne. For the people in the wedding party who prefer liquor, these custom whiskey glasses are ideal gifts! Each one is engraved with their names, titles, and the date of your wedding. These glasses have a unique bubbled base that beautifully reflects their favorite spirit and helps prevent condensation rings. You could do a bulk order and give these whiskey glasses to your groomsmen, the parents of the bride or groom, the bridesmaids, or even the guests. You could do a large bulk order for everyone! Seriously, anyone would love to get these awesome wedding glasses as a special keepsake.
Adorable Bridesmaid Wine Glass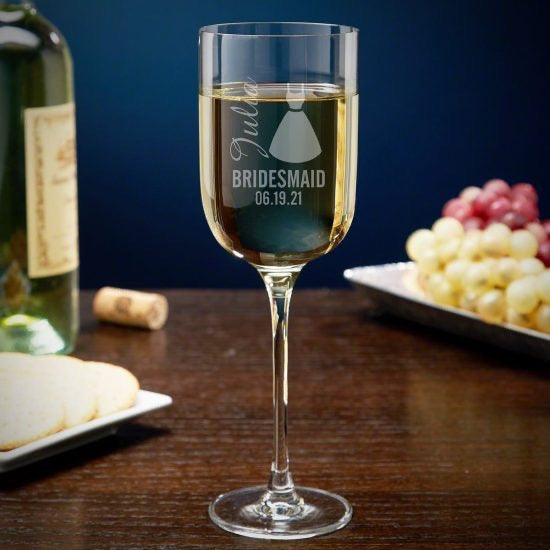 Looking for cute wine glasses for your bridesmaids? These stemmed white wine glasses are ideal gifts for bridesmaids! Engraved with an adorable bridesmaid dress along with their names, titles, and the date of your wedding, each woman will enjoy using these at the reception and at home for years to come.
The Perfect Wedding Glasses for Everyone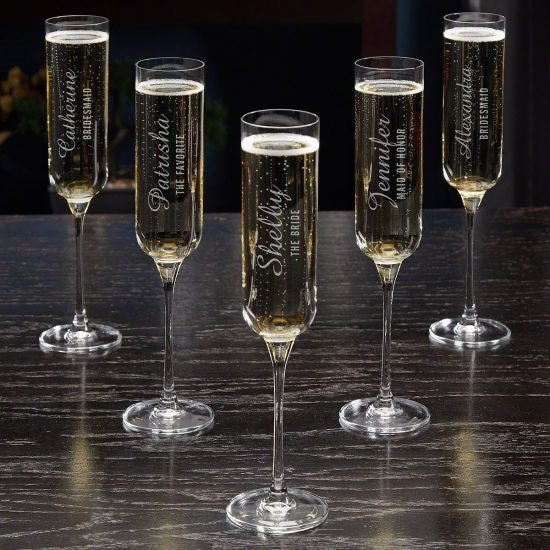 When in doubt, custom wedding champagne flutes are always a good idea. These glasses are personalized with the names and titles of everyone in the wedding party. You could get a set for you and your fiance to use at the reception too, and the whole table will have matching glasses! It would certainly look great, especially in photos!
You Can Never Go Wrong with Wedding Coffee Mugs
Want to give your wedding party something a little more practical than champagne flutes? You can never go wrong with personalized mugs! Whether your bridesmaids and groomsmen drink coffee, tea, or hot chocolate, these elegant mugs are sure to be enjoyed. Each one is customized with their names, titles, and the date of your wedding. When your maid of honor or best man is enjoying their morning coffee with their custom mug, they'll fondly remember your incredible wedding and being there for you on your big day.
Hand-Painted Martini Glass Anyone Will Enjoy
Looking for a fun, unique wedding glass to give out as a favor for all of your guests and wedding party? This hand-painted martini glass is perfect. Each painted glass is unique as no two are alike! It's decorated with rings, confetti, and even has a cocktail recipe on the bottom of the glass! How cool is that? These glasses are sure to be a hit.
Monogrammed Flutes
Looking for wedding champagne flutes that are a little simpler? These lovely monogrammed glasses are engraved with the two initials of your choice. You and your new husband or wife can use them for the wedding toasts at the reception and every special occasion for the rest of your lives.
Stemless Wine Glasses for the Wedding Party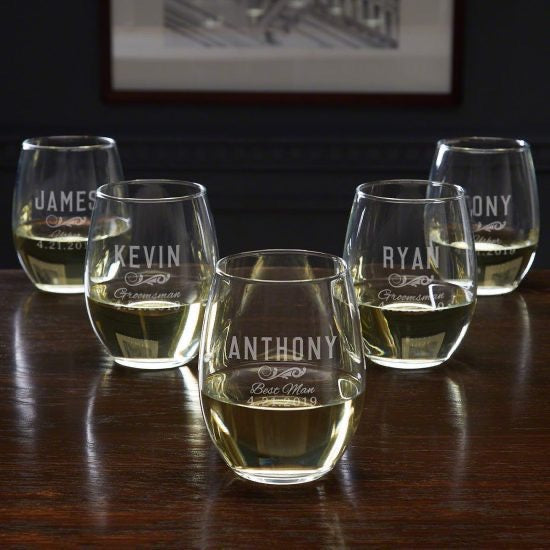 These custom wedding glasses are classic gifts for the wedding party. Each one is beautifully engraved with their names, titles, and the date of your wedding. Stemless wine glasses are all the rage right now, and these particular glasses are great for red or white wines. You could give them to just your bridesmaids, groomsmen, or both! And don't forget to get something for the parents of the bride and groom!
Classic His and Hers Wine Glasses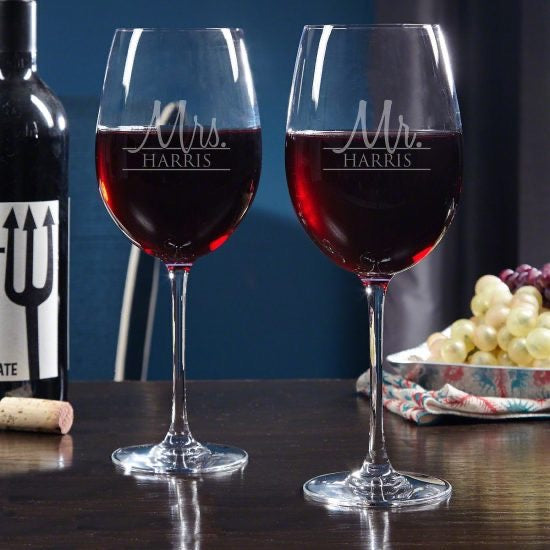 Picture this: you and your new husband are sitting down at your reception table and you finally get the chance to enjoy the delicious food and fine wine you carefully selected from your caterer. The pinot noir you picked out is poured into these beautiful Mr. and Mrs. personalized wine glasses, and your photographer captures the moment that you two clink the glasses together for taking a sip. Could these glasses be any more perfect for your wedding? Plus, you'll be able to bring them home and use them whenever you'd like! You two will love using your custom wedding glasses at dinner, for special occasions, and especially for every date night.
Bridesmaid Wine Glass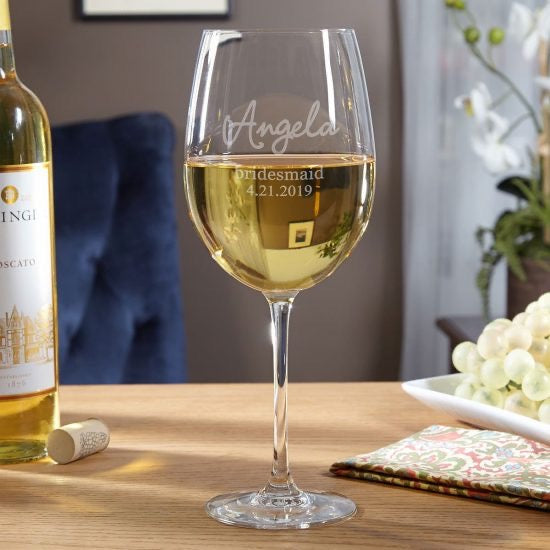 Giving your bridesmaids a custom wine glass has become pretty popular, and it's no wonder why! These cute bridesmaid wine glasses are great for all of the gals in your bridal party from your maid of honor to the mother of the groom! Each glass is beautifully personalized with a name, title, and date of your choosing. Your besties will love using these wine glasses all the time!
Custom Wine Tumblers
It's 2019, and this year is all about practicality. Wine glasses are pretty common wedding party gifts, but wine tumblers are certainly on the rise! They're great for traveling because they're stemless, insulated, and even come with a lid. You could give these custom tumblers to everyone in the wedding party for them to drink their wine, cocktails, beer, or spirit of choice on the go! They come in tons of colors and the engraving is super customizable to make it especially unique for each person.
Beer Glasses for All of Your Groomsmen
While champagne flutes are traditional, your groomsmen are more into beer. Why not get each of them their own personalized pint glasses? Each glass is customized with their names, titles, and your wedding date. Every time your bros use their custom glasses, they'll remember being your groomsmen at your awesome wedding and how nice it was of you to get them custom wedding glasses. If your bridesmaids are beer lovers too, you could get the whole wedding party a set of custom pint glasses!
Simple Monogrammed Flask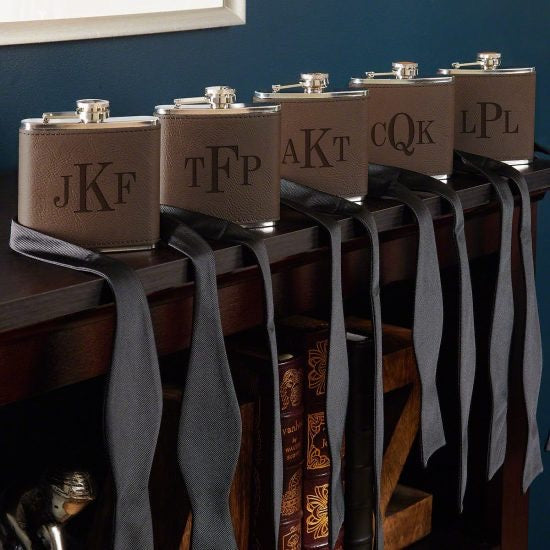 Flasks aren't strictly glasses, per se, but they're pretty common as gifts and favors for weddings! Everyone in the wedding party would enjoy getting these handsome monogrammed flasks. The handsome dark brown faux leather and elegant engraving goes with anything whether your groomsmen's tuxes are white or your bridesmaids' dresses are hot pink. These versatile flasks are made to fit easily into any pocket, which means your wedding party can use them after the wedding while they're on the go no matter what they're wearing!
Classic Personalized Wine Glasses for Everyone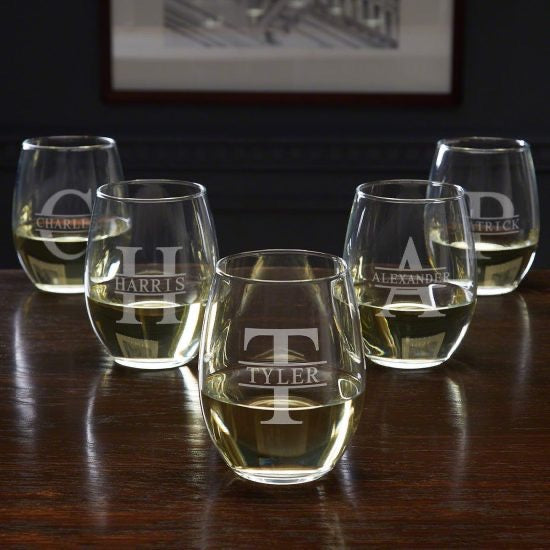 If you're more of a traditionalist, custom wine glasses are always the way to go when looking for wedding glasses to give to your wedding party. Each member will receive a stemless wine glass that is engraved with their name and initial, a simple but personal touch that anyone would enjoy. You can get one for all of your bridesmaids, groomsmen, ushers, and the parents of the bride and groom. They're all sure to love them!