27 Ideas – What Do Men Want for Christmas
Christmastime has come around once more. The snow is on the ground, lights are up on the tree, it smells like nutmeg and pine everywhere. However, with all the joy, there is still that little bit of dread you can feel coming along in your stomach, you still have to figure out what to get that important guy in your life for Christmas. You can practically feel yourself in the store or behind the keyboard wondering, "What do men want for Christmas?" They're really not as bad as you might think. Get him a gift that makes his life easier, whether it is for relaxing, a new hobby, something useful around the house, or even a cool custom gift! Make Christmas awesome this year by answering "What to get a man for Christmas," with the best present you've ever thought about getting him!
What Do Men Want for Christmas? – A Whiskey Ammo Can
Make his Christmas with a gift that ensures he'll never forget this holiday season. When he wakes up in the morning to find this personalized ammo can, he may at first be a little confused. But once he picks it up to see his name and a special message has been engraved into it, he'll know he is in for something special. Inside, he'll find everything he could need to stay in the holiday spirit all year long thanks to the matching rocks glasses as well as the cigar gifts. Plus, if you add some stogies or whiskey inside (or maybe his stocking, too) you can be sure this will be his best Christmas since getting a Red Ryder BB gun.
Badass Personalized Beer Caddy
There is a lot of travel back and forth during the holidays, and while not expected, he always loves to bring some of his own holiday cheer with him (you know—beer). Ensure that no matter how much snow and slush he has to walk through, he will always arrive with his favorite six-pack intact thanks to this awesome wooden beer caddy. Now, he can easily crack a few cold ones open with friends and family. Better still, you can be sure you'll see him using this gift in the future on fishing trips, cookouts, or anywhere else beer is needed (so pretty much everywhere)!
Turn His Home into the 19th Hole
Although the weather outside may be frightful, you know he still has one thing on his mind—golf! The perfect gift for any guy who sees himself as an amateur Tiger Woods or real-life Shooter McGavin must be this wooden, personalized 19th hole sign! Now, he'll have a way to enjoy his favorite hobby even when the weather doesn't let him. Better still, when the weather is better, he and his buddies can always come back to the ol' 19th hole for a few drinks and quite a few more golf stories.
Stuff His Pockets with a Wallet Stocking Stuffer
Stuff his pockets with a gift that any man will love, a monogrammed wallet! While it may seem like a struggle to truly find what to get a man for Christmas, gifts like this wallet are fantastic. This is a gift he not only gets to see every day but will always use too. How much better could you do than a gift that he carries on his person each and every day he leaves the house?
A Royal Beer Mug is What to Get a Man for Christmas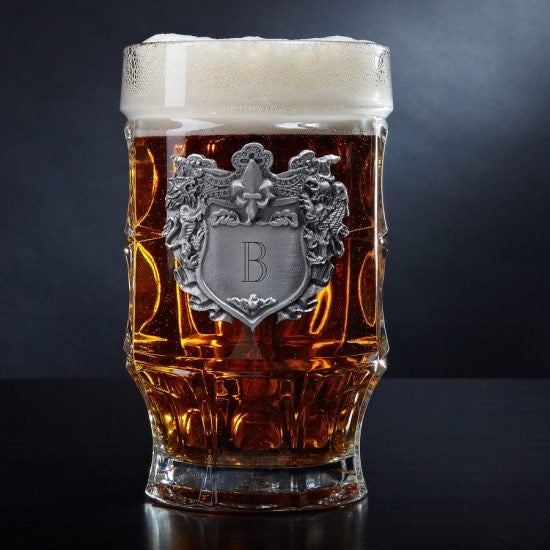 Have your guy feeling like he deserves a crown and cape on Christmas, purely because of this beer mug that will have him seeing himself as royalty! Thanks to the gorgeous design and regal crest, he'll feel kingly each time he is throwing back his favorite brew! This beer mug is a perfect gift for every guy this Christmas!
The Toughest Tumbler Set
Your guy is tough, like shovels the snow in moccasins with no gloves on kind of tough. For only the most badass guys, you'll need an equally badass gift. This stainless steel tumbler set is the perfect gift for him to find under the tree on Christmas morning. The glasses are nearly indestructible thanks to the stainless steel, they're also great at insulating too. From chilled wine to mixed drinks to even a Hot Toddy, his drink will stay at the perfect temperature for the whole time he is hanging out with the family and opening presents.
Personalized Whiskey Stone Gift Set
What do men want for Christmas? Amazingly cool gifts, that is what! You can be sure this will be the coolest gift (literally) that he gets all year long. Perfect for his go-to Christmas drink of Glenfiddich or Johnnie Walker, he can immediately have a perfectly chilled scotch whiskey while simultaneously having the coolest whiskey stones on the planet, these onyx-shaped ones! Now, whenever the occasion arises, he can have a perfectly cool drink even if he forgot to chill the bottle!
Drive Home That You Know What to Get a Man for Christmas
Keep his stroke strong during the winter months with a premium indoor driving range! Instead of having to have a handful of rounds to knock the rust off when the course thaws out, he can come out swinging thanks to this epic Christmas gift. Now, he can practice his swing on any simulated course, how cool is that?
A Dapper Decanter Box Set
Take his Christmas present from something he'll love to something he will wonder how he ever could have lived without it with this engraved decanter box set. From the classy black gift box to the glassware ware that simply drips dapper vibes, he won't be able to believe he ever drank his favorite scotch, whiskey, or bourbon from anything else. Plus, since it comes with four glasses, you can be sure he will be showing this off (with a drink of course) to all the friends and family that come over this holiday season.
What Do Men Want for Christmas? – Their Own Bar Cart
Whether he needs a finishing classy piece to his home bar or doesn't quite have space for a full home bar, you simply can't go wrong with a vintage bar cart for any man. Now, when the game is on or the chips are down for the poker game, he can easily bring this bar cart over and be serving mixed drinks at the drop of a hat. It is even a classy piece of home decor when it isn't in use thanks to the gorgeous vintage-style globe!
The Classiest Monogrammed Cigar Gift Set
Make sitting back to celebrate more classy than it has ever felt before with this snazzy engraved cigar whiskey glass and ashtray gift set. Now, he can sit back in his favorite recliner and have his cigar and whiskey in one hand, how cool is that? Changing the channel, texting, fist-bumping his buddy when their team scores, all these are possible and more, while he is still holding onto both his cigar and whiskey! Talk about what to get a man for Christmas.
A Carnivore Christmas Gift Basket
If there is one thing you know about men, it is that they love meat. So skip the cookies and cake this holiday season and get him a gift box full of protein! From steaks to chicken to ground pork, he'll have enough premium meat to last him for weeks!
What Do Men Want for Christmas? To Take Their Beer Anywhere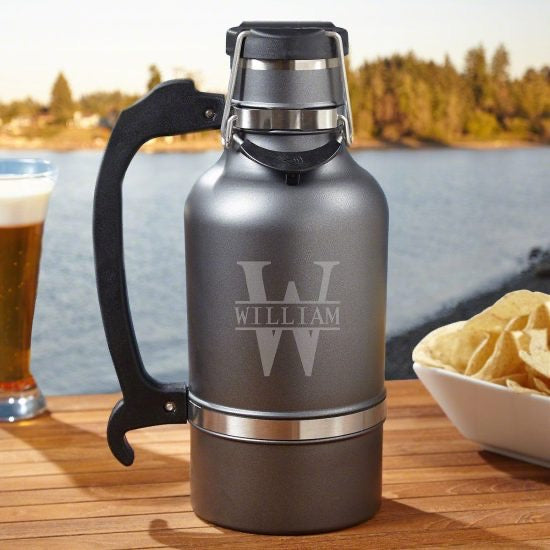 Never have him stranded and beer-less ever again after this Christmas. Thanks to this stainless steel beer growler, he could even carry his favorite brew all the way to a place like Mordor if he had to. It would even still be cold thanks to the premium insulation! But the gift for him gets better still, not only will he have a beer growler, he'll have one that has his name on it. This way, no one can ever steal his precious beer.
Make His Home Bar Official with a Custom Sign
Give him the gift for Christmas that he has been after since he has had a place of his own, his own home bar! With this rustic wooden sign, it doesn't matter if he already has a space picked out or this is the kick in the pants he really needed to get going on it. Now, he'll officially have a place to drink and entertain that he can call his own!
Personalized Cutting Board
Creating excellent food on the grill isn't all about cooking it, most of the delicious flavor and hard work comes in during prep. Ensure that when you are asking yourself, "What do men want for Christmas?" that you check out this engraved cutting board. Now, he will have plenty of room to season, spice, slice, and dice any food that he needs to throw on the fire!
63+ CREATIVE CUTTING BOARD GIFTS FOR CHRISTMAS>
Catchall The Gift Ideas with this Christmas Present
Walking in the door, all he wants to do is empty his hands and pockets so he can flop down on the couch and relax. However, sometimes he can't remember where he set his things. Never let this happen again! With this luxury catchall, his wallet, keys, sunglasses, and earbuds can all be kept in one spot. Plus, it even has a wireless charging mat so he can have his phone ready to go as soon as he needs to leave again.
A Whiskey Stone is Clearly What to Get a Man for Christmas
Keep your man as cool as the Bumble from Rudolph the Red-Nosed Reindeer this holiday season by getting him this sophisticated, personalized whiskey stone set. Including two glasses and soapstones, this is the perfect set for him to use to toast you for getting him such a fantastic Christmas gift. Make sure he has some Buffalo Trace or Pappy Van Winkle in the house, and you'll be sure to see your gift used right away!
Arm Him with Beer Resupplies
What to get a man for Christmas who has everything? Resupply his beer stash with this custom ammo can gift set, of course! He will be so excited to find this set under the tree on Christmas morning that he may just jump around like a little kid or even try to thank Santa himself. Inside, he'll have everything he needs to enjoy his favorite Iron Monk or Roughtail beer!
Give Him the Boot(s)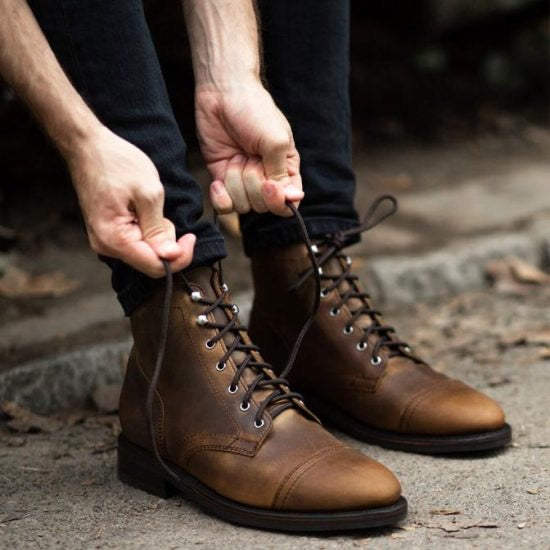 There is nothing like the feeling of walking around in a top-quality pair of leather boots. These Thursday boots are a great set that he can use for both work and style. The burnt copper leather lends itself beautifully to go with a blue of blue jeans just as well as a pair of slacks. That is not to even mention the comfort of being able to walk around all day in his new favorite Christmas presents!
For a Man with Fine Tastes
When to decide on what to get your guy for Christmas this year, think about some of his passions. If he absolutely loves whiskey, there is no better way to make him think you are St. Nick himself than by getting him this personalized Glencairn box set. Now, he'll be able to finally feel like the aficionado he has always viewed himself as. It doesn't matter if he is enjoying nice Glenfiddich, Eagle Rare, or Buffalo Trace, experiencing it through this tasting set will bring him the biggest smile!
Throw This Custom Gift Idea Out to Him
Speaking of liquor, there are few things cooler than a gift that makes it look like he has finally created his own whiskey label! However, to make it even better, this gift allows him to play bags too! This unique set of bean bags will be the perfect gift for the guy who is always throwing or going to BBQs or tailgating parties. However, now that he has his own set, you can be sure he is going to be the champ at bags!
What Do Men Want for Christmas? – Drones!
Check out these speed racing drones that he will have a blast flying all over the place! Not only are they outfitted with cameras for recording, but they go incredibly fast, too! He can easily use this to film and follow golf tee shots or use it to race other drones. One thing's for sure, he is going to have a blast taking his drone upwards of 70 miles per hour!
Personalized Cigar Sign for Him
Turn the room he enjoys as his spot to have cigars in the house into the premium cigar lounge he has always envisioned as with this excellent, custom cigar sign for him. Now, this is what to get a man for Christmas when you know he is a bit of a smart-ass as well as a cigar-lover!
A Liquor Gift Box is What to Get a Man for Christmas this Year
Keep his holiday spirits up with well, a holiday spirit! Liquor makes a great gift for the holidays, it is a fantastic time to get him the top-shelf bottle he has been eyeing for months or even years but that he has never pulled the trigger on getting. However, you know you can do better than just a bow around the neck of the bottle. Instead, get him a personalized liquor gift box to make this the classiest present he has ever gotten! He can even use the box as a keepsake or a place for him to store his most-prized liquor!
Charge Up Your Xmas Gifts for Him
Keep him at 100% no matter where he goes with a portable wireless charging station. This unique charger is easy to fit inside a pocket or bag, allowing him to charge anywhere from the office to on the train. Never again will he have to cancel out of Spotify or YouTube to make sure he has enough power to make it home. Instead, he can simply set his phone down and be good to go for hours again!
An Engraved Gift Set for the Wino
Christmas is all about spending time with loved ones and for the guy who simply can't get enough of his wine, a set of four engraved stemless wine glasses is exactly what to get him for Christmas. He'll love sharing a bottle of Merlot or a Chardonnay with the people who mean the most to him thanks to these perfect glasses. So, don't sweat "What do men want for Christmas," this year. Instead, get him a great gift that he gets to enjoy with you and whoever else means the world to him!
The Perfect Manly Gift Set for Him to Find Under the Tree
Make your man's Christmas with a cigar and whiskey box set he simply won't be able to put down! There will be more excitement in his eyes than when he got a bicycle or N64 for Christmas. Simply add a bottle of Maker's Mark and some Padron cigars and he'll be as happy as a kid on Christmas morning being able to enjoy his gift!
495+ MORE GIFTS MEN WANT FOR CHRISTMAS>