Surprise your husband with Christmas gifts he never knew he needed with these amazing present ideas! He may have thought he had everything, but he was so wrong. We've searched high and low to find the ideal Christmas gift ideas for husband who has everything. These luxurious gifts are going to make his life far more pleasurable, relaxing, and enjoyable than he could have ever imagined! So, instead of scouting the internet yourself to find the ultimate gift for this hard to shop for guy, sit back, relax, pour some eggnog, and find the ultimate gift for your hubby!
All in One Christmas Present for Husbands
Start your search off for the perfect Christmas gift ideas for husband who has everything with a set that has everything any man would want for the holidays. This personalized wooden gift box is filled with goodies for his whiskey and cigar, making it a breeze for him to enjoy the holiday spirit. Plus, how cool is this awesome looking keepsake that saves you the trouble of wrapping it? With his name engraved on the lid, this is sure to be the first gift he'll go for when he sees it under the tree!
Valet Parking for His Accessories
Guys love to be organized. You know your husband, with his tools, games, books, or anything else, he has an exact spot for everything but not his awesome accessories! Help out your hubby with the perfect place to organize his awesome watches, cufflinks, and rings with a personalized valet box! No more will he have to search for a matching cufflink or that one watch he really likes, from now on he'll always be ready to be dressed with his favorite accessories.
Wish Him a Hoppy Christmas
Mugs are a great Christmas present for husbands. Any time a man sees a mug, he can't help but smile, especially husbands. So, why not make him grin ear to ear with not just one but two mugs that are engraved just for him? Now, he can enjoy the holidays and share a beer with you or double-fist his mugs, enjoying his favorite brew in as manly a manner as possible!
This Guy Knows a Thing or Two
There is nothing quite like warming yourself after being outside shoveling cold snow like a cigar. It warms the hands but most definitely the entire body the more it is smoked. This is something your husband knows, and not only does he like a cigar to warm himself on the occasion, but he also loves them in-general! Make his cigar lounge feel even more official, or start one for him, with his own custom cigar sign! He'll love pulling out his Monte Cristos and unwinding under his own personalized sign!
A Sweet Stainless-Steel Set
Men love to always be prepared, every guy has a deep-rooted feeling that no matter if he is leaving for the wilderness or hanging out at home, he needs to be ready for anything. Using these amazing stainless-steel tumblers and box set, he is guaranteed to always be ready for a good time! This nearly indestructible cocktail and wine set can even travel with ease inside the keepsake on adventures or to a friend's house, how cool is that? Give the ultimate Christmas present with a set of indestructible tumblers!
A Gift that Drones On
Give him a gift that will have endless uses for the rest of his life with a super high-tech drone! Drones are the perfect Christmas gift ideas for husband who has everything! He can use this to make cool videos anywhere he goes thanks to the camera or he can simply enjoy the hobby of flying drones!
Present Him the Best Gifts
Husbands that have everything will love a gift that makes them feel classy. Few things exist on earth that will make him feel like a gentleman than his very own personalized presentation set. This is the perfect set that he can enjoy both while using it and simply looking at it. You know he is going to have this on the end table, home bar, or somewhere else where it'll be ready for an impromptu drink with you or his guests!
Ammo Can Christmas Gift Ideas for Husband Who Has Everything
There is something awesome about an ammo can that men can't help but love. Maybe it is the militaristic character, the rustic design, or just the sheer manliness of it all. Regardless, this is a gift any husband is sure to love! Make his holiday with a gift box centered around his own ammo set! He'll feel like you won the war of gift-giving on Christmas with this gift set stuffed full of beer accessories that he simply won't be able to wait to use!
Art Deco Sign
Get a Christmas present for husbands that will make them feel both classic and classy. You could even surprise him more by mounting this in his man cave or office for him to see on Christmas morning. When he sees his name engraved on this Art Deco style sign he'll want to start doing the Charleston, and how fitting is a 1920's style sign to be on display in his home than in the 2020s?
The New Chimney
With snow on the ground, the only way to make this Christmas feel more iconic is if smoke were pouring out of the chimney and the big jolly man himself was setting down on your roof. Although finding Santa on your roof may be a little unlikely you can help your man get smokey with this amazing smoke box for his favorite liquors! He can use this set of Christmas gift ideas for husband who has everything to create new flavors with his favorite liquors! The smoke adds hints of cedar, thyme, or anything else he puts in there. This is a Christmas gift you know he will want to use right away!
A Gift for the Light Side of the Force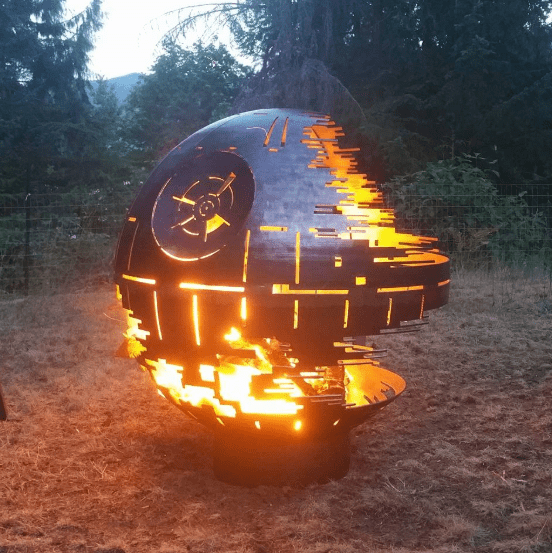 Make every bonfire epic with a Star Wars-themed fire pit. Not only will this gift be great for nostalgia, movie lovers, and modern fans of the series, but it also just looks absolutely amazing! Plus, in the colder winter month of December, this Christmas present for husbands will keep everyone nice and toasty when they're outside!
An Impressive Christmas Present for Husbands
Surprise your husband this Christmas with a gift he must have! He'll love that you went so far out of your way to find a new angle on Christmas gifts (sorry, but that pun nearly writes itself). This unusual decanter is sure to not only be a standout gift this year, but a standout decanter set from now on! Whether he uses this at home to unwind or in the office to celebrate major events, you can be sure when anyone sees this decanter, they'll be blown away by its unique design and amazing personalization!
A Legendary Christmas Gift
When you're in need of a gift that is more mythical than Santa himself, look no further than this ammo can set! Your husband who has everything will love how legendary this gift will make him feel when he is opening the latch to find his matching whiskey glasses inside. Top this set off with a bottle of his favorite bourbon or scotch, and now, he'll truly be a man who has everything he could ever want!
Engraved Modern Wine Set
He may have some classic-styled stemmed wine-glasses, but you can bring him into the modern era with these awesome stemless glasses! Also, what better time for him to enjoy a good Pinot Noir or Merlot than when he is celebrating the holidays with his family? That means he gets to use this gift set right away! You won't even have to get a gift box because they all fit inside a matching engraved keepsake. This is the perfect wine gift Christmas present for a husband to enjoy his drinks in a modern, classy style!
Sippin' & Smokin'
A perfect Christmas present for husbands who have everything is something that is absolutely luxurious, like this decanter set. Sure, he can use both hands to drink and have a stogie, but where is the novelty and luxury in that? Using his personalized gift, he can enjoy both his vices single-handedly. You've made life for him that much easier, and that much classier with one awesome gift set!
645+ WONDERFUL WHISKEY GIFT SETS FOR MEN>
Quench His Thirst
Make sure he is never thirsty anywhere he goes with a water bottle that could quite literally be a lifesaver! This gift filters any water, no matter how clean or dirty looking it is, to make it safe to drink. This means that if he gets thirsty on a long trip and needs a refill or even gets lost in the woods, he can safely drink water from any stream, puddle, lake, you name it! He'll be so thankful for a gift that he can always keep on him that might just save his life!
Monogrammed Tasting Set
Make your hubby feel like the classiest and luckiest guy in the world when he finds his own monogrammed box set right under the Christmas tree! This is the perfect way to get a gift for the man who has everything and have him thinking back to when he was a kid and mom and dad ended up getting him the ideal gift. Now, instead of a fun toy, he's got a cool guy gift to help him enjoy all the flavors and aromas of his favorite whisky!
Ultimate Decanter Christmas Present for Husbands
Use this amazing box set as the ideal Christmas present for husband. When he opens his custom box, he won't just be getting one custom gift, but five! He'll have the ultimate whiskey set which when accompanied with a bottle of his favorite brand, is sure to keep him warm on cold winter nights!
The Perfect Personalized Gift
Don't let any part of his Christmas gift feel like an afterthought. This fully-fleshed out cigar and whiskey gift has everything he'll need to enjoy his favorite vices, it even has an ashtray! This could be a cool but smaller gift for him, or this awesome monogrammed gift might make the coolest stocking stuffer ever! Throw in a few cigars and some liquor and you'll never have seen him happier!
Uncork This Great Gift
Have him use his newest Christmas gift as the perfect way to keep track of memories. This wine gift set is a great way for the two of you to enjoy a drink together, and he can use the shadow box as a fantastic way to collect corks or other things he loves, and see them every day! The more the two of you enjoy wine, the more he gets to see his collection grow!
Keep Him Clean
Something a man can never have too much of is soap and self-care products! This organic skin care kit is perfect for any guy's skin whether he is constantly outdoors or works in a office, his skin is sure to look and smell better than ever when he uses this toiletry kit!
Caffeinated Christmas
Never let your man be without something to drink. It doesn't matter how busy this man who has everything is, with this gift set, he'll always be able to enjoy a good cup of Joe or a sip of his favorite liquor. Thanks to this awesome set, he could be at the office, in the middle of the woods, or just walking around town, and he'll always be able to quench his thirst. Plus, it even comes with an awesome matching survival knife, how cool can one Christmas gift really be?
Make Things Frosty this Christmas
Outside may be chilly but this set will be one of the coolest Christmas gift ideas for husband who has everything! He can top off his favorite drink with awesome stainless steel whiskey stones and his own personalized keepsake box into the most amazing glasses he's ever seen! This is a fantastic gift set to make sure that this gift feels as rare and classy as the man you're giving it too!
567+ CHRISTMAS PRESENT FOR HUSBANDS>