Weddings are such a fun, special time, but there's definitely pressure to pick a fantastic wedding gift for the couple! You want to find gifts that the couple gets to enjoy, not just a gift for the bride or groom. Wedding gifts for couples should make their time spent together even better as well as remind them of their special day for the rest of their lives. However, not any gift can meet these lofty expectations, which is why we're here to help! But for some, that leaves a lot of questions. What makes an unforgettable wedding gift for a couple? How do you get a gift both halves of the couple will like? The answers are right here! We've found some amazing, top-notch wedding gifts that any couple will without a doubt adore.
Diamond Decanter > Diamond Ring
What couple wouldn't want to start off their marriage with the most gorgeous gift they've ever seen? This diamond decanter set will knock the socks off of the bride and groom as soon as they see it! They'll love both drinking their favorite spirit from the uniquely-shaped glasses as well as having this set displayed on their bar or mantle for all to see.
Wedding Gift for Couples for Serving Drinks
Not only will the couple love having a gorgeous bar accessory in their home, but whenever they have friends over, they'll want to be able to serve them drinks and impress them while doing so. This globe bar is the perfect way to accomplish this difficult feat! Not only will their guests be impressed with how convenient and easy it is for them to use this bar for their drinks, but they'll be stunned by how beautiful and vintage-feeling it is.
Cocktail Glasses that Will Make Them Happily Ever After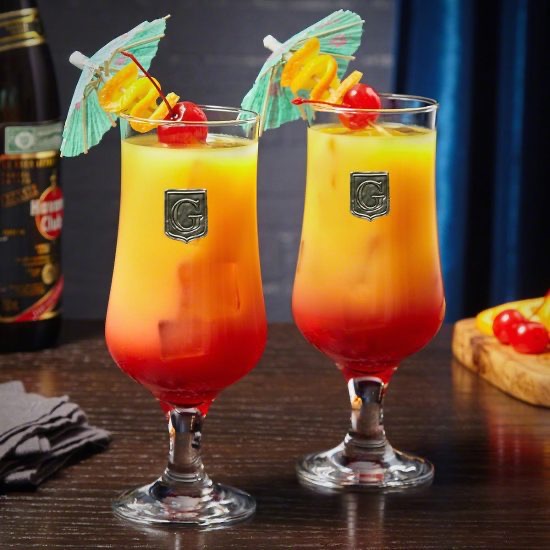 There's nothing like having a deliciously fruity cocktail with your favorite person in the world, which is why this pair of cocktail glasses is such a fantastic wedding gift for couples! This gift is excellent because the newlywed couple will feel like they're on their honeymoon all over again when they're drinking cocktails from these glasses, even after the honeymoon is long over. The bride and groom will love nothing more than to fill these glasses to the brim with their favorite cocktails and enjoy a perfect drink together.
Caps and Corks Wedding Gifts for Couples
For the perfect bride and groom gifts, check out this beer cap map and wine cork map! The couple will really like having their home states hanging on the wall as they work to fill them up with their favorite beers and wines. It provides them a fun project to do together, making it an amazing wedding gift idea.
For Enjoying Whiskey Together
No matter where the couple is in life, you always want them to have the opportunity to enjoy a deliciously chilled drink. This whiskey box set is a fantastic wedding gift for a couple because it has all they need to enjoy a glass of cold whiskey together, making memories that will last forever. You can even add a couple miniature bottles of their favorite whiskey. They'll feel so happy drinking it together from their matching glasses.
Staying in Touch
The happy couple will never want to be apart, especially once they're in the bond of holy matrimony. However, when they inevitably have to spend some time apart, they can use these bond touch bracelets to still feel connected. Thanks to your gift, they'll still feel the loving "touch" of each other, even when they aren't together!
Very Chill Wedding Gift for a Couple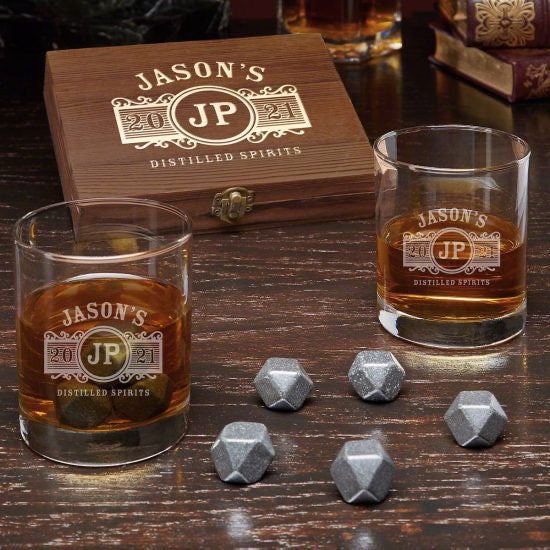 A fantastic wedding gift for a couple is this whiskey stones set because it's very unique and classy, which they'll love, and the personalization adds an even more unique touch that they won't be able to stop looking at! The two of them will really enjoy drinking whiskey using these awesome whiskey stones whenever they please. They'll definitely consider it the most unique wedding gifts they received!
Same Last Name
When the couple gets married and the bride's last name changes to the groom's, they will love being able to show off their newly-shared family name. That's why this customized wooden sign is a phenomenal wedding gift for any couple. They'll love the way it looks hanging in their home!
309+ GORGEOUS PERSONALIZED SIGNS FOR THE HOME>
Royal Flush of a Gift
Married couples love spending time with just the two of them, but having friends over for game nights is such a fun activity for them. Give the bride and groom a gift that will provide hours of fun with their friends—this custom poker set! Everyone will really enjoy playing poker together with this fancy poker set. The bride and groom will be so thankful you got them a fun, personalized gift that they can enjoy for years to come!
Wine Glassware Perfection
This beautiful wine aerator and set of four wine glasses are both beautiful and useful, making this the perfect set of wedding gifts for couples. They'll fill the aerator with their favorite red wine to oxidize it, so when they pour it into their glasses to drink, it'll taste absolutely delicious! They'll love that their wine-drinking experiences will be on a whole new level thanks to this gift!
To See the World
They want to see the world together, and what better way to motivate them than with this magnetic globe? This creative, attractive wedding gift for the couple will look fantastic displayed on a desk or shelf in their home, and the magnetic pins stuck all over will remind them of all the places they've been, and more still, the places they want to go!
The Perfect Gift Box
Not only is this wooden gift box the best way for you to give the couple a nice bottle of their favorite liquor, but it provides a terrific keepsake box for them, too! This will be the perfect spot for them to keep photos, invitations, flowers, and everything else from their wedding inside this box to treasure forever.
Drink Together All the Time
Not only does marriage provide a life partner, but a buddy to drink with for life. This personalized wall sign is the perfect bar or kitchen decor that the couple will love to see hanging on their wall. It will encourage them to enjoy spending every second together, whether they're drinking or anything else!
Gorgeous Glassware
A beautiful glassware set is a fantastic wedding gift for any couple. Weddings are filled with various glass gifts (usually plates and dinners glasses), so give the stand out gift that allows them to celebrate, toast, and enjoy a classy drink whenever they want! When they're at home writing thank you cards and enjoying their gifts, you can be sure they'll be a toast in your honor.
Brewery Beer Wedding Gift for Couples
This awesome growler gift set provides the happy couple with the opportunity to bring their favorite beverage along wherever they go! They'll love using their new growler to bring home delicious, cold beer from the brewery, or bring water or coffee on a camping trip. They'll be very thankful for the good times this gift provides them!
We All Scream for Ice Cream
When it comes to giving wedding gifts, you can't go wrong with an ice cream maker! The newlyweds will have so much fun working together to make their favorite ice cream flavors with this useful appliance, and they'll have an even better time enjoying the deliciousness of the frozen treat they made together!
Classic Whiskey Gift
When the couple opens up this whiskey gift box, they'll fall immediately in love with it. The classic glasses with a single initial will make them very happy, and they'll immediately run to pour whiskey inside of them and toast to their new life together as a married couple.
Cork Collection
Since they're going to be enjoying wine together for the rest of their lives, this shadow box gift set is a phenomenal wedding gift. The couple will really enjoy saving the corks and displaying the collection in their shadow box in their home. They'll reflect on so many amazing memories using this gift, and they'll be super excited to make new ones.
A Sign of Their Love
Newlyweds adore gifts that are representations of their love and marriage. There's no doubt that the couple will absolutely love this beautiful personalized wall sign! They'll want it displayed prominently in their home for all to see. They'll love how this gorgeous wedding gift for couples makes them feel when they see it.
Better Drinking Experiences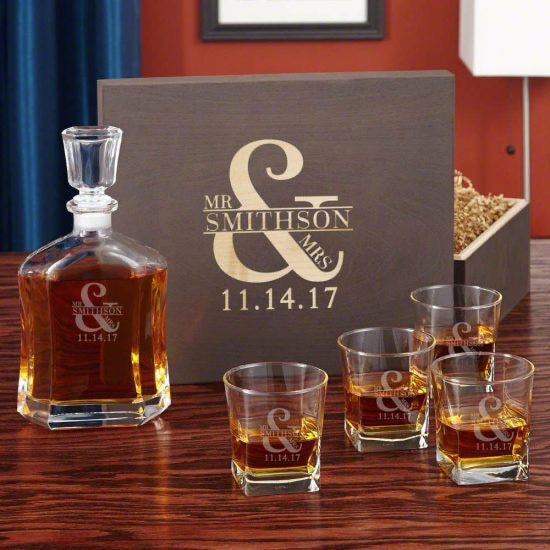 Couples deserve a special gift that they can use to celebrate monumental occasions such as their wedding or anniversary. Give them a decanter set with the date of the biggest day of their lives engraved on each piece. This will be a timeless gift that they will certainly use as a way to toast each other for being in the perfect relationship. Whether it is for an anniversary or it becomes their favorite glassware set for daily use, you know they'll enjoy this wedding gift for years to come!
With This Ring Wedding Gift for the Couple
Their rings symbolize their serious commitment of marriage to one another, so it's important that they keep their rings safe. This ring holder is the perfect gift for the newlyweds because it's the best place to keep their rings at night or when they need to take them off. They'll love knowing that their rings are safe and sound inside this small, lovely bowl as they sleep.
Caffeine Collection
What would the couple love more than this set of amazing coffee gifts? This personalized sign at their coffee bar or nook in their kitchen will make them happy every time they see it. They'll love making coffee together in the morning to bring to work in their tumblers. Especially after planning and going through with a wedding, they'll definitely be in need of some caffeine.
Kitchen Keepsake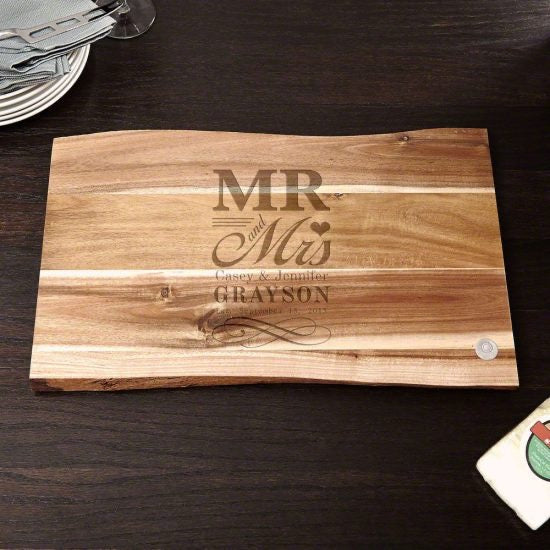 No newlyweds can have enough keepsakes from their wedding, and they'll especially love them if they're practical, as is this custom cutting board. It's a phenomenal wedding gift for couples because the beautiful personalization will remind them of their special day every time they see it, and they'll love using it together in the kitchen.
Wine Accessory Wedding Gifts for Couples
There's a reason that wine gifts are popular presents as wedding choices—they're timeless and amazing gifts! Give the couple a bottle of their favorite wine inside this personalized gift box. Pair it with this beautiful marble wine chiller, and you've found the perfect pair of wine accessories that any couple will love receiving as a wedding gift. Who knows, they may even save your gift for a special occasion such as their one year anniversary!
Wedding Date Memento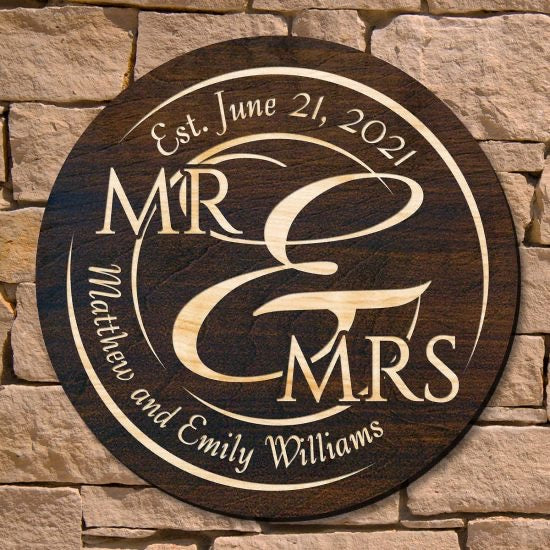 A simple yet beautiful memento reminding them of their wedding can make the best wedding gift for couples. This personalized wooden sign will look fantastic up on the wall in their home, and every time they look at it, they'll have a smile on their face remembering their special day.
Most Toasty Gift
You can't go wrong with giving a wedding gift that's both useful and aesthetically pleasing, which is why this vintage toaster is such a great wedding present! The couple will love how it brightens up their kitchen, and they'll really enjoy making each other toast, bagels, or any other yummy foods with this attractive toaster.
Present the Presentation Set
The perfect gift for the bride and groom to make the memory of their wedding forever present is their very own personalized presentation gift set. Each time they see the engraving, they'll be transported back to their amazing wedding day. This is a gift set you can be sure will always be out on display in their home, regardless of whether they have it filled with liquor or not, simply because of how beautiful it is!