You want to buy your friend the best gift you can get for their wedding. However, their registry has already been picked through and you can't get them the awesome gift you wanted, or so it seems. The best wedding gift ideas for your friend's wedding are items that are going to be unique and memorable, they won't be the leftovers from a registry. You want your wedding gift to stand out among all the other gifts they are getting on their big day. Be the awesome friend that you know you are and get the best possible wedding gift for your friend you can with these amazing selections!
A Classy Whiskey Wedding Gift Idea for Friends
A personalized decanter gift set is the perfect gift for any friend at their wedding. Not only will it stand out from all the other presents they have gotten, but the engraving will add a personal touch to your wedding gift; especially since you can have their newly shared last name put on the whole set. This decanter set is the wedding gift for your friends that will last for years to come too! Not only will they be able to enjoy this gift for celebrations and milestone anniversaries but they can also use this whole set as a fantastic display piece. The glassware is great for any table or counter, while the keepsake becomes the ideal place for them to keep their mementos.
Personalized Wine Gift Set for Newlyweds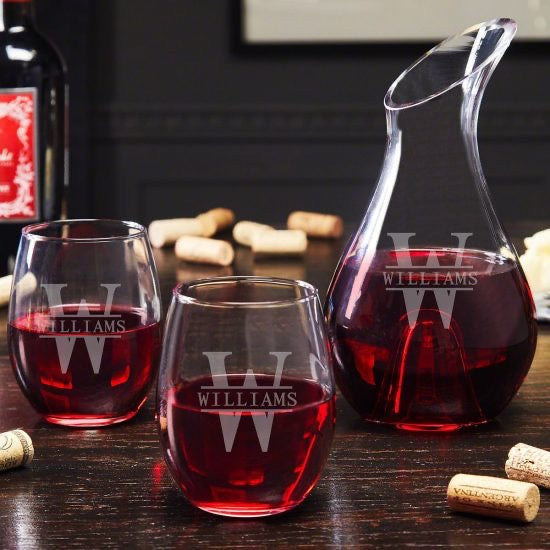 Celebrating with wine is traditional at weddings, so what could be more fitting than a new wine glass set? How about this matching glassware set that they simply won't be able to wait to use! Unlike fancy china, this fantastic gift will never sit behind glass doors. You know when they're writing thank you cards for gifts or unwinding after a long day, they'll be topping off their engraved glasses and thanking you for getting the perfect wedding gift!
Their First Crystal Glassware Set
Wedding gift ideas for friends can be a little tricky, you want to get them an awesome gift but sometimes you're just stumped on what to get. Well, not anymore! Get them a classy crystal decanter set as a present you know they will cherish forever. The whole set comes in a keepsake, which once they have their glassware on display, becomes the perfect place for them to store wedding mementos or other collections. Plus, they can even enjoy a drink in style with this gift! Indulge their taste buds with a fantastically fancy whiskey tasting gift set!
Shower Them with Bean Bags
Instead of rice, you can toss this gift at the newlyweds! This bean bag set is the ideal wedding gift for friends who love to play games with each other or host get-togethers. Put their newly shared last name on the boards, and this will become a sentimental gift they'll love using as much as possible!
Signs Make the Best Wedding Gifts for Friends
Gorgeous keepsakes and collectibles from the wedding will be great mementos to have in the house, but a gift that displays their love is the perfect wedding gift idea for friends. This sign is the perfect cozy display to see in any room of the house, from the living room to the kitchen, it is simply ideal anywhere!
317 + CUSTOM SIGNS FOR THE MARRIED COUPLE>
Sounds Like a Good Gift
Does the happy couple love their tunes? Give them a Bluetooth speaker to jam out to their favorite artists with the classically inspired styling of Marshall amps. They may have tied the knot, but that doesn't mean they want to have any cords attached. With Bluetooth technology they can bring the music they just can't live without to everything from the reception, to picnics, to even just hanging out with friends at the house!
A Wine Wedding Gift for Friends
Wine is one of the centerpieces of every major celebration, and it has been for hundreds of years. In recent years, it seems people don't let their wine breathe as much as they should. To have the best wedding gift for your friends, you can help the new couple out with a stylish wine decanter. This piece of glassware not only looks stunning, but it makes the wine taste better. Oxidation enhances the flavors and the decanter itself assists in keeping any sediment out of their glasses. This uniquely shaped decanter will surely be one of the coolest gifts they get!
Scotch Sharing & Celebration
You've known your friends for years and it didn't take long to notice that they have a taste for good scotch. An amazing wedding gift idea for your friends who love scotch is a decanter set after they tie the knot! This matching set allows you to engrave their last initial, last name, and the year they got married. The decanter is also air-tight so they can pour their best scotch in, leave it for months, and know none of it has been lost to evaporation. They'll love that you were able to make their favorite way to relax together with a more special experience than drinking out of normal glasses and a bottle!
Uncorked Across the Aisle
Matching wine glasses are always a win for newlywed couples! You know that your friends love spending time together (I mean they are marrying each other) and whether it's a good book, board games, or a movie, they'll spend a night in to do their date nights. Shopping around for wedding gift ideas for friends like this can be hard, but you've got the edge, you can make their at-home date night more awesome with their very own personalized wine glasses. The double-walled stainless steel is guaranteed to keep the wine chilled while the corkscrew multi-tool is sure to keep the wine flowing!
A Bubbly Bar Sign
You know your friends are going to have an early wedding, which means Mimosas! Take this opportunity to give them a pre-wedding gift. You'll have made their lives so much easier by taking care of their brunch sign. Not only is the sign perfect but it is also another detail of the wedding that they don't have to worry about. This will become a great keepsake that they can keep in the house as another reminder of how much fun the reception was!
Win Them Over with Wine
You know for sure that after the wedding the bride and groom are going to have an abundance of wine. One of the best wedding gifts for your friends with that kind of knowledge is a special set of glasses to drink from! A personalized stemless wine glass set will surely be of use to them. They'll be able to have a nice drink together while they go through all of the cards and bags from the wedding, which coincidentally will make writing the mountain of thank you cards that much easier to write. They love all their gifts, but writing that much sometimes requires a little bit of liquid inspiration!
Rockin' Robes
Your friends have been planning their wedding for months and you've watched all the stress of venue, food, and seating take a toll on them. You know it will all pay off, but you want to help them unwind after such a stressful event. The bride and groom would love a matching set of monogrammed bathrobes! Let them lounge around in comfort and style to unwind from likely the biggest event planning they've ever done!
Cap-Off Their Marriage
Sometimes it's hard for any wedding gift ideas for your friends to work as one gift for both of them. He likes horror movies, she likes rom-coms. He loves beer, she loves wine, one set of glasses or other gifts just don't work. Your friends are a true case of opposites attract. However, a cork and cap map is an amazing remedy to this situation. They still love to share a drink together, but this way they get to mark their relaxation or celebrations together with a sign that shows off their favorite things!
A Bouquet of Bourbon
Your friends love a good whiskey. They'll go for bourbons, ryes, malts, scotch, you name it and they love it. But they've never gotten around to getting a dedicated set of drinking glasses. For your wedding gift ideas for your friends, you need to get them a set of quality glassware for their hobby! While you're at it, add a personalized touch by adding a monogram engraving to the set. Put their shared last name in the middle and then the bride and grooms' initials, this sort of personalization toward their favorite hobby will surely be a stand out gift!
Personalized Cheese Board!
You've been talking with all your friends who are going to your other friends' wedding and it seems all the normal stuff and things you wanted to get them have been taken. And you really don't want to double up on what someone else has already gotten them. But then you remember, your friends getting married are foodies. A cheese board is a great wedding gift idea for your friends because they can do all kinds of things with it. They'll serve hors d'oeuvres, fruits for cocktails, and of course, cheese!
Best Beer Gift for Newlyweds
For the couple who loves beer, you need look no further for the perfect gift. Make their home feel like a brewery by gifting these engraved glasses and box set. This set will make any recently married couple hop for joy (get it, "hop–hops?")! For their wedding they'll enjoy the personalization of each piece, especially the box. They'll be able to use that to store all of their beer stuff or anything else they want, while making looking classy. But when they get home, they're sure to enjoy the glasses as they relax from their big day!
173 + PERSONALIZED BEER GIFTS>
In SodaStream and in Health
Your friends love to drink soda but are tired of all of the sugar that comes with it. A great wedding gift is to allow them to make their own soda with this at-home kit. Instead of endless amounts of sugary Mountain Dew or Coke, they can make their own sugar free versions. While they're at it, the carbonated water and flavoring could be very useful in making sugar free variations of their favorite cocktails!
Cut to The Good Gifts
You've had some good wedding gift ideas but only for either the bride or the groom. You really want to get something they can enjoy together, which are usually the very best wedding gift ideas for friends. To do so, get them something they'll use every day. They're moving forward in life and have gotten rid of their cheap cutting boards and need something of quality. Get them an acacia wood cutting board! Acacia cutting boards will last for years, especially when they are regularly treated with mineral oil and butchers wax! This board will give you the edge over other gifts because they'll get to use it every day and see the time you took to have it engraved with their names and anniversary date!
Cheers & Beers
The best wedding gifts for friends who love their beer can be as simple as a great set of pint glasses and their very own tap handle! The customizable chalkboard handle is perfect for them to write whatever kind of beer their drinking on. The matching pint glasses that come with will look great when they have their handle installed and are letting the beers flow! Whether they love their IPA's, pilsners, or have their go-to macro beers, these glasses are sure to impress!
Wedding Time
Well, it's wedding time again. Okay, bad jokes aside this unique clock is a fantastic gift for any wine-loving couple. The entire thing is made to look like a freaking wine barrel! And who doesn't need a clock in their house? The advent of cellphones has dropped that, but let's be honest, looking at a clock is a lot more aesthetic than looking at your phone. So, make their home look better and embrace what they love with this wine cask clock!
Ultimate Whiskey Wedding Gift Set
Kick the couple's celebration off in class with some whiskey glasses! A gift box is a great way to ensure that you have one of the best wedding gifts for your friends at the reception! You know they're already getting plenty of things to drink, but you'll be the one that gives them a high-end gift box to store both the glasses you've gotten them along with an awesome set of whiskey stones which will keep their drinks chilled to perfection!
97 + WEDDING GIFTS TO WOW THEM>