Finding the perfect gift for one person can be tough, but when it's for two people? Talk about challenging! There's a couple getting married in your life, and you want to find a fantastic present for them. All you know is that you want to get a his and hers type of gift that both the bride and groom will really enjoy. The ideal his and hers wedding gifts are romantic, personal gifts that the newlyweds will want to use and enjoy together. These modern and traditional wedding gift ideas will definitely make their married life so sweet together! We looked high and low for the best wedding gifts for bride and groom that are sure to bring wedded bliss to the couple.
The Best Glassware Set for the Bride and Groom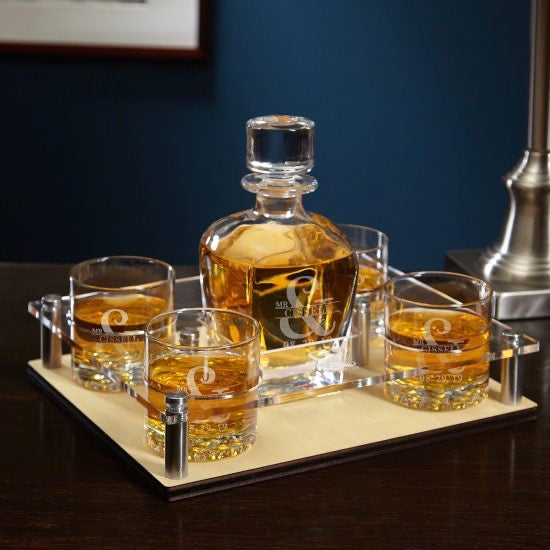 This custom whiskey presentation set is one of the most useful wedding gifts for bride and groom that will mean a lot to them! The special wedding customization will ensure they always think about that amazing day they became husband and wife. This gift is absolutely perfect for when they want to enjoy a drink together but aren't in the mood to whip up a cocktail. All they have to do is reach for this set on the coffee table or their home bar and pour themselves a glass of decanted whiskey.
Gorgeous Custom Cutting Board
Choose a really unique, useful, and beautiful gift that both the bride and groom will adore! This engraved charcuterie board is the perfect present because not only will they love that it's personalized with their names, but it's a must-have when making and serving food. It's a great surface on which he can chop up meat to grill or she can dice veggies for a salad. When they have guests over, it'll be so easy to just place the hors d'oeuvres on this gorgeous board and serve them in style!
Beer and Wine Wedding Gifts for Bride and Groom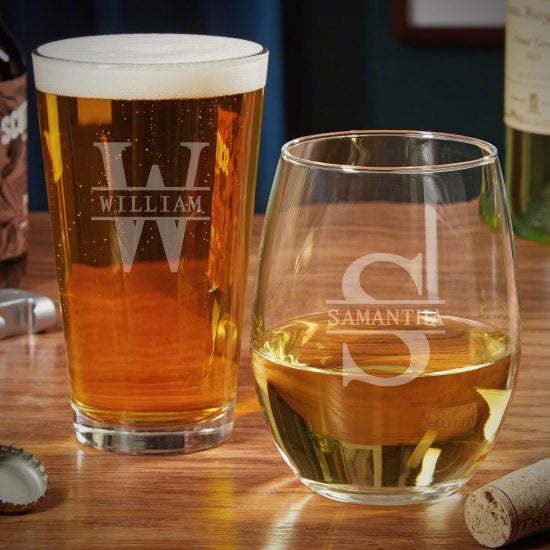 When they aren't in the mood for the same drink but want to drink from a gorgeous set of matching glassware, this custom pint glass and wine glass set is absolutely perfect! It's one of the best his and hers wedding gifts because they'll absolutely love having their name and initial on their glasses in a matching style. When they're having a date night or just wanting to spend some valuable time together, they'll definitely use these unique wedding gifts to sip on their favorite drinks together!
Cutest Couples Sign Ever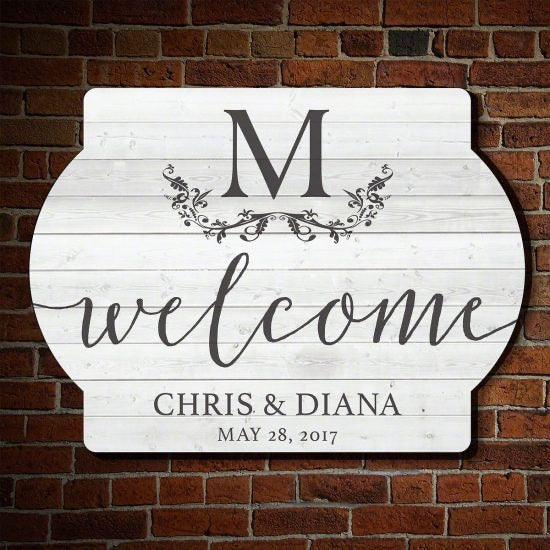 Sometimes, the best his and hers wedding gifts are those that they cannot only enjoy after the wedding, but during too! This wedding welcome sign is a lovely gift that makes a beautiful sign for the wedding as well as one that'll look stunning in their home for years to come. Every time they walk past this sign with their names on it, they'll be filled with joy thinking about their special day.
Personalized Wine Glass and Tool Set
You might think the perfect wine gift set for him and her doesn't exist, but you'd be wrong! This wine glasses and wine barrel set will definitely be one of their favorite gifts they receive because they'll think the personalization is really special and the uniqueness of the set makes it awesome! Having all the wine tools they need in this convenient little barrel will definitely come in handy when they're wanting to spend time together while having a glass of wine! This unique set has got to be one of the coolest wedding gift ideas for couples who have everything!
Gorgeous Robes They'll Adore
Why not choose wedding gifts for bride and groom that they can wear when they're lounging together? This gorgeous robe gift set is perfect because they'll love seeing their initials on the matching robes as they're lounging around together! They'll feel like the classic married couple from a movie in these robes, which they'll love!
Champagne Box Set of His and Hers Wedding Gifts
The perfect his and hers wedding present will be one they use to toast at their wedding and every anniversary afterward. They'll love receiving this set at their wedding shower so they can use it on their big day. This champagne flutes box set is incredibly beautiful, and the couple will think it's fantastic that they each have their name engraved onto a glass. Each year when they celebrate their anniversary, they'll enjoy using this set to celebrate as they did the day they tied the knot.
Keep Their Wine Chilled
A beautiful gift that keeps their wine cold? What could be better than that! This beautifully engraved marble wine chiller is a phenomenal his and hers gift because they'll both love how gorgeous and unique this wine chiller looks. They'll greatly appreciate that this one-of-a-kind gift keeps their favorite wines chilled to perfection as they have a date night or spend time with close friends and family.
A Whiskey Gift Set to Use on Any Occasion
Get the newlyweds the most gorgeous whiskey decanter box set ever! It's one of the greatest his and hers wedding gifts because of how unique it is. The one-of-a-kind personalization is so special to them, and they'll really appreciate having a go-to set when celebrating their anniversary, Valentine's Day, or any other special occasion together. Both the bride and groom will greatly appreciate the classiness of this handsome set!
Simple Yet Fantastic Wedding Gift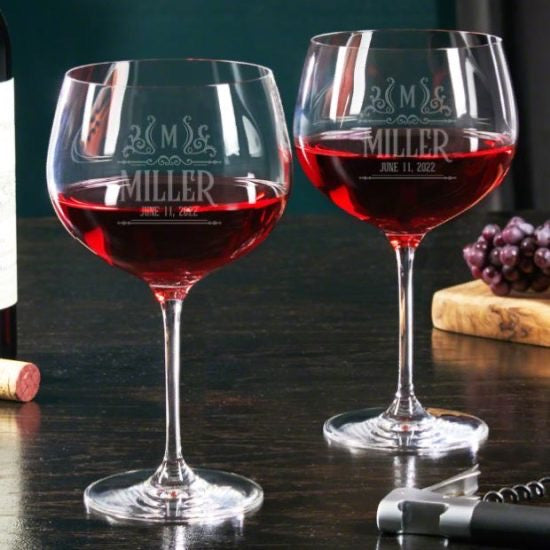 Amazing wedding gifts for the bride and groom don't have to be super complicated! This matching balloon wine glasses set is absolutely phenomenal, and the duo will be so excited to use these to sip on wine at their wedding and then use them at home when they want to enjoy wine together. They'll really appreciate the large bowls on these glasses that set them apart from any other glasses they've owned! They'll love reminiscing about their wedding as they use these glasses on their anniversary or Valentine's Day!
For the Honeymoon
It's tradition for newlywed couples to jet off to somewhere exotic and fun on a honeymoon. This Mr. and Mrs. gift set is one of the best wedding gifts for bride and groom that they'll be so appreciative of when they set off on their honeymoon! The classy leather passport holders will ensure that they keep track of the extremely important passports, and they'll really appreciate the fancy leather bag tags marking which luggage belongs to each of them.
Shadow Box Set of Wedding Gift Ideas for Bride and Groom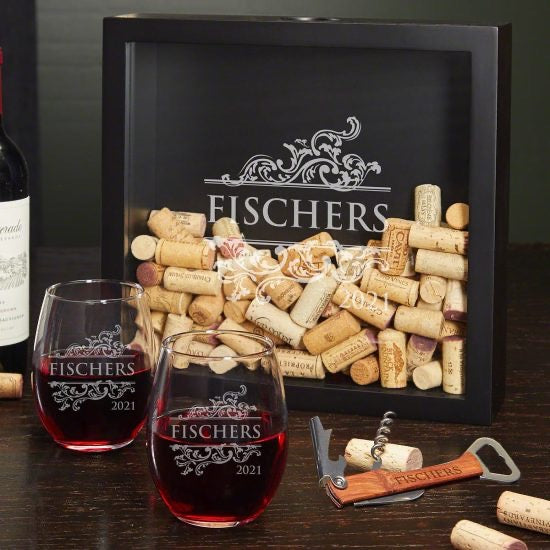 Their wedding will be one of the very best days of their lives, so you know they'd love a wedding gift that helps them treasure the memories from that day! This shadow box set is phenomenal because their wedding flowers, photographs, or any other mementos will look fantastic inside the box and hung up on the wall in their living room or bedroom. The sentimentality of the items will mean a lot to them, and they'll love reminiscing on their anniversary each year, using the custom wine glasses to toast to the best day ever.
Make the Wedding Full of Fun
Give them a gift that'll make the wedding more fun and is also a phenomenal keepsake from the day! This bean bag toss board is one of the most unique his and hers wedding gifts that they'll both be obsessed with. They'll have a blast playing with their wedding guests, and the personalization will ensure that they always think of that special day when they take this gift out for a family get together or even to spice up their anniversary!
Their Very Own Personalized Glasses
Truly terrific his and hers wedding gifts are presents that give the couple an excuse to spend time together whenever they want. This custom whiskey glasses set will definitely be the couple's favorite glasses to use! They'll love seeing their names and initials on these unique, twisted glasses, and they'll definitely designate them for use during every anniversary and other special occasions they spend together.
Awesome Walls Signs Make the Best His and Hers Wedding Gifts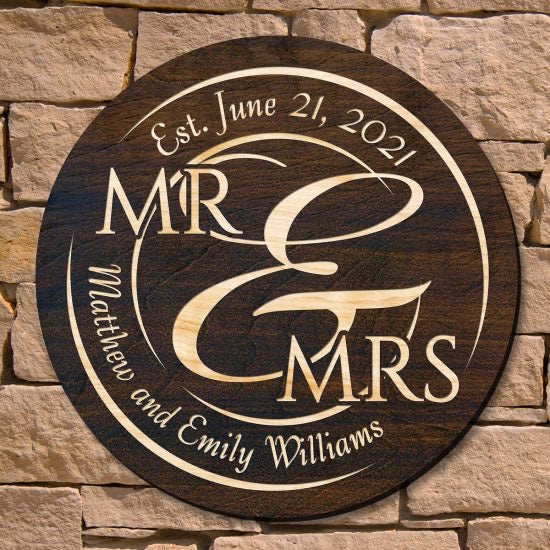 Get the couple a sign that truly celebrates that they're becoming man and wife. This personalized wooden sign is just the decor they'll love having hanging in their home, whether that's in the entryway, living room, kitchen, or bedroom. The couple will love how incredible this sign looks in their home, and they'll also be a big fan of the memories of their special day this sign holds.
For Planning Adventures
They'd love to travel the world together, going on adventures both near and far. This cork globe is one of the most creative wedding gifts for bride and groom that they'll both adore. It'll be so fun for them to stick the corks into the globe over places they want to visit together or have already traveled to together. This unique present will always remind them to never stop dreaming of and going on adventures together!
For Keeping Every Memento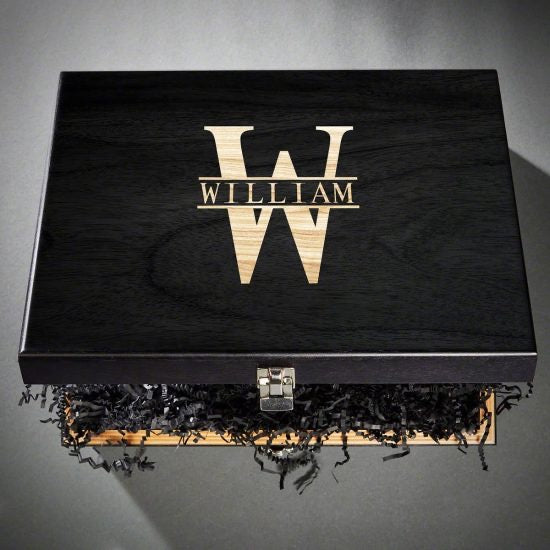 Even when they've been married 50 years, they'll still remember one of the best days of their lives. Help them remember their wedding as best as possible with this custom wooden memento box! Inside this handsome box, they can keep a copy of their invitations, save-the-date cards, flowers, and any other small items that'll fill them with nostalgia when they look back on that amazing day.