You're so happy to be marrying your best friend, and you want to buy them the perfect gift to show them how much you love them! Your gifts for fiance need to be unique gifts that demonstrate your love for them as well as becoming a gift that they can look back on and think of this special time in their lives. But what kind of gift demonstrates your deep love for them while also making your excitement apparent? How can these gifts become nostalgic? We've found the best gift for fiance that fits these ideals perfectly and will fill your fiance with joy!
Gifts for Fiance With a Twist
There's nothing like a super unique gift to help your fiance remember your engagement forever! This set of twist glasses is one that the two of you will always look back on as making your engagement so special. You can use it to toast to your engagement and then use it for other milestones and special occasions in your relationship as well. Your fiance will love the personalized wooden box as a special place that they can use to store mementos from your engagement or wedding.
Stay Together Sign
You've found the one person you want to enjoy drinks with for the rest of your life! Show your fiance how much you love them with this customized wall sign. They will love having this gift hang in your home, brightening up the room and reminding the two of you to enjoy a date night or celebration together. With their name on this gift for fiance, they'll feel incredibly loved and be so thankful for this gift.
Legendary Gift for Fiance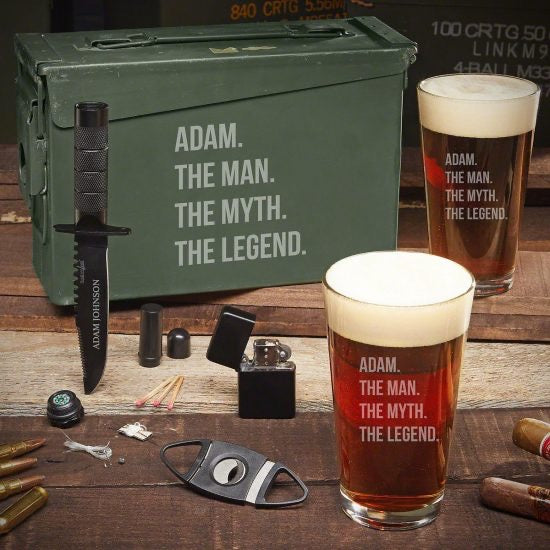 You have the most legendary fiance ever, so you want to get him this ammo can set as a gift! Seeing his name on the super unique ammo can will make him feel incredibly cool, and the other components of the gift will come in useful as well. Whether he's in the mood to drink a beer, smoke a cigar, go on an outdoor adventure, or store any items in an awesome can, this set provides him with the proper tools for any job!
Ultimate Relaxation
The process of getting engaged and married is amazing, but it can also be stressful! Help your fiance de-stress in the greatest possible way: this spa basket! She'll love having a long, luxurious bubble bath that smells like lavender and vanilla before wrapping herself in the microfiber towel and putting on the pair of lovely slippers. She'll feel so relaxed throughout even the most stressful times!
Best Gift on Planet Earth
Because your fiance means the world to you, you want to get them an incredible gift to show them just that! That's what makes this globe decanter set such a fantastic gift for your fiance. The classy, customized Glencairn glasses are perfect for the two of you to sip whiskey or any other spirit together. Your fiance will definitely want this decanter displayed prominently in your home, and the two of you will have so much fun daydreaming about your future travels and adventures.
587+ AWESOME PERSONALIZED WHISKEY SETS>
For the Mr. and Mrs.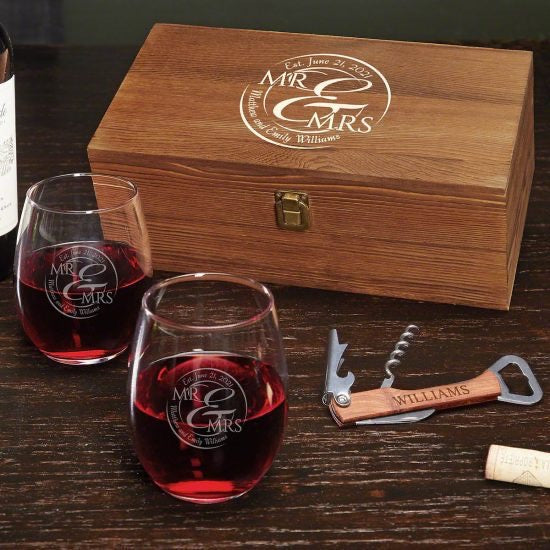 Being fiances means it's almost time to become Mr. and Mrs., how exciting! To show your excitement and love for your fiance, buy her this wine box set! The two of you will love having a glass of wine using these glasses time and time again, and the box can be used to store mementos from your engagement and wedding. These gifts for fiance are ones that they will never forget!
Gift to Enjoy A Drink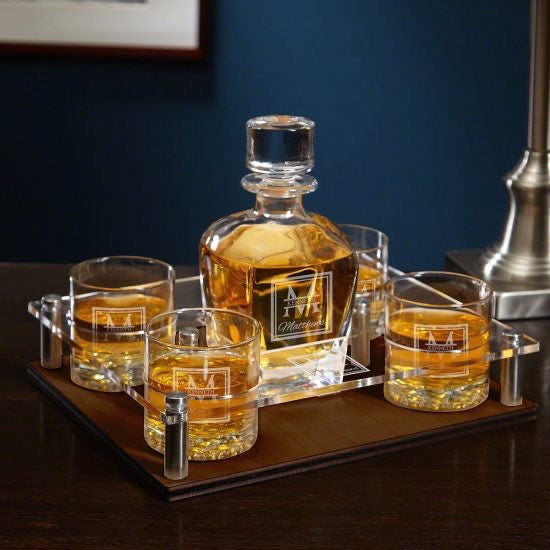 The best kind of gift for fiance is one that can be used all the time, no matter what stage of life you're in. For your fiance, this presentation set is a stellar gift because there will always be a time when they want to celebrate a special occasion with you. Whether it's a holiday, a work accomplishment, or a hard day at work, this set will always be sitting there, ready for them to enjoy a delicious drink. You simply can't go wrong with a gift this amazing that the two of your will use to toast to your engagement!
Their Absolute Favorite
One of the most thoughtful gifts you can give your fiance is one that helps them enjoy their favorite thing. That's why this wine bottle box is the perfect gift! With a bottle of their favorite wine inside it, it's the most perfect gift they could ever imagine. They'll love that all the wine tools they could ever need come inside this handsome box, and they'll love using them to share a glass of wine with you!
A Promise to Your Fiance
Marriage is about doing special things for your spouse to show love. This breakfast in bed tray is such an incredible gift for your fiance because it promises years of special occasions where they get to wake up to the smell of their favorite breakfast without even having gotten out of bed yet. They'll feel so loved with this symbolic gift for fiance and be very grateful for this fantastic gift that they can't wait to experience for years to come.
Two Becoming One Gifts for Fiance
Getting married means two lives merging together. What better way to help everything in your lives merge than with matching glasses? This glasses and stones set will symbolize the coming together of both of your lives in the best way possible! The two of you will love sipping your favorite chilled spirit from the matching glasses with identical engravings, feeling like two peas in a pod.
175+ FABULOUS GIFTS FOR COUPLES>
Gift in the Kitchen
Spending the rest of your life with someone means you'll be sharing thousands and thousands of meals together. Buy your fiance the perfect gift to help prepare some of those meals in the kitchen: this engraved cutting board! You'll both love chopping up meats, vegetables, or any other foods on this gorgeous, sturdy board together. When it's not in use, the personalization in the center makes it a beautiful kitchen decor item!
There Are a Few of His Favorite Things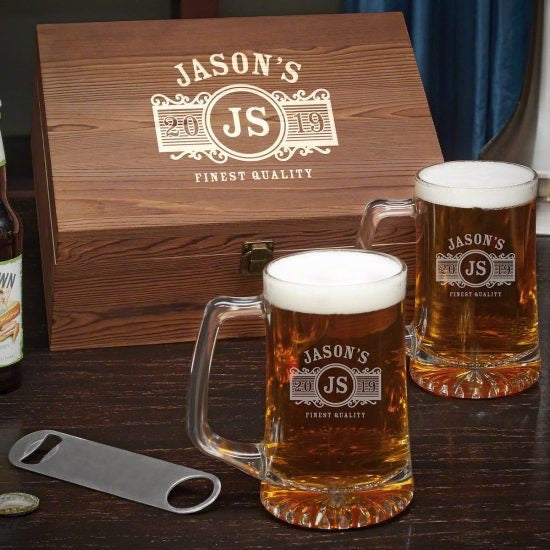 You want your fiance to always be able to enjoy his favorite things. That's why this beer gift set is one of the best gifts for your fiance you can imagine! He'll love having his own, personalized glassware to use when indulging in his favorite brews because they'll make him feel like a manly man, and the box is perfect for keeping all of his must-have beer accessories in a safe spot. This has got to be one of the coolest gifts for fiance you could imagine!
Scented Gift Your Fiance Will Love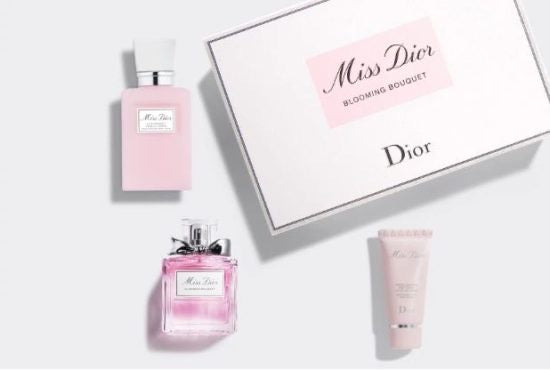 There's a reason that perfumes are such fantastic gifts for fiance, and here's what it is: your fiance will spray this new scent when you two are celebrating the engagement, and then at your rehearsal dinner, and then at the wedding. That way, whenever the two of you smell it for years to come, you'll both be instantly transported back in time to some of the most beautiful experiences of your lives. She'll be incredibly impressed with this Dior perfume set and be thrilled to use it when you get married. Your fiance will absolutely love such a thoughtful, sentimental gift.
Cork-Filled Memories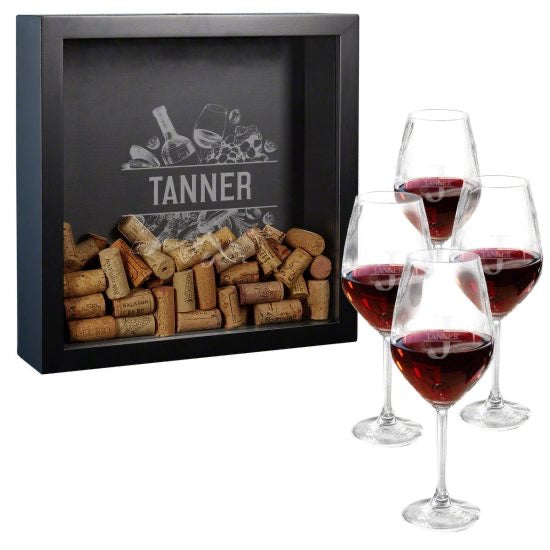 In the grand scheme of life, the time when you and your fiance are engaged is very short. It's such a special and exciting time; however, the best gifts for fiance are the ones that ensure you can retain the memories of your engagement and take some mementos with you. This shadow box and wine glasses set is such a beautiful gift that your fiance will adore. Storing wine corks from each bottle you drink together when you're celebrating being engaged and getting married will make that time even more fun. The two of you will love sipping wine from the customized glasses and gazing at the lovely box, remembering all the special times they've had.
Hang Up This Gift

You know your fiance better than anyone, so you want to customize his gift just for him. Get him this awesome customized ammo can so you can put awesome smaller gifts inside the coolest can or box ever! He'll love using this can to store his favorite photographs of the two of you, fishing tackle, or anything else his heart desires.
Most Useful Gift Ever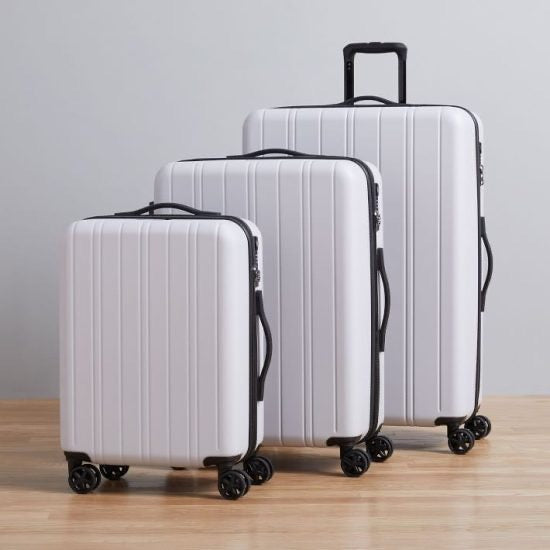 Getting married involves a lot of packing up of clothing, shoes, makeup, and other items, and that's not even including all the packing that's necessary for the honeymoon! Your fiance will love this luggage set as a gift! She'll love the convenience of these sleek suitcases that she can use to separate her belongings however she sees fit. She'll be so happy with this thoughtful and useful gift!
Toasts For The Rest of Your Lives
Toast to being engaged with this whiskey stone gift set! It's one of the greatest gifts for fiance because not only is it perfect for celebrating all the most exciting moments in your lives, but it's personalized just for him. Whether it's celebrating the engagement, wedding, or any other occasion in the future, you'll always look back to the time you were engaged when using this gift.