The 27 Best Wedding Gifts in 2022
When it comes to wedding gifts, you want to get the happy couple something they will both enjoy. You're celebrating their love and their future together, so your gift should reflect that! The best wedding gifts are items that the bride and groom can enjoy together for years to come whether it's a piece of home decor or a practical gift they can both use. Are you looking for cool wedding gifts for the couple who has everything? Wondering what to get the bride and groom who don't have a registry? We scoured the web to put together the best, most memorable, and unique wedding gifts out there so that you can give a spectacular gift to the happy couple they'll treasure forever.
Monogrammed Decanter Sets Are Always Cool Wedding Gifts
You can never go wrong with a decanter set as a wedding gift! This lovely three piece monogrammed decanter set is perfect for the bride and groom to enjoy a romantic after-dinner drink together. This beautiful set will look lovely on display in their home, and everyone who visits will be absolutely enamored by the adorable engraving of their combined initials on the entire set!
Must-Have Red Wine Aerator Set
Enjoying a bottle of wine together as a married couple is a popular activity, so it's only natural that a custom wine decanter set would be considered one of the best wedding gifts! This beautifully personalized set will be a part of every date night, special occasion, and holiday for the newlyweds each year from now on.
One of the Best Wedding Gifts Ever
One of the most thoughtful wedding gifts you can give is a custom piece of home decor! The bride and groom will love having a new personalized sign to christen their new house and make it feel like home. This adorable sign is something they'll proudly display in their kitchen or dining room for years to come!
Lovely Cutting Board You Can't Go Wrong With
Cutting boards are definitely one of the most popular wedding gifts, but you can set yours apart from the rest by giving the bride and groom a personalized one! This gorgeous hardwood cutting board will not only be a great place to do food prep every day, but is also a lovely decoration for the kitchen that they can display at all times.
Impressive Crystal Decanter Set
Want to give an exceptionally cool wedding gift? This is it! Such a gorgeous decanter set will surely be the happy couple's favorite wedding gift because they can display it on their home bar, use it to enjoy a couple of Whiskey Sours together, or serve guests in style. When they want to store it to use for the next special occasion, the unique keepsake box will house it perfectly! You simply cannot go wrong with such an amazing wedding gift.
477+ GIFT SETS AND FOR THE BRIDE AND GROOM>
The Ultimate Cool Wedding Gift
Yes, this incredibly cool retro-style breakfast station is a coffee maker, toaster oven, and griddle all in one amazing gadget! How awesome is that? The bride and groom will look forward to getting out of bed every day just so that they can enjoy some fresh coffee and bacon with their handy breakfast station. This is one kitchen appliance that you can't go wrong with!
A Cute Wine Chiller The Happy Couple Can't Live Without
There's nothing like a cool glass of wine with the one you love after a long day. Make sure that the bride and groom can enjoy a perfectly chilled bottle of wine whenever they want with this marble wine chiller! Doubling as an adorable wedding keepsake, this genuine marble wine chiller will instantly chill and keep any bottle of wine cold all the way through dinner.
This Luxurious Serving Set is One of the Best Wedding Gifts
One of the best wedding gifts of all time is this stunning crystal presentation set! The six piece set is perfect for having around when the in-laws visit, double date nights, or for romantic evenings together by the fire. This gorgeous decanter set makes an impressive centerpiece in any room, too, as it's certainly portable! The beautiful monogram of the bride and groom's first initials surrounding their last is simple, elegant, and timeless.
Give the Bride and Groom a New Hobby to Enjoy Together
Enjoying new activities and hobbies together after getting married is one of the best ways to keep the spark alive. Encourage the bride and groom to start building a collection together with this cute personalized shadow box! They can start collecting every single wine cork from bottles of wine they drink together, fortunes from Chinese food takeout nights, ticket stubs from concerts, or anything else they wish. The happy couple will love watching their collection (and their love!) grow over time.
Diamonds and Weddings Go Hand in Hand
Weddings start with a diamond ring, so it's only fitting that you get the bride and groom this beautiful diamond decanter! By far one of the most unique and cool wedding gifts, this spectacular decanter is sure to be a conversation starter when the happy couple has company over. They'll be reminded of that wonderful day when they got engaged every time they use it!
The Perfect Wedding Gift for the Bride and Groom to Bond Over
Are you looking for a sweet wedding gift that will strengthen their marriage? This cookbook is specifically intended to be used by a couple in order to get to know each other better than ever before through the art of cooking together. Its unique recipes will help the bride and groom explore new flavors and various types of classic dishes. Thanks to your thoughtful wedding gift, they'll be able to enjoy cooking together like never before!
Dress Up a Bottle of Wine As Your Gift
Stuck on what to give the bride and groom who have everything? You can never go wrong with a bottle of wine, but you can do even better by giving it in a beautifully personalized gift box that comes with a set of handy wine tools! This gorgeous and cool wedding gift is both practical and meaningful, so it's sure to be appreciated by any bride and groom. You could even say it's a bottle they're meant to save until their first anniversary!
Cute Game to Play with Their Family
One of the best wedding gifts you can give is a fun game that the bride and groom can play together or even enjoy with their friends and family for years to come! This unique bean bag toss set is a timeless, easy game for all ages to play indoors or outdoors. It's portable, too, so they can bring it to every family reunion and holiday gathering.
Essential Set of Beer Glasses
For the bride and groom who love to kick back with a couple of cold beers, this set of custom pilsner glasses is one of the best wedding gifts you can give! Of course, you should also include a case of their favorite beer so that the happy couple can enjoy their new glasses right away on their honeymoon.
Champagne Flutes Are Always the Best Wedding Gifts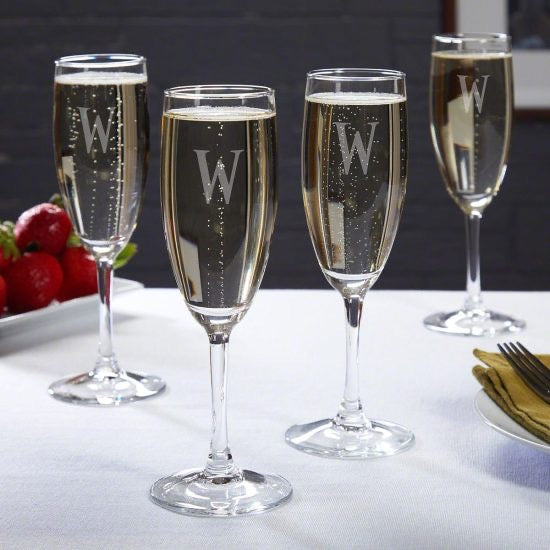 Weddings and champagne go together like your favorite sport and beer. You just can't enjoy one without the other! Make sure the bride and groom have a set of champagne flutes to have a proper wedding toast at the reception and to celebrate every special occasion after with this elegant set! They'll be using this classy set of champagne glasses for every anniversary, to celebrate a new job, or toast to every new year.
A Cool Wedding Gift They'll Never Expect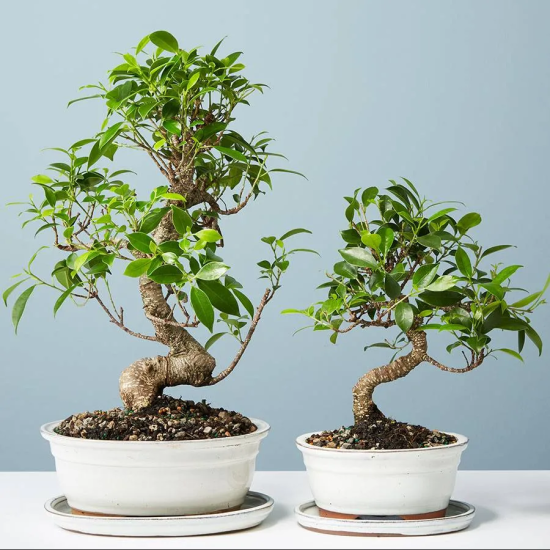 While it's a big deal to get your first pet together, that's nothing compared to caring for plants! Learning to nurture a bonsai tree and watch it grow over the years together is one of the most unique wedding gifts you can give. The bride and groom can take turns pruning and watering it, ensuring that it thrives and ages along with them. Bonsai trees can live for many years, after all, so they can enjoy it forever!
Complete Decanter Set Displaying Their New Last Name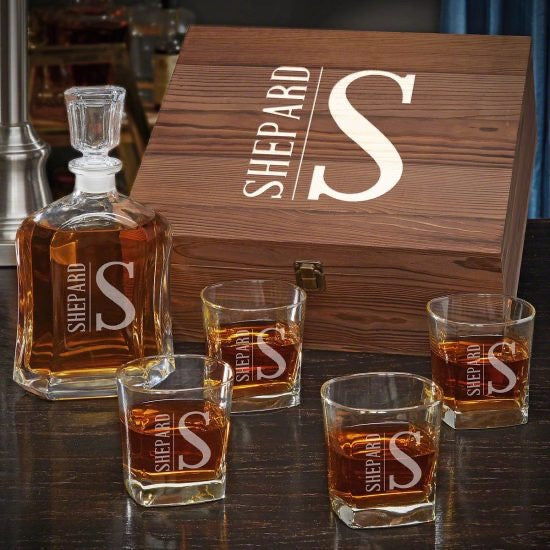 One of the simplest ways to give a meaningful wedding gift is by giving the happy couple a custom present that features their new shared last name! The bride and groom will love using this decanter set to enjoy after-dinner drinks together, and it'll come in handy when they have company over. They will treasure this beautiful decanter set forever and proudly display it in their home!
Adorable Custom Sign for Their Home
How cute is this personalized wooden sign? By far one of the best wedding gifts, this beautiful piece of decor is a must-have for any bride and groom. They'll want to have this thoughtful wedding day keepsake displayed prominently in their home so that they can see it every day and remember their special wedding day. They'll certainly treasure such a lovely gift for years to come!
299+ CUSTOM SIGNS FOR THEIR HOME>
The Best Wedding Gift for Wine Lovers
Even though they're getting married, they'll still have date nights! When they're feeling like a date night in, the first thing they'll reach for is a bottle of wine to enjoy with their dinner. Next, they'll reach for these custom wine glasses! This beautiful gift set is sure to be the center of every future date night, when they need to relax after long days at work, or even to celebrate special occasions such as their first anniversary a year from now.
Every Married Couple Needs a Cheese Board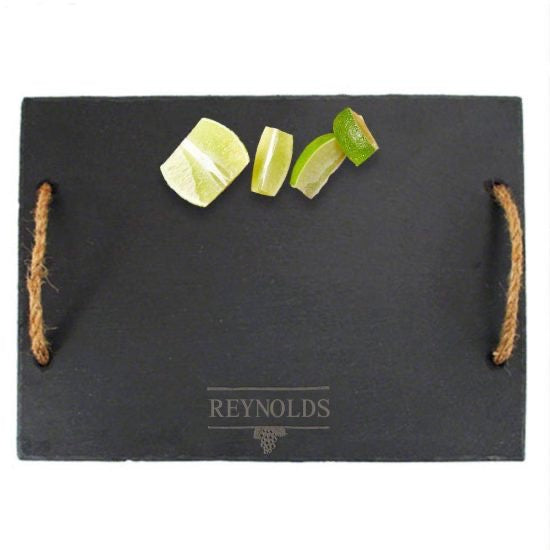 One of the best wedding gifts you can give is a cheese board, but not just any one will do. Give them this custom cheese board that has built-in handles! Whenever they feel like enjoying a fancy cheese spread or a couple of snacks, this handy slate cheese board will be the first thing the newlyweds reach for. It certainly makes it easier to serve appetizers at parties, too!
A Place to Keep Their Daily Essentials
Once they are married, the happy couple will need a place to keep their wedding rings close by. This incredible valet station can hold their rings, watches, phones, wallets, and more! This perfect bedside table organizer will make sure that the bride and groom have everything they need in one convenient place every day. This is certainly one of the best wedding gifts because it's so practical and handy!
Modern Wine Tumbler Set for the Modern Couple
Wine tumblers are quite popular right now, especially for younger couples! These stainless steel tumblers are durable, unbreakable, insulated, and far easier to use than a fragile wine glass. This modern, cool wedding gift set is perfect for the bride and groom to enjoy a refreshing chilled glass of wine together or even to take traveling with them. This practical wedding gift will become their new favorite set to use whether they're enjoying cold wine by the pool on a hot summer day or curled up by the fire together with some warm mulled wine.
For the Bride and Groom Who Love Coffee
Do you know a happy couple who love coffee as much as they love each other? Then the best wedding gift for them is this custom coffee bar sign! The perfect decor for their kitchen or dining room, this adorable sign displays their love for coffee and for each other. You simply can't go wrong with such a cute wedding gift for coffee lovers!
The Perfect Set for Romantic Drinks Together
Want to get the bride and groom something special to enjoy on their wedding day? They can take a celebratory drink together before walking down the aisle with this personalized shot glass set! After the wedding, they'll have a unique wedding keepsake that they can use to enjoy a scotch on the rocks or a shot of their favorite liquor together.
Cool Wedding Gift for the Beer-Loving Bride and Groom
Are you looking for a wedding gift for a couple who really loves beer? The best wedding gifts for beer lovers are none other than this pint glass set! With four pint glasses and an insulated growler, the bride and groom will be able to enjoy a couple of cold ones with friends and even take their favorite brew on the go. They'll especially love that the entire set is engraved with their names and wedding date so that it doubles as a thoughtful reminder of their special day every time they use it.
A Place to Display Their Wedding Pictures
What is a good wedding gift for the couple who has everything? Picture frames! No, seriously, they'll need somewhere to display all of their beautiful wedding photos in their home! This lovely picture frame collage is the perfect way to display different pictures from their wedding and honeymoon in their living room, bedroom, or even the hallway. They'll be so thankful for such a thoughtful gift!
The Decanter Set They'll Use Every Anniversary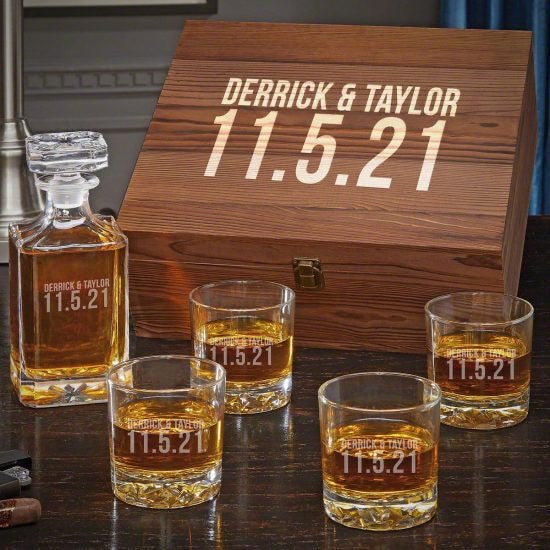 The best wedding gifts last for years. This stunning crystal decanter set featuring their names and wedding date isn't just a gorgeous decorative piece, but it's nice enough to be reserved for using on their anniversaries and special occasions. The gift box it comes in doubles as a keepsake box that they can use to store all kinds of mementos and items from their wedding if they wish! This beautiful decanter set is the gift that keeps on giving for years to come.