One of the most important things about weddings is the decor. It is absolutely essential to make sure you have a sign or two that shows your guests where to go whether it's welcoming them to the ceremony or reception. Wedding welcome signs are wonderful decorations that greet, direct, and inform guests so that you don't have to worry about making sure your loved ones are all there on your special day. These helpful signs are usually placed inside or outside the front door of the wedding venue or reception hall so that it's the first thing that guests see when they arrive. Wedding reception signs can be helpful in directing guests where to go from the ceremony, and sometimes they have fun additions like a menu or a cute theme. Whether you're looking for an unforgettable wedding gift to give to a couple or you're getting a sign for your own wedding, we found the best signs that you can customize to make absolutely perfect for your wedding!
Traditional Wedding Welcome Signs Are the Best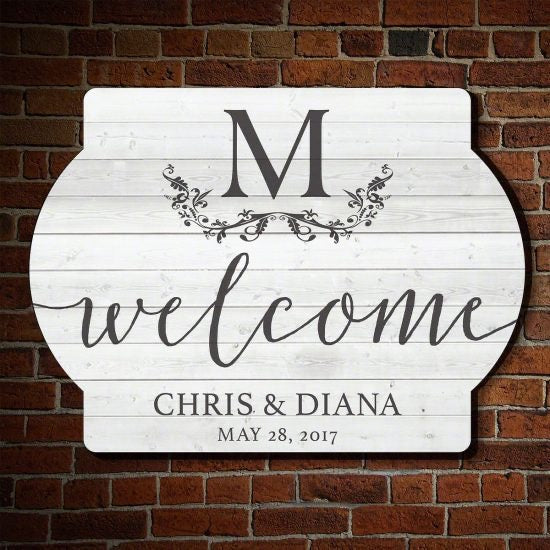 Everyone from your guests to your wedding party will adore this beautiful wedding sign! The traditional white goes perfectly with any theme or color scheme and is sure to put anyone who sees it in a wedding mood. This sign is great for placing right inside the front door of your venue for the ceremony or the reception! Plus, after the wedding, it makes a gorgeous sign for your home to hang in the entryway.
Nothing Says Wedding Reception Like This Mimosa Sign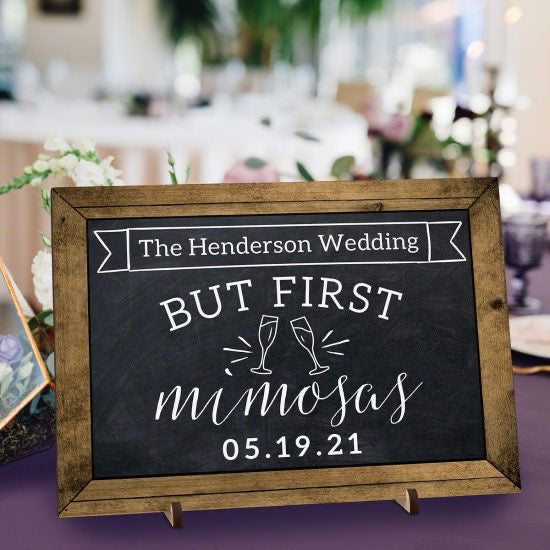 Whether you're having a morning ceremony or you want to have a fun brunch vibe at your reception, this adorable mimosa bar sign is one of the best wedding reception signs you can have! The popular chalkboard-style will fit right in with your theme and everyone will want to grab a bubbly mimosa as soon as they arrive at the reception. Plus, it can certainly make a super cute kitchen decoration at home afterward!
Modern Wedding Welcome Signs are Trending
When you search for wedding signs on Pinterest, you'll see a ton of lovely signs like this with elegant cursive font, flowers on the top, and the sign displayed on an easel. This modern trend is becoming more and more popular, and it's no wonder why! This beautiful sign is the perfect welcome sign for a modern bride's wedding with its minimalist design and eye-catching script.
Simple Wedding Reception Signs You Can Customize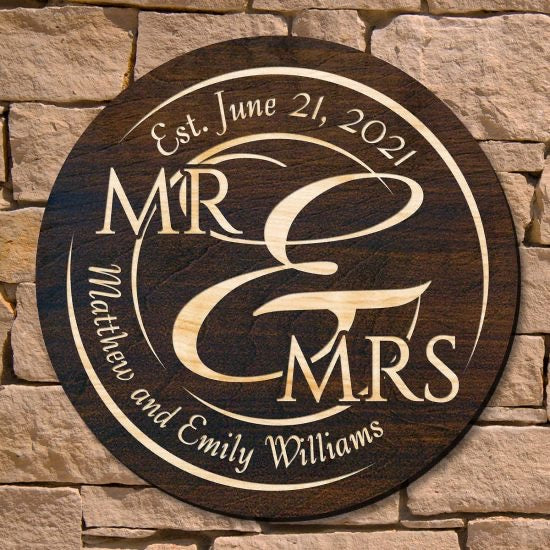 Are you looking for something a little more customizable? This adorable Mr and Mrs sign features two lines of text entirely of your choosing so it can say your names and wedding date as shown or something more unique like "Welcome to Our Forever, Jack and Sarah Smith." You can get really creative with this lovely round sign, making it easy for it to be either your welcome sign or reception decor!
Rustic Welcome Sign
Add the perfect rustic decor to your outdoor wedding with this wooden pallet sign! One of the cutest wedding welcome signs for boho, rustic, or country themed weddings, this adorable sign will look lovely displayed on an easel or hung at the entrance of your ceremony. Talk about a perfect wedding gift. You can easily drape some greenery, flowers, or even string lights around this super cute sign to make it stand out even more!
Minimalist Wedding Sign They Can Display Afterward at Home
You don't necessarily have to have a fancy wedding welcome sign, you can keep it simple with this lovely little wooden one! It fits in nicely no matter what your theme is or even where you display it because of its simplicity. In fact, it is a great sign to hang up in your home after the wedding!
Unique Art Deco Wedding Sign
Art deco and the roaring 20's have made quite the comeback, and it's no surprise that 20's themed weddings are super popular right now. Whether you're having a full-blown vintage-inspired wedding or your reception hall is straight out of The Great Gatsby, this stunning art deco sign is a must-have! You can customize all of the text on it to make it a one-of-a-kind piece for your wedding or reception, and it will certainly impress your guests!
Shadow Box Sign Doubles As a Guest Book
Looking for something even more unique for your wedding welcome signs? Try a shadow box that you can also use as a wedding guest book! This adorable shadow box will look great on a table at the front of your wedding venue surrounded by gifts, favors, or other decorations. Your guests can sign a little piece of paper and drop it in the shadow box, creating a unique wedding keepsake and a fun way to keep track of everyone who came!
Make a Statement with Your Decor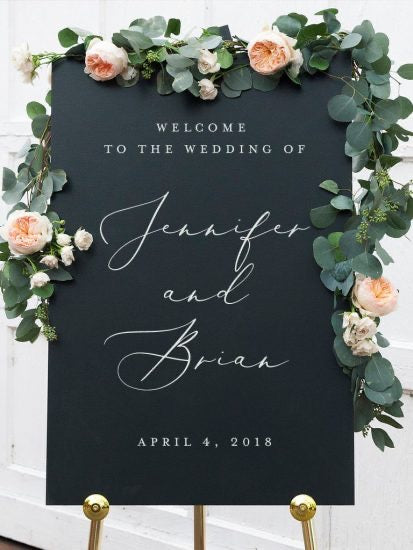 While most decor at a wedding is white, pastel, or bright colors, this wedding welcome sign is a striking black like the groom's tux! The reverse color scheme is really eye-catching, which means your guests certainly won't miss it when they arrive. You could certainly decorate it with white flowers or greenery that matches the wedding colors to make it pop even more, but it will look lovely if you decide to leave it as-is.
Unique Sign Your Guests Won't Forget
Weddings are all about celebrating a happy couple with drinks, amazing food, and incredible wedding cake with your loved ones. Your decor should totally reflect that, and this wine-themed sign is perfect! By far one of the most unique wedding decorations, this gorgeous sign comes in three colors and is fully customizable to tailor it to you and your wedding. How cool is that?
Wedding Guest Book Sign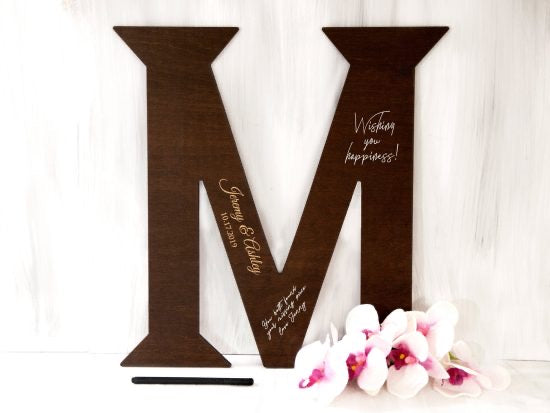 This unique sign doubles as a cute monogrammed welcome sign and a fun wedding guest book! Your guests can sign their names and a sweet message on the wood sign for you to treasure as a unique wedding keepsake forever. This interactive sign is by far one of the best wedding signs, and it works great for rustic or traditional weddings!
Classic Name Sign
When in doubt, stick to something classy like a wood sign that says your names and wedding date on it! This beautiful custom sign can be used as a welcome sign at either your ceremony or reception, a decoration at the wedding guest book or gift table, or even in your home after the wedding!
Unique Shadow Box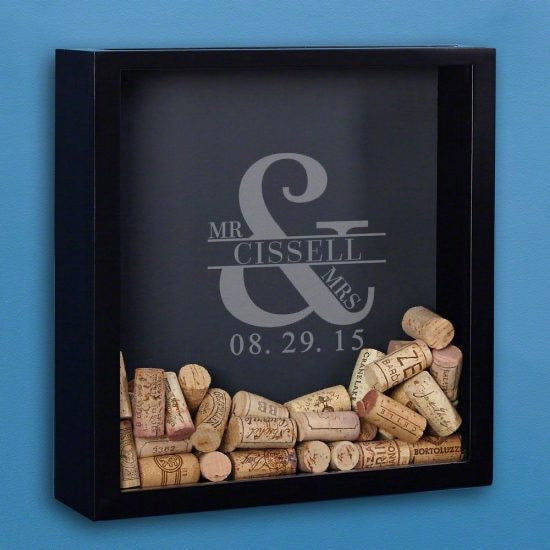 Shadow boxes are not only great for using as wedding guest books and decorations, but they also make great wedding gifts! You could easily give this custom shadow box to any happy couple before their wedding so that they can use it on their special day. Whether their guests are signing little wooden hearts, paper, or even wine corks, this lovely shadow box is a must-have for any wedding!
Modern Acrylic Wedding Welcome Signs
Today, clear acrylic signs are more popular than ever as wedding decor! Welcome signs are especially popular for this material because you can have the acrylic printed, painted, or you can even draw on it yourself with markers! The unique material is a fun, modern element to add to your wedding and you will love how creative you can be with it.
You Can't Go Wrong with Themed Wedding Reception Signs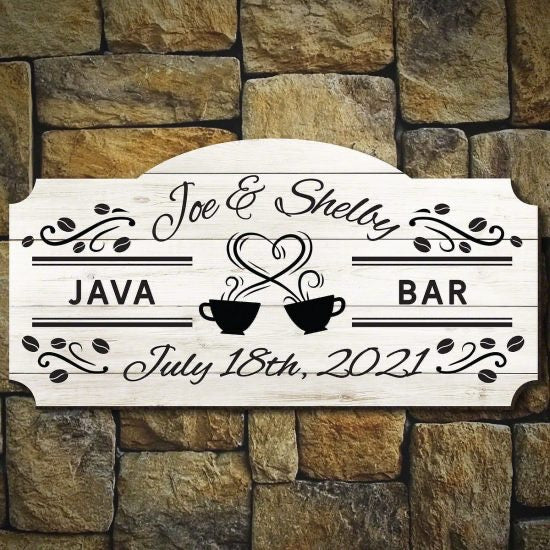 Some couples like to have a specific trend or theme for their wedding reception such as a donut wall, a coffee bar, or a DIY favor table, and the decor is usually centered around it. For the couple who loves coffee as much as they love each other, this beautiful coffee bar sign for weddings is ideal! After the wedding, it makes an adorable sign to display in their kitchen or dining room!
Classic Wedding Sign You Must Have
Everyone knows the saying "Eat, drink, and be married!" So it makes perfect sense for you to have a sign that says it at your wedding! This adorable wood sign is customizable, too, and works great as one of your wedding welcome signs or reception signs. Make sure it's font-and-center by the guest book, gifts, or the head table because it is the perfect centerpiece whether you display it on a tabletop or hang it!
Cute Custom Wood Sign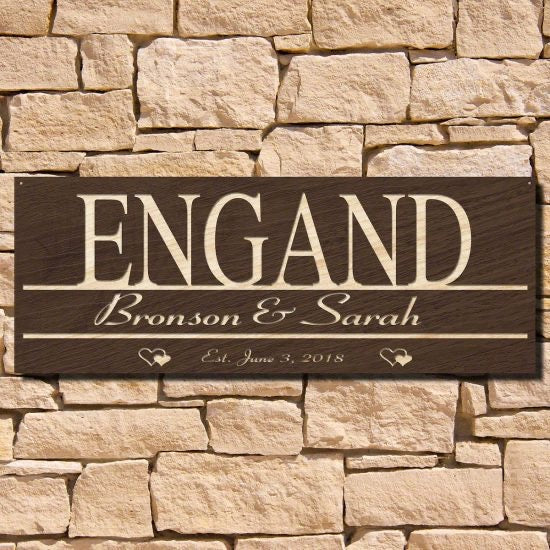 Your guests can't help but say "Aww!" at this adorable wooden sign! The delicate little hearts and the prominence of the bride and groom's new last name make this lovely sign both romantic and classy. Perfect for welcoming guests into either the ceremony or reception, this unique sign can be saved as a keepsake in the couple's home.