We've all bought a gift at the last minute before, whether it was a gift card or unoriginal that caught your eye in the checkout aisle because we were simply waiting too long to get a proper gift. It's especially easy to put off gift-giving when you aren't sure what the person wants, which makes shopping for a wedding gift twice as hard. After all, both halves of the couple need to like the gift you get them! What will they both like, though? What's something you can buy at the last minute that will impress them? What makes something a good wedding gift box idea? The most impressive last minute wedding gifts are personal, one-of-a-kind gifts that the couple can often use both to celebrate their wedding and on other special occasions. Still not sure of the perfect idea? We've got you covered with these last minute wedding gift ideas that are absolutely perfect for any couple tying the knot.
Presentation Set of Last Minute Wedding Gift Ideas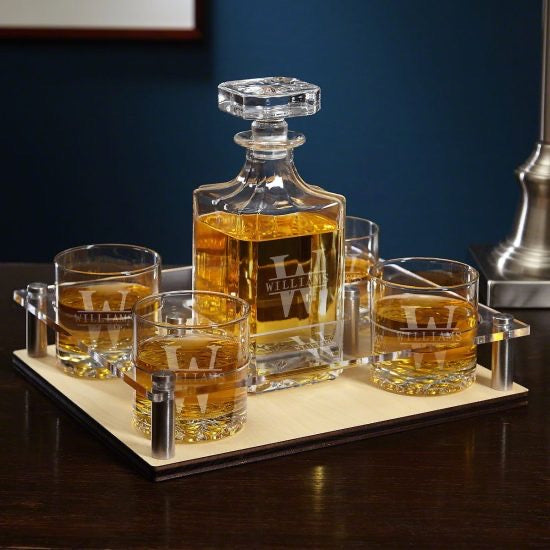 When you're really stuck on what to get, know you absolutely can't go wrong with this etched crystal presentation set! This glassware gift will look incredibly impressive sitting on their dining room table or home bar, filled with their favorite spirit and ready to be consumed on a date night or when they want to celebrate a special occasion. Even if they have plenty of other glassware that's similar to this set, this will definitely be their go-to set because of the high quality as well as the gorgeous personalization.
Personalized Stainless Steel Tumbler Set
A unique couple deserves a unique wine tumbler set such as this one. It's one of the greatest last minute wedding gifts because they'll love how sleek the glasses are and how they keep their favorite drinks chilled until the last drop. They'll also really appreciate how super fancy they feel holding such impressive-looking glasses! They're perfect for when the couple is doing a toast to one another on a date night or on their anniversary.
Decor and Advice All in One
Give the couple an amazing present and impart some wisdom on them at the same time! This personalized wooden bar sign is a unique decor piece that the couple is sure to love. They'll really take the wording on the sign to heart and vow to sit, talk, and have a drink together whenever the other wants to do so. It's one of the best unforgettable wedding gift ideas for couples to have displayed in their home for years to come.
A Toast to Personalized Champagne Flutes
Those first toasts given to them as husband and wife at their wedding are some of the most memorable moments of their marriage. Help them do the toasts right with this champagne flute box set! Surprise them with it at their wedding, and they may even use it during their first toast! They'll feel so incredibly special and loved seeing their names on the flutes, and they'll use them every year on their anniversary to remember those toasts and how they felt when they were first using them at their wedding.
Most Important Meal of the Day
Having a spouse means making them breakfast in bed from time to time to show them how much you love them. Make that easy for the two of them to do for each other with this 3-in-1 breakfast station! It's one of the most creative last minute wedding gift ideas that they'll love using to make coffee, some toast, and some eggs and meat—all at the same time with ease! Whether they're making it by themselves and bringing it to their spouse or the two of them are making it together, they'll really appreciate how easy it is to do with this ingenious gift!
Charcuterie Board for a Last Minute Wedding Gift
A personalized charcuterie and cutting board is always a fantastic last minute wedding gift that looks like you put a ton of thought into it! The happy couple will adore this wooden board and how perfect it is for arranging meats and cheeses, hors d'oeuvres, or veggies on it and serving when entertaining guests. When the two are having a date night, they'll love making each other a delicious charcuterie spread that they both can enjoy together. When they want to cook together, they'll really appreciate having this board to chop up foods on!
63+ INCREDIBLY HANDSOME CHARCUTERIE BOARDS >
Whiskey and Wine Last Minute Wedding Gifts
They love spending time and doing things together, especially when that involves delicious beverages; however, no matter how much they love each other, they still have different tastes. Help them enjoy their favorite drinks together with this personalized wine and whiskey glasses set! When one is in the mood for some Merlot or Chardonnay and the other really wants some Jim Beam or Maker's Mark, they'll be extremely thankful for this useful set that lets them both enjoy their favorite drink.
Simple Elegance in a Box
Absolutely stun the newlyweds with this handsome, personalized twist glassware gift box set! It's one of the best last minute wedding gifts because it's not too complicated, yet you know it's something they'll love and use all the time. The unique, twisted glasses will make each drink they share on a date night in or special occasion feel like the most important day ever. They can even use this set of some of the best wedding gifts at the reception to have their first drink together as a married couple!
Beautiful Wedding Sign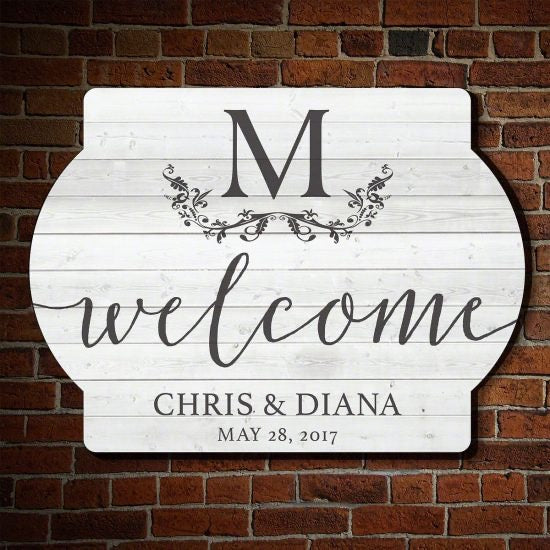 Last minute wedding gift ideas that serve a purpose at the wedding as well as after are always welcome by the soon-to-be-married couple. That's why this wedding welcome sign is such a terrific gift idea! The couple will be so grateful for a beautiful sign that can go by the guestbook or gift table at the wedding for some last-minute decor. When the wedding is over, it makes a stunning decor piece for the home. They'll love looking at it as a reminder of the most amazing day of their lives.
Set of Last Minute Wedding Gifts for Luxurious Sleep
The wedding registry is nearly empty and you still need to get them an awesome gift. While you may not have a ton of ideas yet, you know that this luxurious Egyptian cotton duvet cover set will definitely be one of the couple's all-time favorite gifts. They'll love how incredibly they sleep using this super fancy bedding set, and they'll really like feeling like royalty when they're in the bed. It'll even encourage them to make their bed in the morning with how beautiful it will look!
Learn to Make Cocktails Together
Help the newlyweds have tons of fun with your gift! This hammered bar tool set is a fantastic wedding present idea because it provides them with tons of fun opportunities to learn how to create their favorite cocktails! From Negronis to Mojitos to Sidecars to any other cocktail, making it will be a blast for the two of them to do together. By their first anniversary they'll be professional mixologists!
Make Cocktail Hour Fun
Looking for last minute wedding gifts that are fun, useful, and perfect to have at the wedding? This is the one for you! The couple getting married will be so grateful for this custom bean bag toss board game that not only is a terrific personalized keepsake, but it'll really spice up cocktail hour at the wedding! Guests will have a lot of fun playing this game on their big day, and they'll be so thankful for such a creative gift that they can use as soon as they open it!
Stunning Decanter Set for Married Couple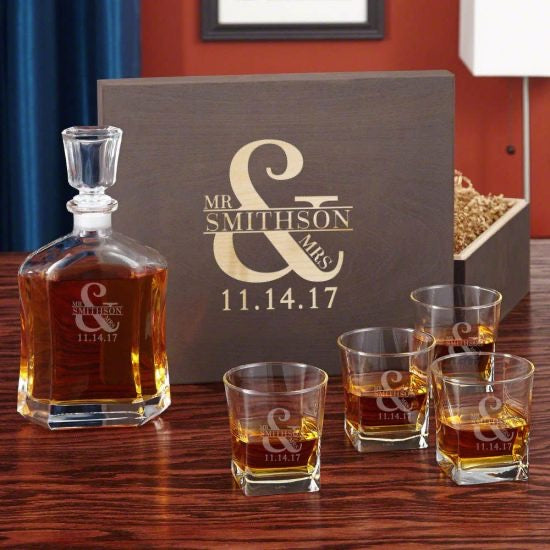 This personalized decanter and glasses set is one of the most stunning gifts ever, and the couple will never know it's last minute thanks to its classy engraving! They'll love having it displayed on their home bar or dining room table, filled with whiskey or any other spirit of their choosing and personalized perfectly to remind them of their special day. Every time they use it to enjoy a drink on a special occasion or their anniversary, they'll be reminded of how awesome their wedding day was thanks to your fantastic gift.
Mop it Up
With any marriage comes some arguments about chores. Eliminate one of those for them with this robot floor mopper! This brilliant invention is one of the best last minute wedding gifts because they'll be so relieved to have the mopping in their home always taken care of just by activating this device. They'll fall in love with the freshly cleaned floors and really appreciate the time saved.
Wine Set of Last Minute Wedding Gift Ideas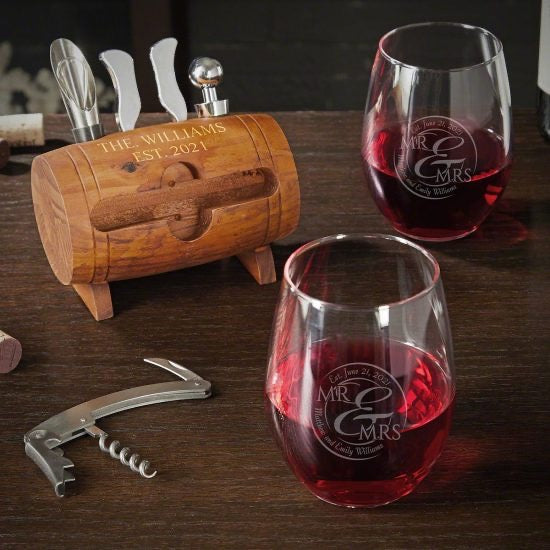 Get the couple the most amazing wine gift set ever. This wine barrel tools and glasses set is a phenomena last minute wedding present that they'll absolutely adore. They'll really appreciate having all the wine tools they could ever need in one place, inside this creative little wooden barrel as it sits on the bar or table. The glasses will be their absolute favorite to use when celebrating their anniversary each year, and they'll definitely make those anniversaries feel so much more special.
155+ PERSONALIZED WINE GLASSES >
Make the Bottle Fancy with a Box
You know the couple well, so you know a bottle of Dom Perignon or Cabernet Sauvignon is all they really need. However, simply giving them a bottle looks a little too last minute, so you need to gift the bottle inside this engraved wine bottle box! This incredibly classy-looking gift box will make the whole gift feel so much fancier. The box will come in handy, whether that be to store mementos from the wedding or keep another bottle of wine inside it to save for a special occasion.
A Wedding Memory Box
Help them store the bride's bouquet, other flowers, or other items from their wedding with this shadow box set! This set is one of the best last minute wedding gift ideas that they can use after the wedding and for years to come. When they're celebrating their anniversary, they'll really enjoy having these engraved champagne glasses to use. The shadow box will look beautiful filled with their flowers, bottle caps, or other small items and hung somewhere in their home.
Hand-Made Last Minute Wedding Present
You really didn't have time to get them a gift before the wedding. That's okay! They'll be overjoyed when you present them with a portrait of them on their wedding day as a gift a few weeks or even a month later. You can choose what kind of material is used to create the portrait, whether that's watercolors, oil, pastel, or any other type of art. They'll be so appreciative of such a unique gift and definitely display it in their home!
For the New Mr. and Mrs.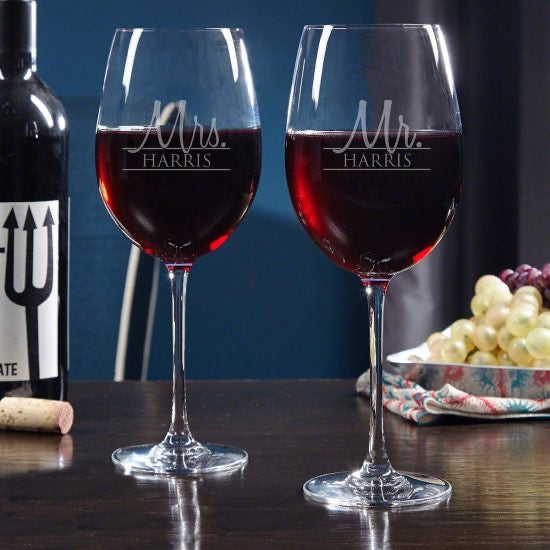 They're so happy to finally be Mr. and Mrs.! That's why you know this bride and groom wine glass set will be a huge hit. It's one of the greatest last minute wedding gift ideas, and they'll feel so happy every time they see the personalization on these glasses! You can even surprise them with this gift before the wedding so they can share their first glass of wine as husband and wife with these incredible glasses!