Secret Santa is a classic holiday gift exchange game that's always a ton of fun at any holiday party! While it is a lot of fun to get a surprise gift, it can also feel slightly overwhelming when you're having to get a gift for someone you may not know that well. But, since you are participating in a Secret Santa gift exchange this year, you want to make sure that you get a phenomenal gift no matter who you get! These are some of the best Secret Santa gifts because they are unique, clever presents that aren't huge or super expensive but are going to blow away anyone who gets them. So, be the ultimate gift giver this year with these fantastic Secret Santa gift ideas that will impress even Santa Claus himself!
Personalized Whiskey Gift Set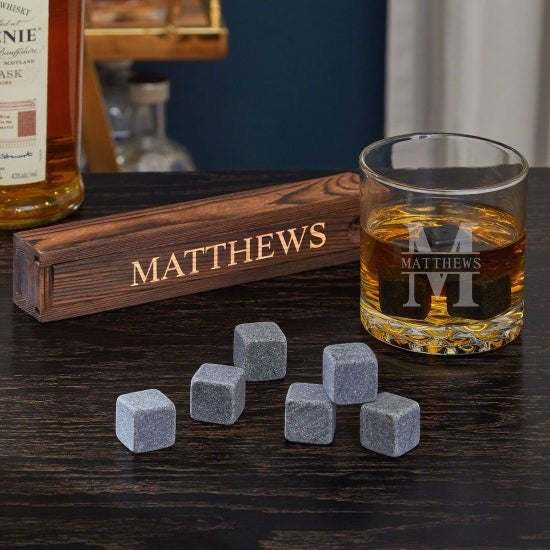 You can't go wrong with this whiskey stone gift set as a gift for Secret Santa! Not only is it perfect for them to enjoy a delicious drink whenever they want, but the customization makes it above and beyond any other gift. You know that they'll be so excited to use this, which is what makes it so great for the gift exchange. It's one of the most special Secret Santa gift ideas that will impress every person at the party!
Flask and Knife Set as Secret Santa Gifts
A gift that they can use both immediately at the holiday party and at all parties to come? Awesome! This engraved flask set is awesome because they'll have a blast using it to enjoy their favorite spirit! They'll really like the cherry-red box that reminds them of Christmas. To spice up the holiday party, they can fill up these fancy shot glasses for themselves and three others to take some Christmas shots!
Cutting Boards Make Awesome Secret Santa Gifts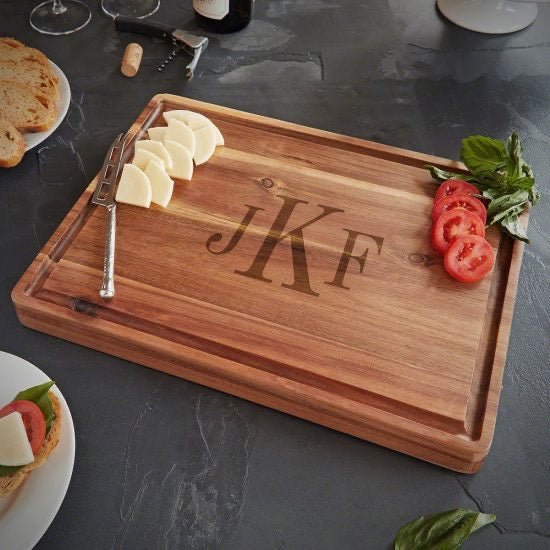 Get them a gift that'll become their favorite kitchen accessory! This engraved butcher block is incredible because it's engraved with their monogram and it serves many purposes in the kitchen! From serving as a cutting board when they're chopping up various foods in the kitchen to functioning as the perfect tray for serving hors d'oeuvres to their holiday guests, this board will surely come in handy this holiday season.
Creative Snow Globe
What's a proper Secret Santa gift if not a special holiday keepsake they'll cherish forever? This amazingly unique blackout snow globe is one of the rarest Secret Santa gift ideas. They'll be really excited to receive this one-of-a-kind snow globe because not only is it an awesome decoration when they have their Christmas decor out, but it's a cool display they can keep in their home year round.
Cigar Gift Set of Secret Santa Gift Ideas
For someone who likes to partake in cigars, this cigar gift set is a fantastic gift idea for your gift exchange. The customized cigar glass will make them feel like a fancy stogie and whiskey connoisseur every time they want to enjoy whiskey and cigars together because they can enjoy the two with just one hand. With this handy cigar case, they can bring their favorite stogies with them to the next holiday party!
291+ POPULAR SECRET SANTA GIFTS>
A Gift to Keep Their Wine Chilled
Classy, customized Christmas gifts make the greatest Secret Santa gifts. This gorgeous marble wine chiller is just that! This gift can be used to keep their holiday wine cool and all of the wine they drink year round! This chiller will look lovely sitting on their dining room table as they enjoy their Christmas dinner.
Everyone Loves Chocolate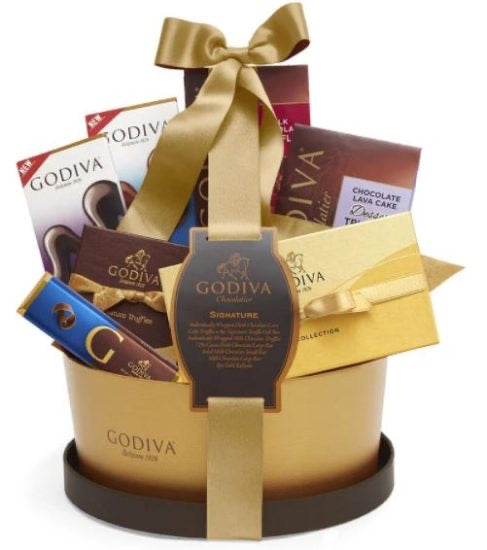 When you really have no idea what the person you're buying for would like, you know that a chocolate gift basket is always an easy choice. The various kinds of chocolate bars and truffles in this set will make their mouth immediately start watering, and it'll make Christmas even sweeter this year.
Best Kind of Map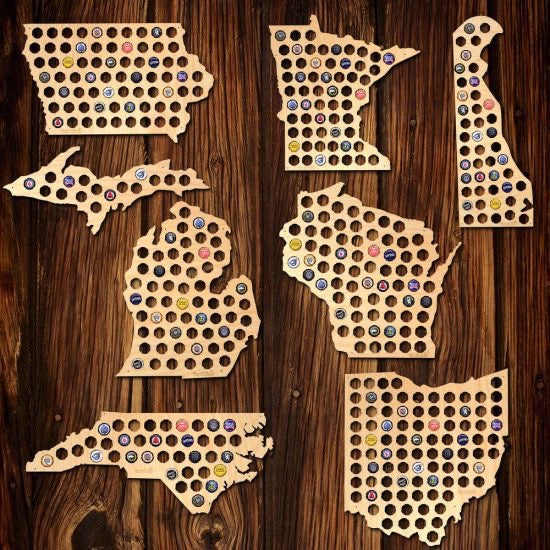 This gift is sure to be the most amazing one at the party! This beer cap map is awesome because you can pick out the favorite US state of your coworker or friend to make them feel special. They'll think it's super fun to fill up their wooden map with caps from their favorite beers. They can start their collection by adding some caps from the party!
Amazing Whiskey Gift Set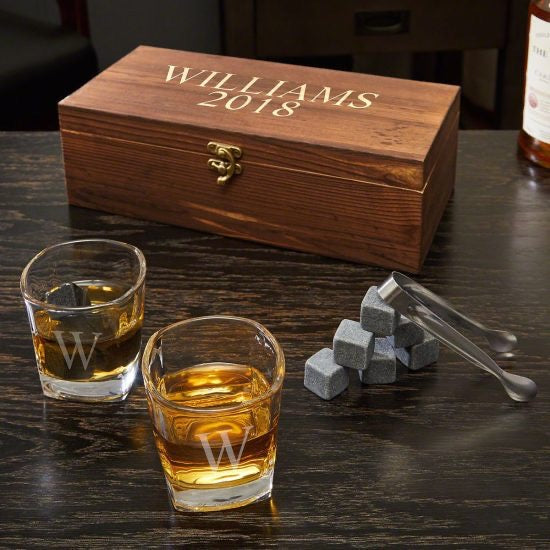 Picture this: your Secret Santa sees their gift. They excitedly rip open the wrapping paper to find the most amazing Secret Santa gift ever—this whiskey stones and box set! They'll be thrilled with this set that's both customized just for them as well as perfect for enjoying a nice holiday drink of their favorite spirit. They'll definitely raise a glass to you for getting the most unforgettable Secret Santa gift ever!
All the Wine Tools They Need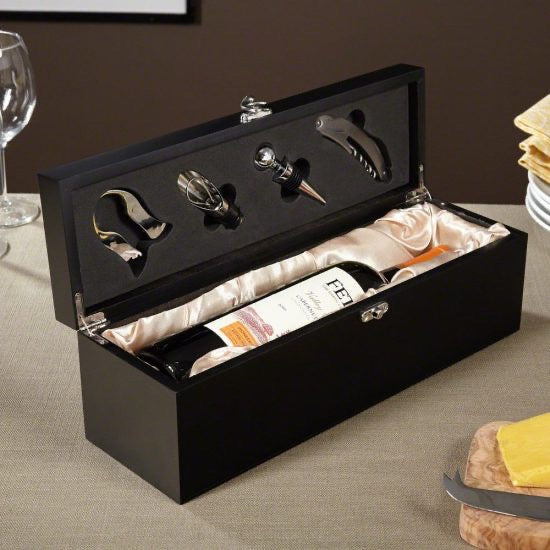 You know a bottle of wine is one of the most quintessential Secret Santa gift ideas, but you want to get a more creative gift than that. This wine gift box is perfect because not only is it a handsome, personalized box that a bottle of wine will fit snugly inside, but it also includes all the necessary wine tools! Your Secret Santa will be thrilled with this gift that they'll use to store a bottle of delicious wine for the next special occasion.
Ice Cream Bowl and Spoon Set of Secret Santa Gifts
Who doesn't love ice cream? This super fancy ice cream bowl and spoon set will is a really unique yet incredibly cool Secret Santa gift idea. Instead of eating ice cream from a typical plastic or glass bowl that they eat everything out of, and using a normal everyday spoon, they'll think it's so fun to have their own designated stainless steel bowl and spoon just for ice cream! You know they'll be immediately excited to see this uncommon present and won't be able to wait to use it to enjoy their favorite eggnog- or peppermint-flavored ice cream!
A Unique Ammo Can
This unique ammo can is sure to be one of the most interesting Secret Santa gifts ever. They'll think it's so cool that their name is on this ammo can that's one-of-a-kind from the military, and they'll definitely want to use it to store items like their favorite bar tools or items they're collecting. You can even fill this ammo can with some of their favorite things, like chocolates, hand soaps, or anything else, when you give it to them. Not even Santa could bring a gift so awesome!
Bet on this Secret Santa Gift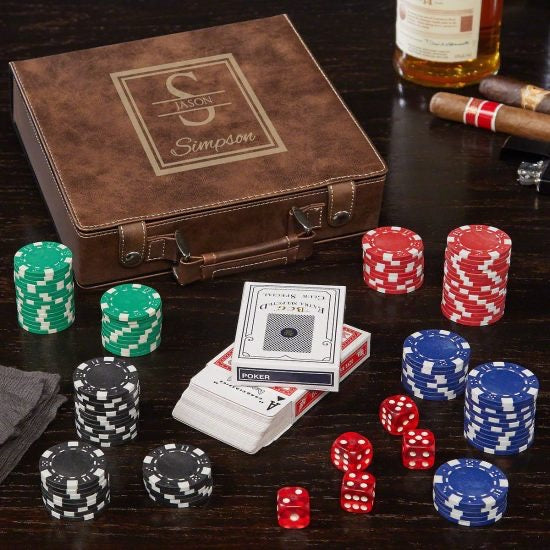 How about Secret Santa gift ideas that they can use immediately at the party to make the whole thing a blast! This poker gift set is really cool because it has all they need for a fun game night filled with poker and any other card game they can imagine! From Gin Rummy, Solitaire, Blackjack, or any other game, they'll have a ton of fun playing all kinds of games with this set.
Secret Santa Gifts With a Special Engraving
Put a personal twist on a classic gift. This whiskey glasses box set is incredible because both the box and two glasses are so special because they're engraved just for your Secret Santa. It will stand out from any other similar gift they've received due to the one-of-a-kind customization. They'll feel really special sipping their chilled holiday beverages from these engraved glasses, and they'll look forward to the next special occasion in their life which will be made just a little more fun with this amazing gift set.
Very Useful Gift
Consider finding Secret Santa gifts that are incredibly practical and that they'll use time and time again. This wireless charging pad is the perfect example! This will definitely come in handy when they're out and about with a low phone battery. They'll be very grateful for the ability to charge their devices on-the-go!
A Gift for Grilling
Get them a gift that will make their next get-together more delicious! This custom bbq gift set has incredible, high-quality tools that allow them to grill up some burgers, brats, pork tenderloin, or any other foods their heart desires. This awesome red case works not only helps them store their tools but perfectly fits the holiday color scheme, too!
Stainless Steel Secret Santa Gift Ideas
Let them enjoy their holiday beverages in style this year, and every year from now on as well with this unique black out stainless steel wine tumbler gift set! This will surely be one of the most badass gift boxes at the Secret Santa party this year, and you know for a fact they will be sipping chilled Chardonnay and Riesling from these engraved glasses for years to come. Talk about a great gift from their Secret Santa!
A Super Funny Gift Idea
Go the funny route with your gift by getting this humorous t-shirt made just for the game of Secret Santa in mind! They'll immediately burst out laughing when they open this gift, as will everyone else at the party when they show them! It'll make a great memory for years to come.
When All Else Fails, Give 'Em a Box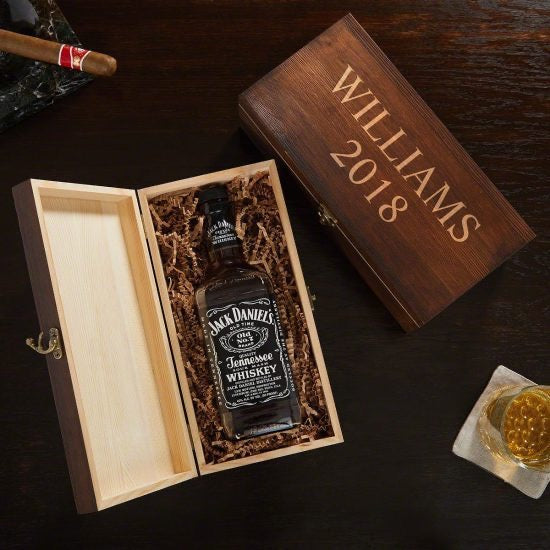 When all else fails, you know you can't go wrong with a wooden liquor gift box that has a bottle of their very favorite spirit inside! They'll think it's really neat seeing their name engraved into the top of this cool box, and of course having a nice bottle of their spirit of choice is a nice touch for a Secret Santa gift!