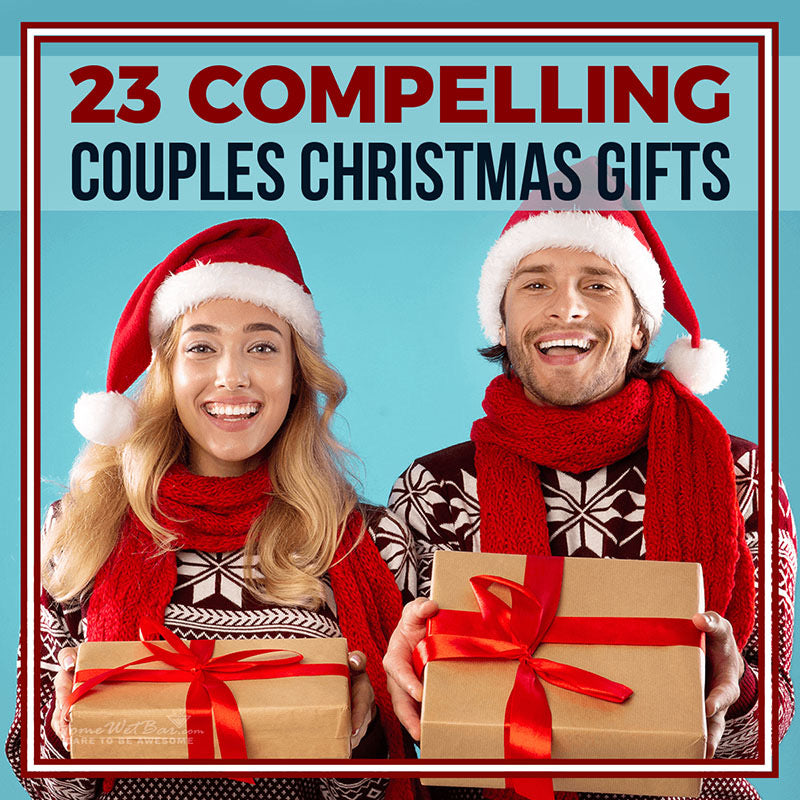 23 Compelling Couples Christmas Gifts
Last you checked, it seemed like it was the middle of July, and now, Thanksgiving has just whirled by. It is great that the year is going by fast, but oh no, you still need to get the perfect couples Christmas gifts! Make sure your gift is something both halves can enjoy, having the gifts personalized is a Huge bonus as well as making sure their gift is something they can also enjoy outside the holiday. If you're able to find gifts that are this unique, you can be sure that this Christmas, your gift will be bigger and more memorable to them than even the coolest toy they got as a kid!
Classy Couples Christmas Gifts to Raise Those Holiday Spirits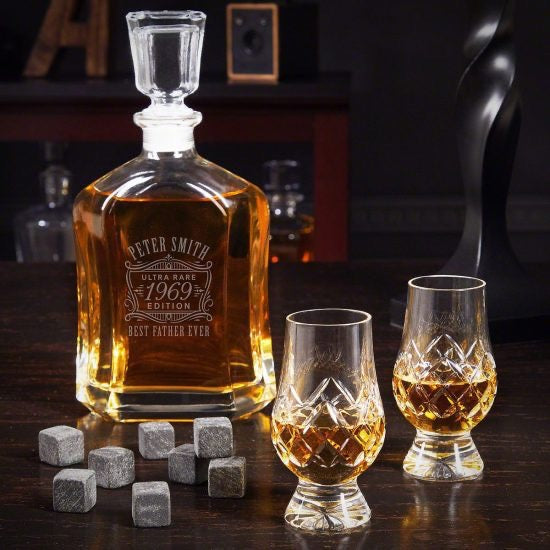 Christmas is the perfect time for couples to get comfy and cozy, and although they may be snuggled up on the couch near a fire, nothing will make them feel warmer together than sharing a drink of their favorite scotch or bourbon. Make this year's Christmas memorable for being the year that they got their new favorite personalized decanter and Glencairn glassware set that they take out for celebrations, date nights, or even just because!
A Stone Cold Gift for Couples
Nothing spoils a drink of white wine like realizing someone forgot to chill the bottle. Instead of having a date night ruined or an evening with friends halted, get them this personalized wine chiller as one of the best couples gift ideas! This way, even if the wine was left out all day they can chill their go-to wine and serve it up in just a short while! Plus, it makes a gorgeous centerpiece for their table, too!
Keep Them Together for the Holidays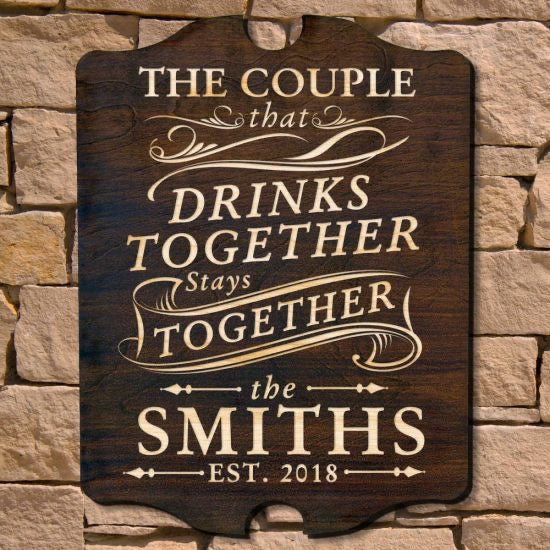 Keep the glasses clinking long after the eggnog has run out and the wine has begun to flow with this fantastic couples sign! Perfect for their living room or entertaining room wall, this rustic, custom wooden sign shows that even though they've been together for years, they still love to have a good time. Their secret? A good drink together!
A Sweet Box of Couple Christmas Gifts Ideas
It is great when couples Christmas gifts allow the two of them to both enjoy their gift at the same time. A gift set like this engraved rocks glass box set doesn't divide it into something for him and for her; instead, they get to clink matching glasses while they have a toast toward another great year together!
For Whiskey and Wine
Speaking of his and her gifts, this glassware set is perfect for the couple that likes to share a drink together but simply can't agree on the same drink. So, save them a few small arguments with a matching glassware set that makes it a breeze for them to enjoy their own drink when one person wants a whiskey neat and the other wants a Merlot. If you're careful, these could even be an awesome stocking stuffer for the couple!
163+ WONDERFUL WINE GLASSES FOR COUPLES>
Not Your Typical Picnic Basket
Although the weather outside might be frightful, this set of couple Christmas gifts ideas will have them waiting eagerly for the day the snow melts so they can take their picnic backpack set and have a perfect picnic! Aside from the food, this backpack easily carries everything they could ever need on a trip. So, whether they decide to head to the park or hike deep into the wilderness, this set will carry all their food, plates, glasses, and silverware with ease!
Christmas Coasters
Keep their tables looking like new with a classy set of coasters for Christmas. The white and black swirled marble isn't just perfect for the holiday season either, it'll look classy year-round! Now, when they've got a chilled glass of wine or an Old Fashioned and the glasses begin to sweat, the couple won't have to! Their new coasters will keep their table looking as pristine as fresh snow.
A Box of Holiday Spirit
Nothing will show a more thought out holiday gift than when the couple sees a red, personalized gift box under the tree this year. Red as Santa's jacket and just as jolly as the man himself, this wine gift box set is sure to fill them with the Christmas spirit as soon as they unwrap it. No one could ask more out of a couples Christmas gifts. Now, they may even pop the cork from their wine bottle and share a little Christmas spirit with you because of your great gift!
Home is Where the Custom Sign Is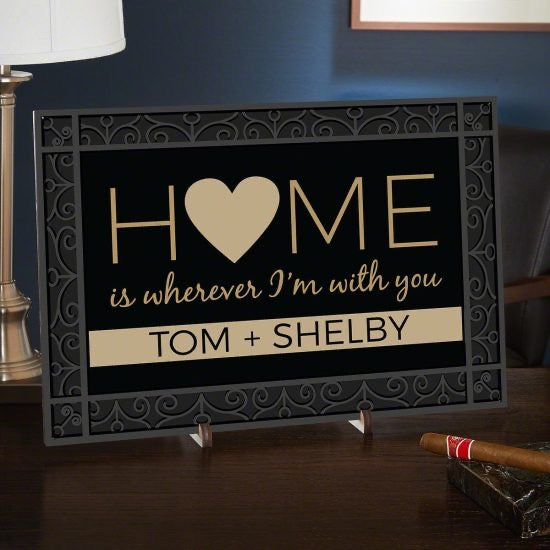 Know a couple who are moving in together or recently moved in? Signs make the perfect couple Christmas gifts ideas! They can hang this custom gift on the wall or even use a stand to place it over the mantle. As simple as the message is, they'll love to share this custom home sign gift with their spouse and be reminded everyday how lucky they are to live together!
A Diamond of a Couples Christmas Gifts Set
Get them a gift that symbolizes how long their love will last (forever, of course!) with this diamond decanter set! This is the perfect gift to enjoy during the holiday seasons. Their scotch or whiskey will never taste as good as when they're looking out over the snow while swirling and sipping their favorite liquor. Also, because of the drinks they are sharing, even with the frightfully chill weather, they'll feel perfectly warm!
Keep Sheet Simple
People spend over a third of their life in bed, so getting couples Christmas gifts that make their beds even more comfortable surely has to be a win with every couple! These sleek sheets and pillowcase gifts will make sure that when the house is chilled from December air, they'll never want to leave their mattress!
For the Classy Beer Couple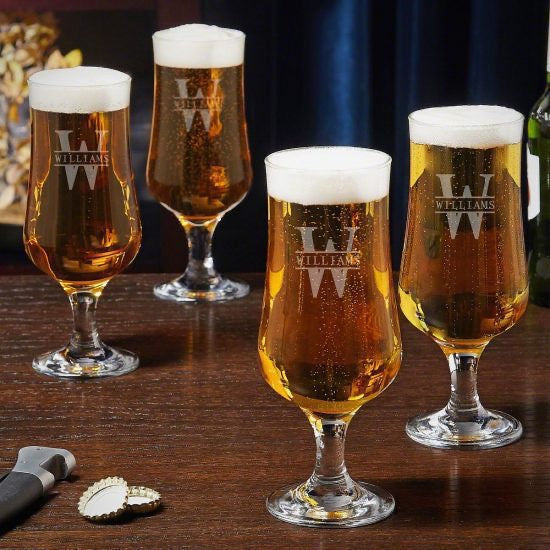 Serve up their favorite bottle of suds in style with a set of classy, personalized beer glasses! Long gone are the days of red solo cups, and now they'll never want to drink from a bottle when they're able to enjoy all the flavors the unique design of the tulip glass enhances. They'll be discovering so many flavors in their favorite beer that they never knew existed that they'll swear it is a Christmas miracle!
Serve 'Em Up Some Snacks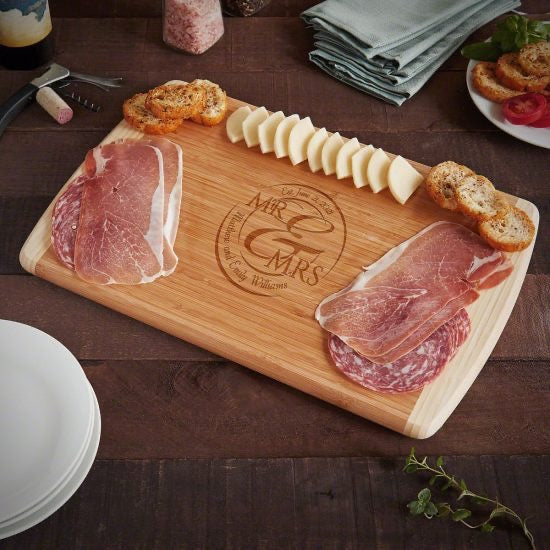 If there's one thing couples love to do together, it is to host and spend time with other couples! This engraved cutting board is the perfect way for them to prepare and serve delicious snacks whenever they're having their next wine and cheese or even movie night!
A Sign They Need More Coffee in Their Lives
Who doesn't love coffee? After all, it is the lifeblood of so many people's mornings and without it, they might not be able to even get out of bed. So, make the morning routine a little more exciting with a unique coffee bar sign so the happy couple can enjoy their morning brew under their new official coffee nook in their kitchen or home bar area!
Presenting the Best Xmas Gift Ever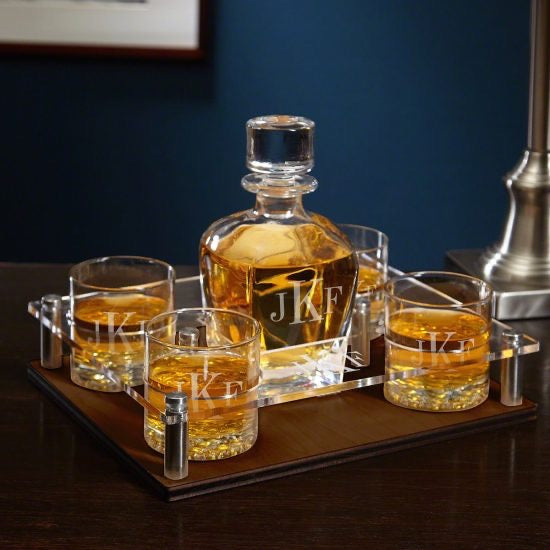 Searching for classy couples Christmas gifts? Look no further than a decanter set and serving tray! This is a present that they'll find under the tree that is so good they'll truly be wondering if Santa is actually real! Throw in a bottle of their favorite liquor and the couple might just hand you a glass and toast you toward such a great present!
705+ WINTER WONDERLAND WHISKEY GIFTS>
Project What They Want
Sometimes, when you're shopping for gifts, you project onto them what you might want, but with this gift, the present itself is a projector! Turn every wall they have into a high-quality movie screen with a digital projector! This is the perfect way to give a couple the theater experience without them ever having to leave the house (which is ideal in the chilly holiday months). Now, they can watch Rudolph the Red-Nosed Reindeer and a Christmas Story on a screen as big as the largest wall in their home!
Wine Tool Time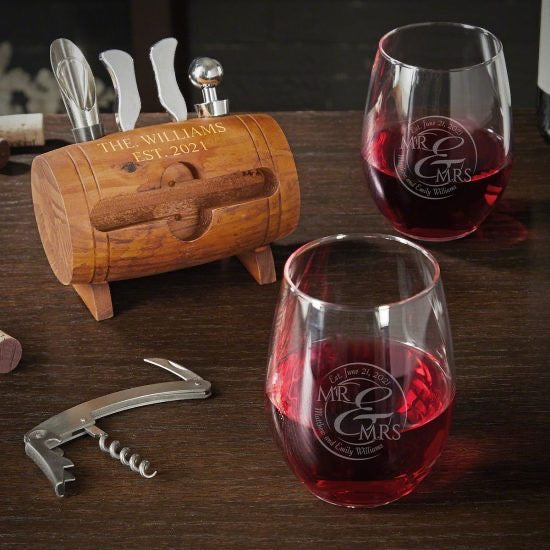 Christmas is the perfect time to give those things that people need but have never gotten around to buying for themselves. This couple has been getting by for years with a mismatched wine set. Well, no more! Thanks to you, this Christmas, they'll be getting a cute wine barrel that holds all of their tools as well as a matching set custom of glasses. If a good glass of wine from their gift doesn't put them into the holiday spirit, nothing will!
Win the Game of Giving Couples Christmas Gifts
There is nothing quite like the competitive couple or even the couple who likes to host an event. They're always working on something, so help them unwind with a low-steaks but high bragging rights game of bags! Engraved with their last name and initial, this is the perfect gift for them to throw out on the lawn when the snow melts, or if they're impatient, they can even safely play this game in the garage, too!
A Celebration is in Order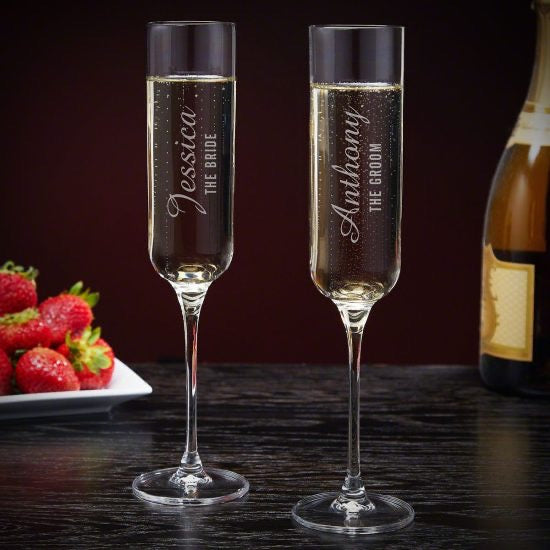 Celebrating the new year is right around the corner, so what better Christmas gift than one that prepares them for the future than these engraved champagne flutes? These are perfect for celebrating new years, engagement parties, or even for the couple who just loves Mimosas!
Give Them the World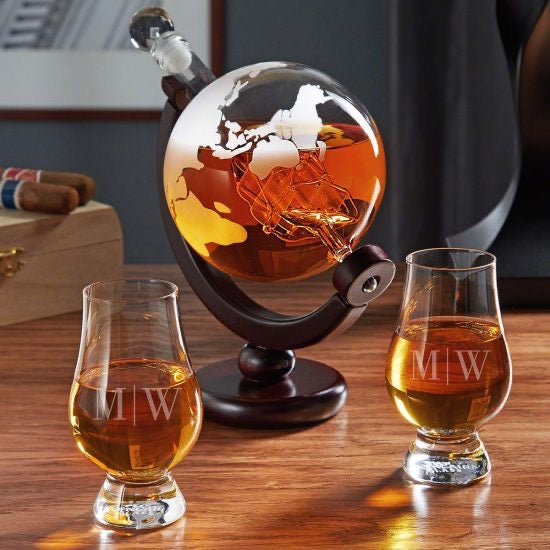 Help them see how Santa travels the globe in one night every single year with a decanter set that lets them see the world! All Santa jokes aside, any couple will love having these initialed Glencairn glasses with the globe decanter as the classiest whiskey set they've ever had! Perfect for tasting and experiencing drinks, this set will highlight any flavor their palate may have ever missed from their previous go-to liquors!
Photographs That Will Last a Lifetime
Take things old school with a Polaroid camera for snapping and enjoying holiday pictures right away! However, this isn't the 1970s, you can bring the Polaroid to the modern era with the Bluetooth connectivity which allows you to adjust exposure, trigger noise, and even allows you to set a digital timer, how cool is all of that? This isn't your parent Polaroid anymore!
Custom Wine Glasses are Great Couple Christmas Gifts Ideas
Keep the glasses clinking all holiday season with a set they simply won't be able to get enough of. These customized stemless wine tumblers are the sort of couple Christmas gifts ideas you should be looking for when you want them to enjoy your gift countless times! These are so good, in fact, you can be sure their old set of wine glasses have now been pushed to the back of the cabinet, to never see the light of day again!
Bring Them a Brewery for Christmas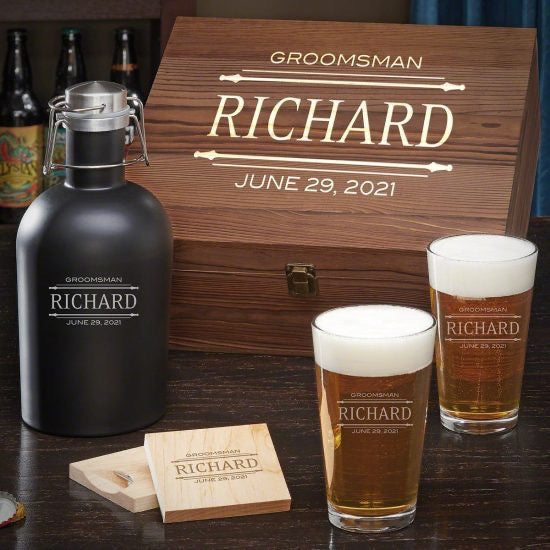 Maybe the roads are closed due to snow or people don't want anyone to leave while the family is over, regardless, you knew this year that the beer growler topped off with the couples favorite brew for the local brewery would be the perfect gift to surprise them with under the tree this year! This set takes it a set further with the matching engraved glasses, coaster, and even box that come with!
187+ COMPELLING COUPLES CHRISTMAS GIFTS>