When you've got an occasion coming up or are investing in some new glassware for the house, you want to make sure that you end up with the glasses that are perfect for you! As simple as it may seem, having the ideal set of drinking glasses in the house will make a world of difference; these glasses that fit your lifestyle or personality, will make a massive difference in the way you enjoy each and every drink you have! Better yet, it becomes even more fun to share drinks with friends when they see that you have the exact glass for their specific drink, have a full set for everyone, or that all your glasses have been customized! Finding a glassware set for your home may feel like a chore, but it isn't. Getting glasses is a great way to make every refreshing sip about you. So, check out this curation of some of the coolest glasses you could ever see yourself drinking from!
A Stately, Sophisticated Drinking Glasses Set
When you're outfitting your home with a new set of glassware and you're looking for something truly awesome, there are few things more awe-inspiring than a stately decanter set! You'll be so proud to have this decanter set in your home, you'll want it to be one of the first things any house guests notices! Put this on your home bar or your coffee table, this way, every guest will ask about your amazing looking glassware set, which gives you the perfect excuse to break out your favorite whiskey and share a drink with them!
Drinking Glasses that Rock
Nothing is as classic as a rocks glass. This staple for bars and homes alike is one of the best pieces of glassware to get a whole set of. "Why," You may ask? They're just so versatile. A whole set of these can serve a whole family with Jack and Cokes or it could serve up all sorts of different cocktails with everyone else at your get-togethers. Even if you all have different drinks, everyone gets to enjoy their favorite beverage out of your amazing matching glasses!
When it's Time for Wine
Every home needs drinking glasses set for wine. Although many have some set or collection of wine glasses, there is nothing like having your own classily engraved monogrammed stemless wine set! Push your old wine glasses to the back of the cupboard to make room for your new favorite set. These classy but casual glasses are a great way to enjoy your favorite Riesling or Merlot at the end of the day, a date night with your loved one, or as a matching set for everyone who comes during the holidays!
Massive Mug
Finding the perfect set of drinking glasses can feel like a massive search, so what is more fitting than a massive mug? Standing at 8" tall, this will be the biggest and most awesome glass you could ever imagine having in your home. Anytime you need to enjoy a beer (or three) this personalized glass is exactly what you should be reaching for! Also, if you have a home bar, man cave, or game room, a set of these mugs will be the coolest way for you and all of your friends to enjoy some good times and good pints together!
A Not So Old Fashioned Glass
Not all drinking glasses have to take on classic looks, in fact, some can be downright innovative! This amber glass is actually a double old-fashioned glass, making it perfect for large cocktails or big drinks! A whole set of these uniquely curved glasses is a great way to make sure that guests at your home bar or family during get-togethers know you went all out to have your home as unique as you are!
The Toughest Drinking Glasses Set Around
Do you want a drinking glasses set to be as tough as you are? Or to look as cool as possible? Look no further than this engraved tumbler gift set! A box set of cool glassware is a fantastic way to start off your own personalized set of glasses that you can break out for nightly cocktails or even bring with you on a date in the park. Engraving aside, these glasses are even more awesome because the stainless steel walls make sure that your chilled drinks stay nice and frosty the whole time you're enjoying them!
A Cool Angle on Whiskey Glasses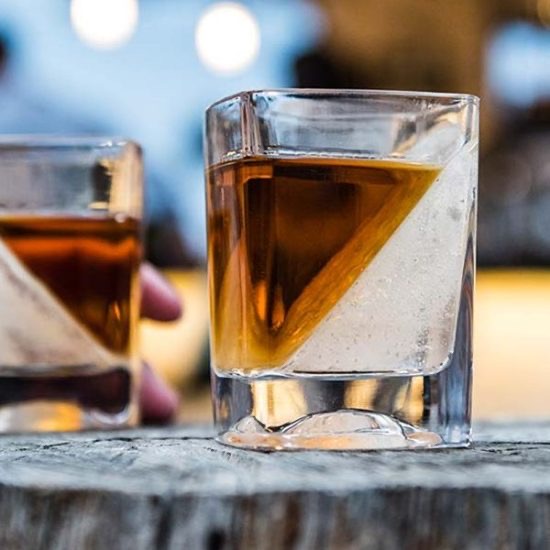 Speaking of cool glasses, there is no better way to enjoy a cold whiskey than when you don't have to worry about ice floating around in your glass. Thanks to this frozen whiskey wedge, you've got a glass ideal for chilling your favorite spirit while also making your drink look as cool as ever!
The Most Unique Pint Glass Set
Equip yourself with an impressive pint glass set to ensure that you feel as badass as possible with this amazing ammo can gift set! The engraving will make this the most personalized way to enjoy a frosty drink on a hot day, while the ammo can will become the ideal place for you to store any and all of your beer accessories. Hey, if you're getting this as a gift so someone can start off their home bar or man cave right, consider throwing in a six-pack of their favorite brew inside the ammo can, talk about a welcome surprise!
Bring the Feeling of the Beach Home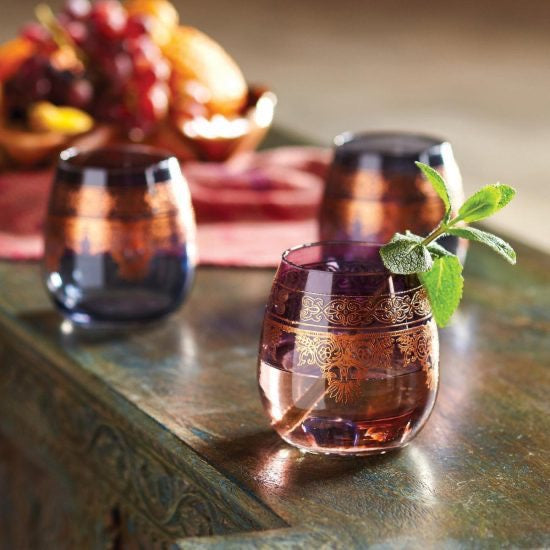 Give your home a unique feel when you update your old glasses with this Moroccan style set! The filigree makes each glass feel like you're drinking your Chardonnay or Zinfandel on the beach, even if you're miles from the ocean!
A Set of Glasses You'll Be Bubbly Over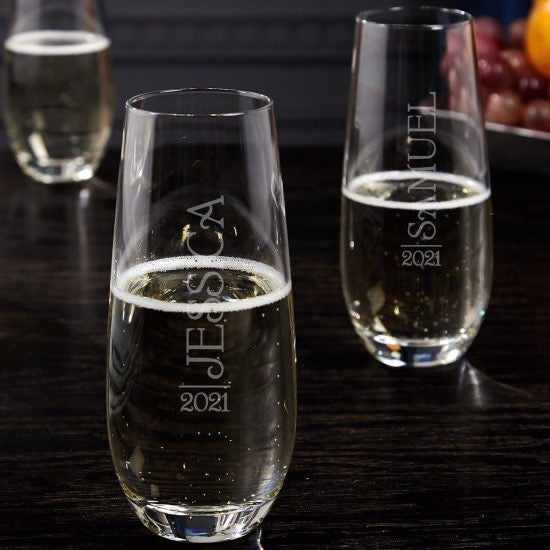 No list of sophisticated drinking glasses could possibly complete without a set of champagne flutes! These stemless glasses are a great way to top off your glassware selection or to even start one! Now, with your own personalized set, you'll be ready for each and every celebration that comes your way. From promotions, engagement parties, to anything else worthy. You'll be set when the bubbly starts to flow!
For the Finest of Brews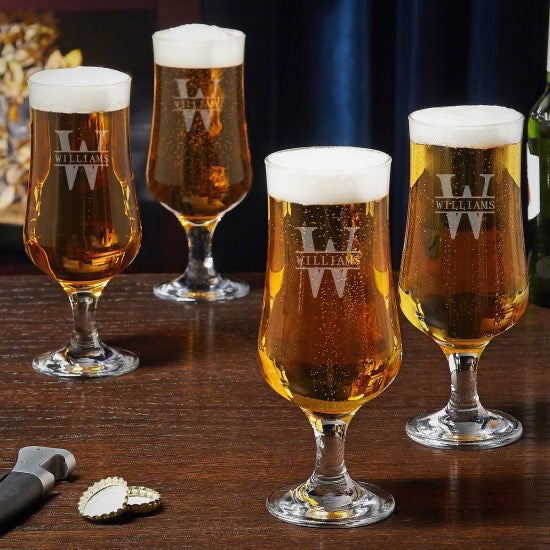 Never has a glass of beer tasted as good or felt as classy to enjoy than when it is out of this set of tulip glasses. Better yet, since this is a set of four, this drinking glasses set ensures that all the subtle flavors and aromas you'll palate with these glasses can be shared with your best friends and family members. Who knows, you may even want to break these out all the time and start hosting tasting parties?
When You Only Want Unique Drinking Glasses
Nothing quite shows off sophistication like uniqueness. With this decanter set, that is exactly what you'll be getting too! The sculpted glasses won't be like anything else when compared to every other drinking glass you have at home. The unique shapes make enjoying a whiskey, bourbon, or scotch from the decanter even more refined than it would from a standard glass. Have each drink feel like a special treat when you enjoy it from the most unique glasses you could ever imagine!
Class Up Your Martini Glass
Martinis already feel a bit special, you almost always feel like James Bond while drinking them. Having a Martini is arguably one of the easiest ways to feel like the coolest person in the world. However, now you can take your favorite drink a step further when you want it to feel incredibly classy when you get a set of these Martini tumblers for your home! The unique design is sure to blow you away every time!
A Set for Every Beer
So, what about if you don't know what kind of drinking glasses to get? All you know is that you like beer. Well, worry not, there is an answer for that too! This custom beer set is sure to set you on the right path to enjoying the perfect frosty pint in the ideal glass any night of the week that you want! Instead of a standard pint glass, this set allows you to become the beer expert you've always dreamed of being when you realize that any beer from an IPA to a stout has a proper glass, and in this set, you've got each glass for each kind of beer!
Coolest Ceramic Tumblers
Could you have a cooler drinking glasses set in your home than a fully stocked home bar or cupboard with matching black ceramic glassware? There is no way you won't feel like the coolest person in the world each time you've got a neat glass of Glenfiddich or an Old Fashioned in one of these amazing tumblers. Better yet, this is a set of two! That means you can share that awesome feeling with a spouse or friend!
For Legends Only
Not all drinking glasses need to be for everyone; some are actually for legends only. This is the perfect whiskey stone set to gift to a friend or family member who has a true passion for their favorite liquor and who you think deserves to enjoy their drink from a set that only they are worthy to drink from this Excalibur of a gift.
Be the Host with the Most
Setting up for the holiday or any other get-together with the family can feel stressful. You need to have everything just so. Don't let having mismatched glassware or a set you don't think aesthetic enough be a worry when you're spending time with your loved ones. Instead, make them feel like they've just walked into the home of the most sophisticated person they know when they see their drinks ready and waiting inside these classy monogrammed wine glasses!
A Mountain of an Aerating Glass
Take your beer tasting to mountainous heights with this aerating beer glass! Perfect for enhancing the flavor of each and every beer, this glass will also be the talk of all your friends. Plus, you'll love how much it holds. Instead of having to refill your glass after a few ounces, you'll be able to drink all night without getting up for a refill!
A Smokeshow of a Cigar and Whiskey Glass
Some glassware sets may look a little novelty; however, when you put them to use, you'll find just how incredibly awesome they truly are! This cigar whiskey glass makes pairing stogies and your favorite brown liquors easier than ever! Never look for a place to set your cigar down when you need a free hand ever again, simply place it in the cigar cut out. Now, during get-togethers, you can have the coolest set of glasses that lets everyone in the man cave enjoy cigar and whiskey in a way they've never experienced before!
For Different Tastes
Got a spouse who you love to share a drink with but the two of you just can't seem to get on the same page when it comes to drinks? Get a matching engraved set of glasses that allows both of you to have what you like! Now, during dinner or a while snuggled up on the couch, each of you can have your beer or wine while the other enjoys their favorite beverage. A Cheers is definitely in order for a set of glasses this good!
Drinking Glasses Set that Screams: "Sophistication!"
Bring an air of class to your home bar or kitchen cupboard with this set of amazing tasting glasses. Perfect for swirling and sniffing, these glasses are the ideal way to bring out all of the subtle or even sometimes hidden aromas in your favorite liquor. You'll feel like a true connoisseur of whiskey or scotch as you can palate flavors you never knew existed!
Prepare Yourself for Any Situation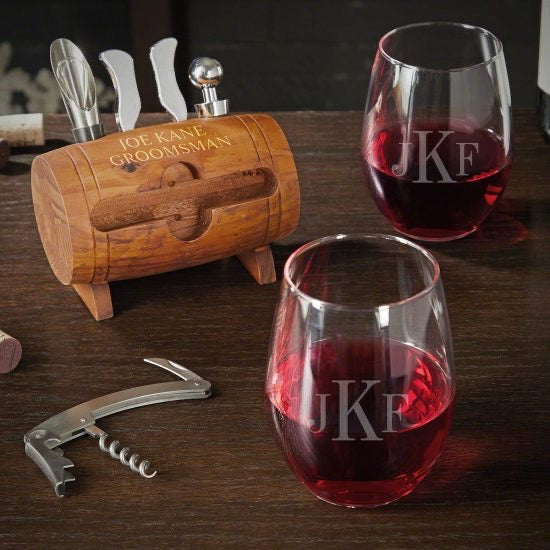 Being sophisticated does not mean you can't or don't want to be prepared. Ensure that when you bring home that bottle of Pinot Noir that you're not searching frantically for any of your wine tools. Thanks to this awesome wine gift set, you've got everything you could ever need to enjoy a drink. It even comes with super modern and classy drinking glasses that have your initials engraved on them, how cool is that?
Some Dog-Gone Good Glasses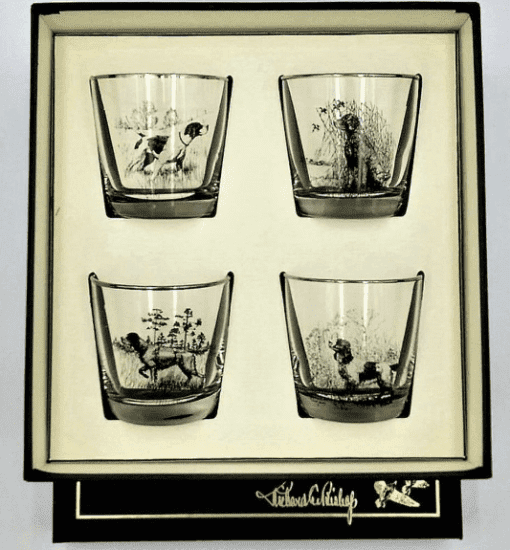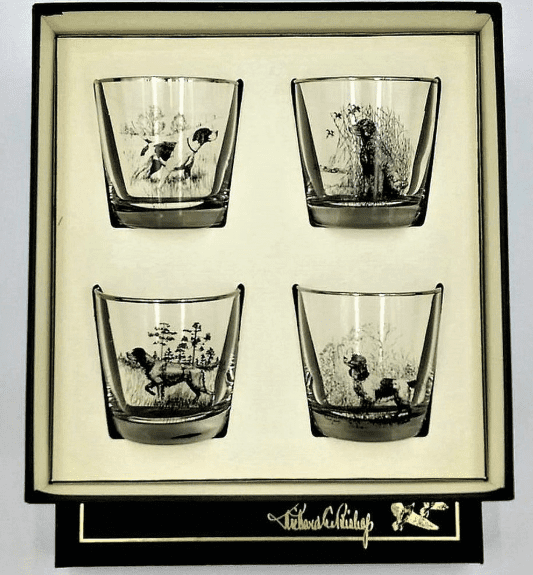 Who doesn't love dogs? Make cocktails fun and talk worthy when they come in a unique set of drinking glasses that have some of your favorite breeds engraved right on the glasses. There is nothing as cool and fun as enjoying a Salty Dog or Greyhound cocktail while drinking from a glass with dogs on them too!
Personalized Beer Stein
Seeing all these awesome glasses and still don't know what to put your beer in? Don't worry, if you don't want modern or more than one glass, you simply can't go wrong with beer steins! These are the original drinking glasses. So, not only are they classic, but they're also just so damn cool to look at! Get a few of them (and maybe even have different engravings) to have the perfect set of glasses to ordain the mantle of your home bar or to have the coolest glassware display in your dining room!
A Crystal Clear Winner for Best Looking Drinking Glasses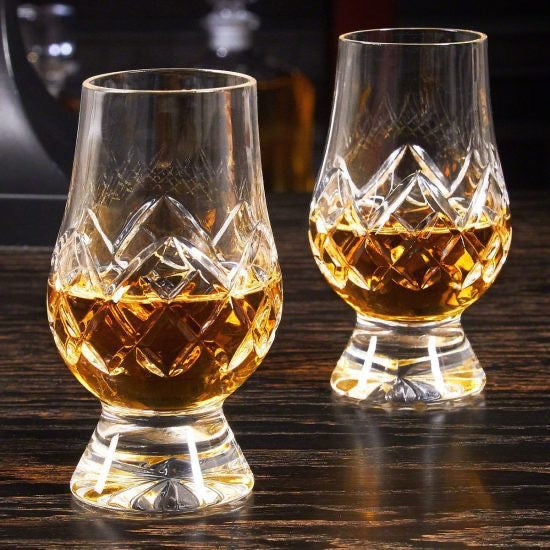 Don't need a classic beer glass, but are searching for a classic whiskey glass? You've come to the right place! These crystal Glencairn glasses are the original tasting glass for whiskey. They hold an air of sophistication around them because of their sleek, elegant, yet simple design. They'll take your favorite whiskey and make it even better-tasting while simultaneously being the classiest looking glasses you own thanks to their crystal cut!
When Sophistication Makes You Start to Feel Blue in the Gills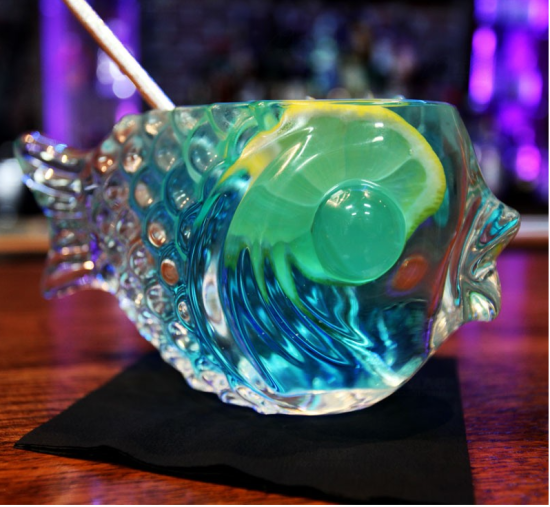 Bring a bit of fun to your home cocktails with this fun fish-shaped cocktail glass! Who wouldn't love a whole drinking glasses set to enjoy backyard barbecues or tropical themed parties? Or, these could even make a fun glass to enjoy Bahama Mamas or Malibu Sunsets from! Never have a boring drink at home when you could spice things up with your own fish glass!
A Drinking Glasses Set to Help Spice Up Drinks
The saying goes that when there is smoke there is fire, well this box set is constantly smoking, which means it must be the hottest glassware set to have in your home! You'll never get tired of creating custom flavor profiles thanks to the fact you can smoke all of your favorite drinks with different woods and herbs. This goes beyond bartending, you'll feel like you're a high-end mixologist every time you make a drink from now on!
An Art Deco Classic for Your Home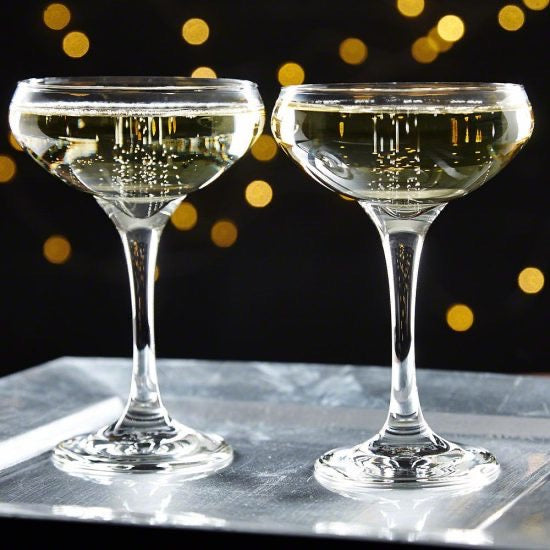 Let the bubbly pour and start doing the Charleston because it is the roaring 20s once again!. So, the best way to outfit your house with a drinking glasses set is to make sure it pays homage to one of the United States' most happening, care-free, party times, the 20s! Sip some Champagne from these saucers as you imagine yourself as Gatsby himself!
Take a Shot at These Glasses
Tumblers and glasses are good and all, but what about shot glasses? You can make those feel as sophisticated as any other glass when you get yourself a set of these hand-blown glasses! The long body makes them perfect for enjoying your favorite tequilas too!
Still Snifting Out the Best Beer Glass?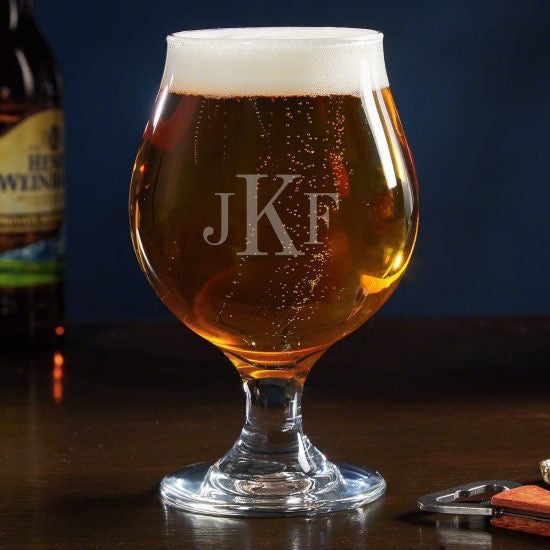 Drinking glasses should make your drinking experience better. They shouldn't just be some hunk of glass you bring to your face to enjoy a drink. No! Never let a beer be just a beer ever again when you pour it into your own personal snifter glass. The monogram as well as the unique shape that enhances flavor will take a simple beer and turn it into one of the most elegant drinks you've ever enjoyed!
Whiskey and Chill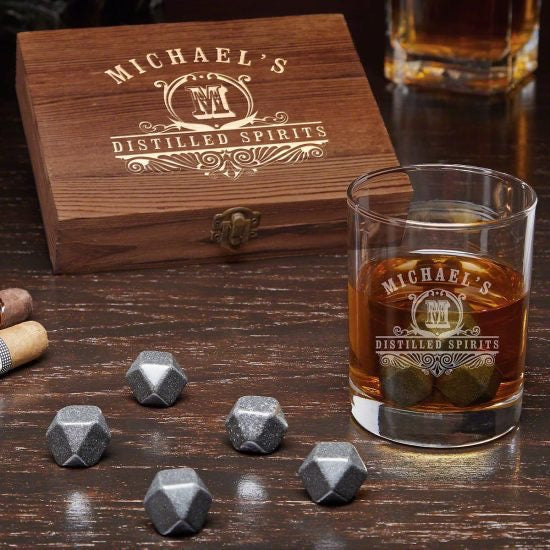 Getting the ideal drinking glasses set is a great way to just chill. Just like this whiskey stone gift set! With chilled stones, you can bring home a brand new bottle of liquor and have an ice-cold drink in minutes without even watering down the pure flavor of your whiskey, scotch, or bourbon!
Unique Cocktail Glasses
This is a set of glassware you won't be able to help but show off at your next get-together. In fact, this set is so good that when you get it in your home, you'll want to have a dinner or cocktail party just so you have a reason to place these glasses in everyone's hands! Inlaid with filigree and gold fragments, these are sure to be the most unique glasses ever!
Engraved Cognac Set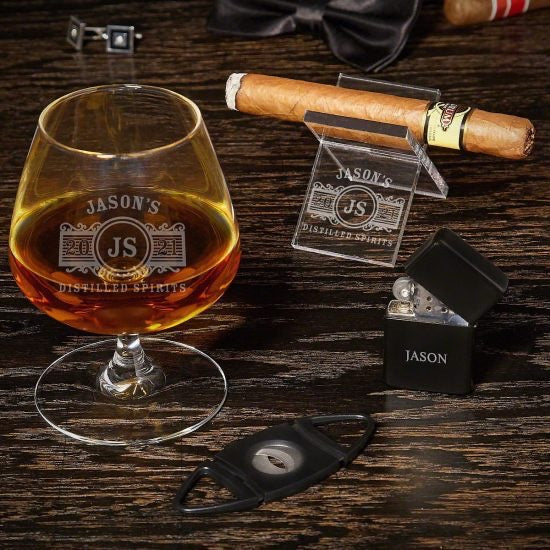 Wine, beer, and whiskey are all good, but don't sleep on getting the perfect brandy glass set! Enjoying a cigar and brandy is the best way to warm yourself on a cold winter day or to cap-off a great summer night. Using this set, you'll have everything you could ever want to celebrate a victorious occasion or to simply unwind after a long work week!
SOPHISTICATED SETS OF DRINKING SETS>
David Harrington is a seasoned researcher with a degree in English literature. He uses his extensive training and research skills to evaluate thousands of gifts a year. He then narrows that list down to a select few, choosing unique gifts that will surprise and delight his readers and their gift recipients.