Champagne is a drink that is always associated with some form of celebration. So why not mark the occasion with personalized champagne flutes? Your own engraved champagne flutes can make an evening, they show off how much you've planned and how much you care about this event! So, you know you want them, but you're not sure which ones are for you, or even what shape is best for you. Don't fret, for your special occasion, or even just the awesome brunch filled with Mimosas, we have a glass for that. Whether you are here looking at glasses for speeches, rehearsal dinners, weddings, or even parties; sit back, relax, enjoy the read, and you will find the best engraved champagne flutes for your needs!
Fancy Personalized Champagne Flutes
Your wedding day is coming up, and whether these are for the bachelor/bachelorette party or the reception, a set of personalized champagne flutes are exactly what you are looking for. The shape of these glasses is the most modern design, allowing the aroma and bubbles to stay in the glass while still being easily drinkable. Use the personalization to mark whose is whose, with names and titles like "Shelly, the bride." Do this for your whole wedding party and not only are these great glasses, but they'll make great gifts as well.
Sweet Stemless Tulips
A very modern style of champagne glass are the stemless tulips. These come without a stem, giving them a sleeker feel and aesthetic appeal. These are great for weddings and celebrations with a more modern style. They're also perfect keepsakes since engraved champagne flutes will have everyone remembering your occasion to celebrate! The inward curve at the top of the glass is also great for keeping the champagne nice and bubbly the whole time you are drinking it! Make your celebration customized with an engraving of your choice!
Embrace the Gatsby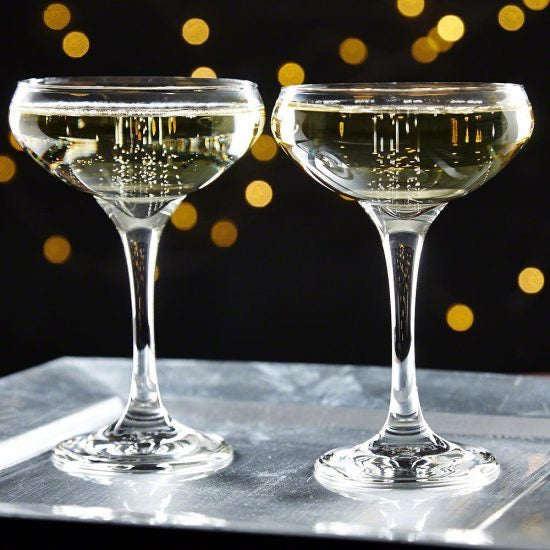 A sauce glass is a champagne glass you won't see as often as the others. These were more popular in the early twentieth-century, but for those that love the retro or maybe even for fans of The Great Gatsby, these are a fantastic choice. Although these glasses were eventually passed up by flutes, you will impress everyone as the hostess with the mostest as you drink from a glass that is a true blast from the past!
New Year, New Flutes!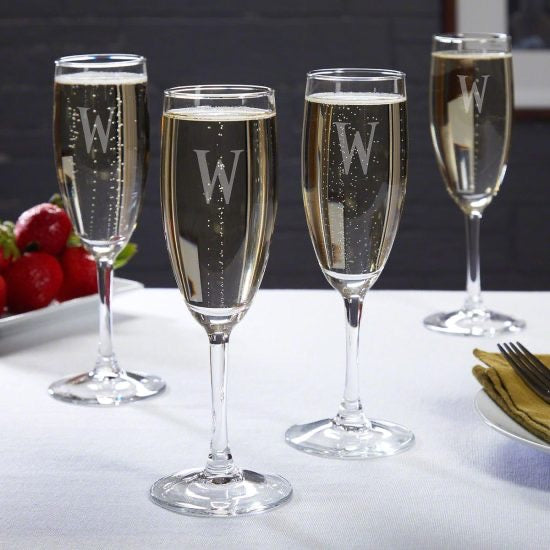 These tulip-shaped glasses are perfect for large scale celebrations such as weddings or New Year's Eve parties. Make these your personalized champagne flutes that'll make this New Year's Eve a night to remember! You'll wow guests with your initial etched onto the glass and they'll love the fantastic shape of the glasses! You'll be waiting for the ball to drop in style as you drink from these quality tulip glasses.
Best Brunch Glasses, Ever
This set of engraved champagne glasses are fancy enough for weddings while still being casual enough to have for Sunday brunch Mimosas! Life is too short to only have champagne for specific celebrations, so why not use this set with brunch? The stemless glass is perfect for brunches because you'll be going through your Mimosas quick enough that you won't need to worry about a stem to cool the drink. You're all about the look of these glasses and you'll love them!
173 + WONDERFUL WEDDING GIFTS>
Winter Celebration Glasses
This set of champagne flutes come from Waterford's snowflake collection, which makes them perfect for any winter celebration such as Christmas, New Year's Eve, or any winter weddings. Even better is the glasses are made of crystal which makes the light catch them better than standard glass. The crystal will look great in any of the colors of glass you decided to use! To enhance the wintery feel of the engraved champagne glasses each one comes with snowflakes embedded all over the glass. Embrace your inner Elsa and when the champagne comes around, let it flow, let it flow!
Engrave Your Personal Victory
An engraved champagne glass can be a fantastic choice for celebrating a personal victory. Use a flute with your name and the date of that triumph to make the occasion more special. This custom glass will have you feeling like a winner all night long. Speaking of which, the long stem of the glass will ensure that your Prosecco never gets warm as you drink and chat about your monumental accomplishment!
The Perfect Anniversary Glass
Engrave their champagne flutes with name, date, and title as the perfect anniversary gift! They'll be out celebrating their first, fifth, or twentieth anniversary and nothing will end the night better than drinking a bottle of sparkling wine to celebrate all the time they have spent together. The casual style of the stemless glasses makes these a perfect anniversary gift since these will be the perfect set to use to celebrate with or to have morning Mimosas!
Perfect Wedding Engraved Champagne Flutes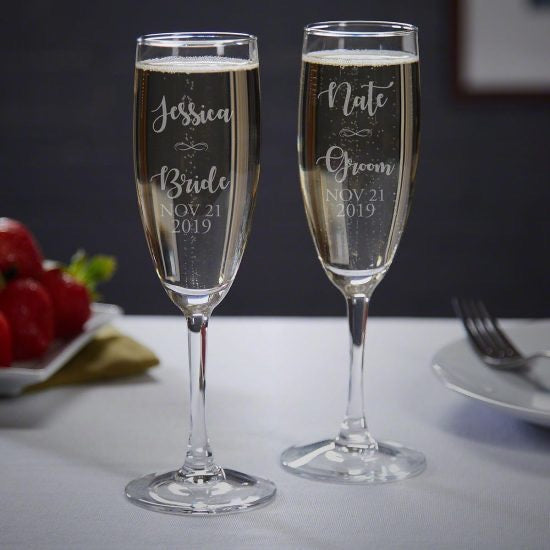 Not all weddings are indoor affairs. A lot of the time, the wedding and reception are both outdoors. Take a look at a set personalized champagne flutes for the bride and groom. These glasses will look stunning in the sun, not to mention by the glow from the happy couple when they drink from their personalized champagne glasses.
Styling with Stella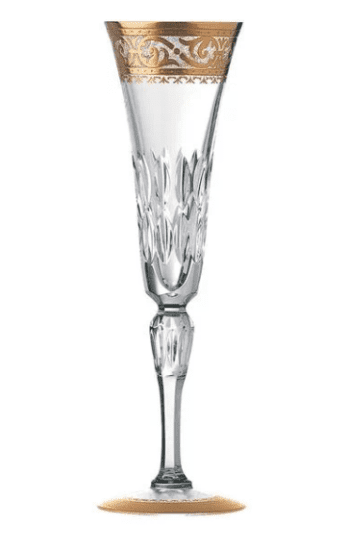 The largest celebration of your life is coming up and you need a champagne flute to match just how fancy this event is going to be. A mouth-blown crystal glass flute with gold should do the trick. The Stella style is perfect to celebrate for scoring that important promotion, landing the biggest client of the year, or for the whole wedding party! When you're drinking your sparkling wine or Prosecco, make this glass a keystone in your celebration!
Best Glass for the Best man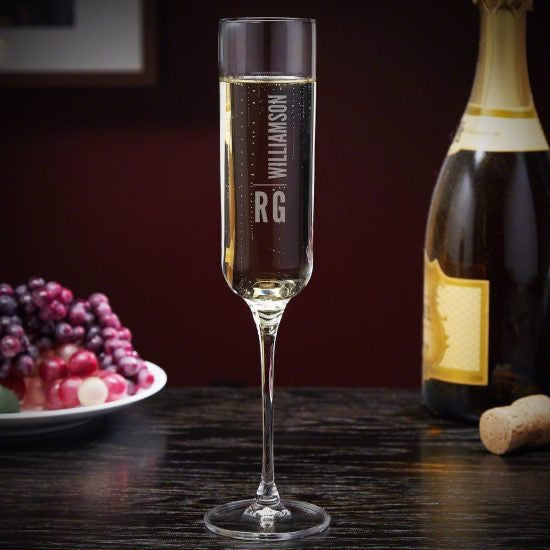 Your best man has planned everything possible for his speech at the wedding. He's nervous, but you know he's got it. For the toast though, he's going to need some sweet glassware to make everything come together. Get him a modern classic with an engraved champagne glass! Nothing will tie a speech together better than the perfect glass to have a room of people raising their glasses in agreeance and for the happiness of newlyweds
Flutes for the Reception
A set of personalized champagne flutes are one of the best ways to celebrate the upcoming wedding at the rehearsal dinner. Before the two of you have a single last name, why not put both initials onto a set of champagne flutes? They'll be a great personal touch for your reception. They will also stand out in your collection as a fond piece of glassware to look back on and enjoy all the emotions you went through before your big day!
His & Hers Personalized Champagne Flutes
Champagne always feels like the kind of drink that makes every event it is in a celebration. Even some receptions feel surreal until you hear corks pop and have the champagne make its way around the tables. This set of personalized champagne flutes are made as a his and hers glass set. Top these off with champagne to for the bride and groom so they can make a toast on their wedding day!
15 + PERFECT PERSONALIZED CHAMPAGNE FLUTES>