Getting a gift for a couple can already be a struggle. Sometimes figuring out what will work for both halves means scrapping ideas and starting over and over again. Now, instead of thinking about what gifts could work for the couple, you need to check out these gifts that you know for sure they will love! Gifts for couples who have everything are great when you need to get them something personal, unique, or even maybe a bit rare; otherwise, how could it be something they don't already have? You don't need to try and get something super useful, let's be real, they have literally everything. If they already have it, all why get them something that isn't a bit frivolous or flashy? So, with these awesome gifts, wow the couple you're shopping for!
Every Couple Wants an Elegant Gift
What better way to start off the search for gifts for couples who have everything than with the coolest looking decanter you've ever seen? This is a great idea for that couple who has it all because you know for a fact an engraved gift that looks like this will blow them away! Add in the gorgeous twists in the glass and how they make the couples liquor look and they'll wonder why in the world they didn't get this for themselves years ago!
Wonderful Wine Set
Never let them have a dull date night or wine tasting ever again with a wine gift set they won't be able to wait to use for their Merlots, Chardonnays, or Cabernets. This set is perfect for couples too because it comes engraved with their name, quite literally, all over it. It also has a wine stopper that keeps their valuable bottles of wine fresh for when they need to save it for another day, how cool is that? They can even use their keepsake for unique purposes, like storing wine corks from date nights, photos, or anything else!
Gift Ideas for Couples Who Have Everything are in the Bag
Custom presents are fantastic gift ideas for couples who have everything. In fact, they are some of the most unique gifts to give since they've bought all the standard stuff they could ever want. Take them to a world they never thought they'd be finding such a unique gift, their front yard! They'll have a blast throwing bags back and forth on gorgeous summer days. They'll even love breaking this set out when company is over because it is a great opportunity to show off the personalized engraving the set has on both boards!
The Gift of the Best Tasting Wine Ever
What couple wouldn't want to enjoy wine to the absolute fullest? They've already gone to the trouble of opening a bottle and getting two glasses ready, so why won't you help them get some more flavor out of their drink with this awesome decanter? This gorgeous piece of glassware is purpose-built to make each note and tannin stand out. Plus, just look at it; this will make an awesome gift for the couple who thinks they have it all because you know they don't have a decanter that looks this good.
The Coolest Personalized Luxury Gift for Couples
Let them live a life of luxury by never having to get up for a cold drink ever again with their own personalized ice bucket and cocktail glass set. There is nothing cooler than lounging around by the pool, by the fire, or even in your favorite chair and having all you need for that second glass right next to you. To top this set off, get them a bag of ice, some mixers, and a bottle or two of liquor and you've given an awesome and unique gift to the couple!
839+ GREAT GLASSWARE GIFTS FOR COUPLES>
Unique Pong Table
Gifts for couples who have everything need to be truly unique, you can't just go to a store in your area and get something they've never seen before, that is unless you've got one of these awesome Pong tables at a local store! This is actually a coffee/cocktail table that you can play Pong on! Don't say that isn't awesome! This is a great gift for drinks but also for the couple when they're hanging out together or with friends and want to enjoy one of the most fun video games on the planet!
Give them the World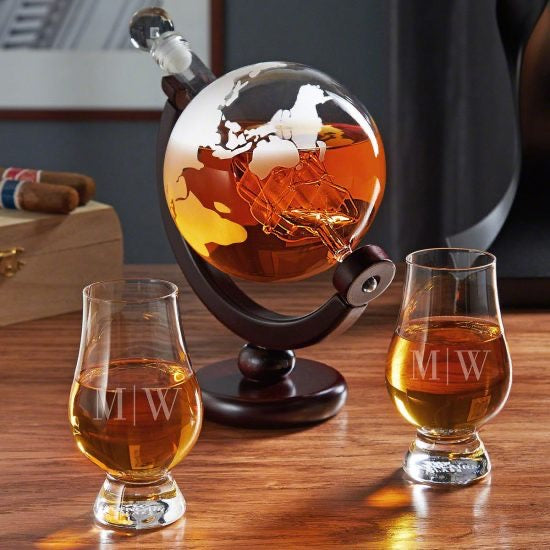 When you're in need of gift ideas for couples who have everything (and they do truly have everything), the only gift you can give is the world. That's right, they have everything else, so put the world in the palm of their hands with this fantastic globe decanter! The initial glasses are the added touch that will make this one of the coolest gifts they've ever received. Perfect for enjoying scotches, bourbons, and fine whiskeys, they can use the Glencairn glass as they watch the glass ship sail in a sea of their favorite liquor!
Great Growler Gift for Couples
Some couples love to sit back and enjoy some quality beer together, and what better way to do that than with a gift set that has been personalized just for them? All of this gift set fits inside their own custom keepsake but you can also fit in a few other goodies inside too. However, you definitely don't need to include a bottle opener, that is included in the coaster! They may already have a few pint glasses in their house; although, this engraved matching set will definitely become one of their favorite sets to enjoy a frosty pint from!
Decor They Can Experience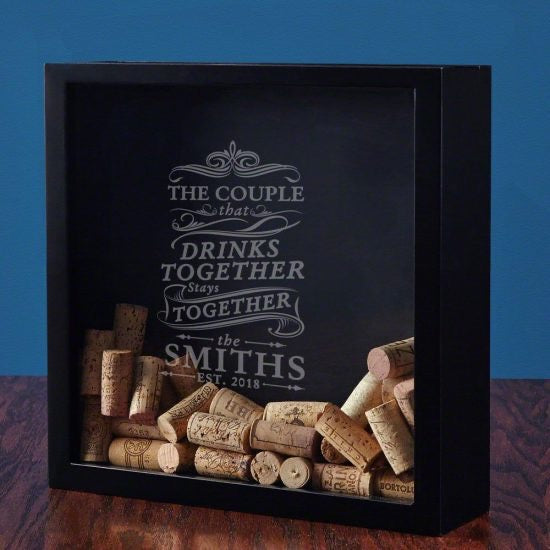 Getting a unique gift that both halves of the couple will enjoy can be tough, that is why a gift that lets them enjoy experiences together is the ultimate gift. A personalized shadow box is a fantastic piece of home decor that lets them put parts of their favorite hobbies or ways they love to enjoy the time they spend together on display. This is perfect for wine corks, beer caps, ticket stubs, or anything else they can think of.
Wine Gifts for Couples Who Have Everything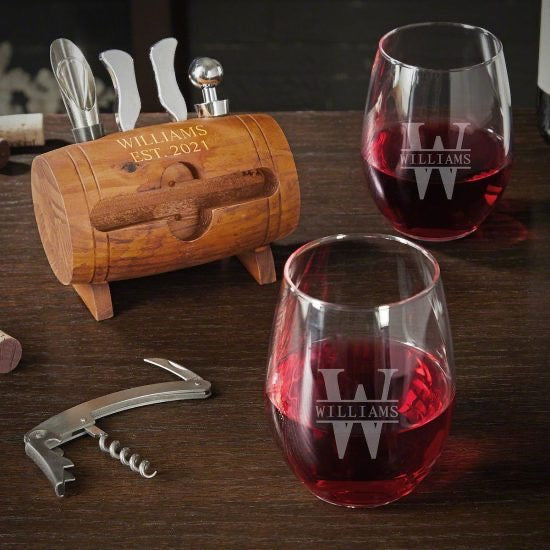 Sometimes it is the cute things that will truly awe the couple you are shopping for. This set of gifts for couples who have everything are a classy yet fun way to enjoy a nice bottle of wine. The toolset in the custom barrel will have everything they need to pop the cork and even save their bottle for later; however, this set looks so good you can be sure they'll always leave the tools and matching glasses out on a counter for anyone to see!
A Love Seat for Lovebirds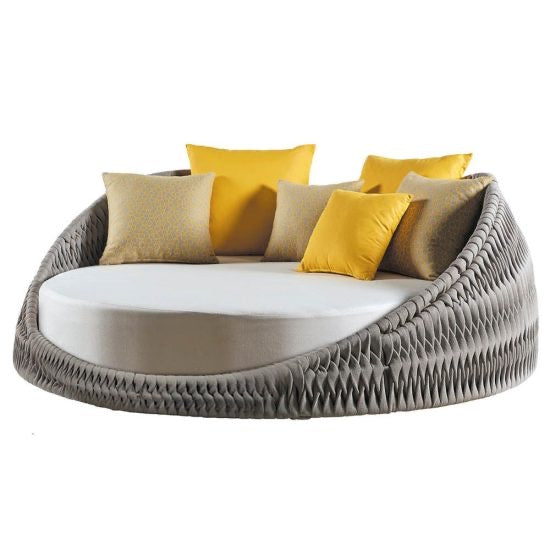 Some of the coolest experiences a person can have with their loved one is to sit outside and enjoy an evening with their spouse. Make that experience comfier than ever with this amazing love seat. Pair this with any glassware set above and they'll have the most romantic stay at home date night ever!
The Perfect Personalized Sign for Couples
A simple, but touching gift idea for couples who have everything can always come in the form of the perfect sign for their house. An engraved gift like this is a sentimental present that will last them years and will always bring a smile to their face when they pass it by in the hall, living room, or even by their front door!
Diamonds Always are Great Gifts
What are some gifts for couples who have everything that they'll never get tired of? Diamonds, of course! Although this gift is not a real diamond, this diamond decanter set is definitely a gorgeous substitute and is sure to be the biggest set of diamonds they've ever seen in their lives. Plus, how cool will it be for them to feel classier than the rest of the world as their drinking Monkey Shoulder or Glendroanch from a matching diamond decanter set?
Marvel at the Marble
Whether they have long dinners or simply forget to throw their favorite bottle of white into the fridge, they'll love you so much for having gotten them this fancy wine chiller. Made from solid marble, not only does this custom gift look amazing on any table but it will chill their wine to the perfect enjoyable temperate any time they need to have an ideal sip of their favorite wine!
Present Them Gift Ideas for Couples Who Have Everything
A gift that fits their luxurious lifestyle is what you have been searching for, that is why you're trying to get them something amazing. Make them feel super classy every time they even see their new gift with this awesome monogrammed presentation set! These gorgeous sets are engraved and you can put both their initials on there to make it a fantastic couples gift. This is the perfect gift for their home bar or even if they just want to have it out on a counter and use it for date nights or when they are entertaining guests.
679+ WONDERFUL WHISKEY GIFTS FOR COUPLES>
Espresso How You Feel with This Gift
Gifts for couples who have everything rarely change their lives, but this one will. With this awesome coffee and espresso machine, they'll never have to wait in line for their favorite coffee again! Now, they get to be their own barista making their favorite caffeinated beverage available at their fingertips 24/7.
Engraved Wine Glass Box Set
So you might be thinking? This couple already has a wine set, everyone does. That may be true but you know for a fact that they don't have a set that looks as cool as this. These are the perfect gift ideas for couples who have everything. These personalized glasses are the perfect way to replace their bland store-bought set that looks like everyone else's. Now, they can enjoy a classy gift that has their name on literally every piece. This set of four is perfect for when they have friends or family over too!
Tastiest Glassware Set
Crystal is always a classy gift—for any one—period. Make the gift for the couple be more than just classy though. This gift will turn every taste of whiskey, scotch, or bourbon into a truly mind-blowing experience due to the shape of their new awesome glassware set. Now they can enjoy the finer notes of flavor of their favorite liquor brands that they have been missing for years thanks to the unique shape of the Glencairn glass, and thanks to the crystal, they'll look classy as hell as they do so!
When it is Wine All the Time
Okay, so you're still unsure of what to get as a gift or set of gifts for couples who have everything? Why not get them this awesome unique sign and pair it with a bottle of wine. It'll look amazing having in or above their wine cellar (they do have everything after all) but if they don't have one, this will be the perfect inspiration for them to build their wine collection so they'll need one! Until that day, you can be sure this sign will be displayed proudly wherever they like to enjoy a glass of wine!