Your wedding day is fast approaching and you're searching for a nice gift to give your dad that shows just how grateful you are for everything he's done to help make the most important day of your life as special and perfect as possible. Father of the bride gifts should be nice items that he will enjoy using, treasure forever, and will show that you care and appreciate him. After all, his little girl is all grown up now! Your father of the bride gift can be given on the day of your wedding, at the rehearsal dinner, wedding reception, or even after you get back from your honeymoon. This gift shows that you're thankful for your dad's guidance throughout life and his contribution to the wedding, but most of all, it should show him just how much you love and appreciate him for being your dad. Make sure you've got a tissue handy because these thoughtful gifts will make him cry because they're so sweet!
Personalized Poker Set
With all the work he's done helping you prepare for your wedding, he deserves a break doing some of his favorite things! This monogrammed poker set is one of the greatest gift ideas for the father of the bride because it gives him all he needs for tons of fun games nights playing poker, Gin Rummy, Cribbage, and any other card games he likes. He'll feel like a total stud as he holds this handsome cigar glass in one hand and his cards in the other!
Most Sophisticated Decanter Set
There's no way your dad isn't immediately obsessed with this custom whiskey decanter set! It's one of the best father of the bride gifts that makes having a celebratory beverage with his awesome newlywed daughter better than ever. He'll be stunned by how impressive and attractive this glassware set is—even when he's not using it to enjoy a drink, he'll want it displayed in his home!
Gift for a Grilling Dad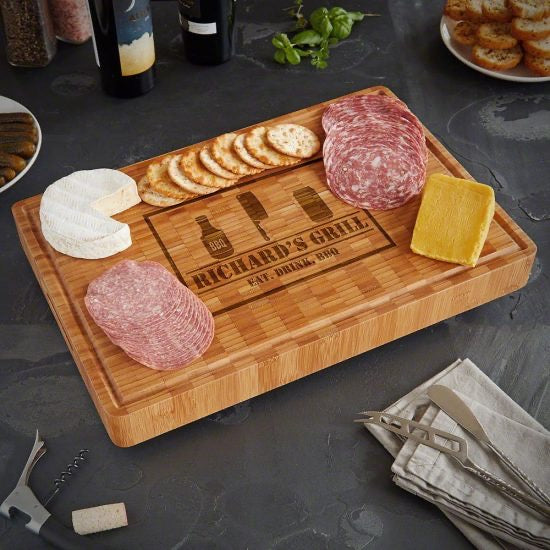 Make the father of the bride feel like the manliest man ever by getting him with a grilling cutting board! He'll really appreciate having the perfect surface to chop, slice, and season various meats before tossing them onto the grill. He can even use this board to serve his delicious food! It's a fantastic father of the bride gift that he'll really enjoy using when he has his daughter and new son-in-law over for a backyard barbecue or has his buddies over for a special occasion!
The Coolest Gifts Any Father of the Bride Could Want
For the father of the bride who enjoys relaxing with a glass of scotch and a freshly cut stogie now and then, no gift is better than this! As a thank you for everything he's done to prepare you for the happiest day of your life, this set will make every day a little bit more enjoyable even though you're all grown up and on your own now as a married woman! This set is perfect for enjoying a celebratory drink together after the ceremony and every time you visit his house afterward.
Hole-in-One Father of the Bride Present
Surprise your dad with a present that lets him enjoy one of his favorite activities whenever he wants! This golf putting set will be something he always wants to have at the office or at home so he can practice his short game even when he can't make it to the golf course! He'll definitely appreciate such a unique, fun gift from you as a thank you for all of their help during the wedding.
Wine Set of Father of the Bride Gifts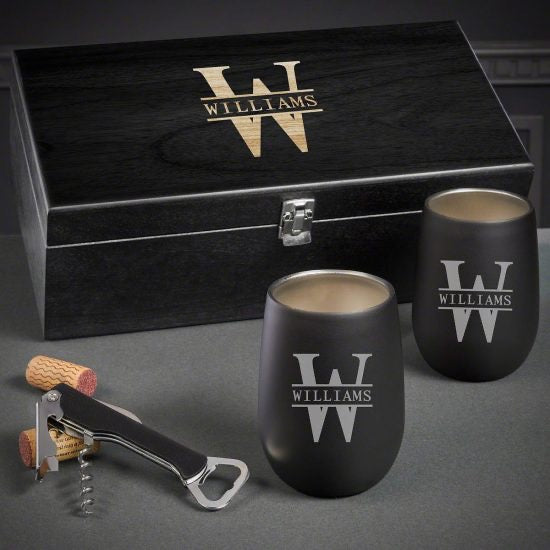 Make him feel like the most sophisticated father of the bride of all time with this stainless steel wine tumbler set! He'll really enjoy sharing some chilled wine or nice cold cocktails with his daughter to celebrate her getting married, and he'll feel so fancy while using these personalized tumblers. He'll definitely appreciate owning such classy glassware and never want to use any other glasses for their favorite beverages!
377+ GIFT SETS YOUR DAD WILL LOVE>
Wedding Day Essentials for the Father of the Bride
One of the most thoughtful father of the bride gifts is something he can proudly wear on your wedding day, like a new tie! This complete tie gift set has ties, pocket squares, a tie bar, and even lapel flowers to make sure he's fully prepared for your special day. Plus, it's one less thing he has to worry about and you can ensure that he matches you and the wedding party.
The Best Father of the Bride Gifts
Your wedding calls for a drink and a cigar to celebrate, and you know your father will want to enjoy the two on the day of the ceremony! Make sure he has everything he needs to celebrate your nuptials properly with this unique whiskey and cigar gift set that he can enjoy whenever he likes, not just for your wedding! He will love having his own custom whiskey glass and a sturdy, convenient place to keep his stogies.
Liquor Bottle Box for Dad
The perfect way to thank your dad for helping so much during the wedding process is with a bottle of his favorite liquor. However, you want your gift to him to be much more impressive than simply handing him a bottle. That's where this engraved liquor bottle box comes in! Your dad will feel incredibly special seeing the personalization on this handsome box, and he'll really appreciate the nice bottle of whiskey or any other liquor you surprise him with inside. He can even use the box to store a bottle of liquor for a special occasion.
Father of the Bride Gifts He Can Use to Celebrate
It's traditional for the men in the wedding party to enjoy cigars in celebration of the wedding, but you can make sure your dad is celebrating in style with this stunning decanter set! He and your soon-to-be-husband can enjoy a drink and a smoke together with ease thanks to the unique cigar-holding whiskey glasses! In fact, your dad will love using this set so much that he will want to use it all the time and not just for special occasions.
The Ideal Dad Gift
Dads seem to be natural grilling experts and you know that your own dad is quite the grill master! As a thank you for everything he's done to help you out with the wedding, get him this handsome personalized set of grilling tools! He will be amazed by the high quality tools and the gorgeous engraved carrying case they come in. The next time you visit after the wedding, he'll whip out these new tools and grill you a tasty dinner!
Something New to Wear On Your Wedding Day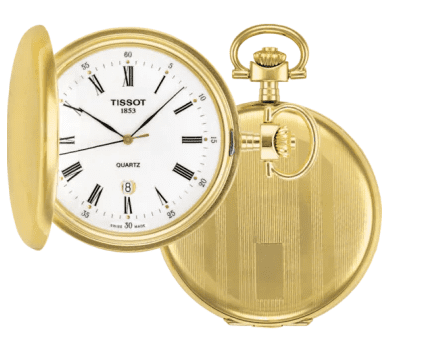 Want to get your dad a really unique father of the bride gift? This beautiful pocket watch is something he can wear on the day of your wedding as well as any other formal occasion in the future! He will treasure this unique timepiece for the rest of his life and will be reminded of you every time he looks at it.
A Whole New Experience With Every Drink
Whether you're the bride wanting to give your father something nice as a thank you for his help in the wedding or you're the groom wanting to make a good impression on your father-in-law-to-be, this incredible gift is perfect! This revolutionary gadget is a smoke box, which infuses his drinks with a whole new smoky, delicious flavor. Every drink he uses it with will be different every time, and even his tried and true favorite brands will taste totally new thanks to the smoke box!
The Perfect Set for Drinks with Dad
Make sure your dad knows that you'll still come around plenty often after the wedding by promising him a drink with a custom set of whiskey glasses! He will keep this three piece set out on his home bar waiting for you to visit so that you two can enjoy a drink together and catch up. These thoughtful father of the bride gifts will soon become part of your father daughter traditions that you'll enjoy together for years to come long after the wedding.
A Collection to Start On Your Wedding Day
Want to give the father of the bride something truly special? Get him a custom shadow box that he can use to store cigar bands from every celebratory stogie he enjoys starting on your wedding day! He'll drop a cigar band in for every special occasion from your 1st anniversary to the birth of your first child as a unique representation of special memories. Over the years, he'll be able to point out which cigar he enjoyed for each memory! How cool is that? This thoughtful father of the bride gift is truly unbeatable!
139+ CIGAR GIFTS YOUR DAD WILL LOVE>
Custom Cufflinks to Wear to the Ceremony
One of the best gifts you can give a father of the bride is something special to wear on the day of the wedding, like a pair of engraved cufflinks! These elegant sterling silver cufflinks will match his tuxedo perfectly, and he will love that they are custom engraved, too. Every time he looks at them, he'll remember the day of his daughter's wedding and how wonderful it was to be a part of it!
A Sweet Gift From His Daughter
Your dad is probably a little sad that you're getting married because it means his little girl is all grown up now! Cheer him up with a thoughtful father of the bride gift that will remind him that he will always be the most important man in your life with this sweet personalized decanter set! Engraved with "Dad, you will always be the first man I ever loved." He might just cry when he opens up his gift, and he will love using it every chance he gets so that he can be reminded of his little girl.
Simple But Thoughtful Father of the Bride Gift
Even though your dad insists on not needing a thank you gift, you still want to get him something nice. Even the dad who wants nothing will love this beautiful father of the bride picture frame! The perfect place to keep a picture of you and your dad on your wedding day, he will proudly display this lovely gift and keepsake on his desk of mantle for him to treasure forever. It comes in all kinds of colors so that you can have it match your wedding colors or the decor of your parents' home!
Suave Father of the Bride Gifts
The father of the bride plays an important role in your wedding and in your life, which means he deserves a special gift that shows how much you appreciate him. How about these sophisticated father of the bride gifts? He can enjoy a celebratory smoke and drink in style with his own custom cigar-holding whiskey glass at the wedding reception! After the wedding, he'll want to enjoy the entire set for a relaxing after-dinner smoke and drink all the time.
Manly Gifts for the Manly Dad
If you're worried about your dad and how he'll handle you being out of the house after the wedding, why don't you get him a care package that will inspire him to pursue his favorite hobbies? This adventurous ammo can gift set has everything your dad needs to enjoy himself in the great outdoors! Whether he enjoys camping, hiking, hunting, fishing, or all of the above, this entire set will come in handy no matter what adventure he's on.
Funny Father of the Bride Gift
For the father of the bride with a sense of classic dad humor, no gift is better for him than this funny T-shirt! In fact, you should get this shirt for both of your parents to wear after the wedding. Your dad will get a kick out of this fun gift and might even start saying, "I survived my daughter's wedding, I can survive anything else."
The Ultimate Father of the Bride Gifts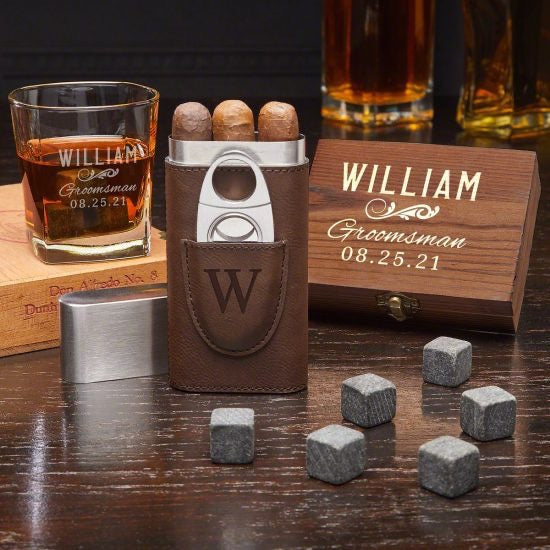 Like most dads on the day of their daughter's weddings, your dad wants to be able to celebrate! Make sure he has everything he needs with this complete cigar and whiskey gift set! From a convenient cigar case to keep his stogies secure to the custom rocks glass he can use at the reception, these father of the bride gifts are perfect for celebrating your nuptials. He'll love it so much that he'll start using this set every evening to help him unwind!
For the Dad Who Likes Beer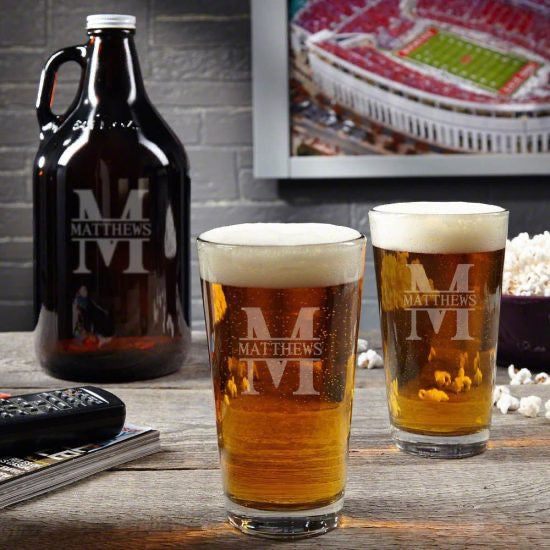 Whether you and your dad share a love for craft beer or you know that he's always wanted to get into the world of beer brewing, this unique growler set is a great father of the bride gift! Not only is it a thoughtful gift that shows your dad you're thinking of him and his interests, this set will help him enjoy a hobby like never before! Such a great thank you gift for the beer-loving father of the bride, he'll be reminded of his thoughtful daughter every time he uses it. 
Extremely Fancy Father of the Bride Gifts
Not sure what kind of gift to get your dad to thank him for being there for you on your wedding day? Go all out with this incredible gift set! The father of the bride will love this custom watch case to keep all of his timepieces in place, but he'll especially enjoy using the matching flask for a celebratory drink on the day of the ceremony. After the wedding, he'll think of his daughter and how she's all grown up now whenever he uses his new rocks glass for a drink after dinner.
Make His Dream Home Bar a Reality
Now that you're getting married, your parents' house will just be home to your mom and dad. This means that they can pursue hobbies they never had time for because they had kids around, like building a home bar! Your dad has always wanted one, and now he can finally get to building his dream bar that everyone will want to hang out at. Help him start on his new project with this custom bar sign! He will love the rustic style and how official it makes his home bar.
Practical Father of the Bride Gift He'll Use Forever
There is nothing that dads love more than things that are practical, especially your dad! Any father of the bride would appreciate this tactical wallet gift set, and will certainly enjoy using it for years to come! It comes with a built-in multi tool, a small capsule to store small valuables in, and a paracord bracelet. The multi-tool has many cool features that will come in handy every day: a phone stand, hex keys, nail prier, saw edge, and a paracord cutter. He'll be using these durable gifts until your 20th anniversary!
Perfect Set for Father and Daughter Drinks Together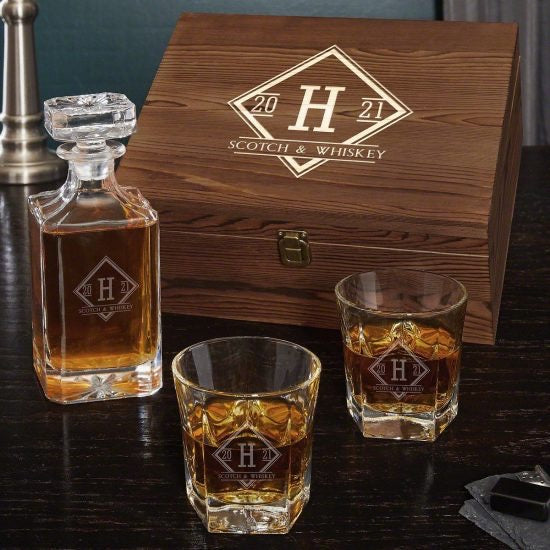 Reassure your dad that you'll still make plenty of time for him after the wedding by getting him a set for you two to enjoy together every time you come over! He will love the custom rocks glasses and the handsome decanter. The two of you can kick back and relax with a couple of drinks on the porch while you catch up or watch your favorite TV show together with these thoughtful father of the bride gifts! Bonus: he can use the wooden gift box to store keepsakes from your wedding!
The Perfect Flask Set for Your Wedding Day
Is your dad a little nervous about walking you down the aisle on the day of the wedding? Give him a little liquid courage with this custom flask set! He will love that you got him something so unique and personalized to enjoy on your wedding day and for every celebration in the future! He'll want to bring his trusty new flask everywhere he goes from now on.
The Father of the Bride Gift Every Dad Wants
Your dad has been known to enjoy a nice glass of cognac on special occasions, which means he'll be needing a bottle to celebrate with on the day of your wedding! Make sure he's fully prepared to toast to your nuptials with this custom cognac glass set, which you should definitely pair with a nice bottle of his favorite brandy! He will love using this set to enjoy a drink with you or your husband-to-be at your wedding, Christmas, New Year's, and every other holiday or special occasion!