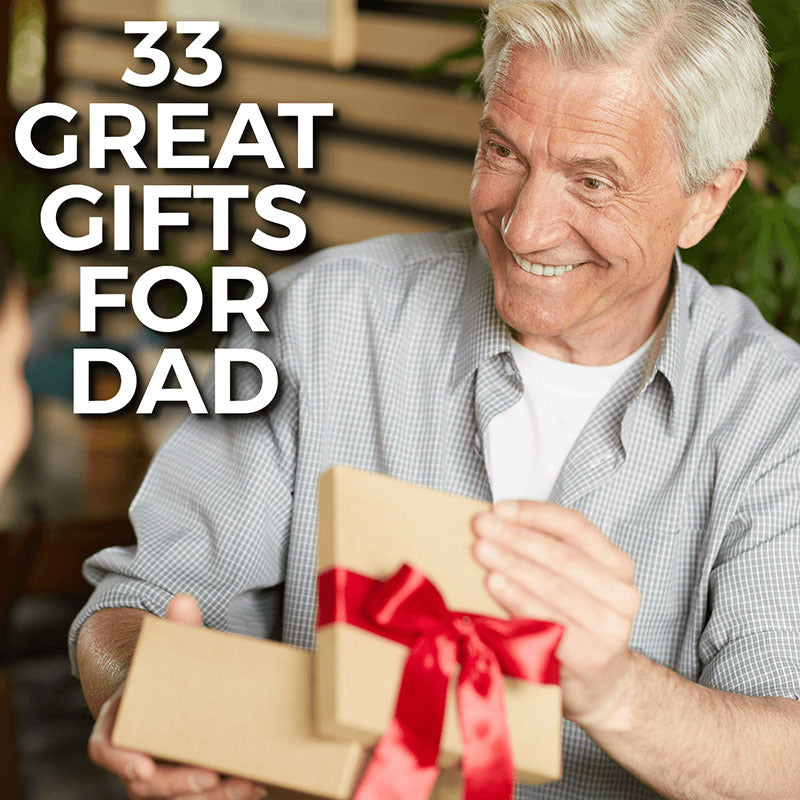 33 Great Gifts for Dad
Fathers are some of the most important and influential people in our lives. You want to show your pops how much he means to you with a fantastic gift, whether that's for his birthday, Father's Day, Christmas, or even just because. You're searching for great gifts for dad that are manly, useful, and personal gifts that often make one of his favorite activities or pastimes better than ever before. Lucky for you, we happen to be experts at the whole "dad gift" thing, so we handpicked the raddest dad presents that your amazing father will think are just as cool as he is!
Whiskey and Cigar Set of Great Gifts for Dad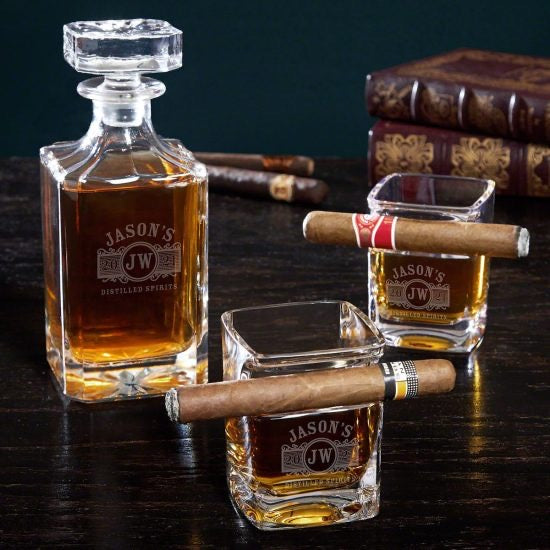 Picture this: it's a holiday or special occasion, and your dad wants to celebrate in the proper way. He heads over to his home bar or kitchen cabinet and takes out a personalized decanter, filled to the brim with his favorite whiskey. He also takes out customized cigar glasses and a favorite stogie of his so he can enjoy his favorite beverage and cigar together. Make this vision a reality with this cigar glasses set! Your dad will feel so sophisticated as he holds his cigar and whiskey in one hand!
Most Fun Dad Gift Ever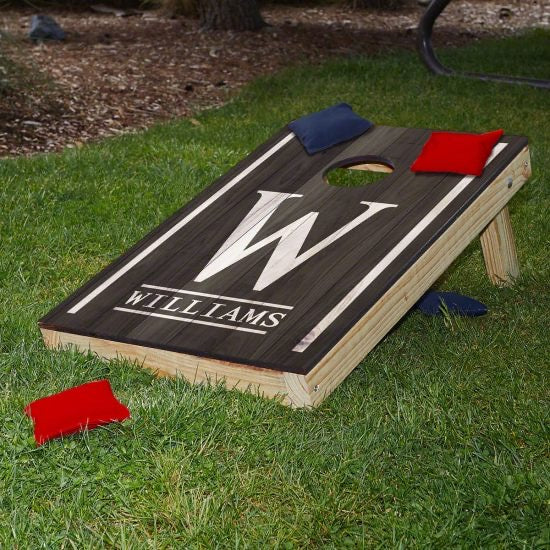 If there's one word you'd use to describe your dad, it's "fun." Custom bean bag toss games like this one make great gifts for dad because he'll love using them to challenge his family and friends to competitive games. He'll have a great time hosting family get-togethers and backyard barbecues with his buddies so he can share his super fun gift with them. He'll definitely want to show off the personalization on this amazing gift, too!
Personalized Dad Presents for Enjoying Whiskey
Who deserves to enjoy their favorite drink from a handsomely personalized glass more than your dad? Nobody! That's why this personalized whiskey gift set is the perfect present for him. He'll feel like the coolest dad ever seeing his name on the glasses and whiskey stone box, and he'll be thrilled to sip on a glass of his favorite chilled beverage whenever he wants to relax after a long day or celebrate a special occasion. He'll especially be a fan of the fact that there are two glasses, giving him an easy way to share a drink with you!
Carry Beer in Style
Looking for dad presents that are both useful and incredibly awesome? Say no more. This engraved wooden beer tote is an excellent gift idea for your old man. He'll love how easy it makes bringing beer along on the camping trip or Super Bowl watch party. Everyone will know this incredible beer tote belongs to him because it's engraved with his name and an initial, which ensures no one will ever again "accidentally" enjoy one of his favorite brews without his say so.
Bet on this Great Gift for Dad
Great gifts for dad that give him the opportunity to host fun game nights are always great choices. This monogrammed poker gift set makes a phenomenal gift that your dad will absolutely love! He'll think it's so fun inviting some buddies over and playing round after round of poker or any other card game they want. As he holds his cards in one hand, he can hold both his scotch and cigar in the other hand using the cigar glass, making him feel like a boss.
Help Him Sleep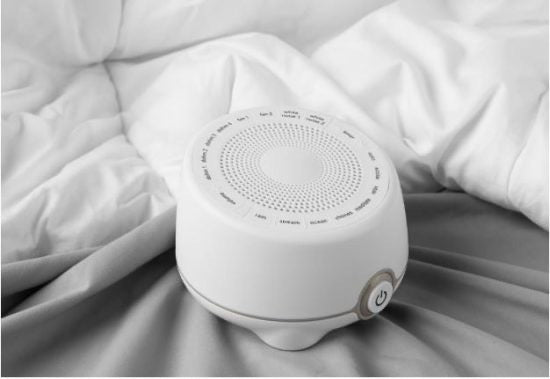 Help your pop get the best sleep of his life with the SoundSoother device! This ingenious contraption will help your dad control his breathing in such a way that helps him fall asleep quickly and stay asleep. He'll wake up every morning feeling so refreshed, and he'll have you to thank for getting him such an incredibly useful gift!
A Gift Set for a Legendary Father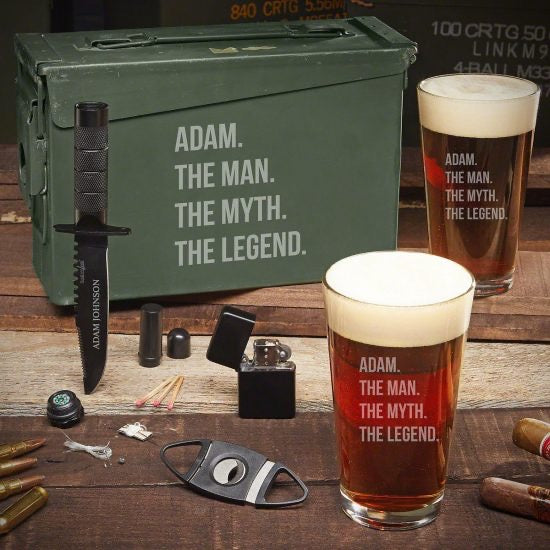 An ammo can full of amazing dad presents? Nothing will ever be better! This ammo can gift set will make your father feel like a legend, not only because of the unique customization but because of how manly and awesome it is. Especially when it's stuffed full of some of his favorite beers and snacks. Thanks to this epic set, he'll be ready to go on any kind of manly outdoor adventure. He'll love how convenient the ammo can is for storing any fishing tackle or live ammunition. After a long day hunting, fishing, or doing any other manly activity, it'll bring him much joy to relax with a nice glass of beer using these handsome, custom pint glasses.
135+ GNARLY AMMO CAN GIFT SET>
Handsome Personalized Bar Sign
Maybe he's always dreamed of having his own bar, or you just know he'd love having a special place to enjoy his favorite drinks in his own home. Either way, you know that this personalized bar sign is one of those great gifts for dad he'll never forget! He'll love feeling like a sophisticated bar owner with this aesthetically pleasing sign hanging in his home bar or bar area of his home. With his name in big, bold letters, everyone will know who the bar belongs to!
Bull Decanter Set of Great Gifts for Dad
Your dad is the strongest person you've ever met, and you want to show that through your gift to him. This bull decanter set is the perfect symbolic gift for your father because bulls are notoriously strong and valiant. He'll love having this bull filled with his favorite spirit and displayed on his home bar or dining room table. Pouring his favorite spirit into his custom glasses from his decanter and plopping in some whiskey stones from the freezer will make your dad happy and content every single time.
Keep His Accessories Safe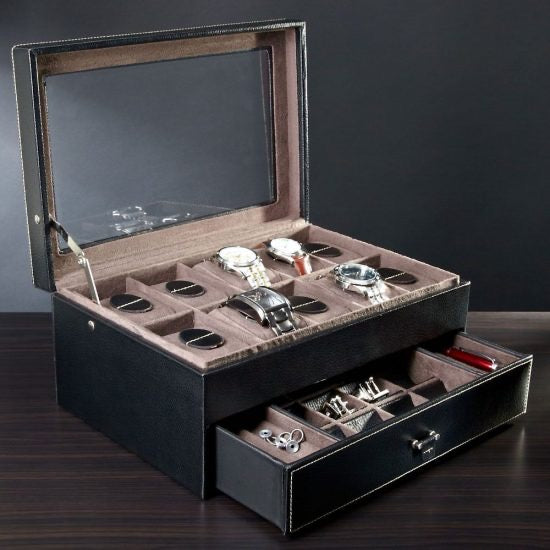 Make sure your dad always has the perfect place to keep his watches, cufflinks, tie clips, rings, and any other accessories. This valet box and display case is one of the best dad presents ever because not only is it as classy looking as he is but he'll be a big fan of how organized it makes him. Plus, he will greatly appreciate having one convenient spot to keep all the small accessories he owns, and he'll love never losing a single one ever again!
A Sentimental Painted Portrait
Great gifts for dad will always remind them of their family, who they adore more than anything else on the planet. That's why you know your old man would be obsessed with a brilliant drawn and painted portrait of the whole family! You can pick how many people and pets, the medium used to draw and paint the portrait, and the artist to design it in the style you want most. Your dad will definitely hang this meaningful work of art in his home and look at it every single day.
Beer Mugs Box Set
If he's an avid beer drinker, he probably has some type of mug he uses to enjoy his favorite brews. Replace that old thing with this amazing, personalized beer mug gift set! Sets like these make great gifts for dad because the custom mugs will make him feel like a million bucks as he uses them to drink beer. Thanks to this awesome set, he'll feel like the owner of an exclusive bar where everything has his name on it! He'll greatly appreciate such a fantastic gift idea, especially if you pair it with some Dos Equis or Coronas.
Most Attractive Humidor Ever
There's no doubt that your dad will be extremely grateful for a gift as useful and cool as this ammo can cigar humidor! He'll love having the peace of mind that all of his favorite cigars are staying intact inside this humidor. Whenever he wants to celebrate a work achievement or special occasion by smoking a stogie, they'll be inside this humidor, as fresh as the day he bought them. He'll be a big fan of the rugged, manly appearance of this gift as well as the personalization, so much so that he'll even want to display it in his man cave or home bar.
Manly Whiskey Gift Set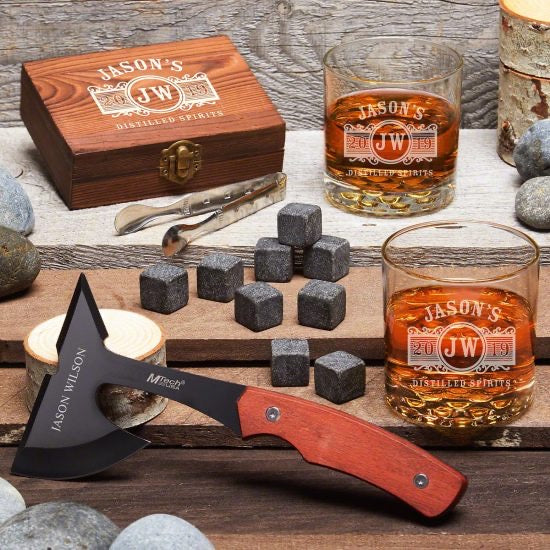 What's one thing a strong, hardworking dad needs in his life? This whiskey and hatchet set! Sets like these are perfect examples of great gifts for dad who both enjoy the hard work life brings as well as know the importance of taking some time to relax. Your pops will love this custom hatchet and the hard work it symbolizes, and he'll definitely want it displayed in his home somewhere. When he's taking that important resting time, he'll love using this set to enjoy a deliciously chilled drink with his spouse or his favorite child.
Keeper of the Memories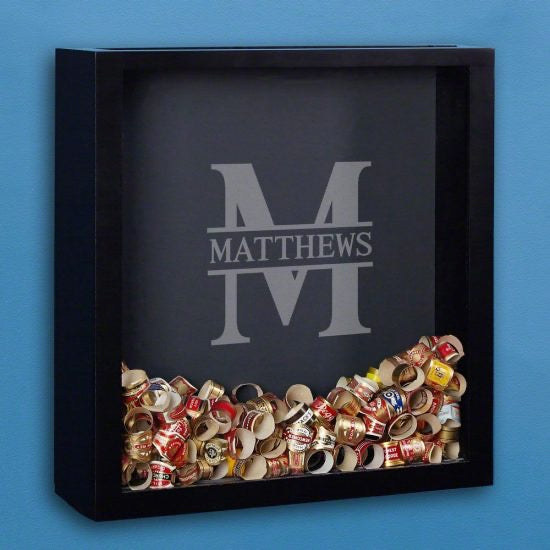 Dads are sentimental people. They love to savor every memory they share with their children and other loved ones. With this personalized shadow box, your dad will be able to do just that! He'll have so much fun collecting small items, such as bottle caps, wine corks, or ticket stubs, and keeping them inside this handsome box. Each one will represent the memory of an experience shared with his favorite people in the world, which will make him feel sentimental every time he thinks about it.
Most High Tech Umbrella of All Time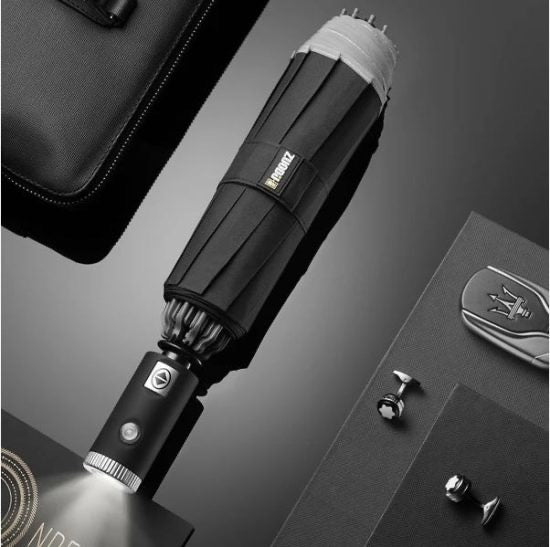 Your father deserves high-tech, fantastic dad presents. This automatic, LED umbrella is incredibly innovative and cool, and your dad will feel rad just carrying it around. It's crafted to be very easy to open and extremely wind-resistant. He'll certainly like the LED light feature that ensures that he can see in the dark and that cars can see him! He'll wonder how he ever lived without this ingenious present.
Jaw-Dropping Glassware Set
As soon as your dad sees this gift, his jaw will be on the floor! This very unique, engraved whiskey decanter box set is so fancy, he'll feel unworthy of it! The handsome customization on these glasses will make them stand out even more from their rare, stunning shape, and your dad will feel like a million bucks drinking his Macallan or Johnnie Walker from them after it has decanted in the decanter. Show him how to add in some cold whiskey stones into his glass, and you'll make your father happier than he's been in his life!
Cool, Custom Set of Golfing Dad Presents
At any given moment, there's a good chance your dad is wishing he was on the golf course. He'll look forward to future golfing trips more than ever before after you give him this personalized golfer gift set! Nothing will make him happier than having the custom bag tag on his golfing bag as well as the custom divot tool to use on the course. He'll feel like Tiger Woods with the classy customization on these items. When he wants to celebrate a birdie or the end of a great round, he'll love having this flask filled with his favorite spirit to use to have a celebratory drink.
A Monogram Cigar Gift Set He'll Love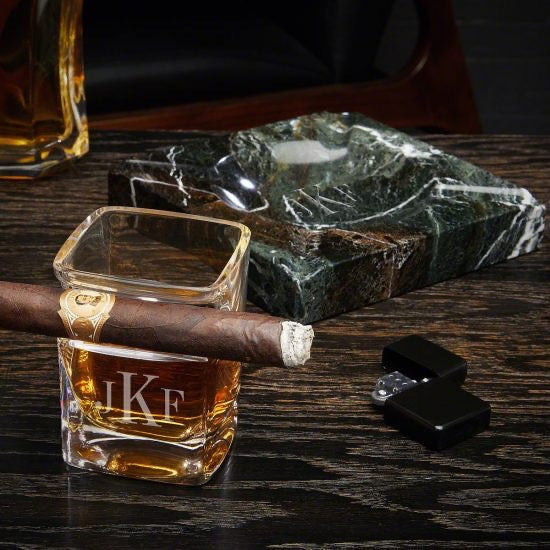 Your dad has told you stories of watching his own father enjoy a cigar every once in a while on holidays or special occasions. Help him do the same with the most high quality accessories out there! This monogrammed cigar lovers gift set is perfect for him because it'll help him enjoy stogies to the fullest extent. He'll love the classy personalization on both the ash tray and glass, and the convenience of being able to hold his drink and cigar in one hand will be his favorite thing ever.
249+ GIFTS FOR THE DAD WHO HAS EVERYTHING>
The Coolest Shoes for Dad Gifts
Some of the best examples of great gifts for dad are those that make him feel cool and confident. These sleek and hip Adidas racer shoes will do just that! Your dad will love the youthful feeling these shoes give him, making him feel more awesome than he ever has before as he matches the style of a young man. He'll want to wear these amazing shoes all the time!
The Perfect Dad Sign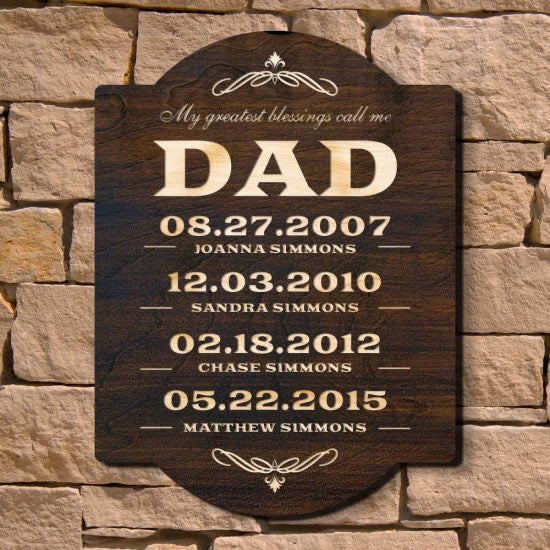 His kids are the absolute best things to ever happen to him. Give him an amazing dad present that makes him think of his children every time he sees it with this custom wall sign! This rustic, wooden sign is absolutely phenomenal, and he'll love how happy he feels every time he looks at his gift and sees his kids' names and birthdays. You can be sure he will want this sign prominently displayed in his living room or entryway where everyone will see it.
Amazing Liquor Gift Set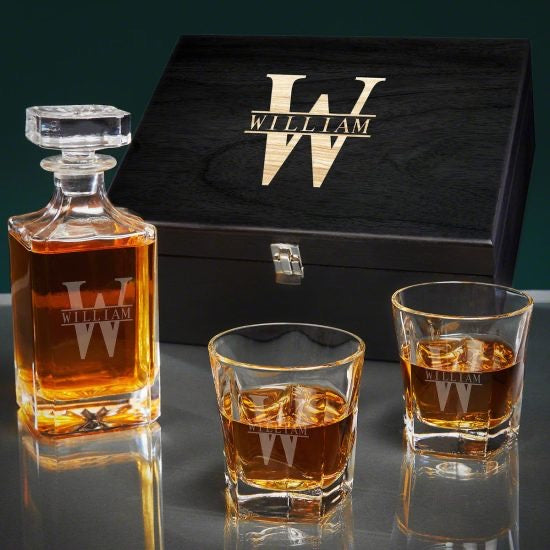 Your dad isn't a complicated man. Give him a glass of his favorite liquor and he's set. Make him more that content with this crystal decanter box set! He'll love pouring his favorite spirit into this handsome decanter so it can decant to its peak deliciousness. After he pours it into his personalized glass, he'll sit back, put his feet up, and sip on his drink, so thankful for the best glassware with which to do so.
Bamboo Cutting Boards Make Great Gifts for Dad
There's no way your dad's ego won't skyrocket when he sees this awesome gift! This bamboo cutting board will make him feel like the "Grillfather" when he sees it. He'll love using this board to chop up and season meats, veggies, and anything else he wants to throw on the grill. After he's done grilling food to perfection, he can use this incredible board as the perfect serving platter to serve food to any guests!
Spend Time Together Even When Not Together
Not being able to spend time with far away relatives and friends is a thing of the past! This Facebook portal is one of the best dad presents ever because he can use it to easily communicate and hang out with those that live far away. The big screen makes it easy for him to see whoever he is talking to clearly, and it'll feel almost as great as being in the same room as them. He'll love how connected this gift will make him feel to those that matter most to him in life!
Coolest Customized Cigar and Whiskey Gift Set for Dads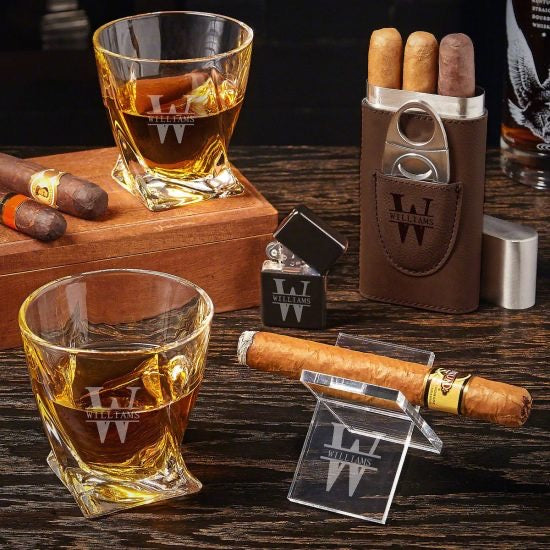 What if one gift could encompass two of his favorite things? That's what this whiskey and cigar gift set does! Your pops will think that the customization on every part of this set is incredible, and he'll feel like the world's coolest dad using them to drink his favorite whiskey and smoke his cigars of choice together. When a holiday or other special event comes around, he'll love being able to take out this handsome set and use it to celebrate.
For the Adventurous Father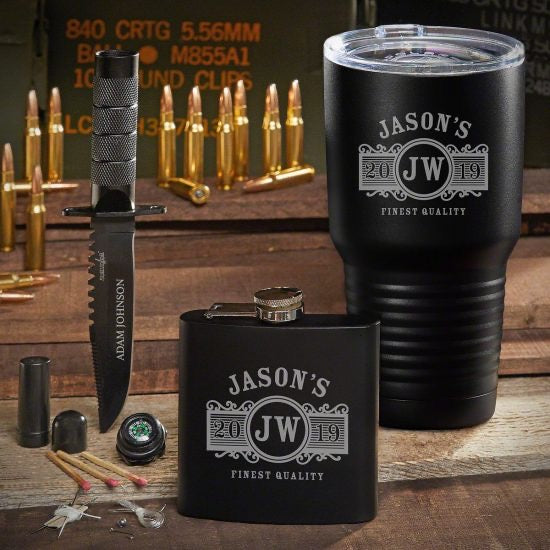 Your dad's adventurous spirit is one of the things you love most about him. Help him embrace that feeling with this personalized tumbler gift set! The tumbler, flask, and tactical knife all make great gifts for dad, so you know the three together will be the best gift he's ever received—especially since each one is personalized just for him! When he's camping in the middle of the forest or on a road trip to a new destination, he'll greatly appreciate having his very cold or hot beverage as well as a sip or two of his favorite spirits at his disposal.
Awesome Ammo Can Set of Dad Presents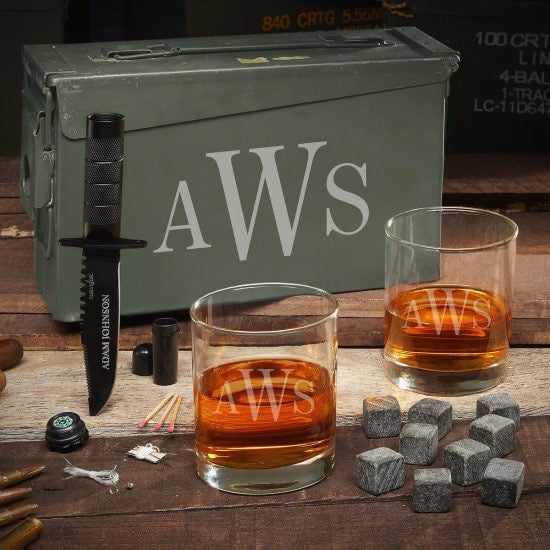 Wow your dad on any special gift-giving occasion by presenting him with this fantastic ammo can gift set! He'll feel amazing sipping his favorite spirit from these monogrammed glasses, filled with whiskey stones to keep his beverage chilled. You can even include some of your dad's favorite liquors inside the ammo can to make the set even better. No matter what your dad is into, be that hunting, fishing, golf, hiking, or any other activity, he'll greatly appreciate how manly of a container the ammo can is that'll definitely come in handy.
A Gift to Fix any Tech
Your dad probably has tools to use when the faucet is broken or a door is falling off its hinges. What about when his battery laptop is suddenly dying super quickly, his turn signal isn't working, or his video game console is acting up? He'll be in desperate need of this tech tool kit! This gift is awesome because not only does it come with special tools for fixing technology, but it comes with many tutorials on the website so your pops can figure out how exactly to fix them.
Vintage Garage Plaque
The garage is a man's space, and your dad really wants to make his sacred space feel cool. This hanging wall plaque is one of the best dad presents that he'll feel really proud to have hanging up in the garage! He'll love seeing his name on this vintage-looking plaque, letting everyone know who the garage belongs to. If hanging out in the garage isn't his thing, he can put this plaque up in his man cave or work room to bring that awesome garage-y feel indoors!
Great Gifts for Dad to Remind Him of His Favorite Title
If there's one thing you know for sure about your dad, it's that he absolutely loves being a dad. That's why you know that this personalized crystal whiskey decanter would mean the world to him, too! Seeing his name and his title of "dad" engraved onto this decanter will cause him to have a huge smile on his face, and he'll really enjoy pouring himself and his awesome kids a drink of whiskey from this decanter.
The Most Fun Dad Gift Ever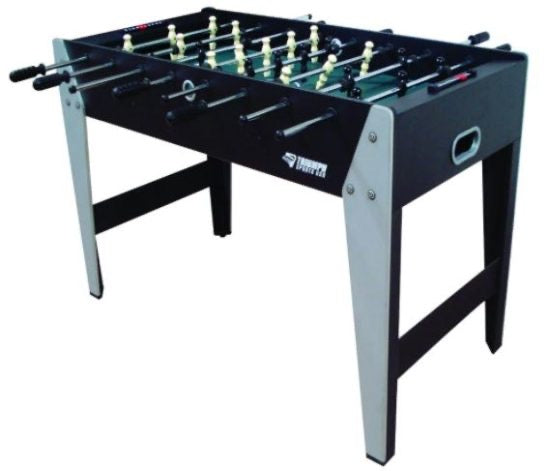 He's always down for some fun and a little competition, too. This foosball table is an excellent dad gift because he'll think it's a blast to challenge his kids and his buddies to games of foosball all the time! He'll love setting up this table in his man cave, game room, or garage and inviting people over to watch the big game and play foosball. He'll become a foosball gold medalist before he knows it!
Most Badass Whiskey Set Ever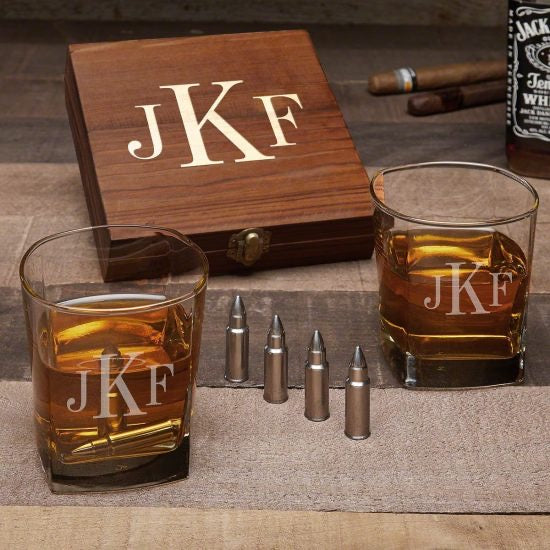 You want your dad to feel like a total badass, which he definitely will when he sees this gift! This bullet whiskey stones gift set is an example of one of those great gifts for dad that will just make him feel so awesome every time he uses it because the bullet stones are just so unique and cool. As he holds his monogrammed glass filled to the brim with his favorite whiskey and these handsome bullet whiskey stones, he'll feel like the most badass dad of all time.
A Box to Gift a Bottle With
You know your dad would absolutely love a bottle of his favorite liquor, but you want to spice up your presentation of that gift. This custom wooden liquor bottle box is just what you need! Your dad will feel so happy seeing his name or a special message engraved onto this handsome black box. He'll want to keep a bottle of liquor inside it at all times, keeping it safe and sound inside before he takes it out when celebrating a special occasion.