Show dad some love for being an awesome father all year long by getting him unique gifts on his favorite holiday of the year, Father's Day! Find personalized Father's Day gifts that will make the day even more memorable when he gets presents with his name, initials, or something else that is cool and has been customized right onto the awesome gift you are giving. You already know he'd hold onto your gift forever, but give the best Father's Day gifts you can with one of these awesome personalized presents!
Dad's New Favorite Tool Box
Celebrate the day that is all about dad with a gift box that is full of personalized Father's Day gifts! Inside this gorgeous keepsake box, he'll find cigar and whiskey gifts which are perfect for him to use on the one day a year all about him. Celebrating the awesome family he is a part of has never been easier or cooler than when he has a neat glass of whiskey and a stogie in his hand. Take this gift the extra mile by adding a few Fuente cigars and maybe a small bottle of Angel's Envy inside the gift box so he can indulge right away!
Personalized Father's Day Gifts for His Poker Face
Don't feel like you're bluffing this year when you tell your dad you got him the best gift for Father's Day. When he sees this monogrammed poker set, he'll know that you searched high and low to find him a gift that doesn't just look great but is perfect for one of his hobbies too, cards! Now, when he has the boys over for some poker, he'll have a top-tier poker kit for game night, and that doesn't even include the unique cigar and whiskey glass that allows him to shuffle cards with his free hand or bet the blind without ever having to set his drink or stogie down!
The Ultimate Humidor Set for Dad
Take this Father's Day as the chance to get your dad the ultimate gift that he will treasure forever with this engraved cigar humidor and whiskey gift set! What more could any dad ask for? From enjoying whiskey to perfectly preserved stogies, this set has everything he needs! All you'd need to do to make it so this gift can never be topped is to include some La Aroma de Cuba Mi Amor cigars and a bottle of Woodford Reserve!
Greatest Dad Sign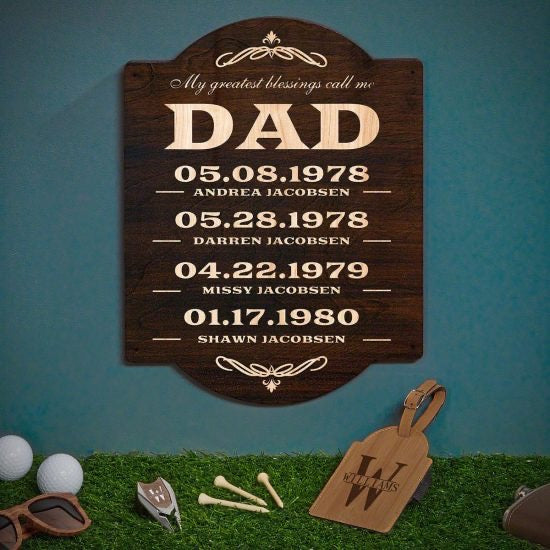 Show your dad just how loved he is with this sign set of personalized Father's Day gifts! Customized with the names of all his children, you can be sure this sign will go in his favorite room of the house so he can enjoy it all the time but wait, that isn't all! It also comes with a bag tag and divot tool so he can take his awesome gift with him while he is on the course!
Custom Wine Tumbler Box Set
Dads are tough people. You've seen him take on the hardest challenges in life and come through it as if nothing had ever been in his way in the first place. Make sure for the tough dads out there that they get equally tough gifts! These custom tumblers not only look badass due to their matte black color but are also super strong because they are built out of stainless steel. So aside from being nearly indestructible, they'll also keep your dad's drink perfectly chilled for hours! What better Father's Day gift is there than that?
131+ ROCKIN' WHISKEY STONE SETS>
A Pretty Cool Seat
Every guy needs a cooler in their lives. They're sure to end up on a trip that requires food and drink to be kept cool, but what dads really need with their own personalized cooler is that it can also be a chair! After a long day of fatherly duties, chilling out on top of his cooler full of refreshments he got just for him will be the ideal way to hang out at a tailgate or while fishing.
Engraved Beer Stein for Dad
Every dad deserves to feel like a king on Father's Day. While getting him a throne and crown may be a little overkill, you can without a doubt surprise him with this unique beer stein! Steins are great personalized Father's Day gifts because they not only look classy in their hands or on display, but they can also use them to enjoy a well-deserved drink! So, make sure you get him a six-pack so he can enjoy his Father's Day beer gift as soon as he opens his awesome present!
Personalized Father's Day Gifts for Drinks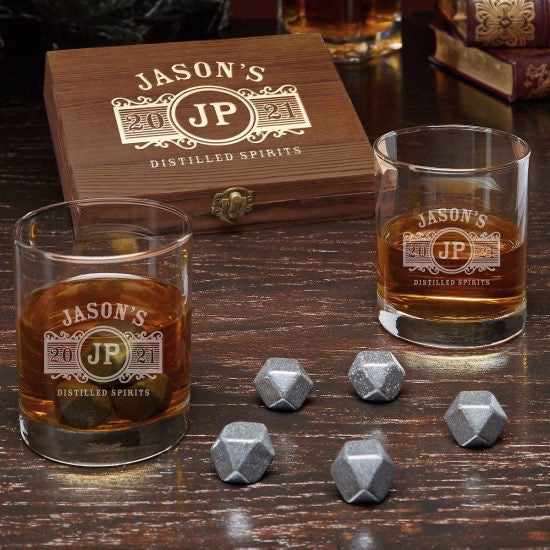 Get your dad the perfect set for personalized Father's Day gifts that make his drinks taste better than ever. This whiskey stone gift set has everything he could ever need to make sure his drink is always perfectly chilled, plus it even comes with a spare glass. He may love this set so much that he'll want to use it right away, who knows, he may even pour you a drink with the matching glass. Talk about a great whiskey Father's Day gift!
Tough Tumblers
He is one of the toughest guys in your life, and you know that means he needs a gift that is tough and will make him look cool too. These tumblers are a surefire way to make sure he is the most badass looking dad around when he's enjoying his favorite drink. As personalized Fathers Day gifts, they are perfect too because they're engraved with his name and they are nearly indestructible, how cool is that?
For Papa Bear
Equip your father with a gift set full of all the personalized Father's Day gifts he could ever want! These "Papa Bear" gifts will make him feel like the loveable bear that everyone sees him as; however, they'll also let him be the cool man he has always been! This ammo can set will have him ready for a drink or adventure at a moment's notice, this is the perfect gift for all the cool dads out there!
Test His Building and Balance
Test out his building skills with a huge version of Jenga! This game set will be fun for hours at a time, plus the whole set comes engraved with his name and initial. This really is a unique set personalized Fathers Day gifts you know he's never seen before. Perfect for game nights, celebrating occasions, or really any reason, you can be sure once you give this gift to your dad, you'll see him taking it out to play all the time!
Personalized Fathers Day Gifts for a Hoppy Father
Make Father's Day as relaxing as possible with a gift set perfect for him to put his feet up and enjoy a beer. Your dad will love getting his own fully personalized beer set that even comes in a matching keepsake box! He'll feel like the father of the year when he gets to drink from his very own personalized mug. Pair this gift with a six-pack of his favorite beer, and he'll be the happiest guy around!
Manly Home Decor
Guy's aren't always a one drink man. Make his home the perfect place for him to enjoy each and every kind of drink he loves with a personalized bar sign! This is the perfect personalized Father's Day gift for him because he just won't be able to wait to hang it up so he can look at it as he downs his preferred drink.
Dad's Director's Cut Sign
If there is one thing that all dads love it is a good movie. Father's Day should be the day they get to enjoy their favorite films, some sodas and a large bowl of popcorn. However, you can make a movie with dad even more awesome when you should up with this personalized marquee sign for him! He'll love feeling like he is the start of his favorite murder-mystery or action film thanks to your sweet Father's Day Gift!
A Box for His Favorite Things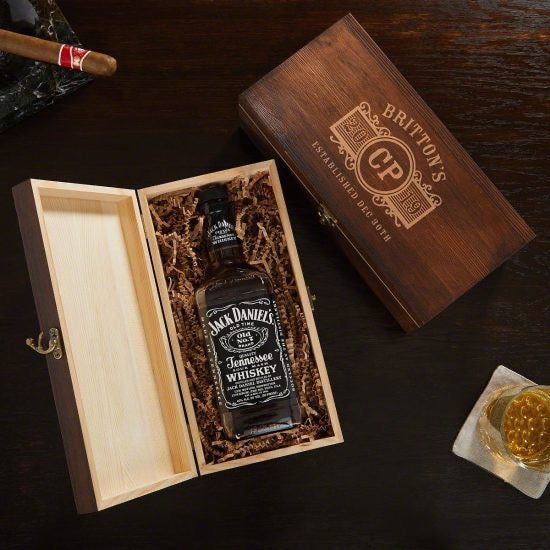 Dress up his favorite spirit with a gift box he'll never forget. A bottle of his favorite liquor is great, but it is even better when you give it inside this keepsake to really make a fantastic personalized Father's Day gift. Engrave his name, and maybe even a special message, and this will for sure be one of his favorite gifts he's ever gotten. However, don't forget to place his favorite liquor inside for him to enjoy! What's great about this gift, is once the bottle is gone, he'll have a fantastic personalized box to store anything he wants!
489+ MANLY BOXES AND GIFT BASKETS FOR MEN>
Dad's Custom Tub
Hanging outside with a few drinks on a gorgeous day is part of what being a dad is all about. Whether he is enjoying a BBQ, at a get together, or even just mowing, having his own personalized beverage tub stuffed with ice and drinks is the best way to enjoy the day. Get him a rustic tub that lets everyone know who is in charge of the patio with this awesome gift!
Show Off His Collection
Make your "Papa Bear" proud with a gift that lets him show the world his favorite collectables. The engraved shadow box is a fantastic gift for dad because it is personally engraved and it also allows him to add to it! He can put his beer caps, wine corks, golf balls, and even spent shotgun shells in there. The more he collects, the cooler his gift will look!
Dads Can Survive Anything
Ensure he is always prepared for whatever faces him next (as a dad, it could quite literally be anything) with these survival personalized Fathers Day gifts! He's got everything he could ever need. The tumbler is perfect for insulating his drinks, while he's got a flask for a quick celebratory nip. To survive being a dad, what more could he ever want?
Grill Tools He's Been Rib-Eyeing
He may have grilling tools, but you know he doesn't have his own personalized gift set of grill tools. Give him an engraved box set full of the perfect personalized Father's Day gifts to see your dad have excitement you haven't seen in years. As soon as he opens the case, you'll be able to hear the bag of charcoal rustling because he is already preparing to fire the grill up just to use your awesome gift!
Mugs are Great Personalized Father's Day Gifts
Use this special engraving to make dad feel amazing with a beer mug you know he will love. This enormous beer mug is the perfect gift that allows Dad to put his feet up and never have to worry about a refill. Add a line for each of his children's birthdays and this will be a "World's Best Dad," mug he will always have in his hand.
Make Him Snazzy
Not all amazing Father's Day gifts need to be large stand out items. Sometimes, things he can subtly carry with him throughout the day will mean just as much. Make him look snazzier than ever with custom cufflinks and a tie-clip to match. His initials engraved will be a classy touch but will also mean the world to him every time he puts this set on!
When You're on the Hunt for Dad Gifts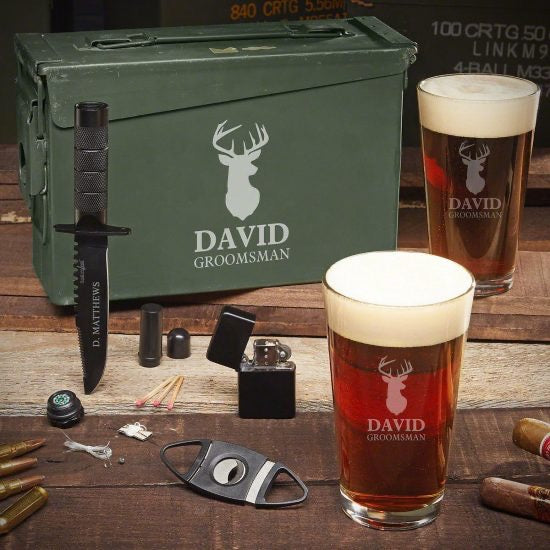 Make him feel like a young buck again with this personalized ammo can full of some of his favorite things. Anytime he wants to relax at the end of a long work day all he needs to do is take out his ammo can and everything he could need for unwinding is right there for him. Better still, he gets a personalized knife that he can always keep on his person, so this isn't just a home gift set, he can take parts of his gift set with him everywhere.
His Perfect Tumbler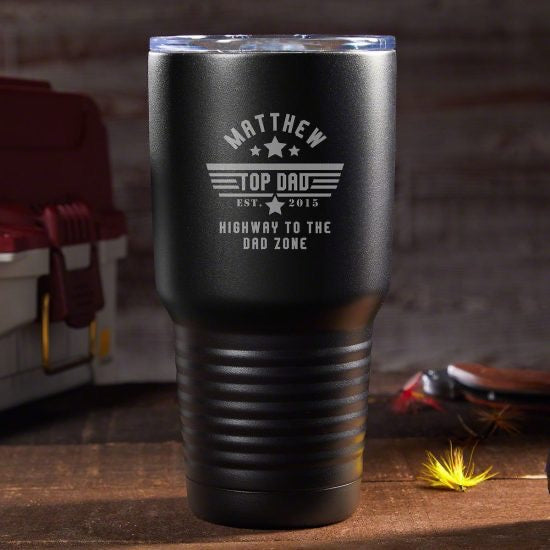 He may have always seemed super human to you, but your dad is in fact human. Just like other people, he's going to be in need of some go juice. However, that doesn't mean he can't look like the coolest dad in the world while he enjoys coffee! This tumbler will have him feeling like a superhero every time he enjoys a cup of his favorite brew.
Classy Gifts for Father
Keep Father's Day classy with a gift set perfect for enjoying the day. A guy will always enjoy a glass of liquor and cigar more when he has the perfect set, which is exactly what you are giving him. These personalized Father's Day gifts will make him feel like he is classier than Don Draper each time he wants to have a stogie and scotch.
Dad's Rules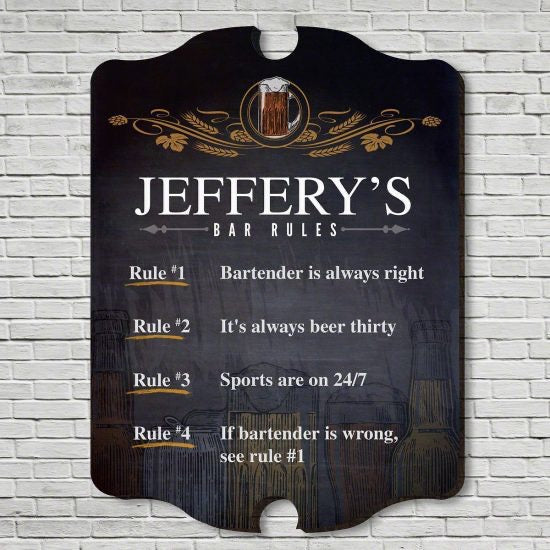 As long as you've known him, your dad has always lived by a certain standard of rules; however, when he enjoys a drink, he has an entirely different code. Give him the sign he deserves that has every quirky, fun, and enjoyable drinking rule he's ever come up with. This way, he can decorate his home with his favorite way to enjoy a drink!
Father Time
Never have him forget the time again thanks to this perfectly personalized wooden watch. Ideal for any kind of dad style, from socks and sandals to guys with dress shoes, this wooden watch will always be the stand out accessory. To him, it'll be even more important thanks to your special secret message on the back of the watch.
Gift Set Full of Personalized Father's Day Gifts
Make "Papa Bear" proud with a fully personalized Father's Day gift set that is perfect for him. This gift is so good, it even comes in its own gift box! Decanter sets make fantastic gifts for dads, they make enjoying a drink feel so much classier; however, he'll really love that his entire gift set is personalized. Now, with a gift this badass for dad, you can be sure he'll always have it out as a centerpiece. It doesn't matter if he is an aficionado, connoisseur, or causal enjoyer of spirits and beer, thanks to this gift set he will always be ready to enjoy one of his drinks to the fullest!
The Perfect Utility Box
Some of the best personalized gifts for dad come from things you have made or kept around the house for years. Instead of looking for crazy personal items, simply take some things you have done or made, that you know he loves, and place them inside his very own personalized keepsake. This is the ultimate gift box for personal items you know he will love!
Custom Wine Glass Gift Set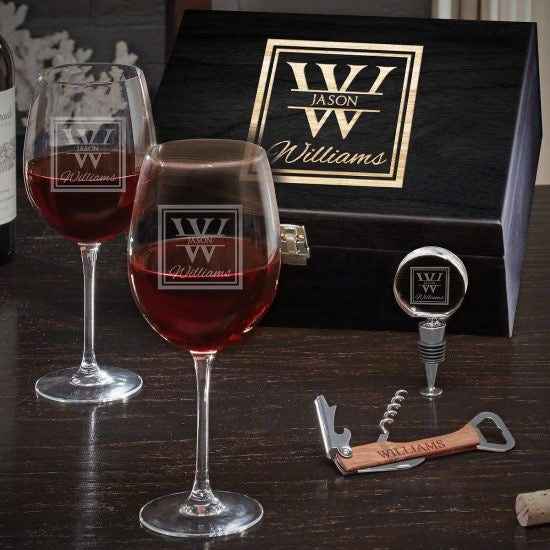 Not all dads need whiskey or beer gifts. Some prefer to unwind with a fantastic glass of wine, so don't let the dad who loves wine feel left aside. Instead, make him feel classier than all the other guys with this unique set of personalized Fathers Day gifts! The blackout aesthetic on the gift box is the ideal fit for any guy, but the classy stemmed wine glasses still give off the classic feel, even out of this modern gift set. Make dad's Father's Day with a wine set that he'll want to use from now on with this engraved gift!