Want to go above and beyond this year as a grandson or granddaughter? Then make your grandad's year by getting him a gift for Father's Day! He'll love that you remembered that he is a dad too! Father's Day gifts for grandpa need to be cool and useful gifts that will make his life easier, have him think of you, or help him unwind. You may think that since he is older he has everything he could ever want, but you'd be wrong! Your grandfather likely still has a ton of things he'd like in his life, and when it comes from his grandchild, it will be a gift he treasures forever!
Sophisticated Father's Day Gifts for Grandpa
Your grandfather has earned the right to sit back, relax, and feel like the classiest guy in town. After all, he's been a hard worker all his life, so now that he is older, a classy, custom decanter box set like this makes the perfect gift for him. Now, when he wants to spend time with you or his son, he's got the ideal way to make hanging out better than ever! Thanks to the cigar glasses, he can even pour another drink without having to put his cigar or his drink down. Plus, this set is so good looking, he'll never want to put it back inside the box, turning it into the ideal keepsake for whiskey corks, photos, or anything else he treasures!
Monogrammed Beer Stein for Him
Father's Day gifts for grandpa are things that need to be truly special to him, they need to be standout gifts. Let him know you put a lot of time and effort into his gift with a monogrammed beer stein! He'll be the king of his own castle each time he enjoys a frothy beer from this custom gift. However, everyone will get to see this epic gift even when he isn't enjoying a brew because it looks so good he simply won't be able to help but want to show it off! From his mantle to his home bar, anywhere he can have it front and center is bound to be a great place for him to display this awesome stein!
Cigar Sign for Grandpa
Make grandad's day with a gift for Father's Day he will never see coming—his own personalized cigar sign! This is the perfect final piece of decor for his cigar lounge or the ideal nudge for him to finally make a room in his house dedicated to one of his favorite passions, cigars! Plus, he has been around for a few years, so the fact that it has his name claiming that he, "Knows Things," simply couldn't be truer!
The Grill Grandfather
Cutting boards are always fantastic Fathers Day gifts for grandpa; however, your grandfather will feel like the ultimate badass when he gets this custom bamboo cutting board! The only person in the world who can outdo your father on the grill is your grandfather. So, make your grandad feel like the grillfather you know he is with this awesome gift! This is the perfect place for him to prepare his steaks, veggies, or other food before tossing it on the grill. Better still, it can make a fantastic serving tray, this way when everyone is eating, they'll never forget who the real grillfather is!
Badass Fathers Day Gifts for Grandpa
Have him feeling like John Wayne or Burt Reynolds the next time he decides to have a drink thanks to this badass, and unique bullet whiskey stone set of Father's Day gifts for grandpa. He'll love being able to chill his drinks with these realistic looking whiskey stones. From neat whiskeys to cocktails, each drink will make it feel like he still has some true grit in him, even in his older age!
639+ WHISKEY GIFTS FOR GRANDPA>
A Unique Bourbon Chair
Every older guy needs a chair. Grandfathers and fathers alike have for years been known for having their one chair in the house as their special one that no one else can sit in. So, whether he is in need of his own chair or an upgrade, this amazing one has been handmade out of reclaimed whiskey barrel staves, making it one of the most unique chairs in the house! No one will ever mistake this as a regular seat and know it is meant only for your grandfather!
A Caddy for the Coolest Grandpa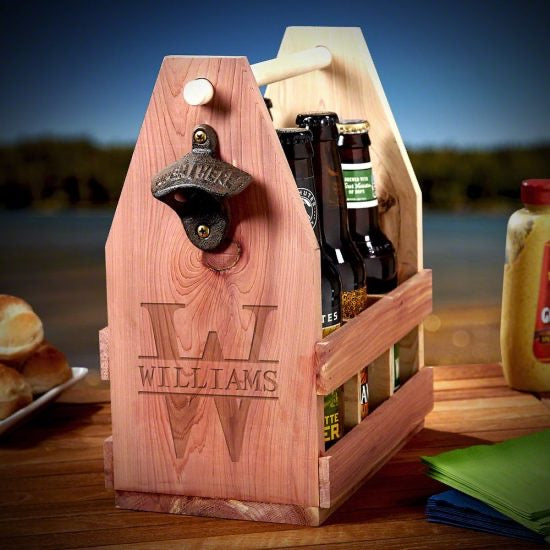 Whether you've got a grandfather who is always going fishing or loves to bring a few brews to his buddies' house, you know he'd love to skip the cheap cardboard carrier and have this personalized wooden beer caddy! Every grandpa will love seeing their name on this gift each time they go to snap the cap off a beer and hear the satisfying "Pssst," of a beer opening using their unique gift. Talk about a great Father's Day gift for your grandpa!
Engraved Ammo Can of Father's Day Gifts for Grandpa
Keep your grandad armed to the teeth this Father's Day with a whiskey ammo can filled with all the supplies he could ever need! This epic gift will be the best he's seen in all his years. From the matching whiskey glasses to the engraved ammo can, all the way to the awesome cigar gifts, he'll know that this gift means business! How could any other gift possibly beat something this badass?
Custom Bean Bag Toss Set
Make his day with this set of Fathers Day gifts for grandpa that will have him out playing with his kids and grandkids for years to come with a custom bean bag toss gift set! To make it even more unique, it not only has his name, but it gives him his own whiskey label. How cool is that? From graduation parties to nice BBQs, you can be sure you'll see your grandfather breaking this gift out!
Manly Mug Set
Have your grandad feeling like the manliest guy around each time he has his favorite brew thanks to this personalized beer mug gift set! Even as a grandfather, there is something special about enjoying a beer when it comes out of a mug, and with his name on the whole set it is even better! This set is so good, that for the beer-loving grandfather, you'll have to pick his jaw off the floor when he opens the keepsake. Just add a cold six-pack of his favorite brew and you'll have given the best Father's Day gift for a grandfather out there!
Get Him In-Touch with the Future
There simply is no excuse in today's day and age to not be up with the times! This iPad Air is the easiest and best way to get an older person in-touch with modern tech. Now, when they're on Skype or Zoom calls with their grandkids, paying bills, or updating Facebook statuses, they can do it all from one spot with ease!
Monogrammed Poker Set for Grandpa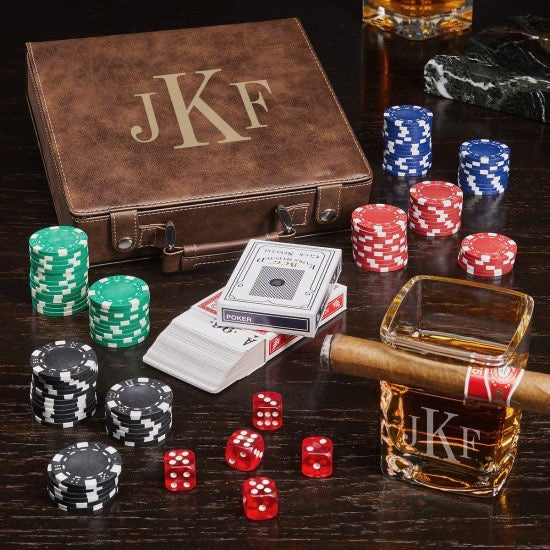 Get a unique set of Fathers Day Gifts for grandpa that he'll get to enjoy for years to come with this monogrammed poker set with the matching cigar whiskey glass! When the cards are down, from now on you know your granddad will win! He will be the poker expert at all his game nights now! Plus, he'll never even have to put his cigar or whiskey down when he needs to go all-in thanks to his awesome matching glass! Talk about a great Father's Day gift!
Keep Grandad Organized
Surely, over the years, your grandfather has collected timeless timepieces and other accessories to keep him looking as dapper as he was in his 20's. This Father's Day, help keep him organized with this watch case and valet tray gift set. Now, he'll never need to dig through a pile of watches and cufflinks or search the dresser for the accessory he must-have for that outfit. Instead, with this classy gift, he'll be ready to look like a groovy gent at the drop of a hat!
Presentation Set of Father's Day Gifts for Grandpa
Present your grandad with the gift he's been missing all of his life with this monogrammed whiskey presentation set. This gorgeous custom glassware gift set is bound to be the Father's Day Gifts for grandpa that takes his breath away once he sees it! Plus, you know a glassware set that looks this good will have him feeling like Don Draper each time he looks at it, let alone pours a drink from it. He'll love this set so much that it will always be out on display, ready for him to share a drink with a friend, family member, or even their grandchild who found the most perfect gift for Father's Day!
Superb Stogie Safe
Ensure that his stogies seem like they've never aged a day with this unique ammo can cigar humidor! Not only will it be one of the most badass Father's Day gifts he has ever gotten, but it'll protect his cigars from nearly anything! Thanks to the repurposed United States ammo can as well as the built-in humidor, his cigars should always be in tip-top shape!
Keep Him Cooking
No matter where he goes in life, leave him without an excuse to ever not be able to grill his favorite foods. With this stainless steel portable grill, it doesn't matter if he is at the campsite or in the middle of some polar exploration, he'll always be able to make his world-famous burgers and brats! Better still, this is powered by a propane bottle, which means when he travels he won't have to deal with remembering the lighter fluid or charcoal. For the grandfather who loves to cook, there are no Fathers Day gifts for grandpa better than this!
For the Grandfather Who Rules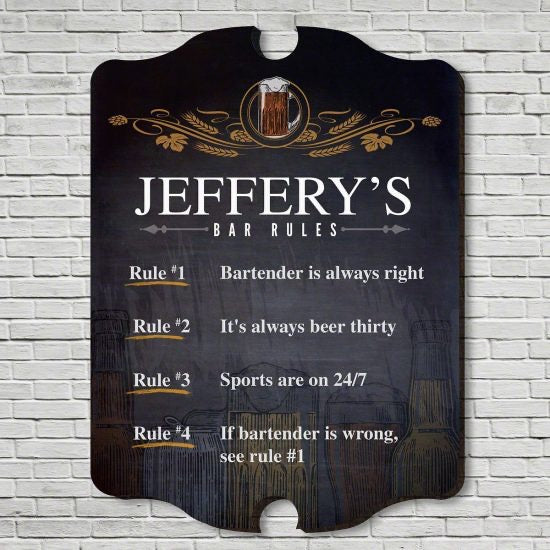 Doesn't your grandpa just rule? Let him know so with this personalized wooden bar sign! Personalized with all his unique rules, this is the perfect gift for him to hang in his living room, home bar, garage, or even his man cave. Now, when you're in his domain, there is no excuse for relaxing or partying with your dad's dad and not following along with his awesome rules like: "No glass may ever remain empty," or "That it is always beer o'clock!"