Dad's often get the short end of the stick when it comes to gifts on Father's Day, but not this year. You've found the ultimate Father's Day gift guide that has all the unique and perfect gifts he's been looking for this year to enhance his hobbies. Get dad the coolest stuff around for Father's Day. He's always been there for you, so you know this time of year, you should get him the best gift you can find him. Men's gift guides that target people like your dad often leave you asking: "Would he really like those gifts?" Our gift guide has been curated to ensure that your dad, the most important guy in your life, will enjoy the gift you get him!
An Awesome Ammo Can Gift for Dad
Entice dad with an awesome gift he won't be able to refuse. Father's Day gift guides often include a drinking gift of some sort; however, it is usually just a single glass or maybe even a 6-pack. Up the ante this year with a present he'll want to use each time he is thirsty! This custom gift set will make him feel like he has been the best father ever to deserve something that makes his drink at the end of the day an even cooler experience. Plus, you can even still get him that 6-pack of his favorite beer and put it inside the ammo can, this way he's got everything he could ever ask for on Father's Day.
An On-Cue Gift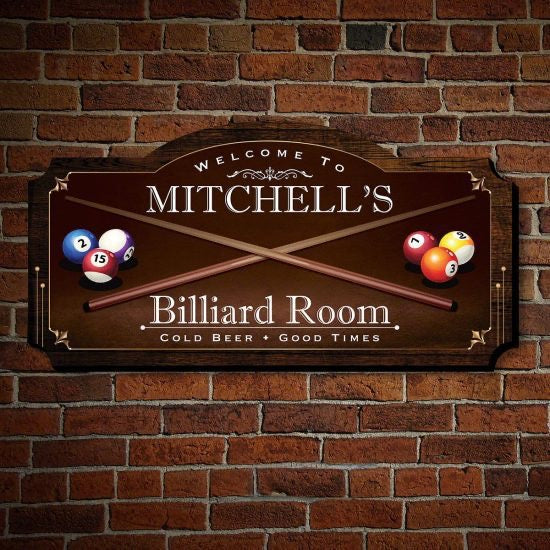 A place dad is always able to get away from it all for a good time is his game room. Use this personalized sign as a way to make his room really feel like it is his own space. Whether he is big into billiards or even other games, he'll love the way this personalized sign looks on his wall. Although the game room or man cave is his own space, he won't be able to help but smile every time he sees your great gift hanging from the wall. Make Father's Day easy this year by getting him this personalized sign.
A Top Gift for a Father's Day Gift Guide
Men's gift guides like to target nostalgia for dads; however, they always feel so impersonal. Make your dad know that your gift is as personal as it gets with this custom whiskey stone set! He'll know he is the best dad you've ever had when he sees a gift set that'll have Kenny Loggins playing through his head. From gun nuts, to fans of Top Gun, to simply great dads, all of them will enjoy sipping their favorite drink year round from their new personalized liquor set! This gift set is guaranteed to make them feel like Maverick or Iceman when they see the engraving and that their stones are in the shape of bullets!
A Lot Is at Steak with This Gift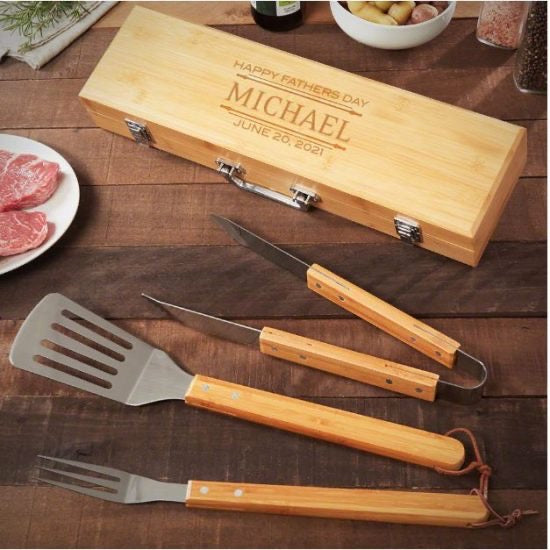 Fathers undeniably love to grill. There is something primal that draws them out to put food onto the fire. Make their next grilling time even more personal with a grilling set that has been engraved just for them! This Father's Day gift guide isn't playing around with the greatest gifts. You know he won't be able to wait to fire up his grill and throw a few steaks, burgers, and brats on, just to use his new gift!
This Gift is On the House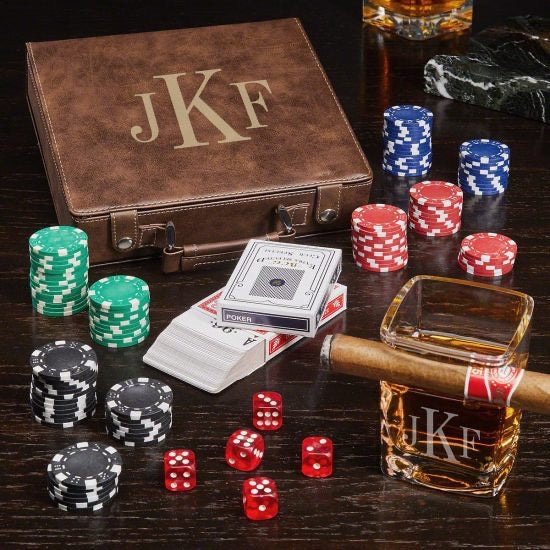 He and the boys are always looking for the next big thing to do together. They've gone through a few game phases, but now, they've cracked it. They want to have a game night, so what gift would be better than this awesome, personalized game set? This ideal game gift set for dad will have everything he needs to host his very own poker night. From craps to poker, he's got every bit of gambling equipment he could ever need. How much manlier can a guy feel than that? Quite a bit actually! This set also comes with his own cigar and whiskey glass, with a personal set up like this, his friends will have little doubt on who is the card shark when they're sitting at his table!
A Pun for This Gift Would Butcher It
Few things will hit the spot for your father than a gift comprised of all the Kobe Beef he could ever want. Some Father's Day gift guides would want you to take him out to dinner, or to get him some steaks; however, true Kobe beef will be a rare gift that he would love to taste. This high-quality meat, although pricey, will have flavors in his beef that he has never experienced and will be a dinning experience he will surely never forget. So, don't go with those overdone meat gifts; get him the most unique and classy gift full of meat ever!
The Best Way to Drink Beer When Looking at Men's Gift Guides
Getting dad his favorite drink always makes a great gift, but make that great gift even better by adding in his own custom beer stein! These glasses are fantastic for dads, they have a classic yet authoritative manner about them that make him look like the true king of his own castle as he sips on his favorite brew. What's even better is this glass looks great when its on display too! If he isn't drinking his favorite stout or lager, you're sure to see him showing off his gift above his mantle for everyone to see the coolest beer stein he's ever seen!
A Wine Gift That Won't Have You Drawing a Blanc
Create the ultimate drinking set for Father's Day with one that makes him look like the cool and sleek man you see him to be! These stainless-steel tumblers are matte-black, which always comes with a feeling of old-school cool, even though they're a modern design. This drinking set is an ideal gift because he can enjoy it all year round. If he wants a drink after dinner, on the weekend, or even if he wants to bring these glasses out on a boat, he can! Make him feel like the coolest guy in-town when he drinks wine from his own custom set!
Dad's High-Spirited Whiskey Gift
A bottle of his favorite spirit has always been the go-to gift for Father's Day, but this year you're taking it up a notch with a drinking gift set he can enjoy for years to come! When he sees that the gift is engraved as his own "Papa Bear" set up, you know his whole liquor experience has changed. Now, he'll make a whiskey sour, cocktail, or even have his drink straight up, and you'll know he'll feel like a proud dad each time he has a sip!
Father Always Knows a Thing or Two
Enhance his favorite hobby and way of celebrating with these fantastic cigar gifts! No matter if he enjoys a nightly or occasional stogie, these gifts can hang in his cigar lounge, office, or even living room. This way, he gets to show off his appreciation of cigars and knowledge of "things," all the time! His cigars are gone in the evening, which is why these gifts are the top ideas for any men's gift guides on cigars. However, once he finishes his favorite cigars, or one that he wants to remember, he can start a collection in his shadow box, this way he can have a box full of his best cigar memories!
A Tablet for All His Needs
Cover your bases with a gift that does everything he could ever want. The Fire HD allows him to not just search the web, but he can: listen to audiobooks, play games, watch movies, stream videos, listen to music, read books, and more! Any guy who enjoys entertainment will love being able to take their favorite way of passing the time with them in this convenient high-definition tablet!
The Ultimate Whiskey Gift Set for Dad
Whether your father is a bonafide whiskey tasting professional or he's an aspiring connoisseur, one thing is for certain: he will love this Glencairn box set! This unique set is one of the best Father's Day gift guide suggestions because he can finally taste all of the flavors in his favorite whiskeys, allowing him to fully appreciate his drink and enjoy the experience to the fullest. He will certainly love that he can have his own whiskey tasting with the four glasses or even share the experience with a couple of his friends! Thanks to your thoughtful Father's Day gifts, he will have the best glass of whiskey in his life every time he uses them.
Must-Have Giant Beer Mug for Father's Day Gift Guide
Your love for your dad is larger than life, and your gift can reflect that with this gigantic beer mug! When you give it to him on Father's Day, you can say "I love you this much!" He will certainly appreciate the comical size of this awesome mug, and he will be amazed that you even went to the trouble of having it engraved with his name. Once he tries out his favorite brews (a whole liter full!) in this awesome mug, he'll never want to drink them any other way because he can sit back and relax with plenty of beer throughout a whole football game or movie without needing to get up for a refill.