Everyone wants to give a good gift, regardless of the occasion they're giving it for. Make sure that this next gift for him is one that he simply has to have. It should be so good, that he won't be able to remember life without it. This gift may even be so amazing that he questions himself for not getting it for himself years ago. So, you may still be wondering, "What are the gifts he just has to have?" Well, worry no more! Must-have present for men are the gifts that strike the perfect balance between being incredibly useful, unique, as well as being incredibly thoughtful. This may seem like a tall task (which is kind of it) but that is why you're here! We've done all the hard work for you by scouring the internet for the essential gifts that he absolutely must have!
He's Guaranteed to Love These Best Presents for Men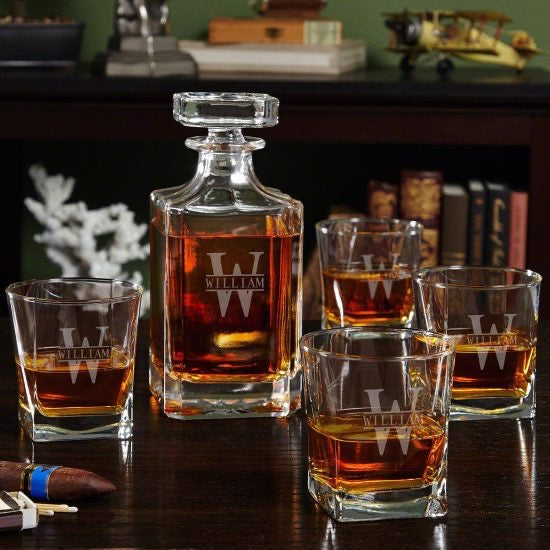 There are no better presents for men than the ones that he will be so proud of that he can't help but show off to the world. This awesome, stately looking decanter set is a gift that he is sure to love but still find himself asking: "Why didn't I ever get one before?" Now that he has a set with his name all over it, he'll always want to have his set on display on the home bar, counter, or anywhere! Want to know what makes this gift even better? He can use it right away to keep celebrating his birthday or that big promotion he finally scored!
Awesome Sign Presents for Men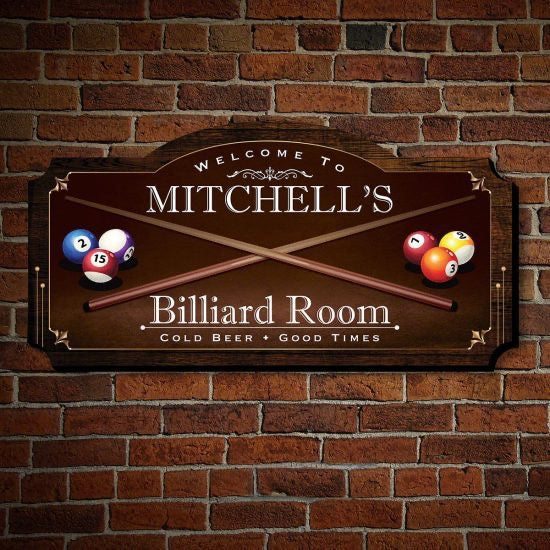 An awesome sign that also has his name on it? Say no more! This wooden billiards sign is a fantastic gift that he'll love hanging up in his home! Whether he has a full on game room or just a pool table, this handsome sign will make the space feel like an incredible pool hall, making it so much more fun when he's playing games with buddies.
Spice Up His Life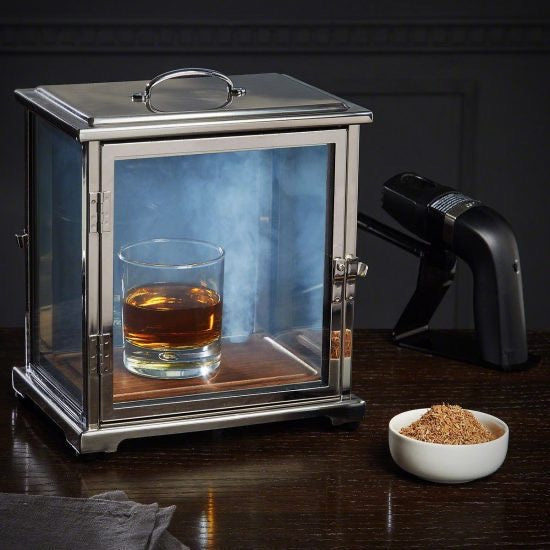 Sometimes, thinking outside the box isn't a bad idea! Men like to experiment with flavor, which is what makes this gift so awesome as well as one of the best presents for men. This box, an advanced smoker system, is such a phenomenal gift idea that he'll be utterly obsessed with. Men like to be creative, after all, so why not let him have a blast experimenting and creating his own whiskey flavors? This will be a gift he'll enjoy using for years to come. In fact, its so good he may have a hard time going back to regular whiskey!
Can't Go Wrong With This Gift Set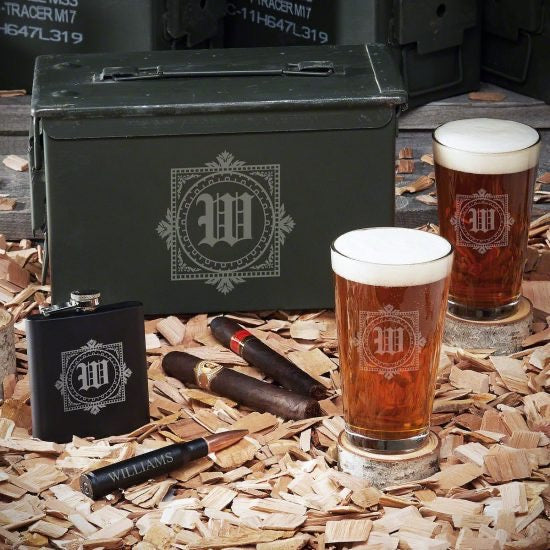 You cannot go wrong with this awesome ammo can box set! It's one of the coolest presents for men out there because not only is every item in the set personalized just for him, but he'll get years of use out of each and every one of them. From storing important items in this ammo can to using the other accessories to enjoy his favorite beverages, he'll love how useful this gift is. Just make sure to add a six-pack of his favorite craft or mainstream brew so he gets to enjoy a tall cold one immediately!
Custom Set For Any Occasion
Sometimes, the must-have gifts for men do not need to be giant sets. On occasion, something a little bit smaller and more personal gives him everything he could ever want. This personalized whiskey stone set is one of those gifts. This set of presents for men will always bring a smile to his face when he gets to see it and especially when he gets to use it. You simply can't go wrong when you get him a gift that he can enjoy all the time! Whether he's looking to relax, share a drink with a buddy, or celebrate with a toast, he'll be fully equipped to do so with this classy gift set.
411+ CUSTOM WHISKEY DECANTER GIFTS>
Home is Where the Puzzle Is
He's so passionate about his hometown, and you want to get him a gift that will ensure he always has a piece (or two or three) of home with him, no matter where he goes. This hometown jigsaw puzzle will be a sentimental gift that provides him with hours of fun, and if he has moved away, a feeling of nostalgia too! He'll love putting the time in to assemble the image of his favorite place!
Monogrammed to Perfection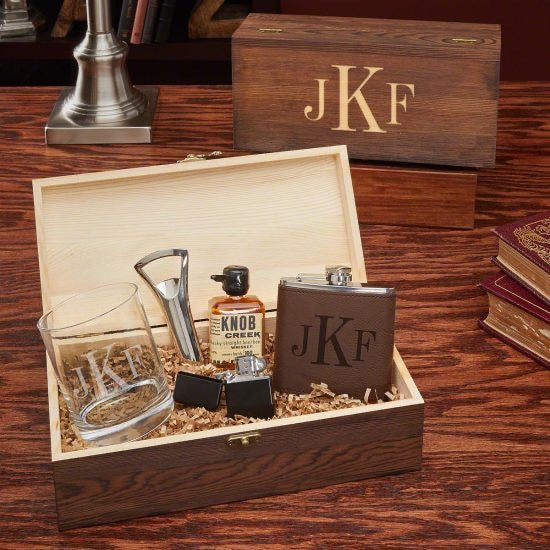 What's the one thing definitely better than a single, non-personalized gift? Well, it's a set of monogrammed gifts, which are clearly the best presents for men! The flask and glass allow for maximum drinking enjoyment, and the monogram makes them feel classy. Whether he's at home or on-the-go, this set will provide him a way to indulge in his favorite spirits, and he'll absolutely love this gift because of that. He'll love storing his most prized possessions in the awesome, engraved wooden box.
It's Everything He Wants
Beer? Check. Competition? Check. Fun? Check! This Beeropoly board game has ALL the makings of one of the best presents for men you've ever seen! Any man will get a kick out of this unique board game because of how different and fun it is, and you know he'll want to play it every single chance he gets.
All-Inclusive Wine Gift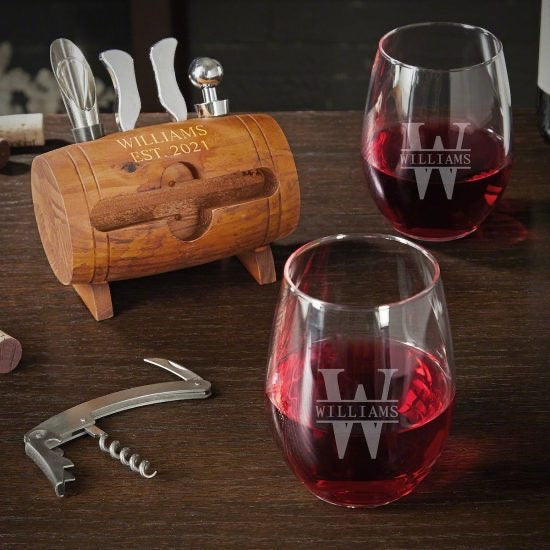 Men love having a place to keep their tools and what cooler place is there for him to keep his tools than inside a miniature wine cask? This wine gift set is one of the best presents for men who simply cannot live without wine but also have a passion for their tool sets. He'll be a huge fan of having all the high-quality items he needs to enjoy his wine to the fullest, and he'll absolutely love the personalization on the glasses and miniature barrel!
Glencairns in a Box Are Great Presents for Men
You know he'd love receiving an awesome present that makes him feel classy. That's why you KNOW he'd love this Glencairn box set! Not only are the fancy glasses personalized with his initial, but his name is etched into this handsome wooden box that he can use to store any items he desires. He'll feel so sophisticated sipping whiskey from these glasses, and he'll feel so thankful to receive this gift from you for Christmas, his birthday, or any other special occasion.
Best Photos Ever
As good as smartphone cameras have gotten, nothing beats the quality of a photograph taken on a digital camera. That's why this digital camera is such a terrific, must-have gift for him! After taking so many high quality photos of friends, family, and anything else he wants, he'll wonder how he ever lived without such an essential, awesome gift.
Kitchen Excellence Incoming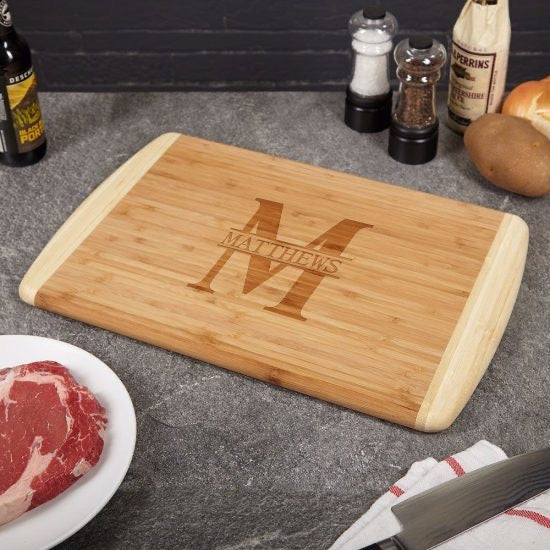 If there's one thing that's true of men, it's that they love to conquer any task they take on. With this cutting board, he can succeed in so many different food-related quests! Whether it's taking on thick vegetables or tough side of meat with his chef knife, he'll gladly take on any culinary challenge so long as he has this cutting board by his side.
Box Set of His Dreams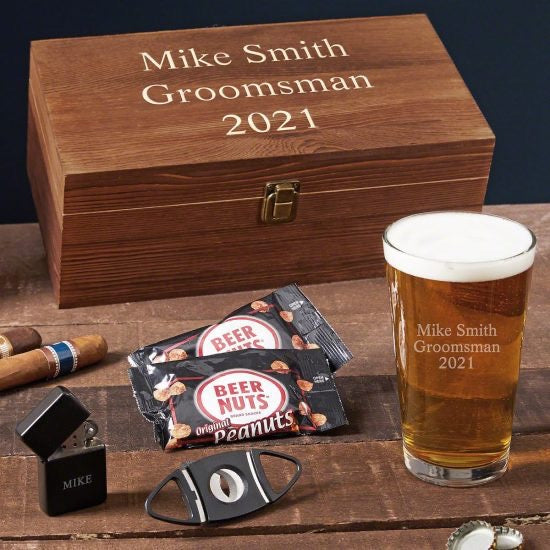 In the conversation of terrific presents for men that help them enjoy their favorite vices, this box set has to be mentioned. He'll immediately be obsessed with this beer and cigar gift set when he opens it up, and he'll want to start using it right away! With a personalized pint glass in one hand and cigar in the other, he'll feel very happy and lucky with such an awesome gift.
A Sign of the One of the Best Presents for Men
Have you ever seen anything so beautiful? Neither has he! He'll love the way this customized sign looks hanging in his man cave, home bar, or anywhere else in his home, brightening up the room and making him happy every time he sees it. This is the perfect gift for him to show off to all his friends when they're lounging around and enjoying a quality stogie. What fan of cigars wouldn't want everyone to know he has his own official cigar lounge?
Simple, Awesome Gift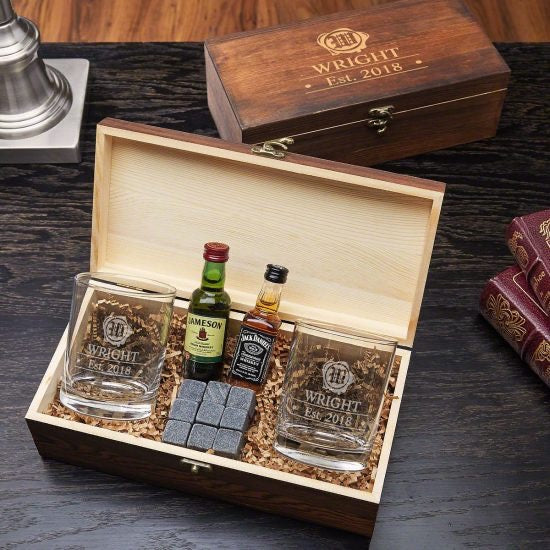 He's not a complicated man, so you know he'd enjoy a simple yet awesome gift. This gift set filled with some of the most fantastic presents for men is an absolutely fantastic gift that he won't be able to get enough of that you can make perfect for him by adding some goodies! Along with a personalized glass and whiskey stones, he'd love a small bottle of his favorite liquor, or a snack, or even a photograph of the two of you. With lots of goodies packed away in this personalized box, you've got the perfect gift he'll adore!
493+ AWESOME GIFT BOX SETS HE WILL LOVE>
Masterful Grilling Gift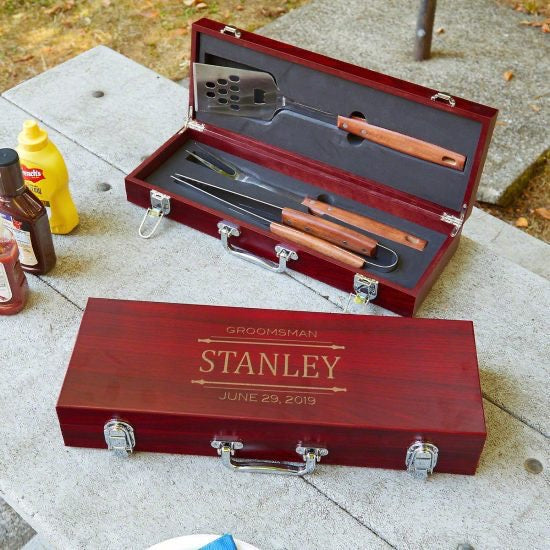 Men love to grill up steaks, brats, or any meat they can, whenever they can. So, why not get him his own grilling tool set to make one of his favorite activities more awesome than ever before? He'll love seeing his name on this gorgeous red box each time he takes his tools out to make some awesome food for himself, or for when he cooks for his friends and family!
Make Him Feel Special
Presents for men that make them feel special and important are the best. That's why this decanter box set is one of the best presents for men! He'll feel like the coolest person in the world with his name engraved on the glassware, and he'll love using it whenever he wants to relax and especially when he has friends over!
Charge Them Up
A perfect must-have gift for him is one that you know he'll use every single day. That's why this wireless charging mat is such a phenomenal present idea! Never have him suffer the feeling of waking up to realize that he forgot to charge his phone or watch ever again. Now, when he walks in the door, he can set his electrics down with ease and know they'll be fully charged and ready to go for another big day!
A Legendary Set of the Best Presents for Men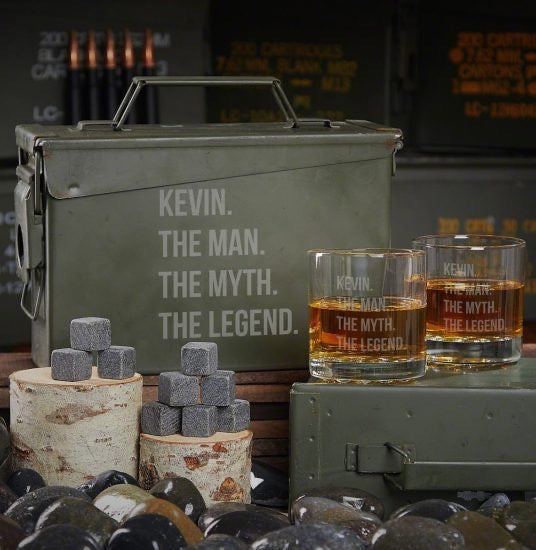 Get him the most legendary present he's ever encountered with this ammo can whiskey set! Aside from making the end of the day even more relaxing with his whiskey stones and personalized glasses, this gift is a must have for any man. He can become the mythical hero of his favorite activity thanks to the ammo can. Whether he has a passion for fishing, shooting, or anything else, he can bring all his needs along with his gift and become the legend he has always dreamed to be!
For the Memories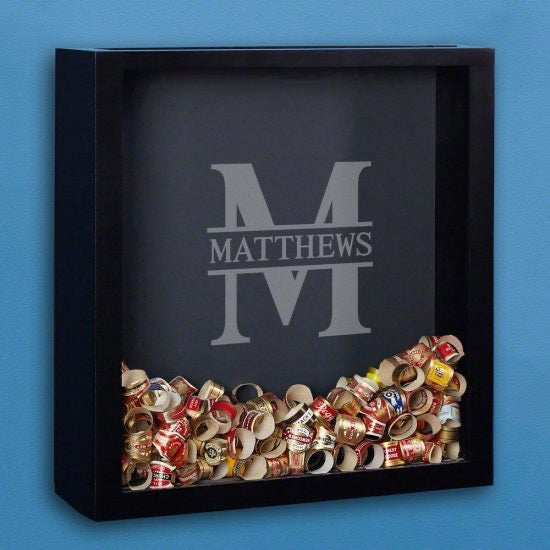 Throughout a man's life, he has many experiences that he wants to remember forever. One of the best ways to help him do that is with this handsome shadow box. He'll love receiving this gift that he can use to store bottle caps, photographs, ticket stubs, cigar bands, or any other small items that represent a memory. This is one of the most unique presents for men that they'll value a lot.
Engraved Perfection
When it comes to box sets, this one is one of the best of the best. He'll definitely love seeing the special customization engraved into the wooden box that he'll keep his drinking accessories or anything he wants inside it. He won't ever want to stop sipping his favorite beverages from these initialed glasses that are specially engraved just for him!