19 Cool Drink Glasses for Every Kind of Cocktail
No matter what kind of cocktail you're in the mood for, it just tastes better coming from an incredibly cool glass. Whether you're in the mood for something filled with ice, rich in carbonation, heavy on the liquor, or anything other drink combination, using a unique glass will make the experience all the better. So ditch the ordinary glassware and get the right cool drink glass for you! These are the unique, aesthetic, and perfectly shaped glasses to make your cocktails the best they can be! If you're unsure what the right size and shape are for your favorite drinks, and you don't know if the material of the glass would make a difference, don't worry! We found an amazing collection of one-of-a-kind drinks glasses you'll love that'll perfectly suit your cocktails.
Cool Drinks Glass for Cold Cocktails
Why not treat yourself to a beautiful glass that's created with your favorite type of cocktails in mind? This customized gin and tonic cool drink glass is absolutely perfect for the famous G&T as well as any other bubbly cocktail of your choosing! This lowball glass with a thick marbled base is ideal for cold, refreshing drinks with carbonation and garnishes. The clear glass will make it easy for you to see every inch of your beverage, and the thick base helps prevent condensation from forming on the surface below it.
Gorgeous Crystal Cocktail Glasses
There's no way you don't immediately fall in love with these crystal cut whiskey glasses! These glasses will turn any casual evening of enjoying Whiskey Sours or Manhattans into a formal, fancy affair. You'll love sipping on your drink as you grip these brilliant glasses, especially seeing the way the design causes light to reflect off of your beverage. The level of sophistication that becomes you as you use these glasses will make you feel your very best!
Cool Drink Glass with a Classy Twist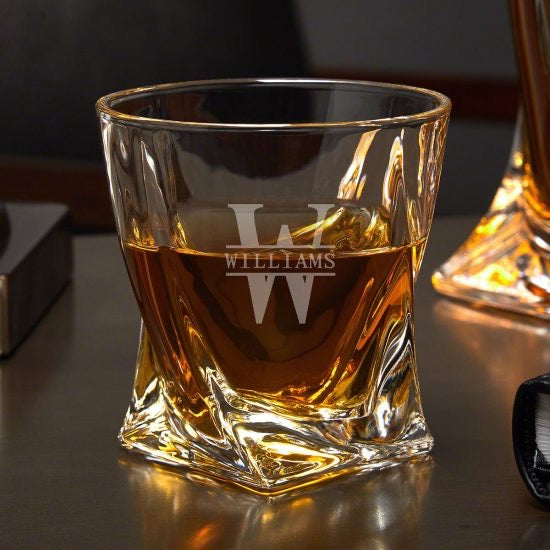 If there's one thing in this world that will make you feel sophisticated and classy, it's drinking your favorite cocktail from this personalized twist glass! The unique, stunning look of this glass will make any cocktail look like it's made for royalty. You'll feel incredibly decadent sipping your drink from this one-of-a-kind glass that's personalized just for you!
Shine Bright Like a Diamond
Talk about beautiful! These diamond-cut drinking glasses are absolutely stunning, and they'll add a creativity to your drink collection unlike any other. You'll love the way your cocktail looks inside these one-of-a-kind glasses, different colors bouncing off of it in the light due to the prism shape. These glasses will make any casual cocktail-drinking experience feel like a special occasion each and every time.
Pair of Coupe Glasses
If chilled cocktails are your thing, this set of coupe glasses will be your thing, too! The coupe glass is a really cool drink glass because of its unique bowl shape and long stem. The stem is the perfect place to hold the glass because it will ensure that your ice-cold Sidecar or Gimlet won't warm up from the heat from your hands. When you want to enjoy a delicious glass of champagne or a champagne-based cocktail, this glasses set is a divine choice.
24+ BEAUTIFUL CHAMPAGNE GLASSES >
Cool Drink Glass Set Made of Stainless Steel
Have a favorite cold cocktail that's absolutely ruined by melted ice, such as a rosé spritzer or Bay Breeze? These stainless steel tumblers are what you need! These sleek tumblers will ensure that the ice in your cocktails won't melt—ever! With these badass looking glasses, your favorite drink will stay cold and undiluted until the last drop, everytime. Plus, it's almost impossible to break these glasses, so you don't have to worry if one is dropped!
Drink Glasses Rolling Around
Think way outside the box with these rolling glasses! These unique glasses are incredibly fun because they roll around when they're set down on a surface! Besides being a gun gimmick, the rolling is actually super beneficial to your drink. While one of these cool drinks glass rotates on the table, your Palmoas, Maple Rye Sours, or Maker's Mark will continue to mix or become aerated, enhancing the flavor of your next sip.
Mountainous Cocktail Glasses
Want a glass that's perfect for showing off the aesthetics of your cocktails as well as a unique conversation piece? Then this mountain glass is for you! It's a really cool drinks glass that has the shape of 1 of 3 Washington mountains of your choice at the bottom, and any guest you have will definitely ask about it. The high walls of the glass clearly show the bubbles and garnishes in your cocktail which will make drinking from this glass feel incredibly fun and fancy.
Glass for the Colorful Cocktails
Tropical cocktails are some of the most fun, colorful drinks to make and drink, so using the perfect glass is a must. When you're in the mood to sip on a Mai Tai, Tequila Sunrise, or Hurricane, this custom cocktail glass is what you need! You'll love being able to see the gorgeous colors of your tropical cocktail so clearly in this cool drink glass. The bulbous shape will really bring out the aromas of the liquor in the cocktail, making it taste richer than ever before!
Modern Martini Glasses
Everyone has heard of a martini glass, but what if you want a modern twist on the classic cup? This set of personalized, stemless Martini glasses are definitely the way to go! The slender base and bowl of this glass greatly resembles that of the traditional Martini glass with a modern twist, since the long stem isn't there. You'll really enjoy having a Martini from these modern glasses, and you'll definitely appreciate that you can share with three other fellow Martini lovers!
Huge Gin and Tonic Glass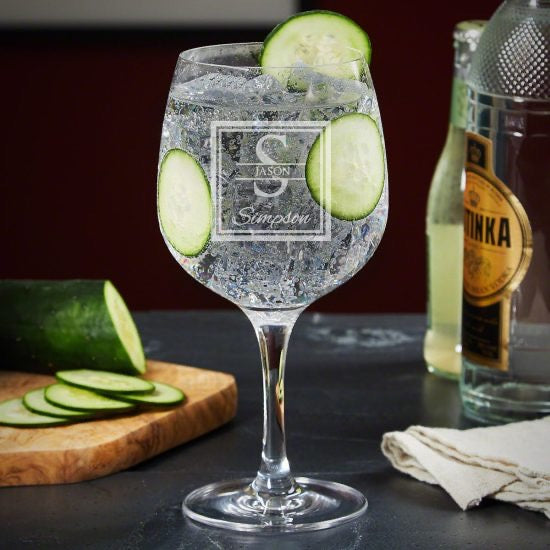 You've never known a true cool drink glass until you happened upon this gorgeous stemmed gin and tonic glass! Not only is this glass absolute perfection because of its unique appearance, but it holds much more than your run-of-the-mill cocktail glass. Life's too short to drink a tiny vodka soda or gin and tonic when you could fill this generously-sized glass to the brim!
Mystery Cocktail
Give a simultaneously secretive and elegant feel to your cocktails with this dark, hammered cocktail glass. This cool drinks glass adds a dark hue to your cocktail, giving it an air of mystery to all who look at it sitting in your hand. You'll love how unique and classy you feel sipping your secret cocktails from this tall glass.
Custom Cool Drinks Glass with Chilling Stones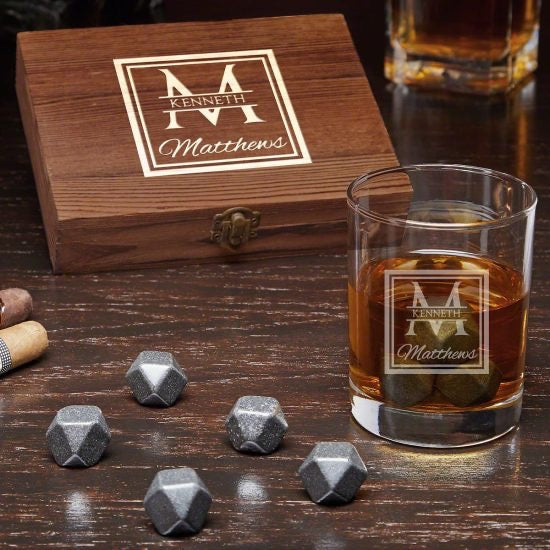 Need a way to create an ice-cold drink but hate ice? Then this is the whiskey stone set you have been looking for all of your life. Never again experience a diluted high-quality whiskey or watered down cocktail with these onyx stones. Better still, when you use a set that is as good as this one, you can finally give your drink the time it deserves. You can take as much or as little time as you want to enjoy your cool drink since you'll no longer fear having your last few sips being spoiled by too much ice melting.
Personalized Pair of Glasses
Sharing a cocktail is always better than enjoying one alone! That's why this pair of personalized cocktail glasses is what you need in your life. You'll love nothing more than making Cranberry Daiquiris or Aqua Blue Cruises and pouring yourself and your friend, spouse, or family member glasses of the delicious beverage. There is simply no way you won't love sharing a matching cool drink glass with your loved one!
117+ PERSONALIZED GLASSES FOR COCKTAILS >
Drinks Glass Straight from Italy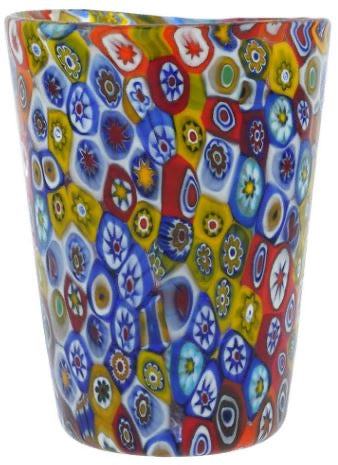 Do you want your glass to say something about you? Maybe even tell a story? That's why this colorful Murano glass is just the kind of glass you need! This super cool drinks glass is crafted by skilled masters of Murano Island in Venice, Italy. So not only is it a cool and creative way for you to sip your cocktails, but you'll get to explain the impressive backstory of your glass each time you have a guest over!
Gorgeous Moscow Mule Set
Moscow Mules are classic, delicious cocktails that are adored by many. However, to enjoy it properly, you NEED this Moscow Mule gift set ASAP so you can enjoy the delicious drink the way it's meant to be consumed! This set is absolutely stunning, and you'll love drinking your Moscow Mules from the copper glasses made specifically to keep them tasting ice cold. Your Mules will stay ice cold until the last drop in the walls of these copper mugs, making them taste absolutely delicious. When you aren't using them, these glasses will fit perfectly inside the handsome wooden box.
Custom Stainless Steel for Cold Cocktails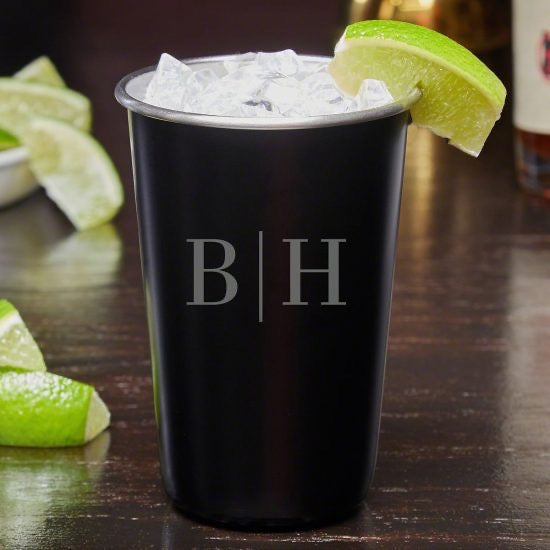 You really don't want your Tom Collins or Cosmo to lose its chill in the middle of drinking it. That would be a huge bummer! To avoid that catastrophe, this stainless steel cocktail glass is an absolute must. Not only is the sleek, black look of this glass unmatched, but you'll really appreciate it keeping your drink nice and cold until the last drop.
Never Spill Again
Everyone has been devastated by a spilled drink at some point in their life. Make sure that doesn't happen with these silicone-wrapped glasses with lids! Even if this cool drinks glass gets tipped over, the trusty lid will ensure that you don't lose your precious White Russian or Strawberry Margarita. You'll love the look of these modern glass and be excited to take them to the beach or elsewhere since you know they won't spill!
Personalized Highball Drink Glass
The highball glass is considered by many to be a cool drinks glass. This custom highball cocktail glass is definitely the coolest of the cool! When you put a lot of time and effort into slicing up limes for your Mojito, you deserve to be able to see them in your glass and show it off to others! The only thing that is more rewarding than the fizzy taste of mint and lime will be seeing how gorgeous your cocktail looks as it bubbles and sweats inside this extraordinarily cool glass!
132+ COOL DRINK GLASS IDEAS FOR COCKTAILS >