Crystal liquor decanters have been around for decades and are still often used today. You've seen them in movies, TV shows, and probably in antique stores. But why does it matter if the crystal is lead-free? Decanters that contain lead can cause your stored liquor to be contaminated with lead over time as well as affect the taste. While sometimes more beautiful in appearance, leaded decanters do pose a slight health risk. Don't worry, you can still get gorgeous decanters for your favorite spirits that are lead-free and just as stunning as traditional lead glass ones. You probably have a few questions: What can you store or serve in a decanter? How can you tell if it is really lead-free crystal? Are there specific decanter styles for certain liquors? Relax, we found a couple of the best lead-free crystal decanters and will answer all of your questions and more.
Square Personalized Decanter Set

First and foremost, decanters are best for displaying and serving liquor. You'll typically see them filled with whiskey, but they are also ideal for vodka, gin, and even wine. However, certain styles of decanters are better than others for certain liquors. Take this crystal decanter set for example: clearly meant for whiskey, this set has a distinct square-shaped theme. The sharp corners of each piece reflect the beautiful amber color of bourbon or scotch within, accentuating the golden hues. One of the ways to detect if your decanter is free of lead is by the weight, and this particular decanter doesn't feel as heavy as it looks! Most decanters like this one have loose-fitting stoppers, which means that your whiskey will eventually evaporate very slowly over time, but it will be fine for several months! This set may not have a lot of cut glass details, but the simple personalization makes it stand out among the rest of your glassware collection. Ideal for any home bar or as a centerpiece in the living room, this gorgeous set is a great example of crystal.
Classy Presentation Decanter Set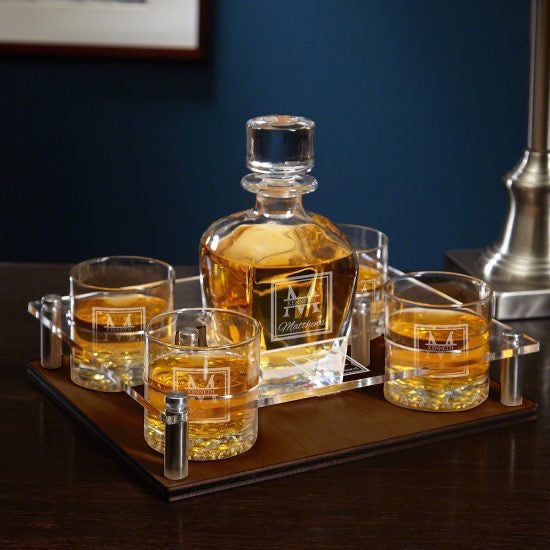 You've probably seen a similar setup of a crystal decanter and glasses in a movie before, typically in a CEO or wealthy person's office. Now you can have your own set and feel like a rich badass in your own movie. The decanter in the center of the set is elegant and simple, making the personalized engraving stand out. While the crystal decanter in this presentation set is lovely, the real attention-grabbers are the glasses. Each one has a base carved with delicate bubbles, which provide a textured bottom for the glass to rest on that helps prevent condensation drips. You can store your choice of whiskey, bourbon, or scotch in this decanter.
Skull Decanter and Glasses Set
Remember the last Indiana Jones movie, The Kingdom of the Crystal Skull? This incredibly cool crystal decanter is reminiscent of the beautiful treasure. The crystal aspect of this decanter is mostly in the skull, where the light refracts beautifully off of the curves and crystalline structure. The stopper is all glass, but is ribbed and unbuffed to create an airtight seal to prevent evaporation. Your guests will be enthralled with they see this gorgeous decanter filled with whiskey or vodka at your Halloween party!
Sail Away with This Globe Decanter Set
Certainly not your average decanter, this gorgeous set's appeal is in the etching rather than cut glass details in most crystal decanters. However, inside this unique piece is a hand-blown glass ship! How cool is that? The entire set is laser etched with an incredibly detailed outline of Earth's land, making the whiskey or tequila the "ocean." Any liquor would be great for this decanter as it will aerate when being poured but is secure when stored. Your guests will surely be in awe of such a cool crystal decanter set.
Stunning Crystal Decanter and Glasses
Now this is a spectacular decanter. Proudly boasting that it is handcrafted from the finest Italian crystal, this breathtaking decanter will make any spirit inside it more beautiful than ever before. How can you tell if it is really lead-free? One method is relatively simple: take a metal utensil and gently tap the glass. If it produces a long, ringing tone, it contains lead. Lead-free glass has a much shorter and a duller sound. Tried and tested, this stunning decanter is in fact lead-free! Whiskey is the best kind of liquor to keep in this decanter with its wide base and unique light refraction. Even in the darkest room, your finest scotch will reflect beautifully. This three piece set is a lovely addition to your collection and is sure to outshine even your antique decanters!
309+ PERSONALIZED CRYSTAL DECANTERS>
Rolling Crystal Decanter
Be sure to put this decanter somewhere it can't roll off! Designed to resemble a spinning top, this lovely crystal decanter has simple cut glass details toward the bottom to accentuate the liquor within. Like the above globe decanter, this one will certainly aerate your spirits. Ideal for wine and darker spirits such as rum and whiskey, this unique decanter will improve the taste of your favorite liquor.
Diamond Crystal Decanter
Looking for a unique crystal decanter that will impress everyone who sees it? While all of the decanters in this blog are phenomenal, this particular diamond decanter is something else entirely. Shaped like a giant diamond and nestled perfectly in its oak stand, it's a statement piece that will be the center of attention no matter what room you have it in. Clear spirits such as Maestro Dobel Diamond Tequila would be ideal for this particular decanter but you can certainly keep your Canadian Mist Black Diamond whiskey in it too.
Unique Ship in a Bottle Decanter
Have you ever seen a better decanter for rum? You'll feel like a rich pirate captain every time you serve a glass of rum with this cool decanter! The hand-blown glass ship is very similar to the one inside the globe decanter as it also sails through your fine spirits. This crystal decanter set even comes with two cool shot glasses for you and a friend to knock back a few shots during your Pirates of the Caribbean marathon.
Triangle Decanter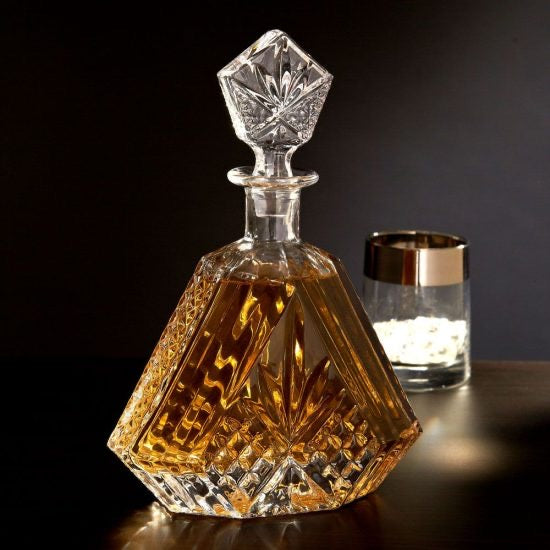 Unlike the other decanters listed, this one has a unique triangle shape and the classic crystal appearance. The beautiful cutouts and geometric designs really enhance the liquor inside. The stopper is almost more attractive than the decanter itself with its starry design! This gorgeous crystal decanter is ideal for any liquor, even clear spirits such as gin and vodka. It's perfect for an office or as a centerpiece for your home bar!
Classic Custom Crystal Decanter Set
For some, the ornate crystal details on decanters are a little too much. This lovely and simple crystal decanter set is the perfect addition to anyone's home bar or office. The decanter has a uniquely layered, almost double-walled appearance to it. The stopper on this particular decanter does have a rubber seal, so it is airtight. Ideal for whiskey, tequila, and vodka. The square glasses included in this set complement the decanter perfectly and are great for sipping straight whiskey or an Old Fashioned. The matching wooden gift box can be repurposed to store your bar tools, the set for safekeeping, or even your recipe books.
Dragon-Inspired Decanter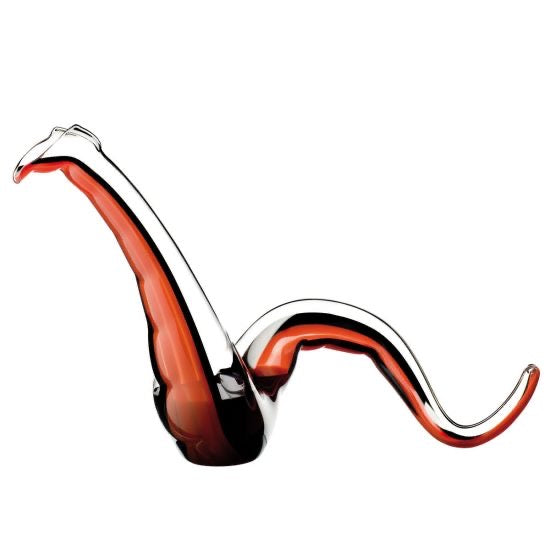 This decanter is by far one of the most unique crystal wine decanters around! Inspired by the mythical Chinese dragon, this reptilian decanter emulates the powerful muscles and elegant curves of the fabled beast. Both fun to use and thoroughly aerates your wine, you will love having this beautiful work of art on display when not being used. Unlike liquor decanters, wine decanters are not meant for storing wine.
Ornate Crystal Glassware Set
When you hear the words "crystal decanter," this is probably more along the lines of what you were thinking of. With elegant cut details and a distinct pattern, this lovely decanter is a classic example of crystal glassware. You can use this particular decanter for whiskey, vodka, rum, and gin, but not wine. The matching glasses make it a complete crystal decanter set that is perfect for entertaining multiple guests. Another way to test if a decanter contains lead is by its weight as lead glass is distinctively heavier than unleaded. You can also shine a light through the glass to see if it produces a rainbow prism and if it does, it is leaded. Don't worry, this set is definitely lead-free but just as beautiful as an antique lead set.
6119+ CRYSTAL WHISKEY GLASSES FOR YOUR DECANTER>
Matching Personalized Decanter Set
The symmetry of this simple personalized crystal decanter set is what makes it truly special. From the similar shape to the matching engraving, this lovely whiskey decanter set is ideal for a home bar or home office. The tapered shape of the decanter will improve the taste of your scotch or bourbon whether it's a $10 bottle or $50 by enriching the flavors and exposing the hidden aromas with each pour.
The Perfect Decanter for Any Spirit
You've seen decanters specifically for whiskey, gin, vodka, and tequila. This unique decanter is actually perfect for any liquor! A classic shape, this crystal decanter even comes engraved with the letter and name of your choice of spirit: absinthe, bourbon, gin, rye, whiskey, vodka, tequila, scotch, rum, and whiskey. How cool is that? You could get one for each of your favorite liquors and never accidentally pour rum into an Old Fashioned instead of whiskey again.
Gorgeous Wine Decanter
Crystal wine decanters have a special kind of elegance that you don't see in liquor decanters. They tend to be more fluid in design with little to no sharp edges or corners. This is because of the decanting process and you want your wine properly swirled and aerated. The most important thing to remember about wine decanters is that wine is not meant to be stored in them. The best way to utilize them is to pour only the amount of wine you plan on drinking that night, such as for a date night with your SO or for a formal dinner with family.
Luxury Platinum Decanter
You've probably seen a similarly shaped decanter before, but did you know that this kind of crystal decanter is ideal for wine or liquor? Specifically ideal for vodka, the wide bottom and thin neck will actually mellow out the sharpness of vodka when being poured. Full-bodied red wines are great for this kind of decanter as well because the flavor will be significantly richer and sweeter after being decanted. You don't want to keep anything in this one for long as the stopper fits pretty loosely.
Must-Have Custom Gin Decanter
As for gin, you'll want a square-shaped decanter with plenty of beautiful crystal details to show off the clarity and subtle colored hues. This gorgeous crystal decanter is an impressive imitation of vintage leaded decanters with its starburst-detailed stopper and the elegant curves of the neck. Gin doesn't necessarily need to be decanted, but it is visually appealing and very classy to show off your favorite brand, such as Death's Door or Tanqueray No Ten. Pink gin would look absolutely lovely in this gorgeous piece, and would make a lovely gift for the woman in your life who enjoys the spirit.
Impressive Bull Decanter
Novelty decanters can be classy and cool like the crystal skull decanter, or they can be incredibly impressive like this one that comes in the shape of a bull. The awe-inspiring shape makes the set a gorgeous piece of decor for any home. An oaky whiskey or peaty scotch would be ideal for this particular decanter because these classy spirits match the strong, refined look of the bull.
All-Crystal Globe Decanter
While similar to the previous globe decanter, this one is made entirely of lead-free crystal and has an extra globe inside! That's right, it's a globe within a globe. Inside the smaller globe is a delicate ship! How cool is that? This complete piece is brilliant in design and will add character to any room. Ideal,of course, for rum, you can decant whiskey inside it as well. The only thing that isn't crystal is the stopper, which is actually made of gold and rubber.
289+ CRYSTAL DECANTERS YOU NEED>