A Laid-Back Guide to Liquor Decanters
When I was in college, we used empty alcohol containers to decorate the apartment. At the time it made sense because most of my extra money went to hosting parties or going to parties, and the only thing I had to show for it was an extensive collection of Maker's Mark bottles, occasionally interrupted by the bright green glass of a Tanqueray bottle left behind by my friend, Stephanie. But then I graduated, started my career, got a house, and spent more time "adulting." When finally setting up my home bar, I rediscovered a type of glassware that I hadn't thought about in years: liquor decanters.
Sure, liquor decanters had been around, in Neil Simon plays and movies from the 60s, but nobody in my family ever used one. They always seemed like something from the past, too stuffy and impractical for modern use. However, I've realized the error of my ways, and now use wine decanters, liquor carafes, and crystal bottles for just about every type of alcohol I serve at home. So why put spirits in a decanter? Which decanter do you use for which liquor? How long does alcohol stay good in a decanter? Here's a laid-back guide, guaranteed to be enlightening and unfussy, just like a nice bottle of whiskey.
Why use a liquor decanter?
The main reason to use a decanter is for appearance and style. It's the same reason baristas bring your milk in a tiny little pitcher at an upscale coffee shop instead of sitting the carton on the table. Polish and good taste are always necessary, and a sleek alcohol decanter brings both of those qualities to your home bar. Using the bottle from the store is understandable if you are serving Michter's Celebration Sour Mash Whiskey and want to show off the label, but for everyday spirits, a stylish decanter is the way to go.
Another fundamental decanter purpose is to show off the clarity of the spirits. Many brands of alcohol use dark colored glass that obscures the color and texture of what is inside. For liquors like whiskey, dark rum, and gold tequila, transferring the liquid to a carafe or crystal bottle enhances the beauty for everyone to appreciate.
In addition to these two aesthetic reasons, decanting liquor opens up the flavor in some instances. Red wine is the prime example. When you uncork a bottle of any dark red variety of wine, you want to expose it a little bit of oxygen to help open up the flavors. The act of pouring the wine into a decanter itself will give it a chance to "breathe," but 30 minutes or more in an unsealed glass wine decanter is even better. Some argue that decanting whiskey, gin, and tequila has similar benefits, although the difference is much more subtle.
How long does liquor stay good in a decanter?
If you're using a decanter with an airtight seal, the spirits inside will last just as long as they would in the original glass alcohol container. For wine, that means only a few days, but vodka, brandy, and other spirits could last for years. Some types of decanters have a loose fitting glass stopper, which means the alcohol will slowly evaporate, but can still be stored worry-free for months. Other carafes and decanters don't have a stopper at all. For this type of container, pour only the amount you plan to drink that day.
Which decanter shapes for which liquor?
When it comes to shapes, sizes, and materials, the options are practically endless. Possibilities include large, small, round, square, teardrop, glass, crystal, wood, stainless steel, new, old, and everything in between. As long as you follow the suggestions above for keeping your alcohol sealed, the choice is yours, but there are a few best practices to keep in mind.
When choosing a gin decanter, look for clear glass and smooth surfaces. Gin is typically colorless, but some varieties will have subtle blue or golden hues. Untextured glass has a magnifying effect that will slightly enhance those delicate variations. However look for subtle cuts in the glass to enhance the look of the liquor when choosing a gin decanter
A crystal liquor carafe will give your bar a vintage vibe. Since antique cut lead crystal was a symbol of luxury for hundreds of years, many people still associate this look with the salons and parlors of yesteryear. Until the 20th century, most glassware makers used only round shapes. A intricately cut square glass decanter such as this will give you the nostalgic feel with a modern twist.
For the world traveler, this unique round world globe shaped decanter is an excellent choice. Shaped like world globe with the continents etched on it, it rests on it's base so it can spin. This liquor decanter is great for whiskey, rum, vodka, bourbon, or gin and very eye-catching.
There are many types of decanters to consider, but you may also want to consider how you will serve guests with your decanter. You can put many types of alcohol in a decanter such as vodka, gin, rum, whiskey, tequila, or bourbon but how you serve those liquors is just as important. This personalized decanter presentation set makes hosting parties easy since the tray securely holds the decanter and glasses.
A dedicated tequila decanter is essential, especially if you host lots of parties. Since the flavor of tequila can be intense, the aeration provided by pouring it into a decanter will take away a bit of the sting. It's also useful if you want to buy a mid-priced bottle, but avoid letting people think you are a cheapskate.
If you want to make a statement with a novelty decanter, look no further than a liquor decanter in the shape of a charging bull. The impressive set will awe anyone who sees it, let alone anyone who shares a drink with you from this gorgeous set.
A striking whiskey decanter is the perfect way to make a bold statement about your drink. The hefty glasses combined with the classic decanter create a refined set that makes a perfect drinking set for strong flavors, as well as being a strong centerpiece for any home or home bar.
You may also want to consider novelty decanters for vodka, whiskey or gin. Novelty decanters come in many shapes and sizes. The two most popular shapes are this grenade decanter, and this skull decanter.
This decanter shape is also quite handsome, with chiseled sides this decanter looks regal and masculine, yet comfortable in any modern home.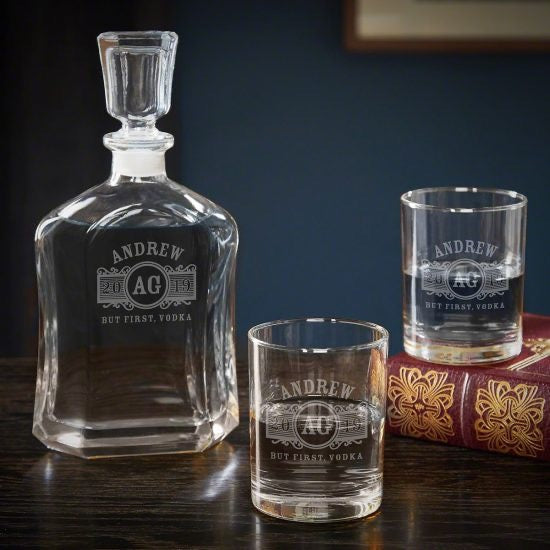 Thick glass is best for vodka decanters. Whether you are taking shots or mixing martinis, you'll want to chill the vodka before, and thin glass is brittle when it gets cold, more likely to shatter. Look for thick walls and a flat base that will sit firmly on a bed of ice.
Whiskey decanters that come in full glassware sets are ideal for any home. They look great and they also make sharing a drink with family, friends, and guests a more refined experience. A matching whiskey decanter set takes ordinary glassware and makes it feel extraordinary.
When presenting a wedding or anniversary gift, a crystal bottle for liquor is a trustworthy companion for the alcohol itself. With it's gently twisted shape this decanter is quite elegant. Yes, I always value the gift of Grey Goose, but an heirloom serving piece will be far more memorable in the long run.
You may want to swap out different sets of glassware from time to time, so don't get hung up on finding pieces that are an exact match in terms of shape. When putting together a full set of glassware, don't be scared to pair a square whiskey bottle with round lowballs. Just make sure all pieces were made from a similar color of glass. This set comes with a decanter and matching glasses so you don't have to worry about them not matching. There are endless variances in the clarity of clear glass, but when you look at individual pieces side-by-side, the differences are usually noticable.
This whiskey decanter comes with a set of unique glasses to create a seamless experience when you are enjoying cigars and your favorite bourbon, whiskey, or scotch. The cigar glass will leave your off-hand free, which makes pouring a friend a refill from the matching decanter a breeze.
Finally, remember that appearance is the most important consideration with liquor containers. Whatever you decide on, make sure it represents your taste and style. Your drinkware assortment should be a reflection of what inspires you and makes you happy, and that will, in turn, will bring the same qualities out of your party guests.