They've decided to hang up their working hat for good, and you want to get them a gift to congratulate them on a long career, but you aren't sure what makes a great retirement gift. The best retirement gift ideas are congratulatory and help usher them into the newest phase of life with something that is useful to them or something that helps them enjoy retired life even more. These presents can even help them enhance a hobby or develop a new one. We scoured the web for super good retirement gifts that they'll love using during all the free time they have now!
A Classy Glassware Box Set for Retirement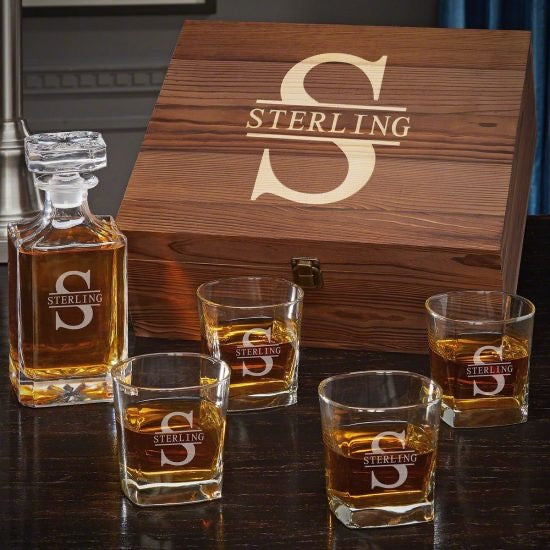 A classy glassware set is just what they need to be able to relax fully with their feet up in the living room. This custom whiskey decanter box set is one of the best retirement gift ideas that any retiree will feel so lucky to have. They'll love to use such handsome glassware when enjoying their favorite whiskey or other beverage as they sit outside their house, enjoying the afternoon or evening without having to worry about work. They can even use the handsome wooden box to store old mementos from their time at work or from the new memories they make while retired.
An Ammo Can Pint Glass Set of Good Retirement Gifts
Nothing will put a bigger grin on their face than this ammo can pint glasses set! They'll think these personalized pint glasses are absolutely awesome, and drinking their favorite beer from them will make them feel like an owner of a super cool bar even though they're retired from working. They'll love using the ammo can to fill with their favorite drinking accessories or snacks. You can even include some goodies in this ammo can set for them, which they definitely deserve for making it to retirement!
Beautiful Custom Sign for Their Home
A gorgeous, personalized brewhouse sign hanging in the home? That will definitely be one of the best retirement gift ideas ever! They'll absolutely love the way this sign stands out on the wall in their home bar or bar area of their home. It'll make them feel like they decided to open their very own incredible brewhouse after retirement, and they'll love putting in the work to make the space look incredible.
A Gift for Infusing Drinks with Flavor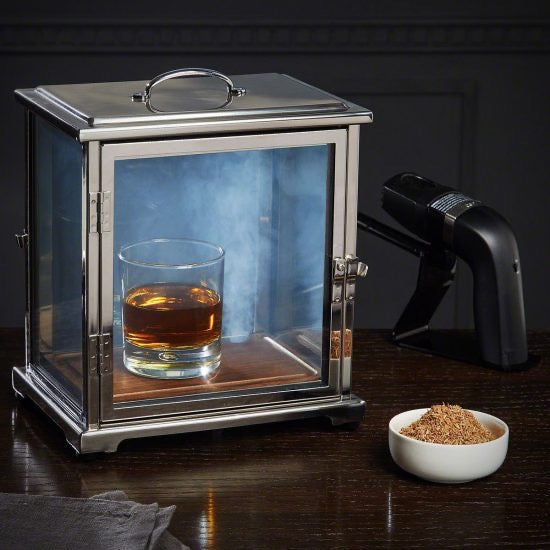 There's no one more deserving of delicious drinks than a hard-working retiree. That's why this advanced smoke box system is a fantastic retirement gift idea! All they have to do is place a glass of their whiskey of choice inside this box and then use the gun to infuse whatever flavors they want into it! Whether they want to add spicy tastes, fruity ones, or anything else they can think of, they'll love concocting delicious drinks using this unique gift.
Fancy Wine Gift Set
Good retirement gifts that help them enjoy their very favorite things to the fullest extent are always excellent ideas. That's why this etched wine decanter and glasses set is such a phenomenal retirement present! They'll love sharing a glass with their partner, an old work buddy, or anyone else, constantly in celebration of their retirement.
157+ HANDSOMELY PERSONALIZED WINE GLASSES>
A New Way to Stay Active
Good retirement gifts will help them stay in shape as well as have a blast! This complete pickleball game set will introduce them to a super fun game that will also keep them moving. They'll think it's so much fun learning a brand new game and getting their exercise playing with friends and family. They'll probably be on ESPN in no time!
A Bull Decanter Set They'll Never Forget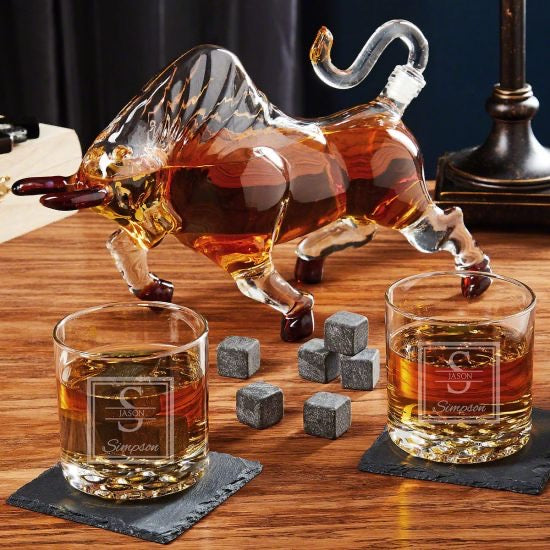 There's just something about unique glassware that feels fancy and cool. That's why this bull decanter set is one of the best retirement gift ideas. They'll love having this bull decanter displayed on their home bar or dining room table, reminding them of how strong they are. After all, they worked hard for years and years to make it to the retirement stage of life—which requires a lot of strength!
Bring Beer Anywhere
Now that they don't have to work, they have so much time to hang out with family and friends at backyard barbecues, picnics, the beach, or anywhere else they desire. This engraved wooden beer tote is a super useful present because they can use it to bring beer along wherever they're going! They'll appreciate the usefulness of this gift that lets them enjoy their favorite brew wherever they are as well as share with others. You can even add a six pack of their favorite brew to the gift to make it even better!
Grab Their Drink from the Couch
They've worked for years and years, so they shouldn't have to work to have a drink! That's why gifts like this monogram presentation set make good retirement gifts. This set can sit right on the coffee table or home bar, with the decanter filled with their favorite liquor, so serving themselves a glass or two is incredibly easy. They'll be very thankful to not have to work too hard to get a drink for themselves!
Good Retirement Gifts for the Golf Course
There's so much time for them to spend on the golf course now that they're retired. That's why this golf gift set is such a cool retirement present for them! They'll think the customization on this gift is awesome, and they'll definitely appreciate the chance to go to the golf course and use this gift! They'll love the bag tag and divot tool making them feel like a pro golfer out on the course, and when they work up a thirst, they'll appreciate having the stainless steel drink tumbler full of iced water or any other beverage.
The Best Kind of Photo Album
As excited as they are to be retiring, there's definitely been moments from all the years they spent working that they'll treasure forever. That's why gifts that help them retain those memories are good retirement gifts. This smart photo frame is fantastic because they can use the app on their smartphone to control which photos and albums are shown on the frame. They'll love seeing all of the photos of their loved ones on this technologically advanced frame. It's an easy yet super meaningful present that they'll cherish forever!
A Place for Watches and Other Accessories
Now that they've got a lot more time on their hands, it's time for them to work on those home projects they've always wanted to do. This leather valet box is just what they need for some serious organization! Their watches, rings, tie clips, bracelets, cufflinks, or any other accessories will fit perfectly inside this box. They'll greatly appreciate how easily this gift makes organizing accessories in their bedroom or closet.
Best Retirement Gift on the Planet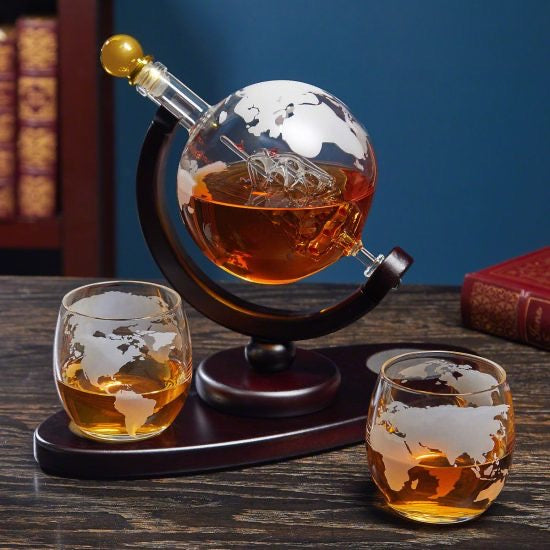 This globe decanter set is one of the best retirement gift ideas because it'll be a constant reminder that the possibilities are endless for the adventures they can go on in this new phase of life. They'll love sipping on their favorite spirit and studying the globe, dreaming about all the places they want to go now that they have all the time in the world to go on any adventure they want!
The Greatest Beer Mugs Ever
They can enjoy their favorite beers whenever they want now, so you better be sure they have the best mugs to use to do so! This engraved beer mug box set is an incredible retirement gift that they'll think is so useful when they want to relax! They'll very much enjoy drinking their favorite beer of choice from a hefty, personalized mug, and they'll love having a handsome sleek black box to keep all of their favorite beer accessories inside.
For Their Gardening Hobby
Retirement is the perfect time to discover a fun new hobby, or at least to spend more time honing their skills on an older one. This gardener chair and tool kit set is one example of really good retirement gifts that will seriously enhance a hobby. This set will make any type of gardening so much easier! They'll love having this seat to use as they work in their garden, using handy tools such as a garden fork and broad-face trowel.
Jaw-Dropping Ammo Can Set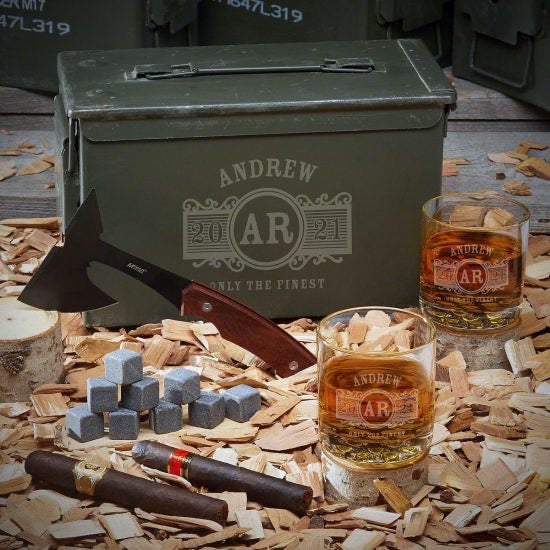 There's no way this ammo can gift set doesn't make their jaw drop to the floor! They'll be stunned by how cool looking the ammo can is, and they'll love thinking of ways they can use it, such as to store fishing tackle or display in the garage with tools inside. Plus, any time they want to enjoy a drink, they'll always reach for these handsome glasses that have personalization that's so unique, it makes the drink even more enjoyable.
133+ AWESOME AMMO CAN GIFT SETS>
Monogram Poker Set of the Best Retirement Gift Ideas
Not having to work means way more game nights than ever before! That's why you know that games would make really good retirement gifts for them. This monogrammed poker set is absolutely perfect! Not only does it have everything they need for game after game of poker, but they can play any card game they want as well! They'll love having friends, family, or their former coworkers over for game nights all the time.
Coolest Custom Cutting Board
More time at home means more time in the kitchen, creating delicious masterpieces for themselves and their family. This custom cutting board is just what they need to make their prolonged kitchen experiences better than ever. It's the perfect surface to use when chopping up veggies or meats before tossing them in the skillet or pot or onto the grill. When they have friends over and want to serve them scrumptious hors d'oeuvres or finger foods, this board is the ideal way to do so.
Super Sophisticated Watch Case Gift Set
Being retired makes them feel pretty cool, but they'll feel like the coolest person ever once you give them this custom personalized flask and glass set! They'll love how useful the flask and glass are, two terrific options when they're wanting a sip of a drink when on the road or chilling at home. Also, since they aren't working, they may start losing track of what time it is, which is why this handsome watch (and watch case to keep it in) is a must-have!
A Box of Chocolatey Goodness
Nothing says "congratulations" like a fancy assortment of delicious chocolates! It's one of the best retirement gift ideas because they'll be so pleased with this sweet gift that shows them you're proud of them for finishing their career after years of hard work. They'll love sampling the cappuccino, raspberry, evergreen mint, and all the other unique chocolate flavors.
Best Retirement Gift Ideas for Cigar and Whiskey Lovers
No one on earth deserves a fancy whiskey and cigar box set more than a hard-working retiree! They'll fall in love with this custom set immediately and be thrilled to use it at their retirement party and any other special get-togethers they share with friends and family. The cigar glasses make it so easy to enjoy both stogies and a spirit at the same time, which they'll definitely appreciate.
A Sign for Their Very Own Bar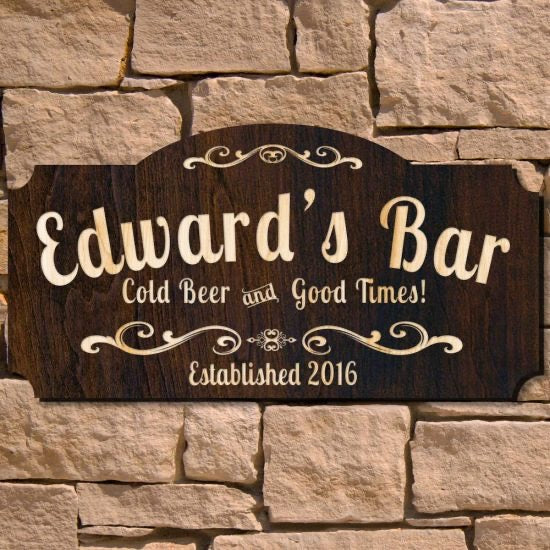 Now that they have so much free time, they can work on cultivating or perfecting a home bar. There's no way they can do that without good retirement gifts like this personalized wooden bar sign! This sign will make the whole bar area feel like an actual bar! This gift is one of the most fantastic ways to help them enjoy the bar they've created just for themselves. Now that they have their custom sign, they'll love having friends over to see and hang out in their very own bar.
For the Adventures that Await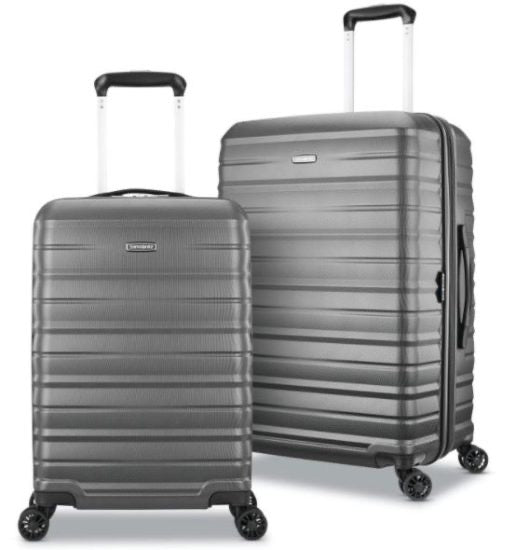 They're so excited to travel now that they've retired. Why not make them even more excited by getting them a brand new luggage set! This high-quality set will make traveling a breeze, which will be much appreciated, whether they're driving, flying, going by train, or however else they're seeing the world. They simply won't be able to wait to take this set everywhere with them!
The Best Set for Bourbon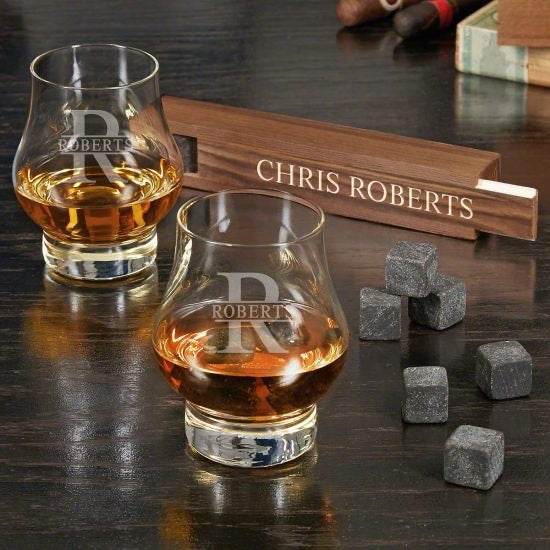 Just when they thought they couldn't be classier as a retiree, you'll give them this gift, and they'll feel like the most sophisticated person ever! This snifter gift set is one of the best retirement gift ideas because they'll greatly enjoy spending quiet evenings with loved ones, sipping on and enjoying bourbon in a whole new way with these specially-made double snifters. They'll appreciate being able to sense every nuance in their bourbon, and they'll feel so fancy being able to do so with their personalized glasses.
Shadow Box Set of Good Retirement Gifts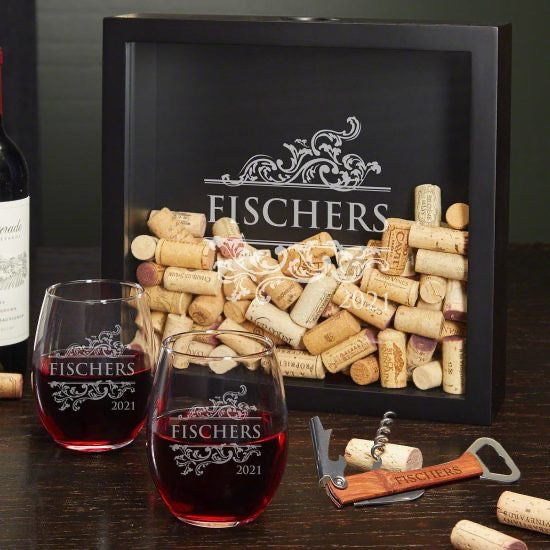 They want to remember every great experience they have during their retirement phase of their life. This shadow box gift set is the best way to do so! Any time they want to enjoy a glass of wine at these celebrations, they'll reach for these beautifully customized stemless glasses. Whether they do want to collect wine corks from that wine, bottle caps, or any other small items, they'll place them in this handsome box. With each item representing a memory, such as having their retirement party, celebrating their anniversary with their spouse, or enjoying a friend's birthday, those memories will be preserved.
Smart TVs are the Best Retirement Gift Ideas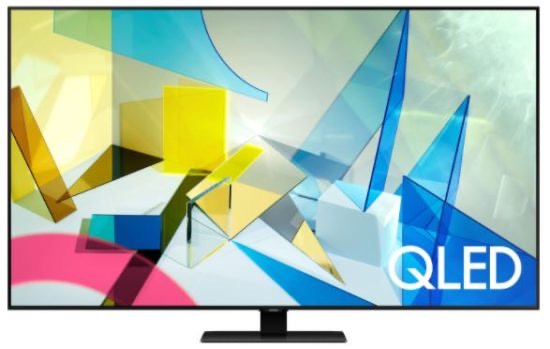 No stage of life has more time for enjoying TV shows, movies, sports, or anything else on television than the retirement stage does. That's why this 4k smart TV is a brilliant retirement gift idea. They have all the time to enjoy their favorite soaps, the newest movies they've missed, and as much Daytime Jeopardy as they want! They'll be so thrilled with this high-tech gift that lets them watch anything they want in the living room or bedroom, all in super crisp picture.
An Excuse to Celebrate and to Golf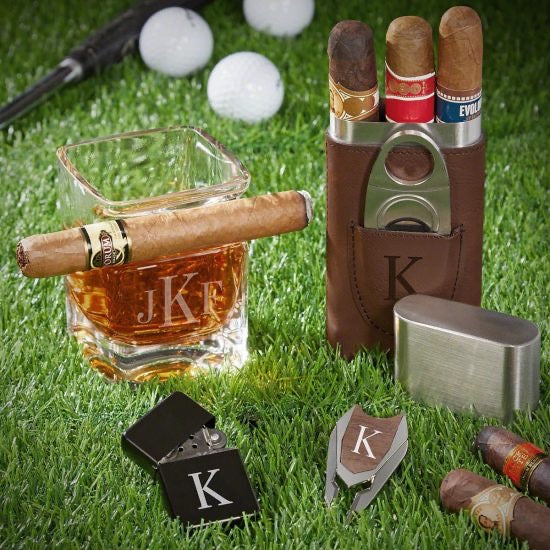 A gift that helps them enjoy some of their favorite things and gives them an excuse to spend the morning at the golf course? What could be better! This cigar gift set is awesome because not only does it provide them a way to transport and enjoy their cigars with a drink, but it's perfect to use when celebrating their retirement or another special occasion. The divot tool, of course, gives them an excuse to go to the golf course whenever they want, which they'll definitely love!