Retirement is a big deal for everyone, after all, they've worked for years just to get this point in their lives, and they only get to retire once. For the person you know who is retiring, you'll want to make sure that your gift is just as special and memorable as the day they walked out of their office for the last time. Gifts for retirement aren't as daunting as they may seem though, as long as you get them something personal, an item that helps them relax in their retirement, or even start a new hobby during this new chapter of their life, you simply can't go wrong! Still feeling nervous that you might blow this HUGE occasion with a subpar gift? Don't sweat it! We know how nerve-wracking giving gifts can be. Retire those fears (get it?) and use these awesome gifts that are sure to fit every kind of person whom you know is retiring!
Legendary Gifts for Retirement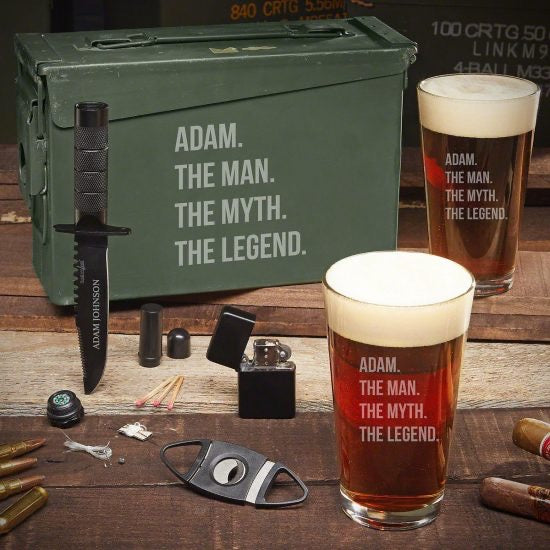 Everyone has that one person in the office who is an absolute legend. When they walk through the doors, it almost is like all work stops. They've got such a great disposition, that even the crankiest person loves to stop what they're doing and say. For them, you'd be doing them a disservice if you didn't get them this personalized ammo can gift set! It literally shows that you (and maybe a few coworkers) all think that they're the bee's knees when it comes to a coworker! With the beer glasses they can have a drink to you and your coworkers later that night for their first day of retirement, and the survival knife is a great tool for any new adventures that might come their way in this new chapter of life!
Now, it is Always 5 O'Clock
Now that they're retired, there is no real reason for them to have to wait until 5 P.M., to wait for a drink. So, make sure that in their easiest years of life they're ready for a cocktail whenever and wherever they want with this fantastic engraved rock glass set of gifts for retirement! You can even add a few small bottles of their favorite whiskey, tequila, or vodka so they can make their famous Old-Fashioned, Salty Dog, or Margarita right away!
It is Always Wine Time
Retirement shouldn't be all sour grapes. Sure, they're leaving a major part of their life behind them, but when one door closes another opens. Help them look to the future by getting them a custom wine gift set that shows them they've got so much more to look forward to! From date nights with their spouse to spending more time with family, not only will retirement feel even richer, but they'll have this wine gift set by their side, enhancing each and every one of their celebrations!
Put All Other Retirement Gifts on the Chopping Block
Now that they are retired, they've got plenty of time to pick up new hobbies or expand on one they've been enjoying for years. For the person who's got plenty of time, there is nothing like an engraved cutting board as a gift for retirement. It will help them spend so much more time in the kitchen where they can try new recipes and make meals, snacks, and treats for everyone in the family!
489+ EVERYTHING A RETIREE COULD EVER WANT>
The Flyest Retirement Gift
Everyone always thinks of fishing when it comes to people retiring. After all, it is a great way to spend a day, spend time in nature, as well as potentially have something incredibly fresh for dinner that night. However, no one ever goes big on fishing gifts, until now! Don't settle for a lure or tackle box, get them a fly fishing rod that guarantees they'll be pulling in all the fish they can eat!
Retire Those Extra Strokes
Is there a more classic image than someone who is retiring and immediately getting into golf? With all this newfound time on their hands, now is the perfect time to start getting into the most famous sport for retirees! This set of gifts for retirement is one of the best things you can give. A putting set is not only a cool gift but it'll also help them shave a few strokes off their game from the putting green. Now, whether they're visiting family miles from home or the course is closed, thanks to this carrying case with the putting set, they can practice their short game anywhere!
Keep 'Em Classy
If you're looking for a sophisticated gift to really set the tone of retirement, this classy personalized whiskey and cigar gift set is one you simply can't pass up! There will be nothing better than retiring from work, sitting out by the fire or on the front porch, while sharing a glass of whiskey with you while the two of you talk and chat between pulls off a delicious stogie.
In Case You Need a Patriotic Gift for Retirement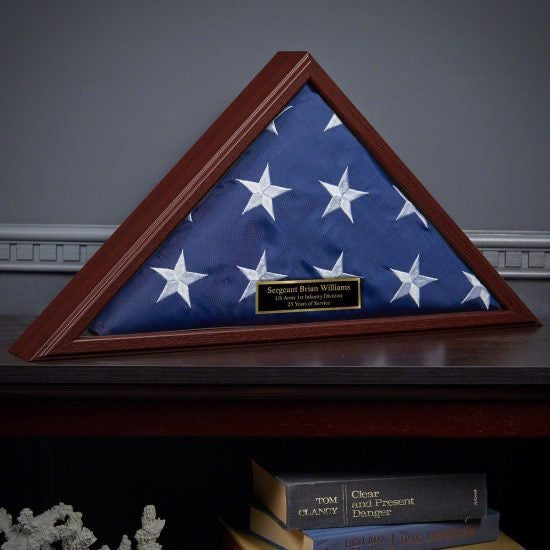 Got a retiree from the military or maybe even just a very patriotic person? This custom flag case is the gift you must give! It is even customized with a plaque on the glass of the case, how cool is that? This is a gorgeous gift for retirement that they can see every day on the wall or on display in their home that will make them proud to have served but also happy to finally rest and retire!
Give Them a Sign to Retire
Over the years you have known them, one thing has been unwavering, and that is their love for cigars. Now that they have retired they can finally start their cigar lounge or maybe even look for the finishing touches to have the coolest home lounge in the history of cigar aficionados. Either way, you know a gift with a personal touch, like this wooden cigar sign, is the ideal retirement gift because you know they'll be able to enjoy it as much and as often as their favorite Cohiba or Padron!
They'll Dig this Gift
A set of gardening tools is a surefire win. Who doesn't love to get their hands dirty once they've stopped working for someone else and now get to spend time doing what they love? Instead of filling paper or stamping forms, now they get to plant seeds, pull weeds, and grow something that they will absolutely love. Not only does this kit come with all the tools they'll need, this set of gifts for retirement even comes with a seat to make the gardening even easier!
A Steel of a Gift for Retirement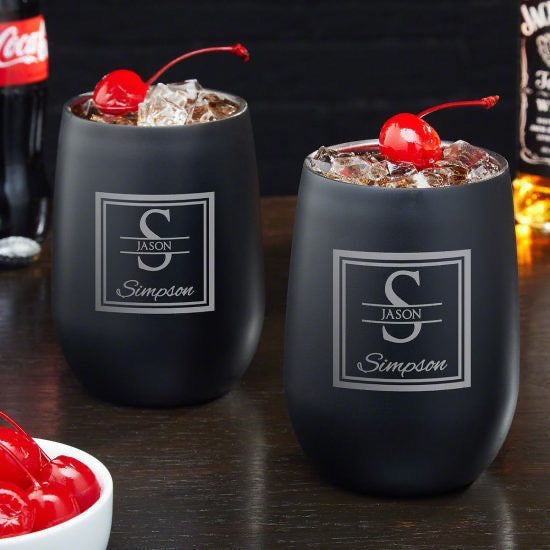 Over the years, they've proven to be as tough as steel, which is why the only fitting gift for their retirement are these stainless steel wine tumblers! Perfect for celebrating the end of their working life, these glasses are even travel-friendly, so their trip around the United States can easily be celebrated each night thanks to these personalized glasses that are just as tough as the retiree!
Help Them See the World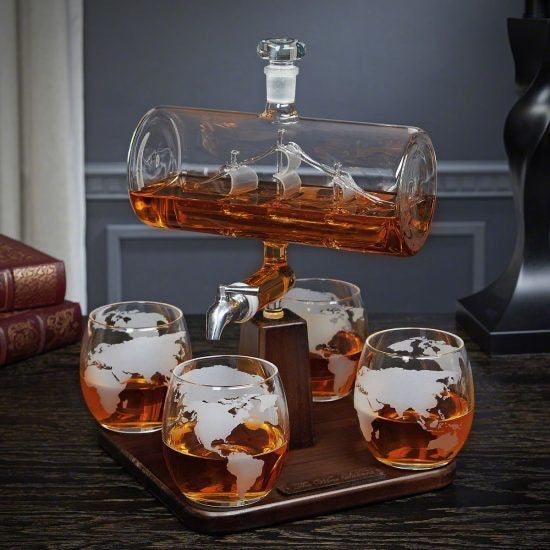 Speaking of travel, who doesn't want to see the world once they retire? While you may not be able to get them around the world in 80 days or even a plane ticket to Europe for that matter, a good practical retirement gift is this ship decanter and globe glass set! It is the perfect way for them to have a drink while planning which countries to visit now that they have all the time in the world to do so!
429+ WONDERFUL WHISKEY DECANTERS FOR RETIREES>
Great Grill Tools
There is nothing more relaxing in the world than standing by a charcoal-burning grill with a beer in one hand and spatula in the other. Make sure their retirement is picture-perfect for grilling with this gift for retirement, a custom grill tool set! Now that work is no longer an issue, they can spend hours smoking meats, working on their BBQ sauce, or even working on their fancy burger flipping technique!
A Taste of the Good Life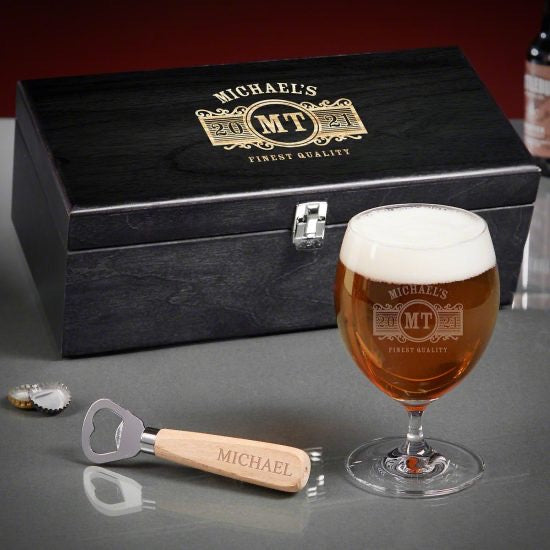 As the years have gone by they've indulged in their fair share of beers, and they even know more about beer than anyone around them; however, they've never reached true beer knowledge mastery, but thanks to this engraved beer tasting gift set, they finally can! Now, thanks to the proper beer glass for every brew, they'll be able to palate and fully experience the full flavor and profile of each bottle of suds they decide to crack open!
For their Photos
Keep them connected with loved ones with a digital picture frame! This is the ideal way to keep them updated on what the whole family is up to thanks to the cloud storage the frame works off of. Each son, daughter, or grandchild can have an account where they can upload photos, keeping people in the loop with epic pictures has never been so easy!
Ales, Tales, and Cocktails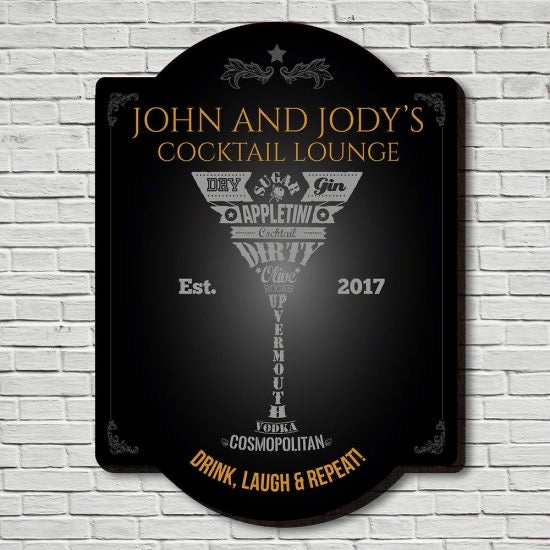 Help them finish off their home bar or favorite hang-spot with a gift for retirement that any new retiree would just die to have. This custom home bar sign is the best way to turn their home into the new neighborhood hang out spot. Who said retirement is boring? Now, with their friends, family, and neighbors over, every night at their house is a party!
Fore the Retiree Who Golfs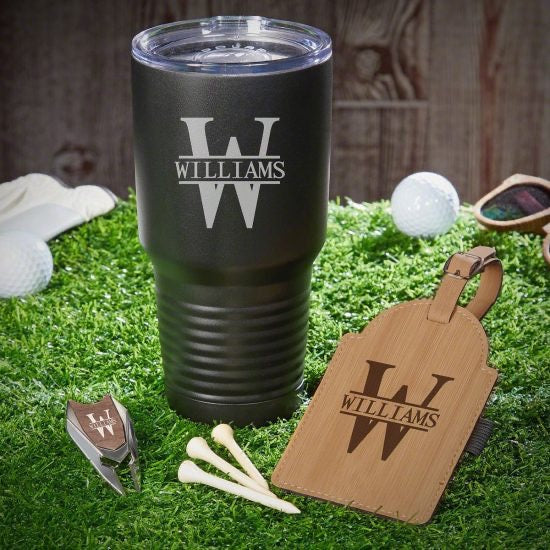 Get them out on the course early with this golf themed retirement gift! This set is the perfect retirement gift that they'll actually be able to use, and will likely have on them every time they make it out to the green! The tumbler is perfect for perking them up for those early morning rounds while the bag tag ensures they'll always have a bit more custom swag on their gear than anyone else! It may be a smaller gift, but you can be sure they're going to remember this one for years!
A Monogrammed Decanter Set of Gifts for Retirement
Blow them away with one of the largest, classiest, and most unique gifts for retirement with this decanter gift set! They'll love seeing their name monogrammed but they will especially like having such a classy gift that they can leave on their home bar, coffee table, or end table. This way, anytime they feel like it or when they have company, not only can they show off their sweet gift, they can indulge in a drink too!
All the Tools for a Wine Gift
When all else fails, a bottle of wine is a classic gift for retirement. They're classy, enjoyable, and even come in a wide range of prices, making them budget-friendly for everyone. However, you don't want to be everyone, you want your gift to stand out! Simply place your bottle of wine inside this presentation gift set and you're sure to blow away the retiree with such a thoughtful gift! They could celebrate right away thanks to the tools, or they could save the bottle and uncork it at the anniversary of their retirement, the choice is theirs!