Some things are better off forgotten; neon spandex, the movie Gigli, and your first time at a karaoke bar are a few of these things. Some things that should never be left in the dust however are these delicious classic cocktail recipes. While some have held on for dear life, others in our lineup are on the endangered list and in desperate need of resuscitation. Don't worry Drinks, we are here, and we are ready for some mouth to mouth. A vintage cocktail for every taste, be prepared for some mouth watering recipes that will leave you scratching your head about how they were somehow in danger of being lost forever.
1. Corpse Reviver #1
Although many of us have heard about the Corpse Reviver #2 as of late, it had me pondering where the heck #1 ran off to. Although the entire family of Corpse Revivers were created as morning time hangover relief during the 19th and 20th century, by the way can we talk about how insanely amazing that is? Corpse Reviver No. 1 is a slightly stronger classic cocktail than part deux and possesses a heavy brandy base with a complex mix of flavors. While most prefer Reviver No. 2 due to the smoother taste, you'll enjoy the original if you have a bolder and more daring palette.
2 oz of Brandy
1 oz Applejack
1 oz sweet vermouth
Pour into cocktail shaker with glass, stir well, and then strain into cocktail glass.
2. Bee's Knees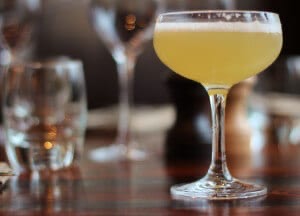 I have a confession to make. I just tried a Bee's Knees for the first time, and I am in love. I'm not quite sure if it's my love for citrus flavors or my obsession with honey but dear gin lord, it has quickly become a personal favorite. With a simple mix of gin, lemon, and honey syrup, it is perfect for spring and summer relaxation. Originally created to lessen the overpowering taste of bathtub gin during Prohibition, it faded away but is making a comeback in an awesome way. If you love a heavenly mixture of booze and springtime then try out this awesome vintage cocktail.
2 oz gin
.75 oz lemon juice
.75 oz of honey simple syrup
Add all ingredients to cocktail shaker, shake well and then strain into rocks glass. Garnish with lemon peel or twist.
3. Mint Julep
Okay, so we know that Mint Juleps are among the more popular cocktails in this list but with the Kentucky Derby upon us, it didn't feel right leaving this American classic out of the mix. A favorite among southerners, this refreshing classic cocktail is said to probably have been created sometime during the 1700s. The governor of the Bluegrass state introduced the drink to Washington DC where it gained popularity. It originated as a medicinal beverage and was once made with a gin base instead of bourbon. While we don't think it will cure anything but sobriety now-a-days this remains a staple in the South and we are excited that it is gaining traction in the rest of the country.
3 fresh mint leaves
1 tablespoon mint simple syrup
1 oz bourbon
1 fresh mint sprig
Crushed ice
Place mint leaves and mint simple syrup in a chilled julep cup. Gently press leaves against cup with back of bar spoon to release the minty aroma. Fill the cup as tightly as you can with crushed ice and then pour in the bourbon of your choice. Insert straw and garnish with mint sprig.
4. Widow's Kiss
With a name that could double as a mysterious heavy metal band, this complex cocktail is just as curious and awesome as its title. Combining strong herbal flavors, it is a seriously sweet drink that doesn't mess around. It is said to have been created by George Kappeler, and first appeared in his 1895 book Modern American Drinks. If the name of this classic cocktail isn't enough to entice you, a revival is well deserved due to its perfect combination of interesting flavors and taste.
1.5oz Apple Brandy
.75oz Yellow Chartreuse
.75oz Benedictine
2 dashes Angostura Bitters
This drink calls for straightforward instructions. Simply stir ingredients together with ice and then strain into a chilled cocktail glass. Garnish with a cherry.
5. Martinez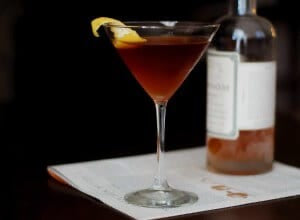 A predecessor to the martini, a Martinez first appeared in O.H Byron's 1884 Modern Bartenders' Guide. However, it was also featured in Jerry Thomas' Bartenders Guide of 1887 where he said he created the drink for a patron who would visit Martinez, California daily. Although no one is around to verify that story there is no denying the delicious flavor of this gin based cocktail. With it's unique combination of flavors, the gin is nicely rounded out with the sweetness of the maraschino liqueur and sweet vermouth. This playful use of ingredients make us think this cocktail recipe is worth a tasting and a much needed revival.
1.5 oz of Old Tom Gin
1.5 oz of sweet vermouth
.25 oz of maraschino liqueur
2 dashes of angostura bitters
Combine all ingredients into cocktail shaker with ice, shake and then strain into chilled coupe glass. Garnish with orange peel if desired.
6. Jack Rose
Like most classic cocktails, this drinks history is a bit fuzzy. With stories of the Jack Rose originating from infamous gambler and star witness in the Rosenthal murder, "Bald Jack Rose", others say it was created by a widely renowned mixologist Joseph Rose, and then a whole other camp that says its name is simply due to the fact that it is made with applejack and grenadine that gives it a rose coloring. So it's kind of like a pick and choose your own adventure, and whether you're a realist or a dreamer this simple and smooth cocktail tastes great and is a wonderful choice for those who don't enjoy an overwhelming alcohol beverage.
2 oz Applejack
1 oz lime juice
.5 oz grenadine
Shake with ice in a cocktail shaker and then strain into a chilled cocktail glass. Garnish with an apple slice if desired.
7. Moonwalk
Created to commemorate the 1969 moon landing, this sweet cocktail is said to be the first thing that Buzz Aldrin and Neil Armstrong drank upon their return to Earth. How freaking cool is that sentence? I had never heard of this forgotten cocktail but upon looking at the ingredients knew it was a winner. With floral and fruity notes I think it'd be a hit at brunch or anytime during spring or summer.
1 oz fresh grapefruit juice
1 oz of orange liqueur
3 drops of rose water
top with champagne or sparkling wine
Combine grapefruit juice, orange liqueur, and rose water into shaker with ice. Shake and then strain into champagne flute, top the glass with your choice of champagne or sparkling wine.
8. Death in the Afternoon
Invented by the man himself, Ernest Hemingway created Death in the Afternoon for a celebrity recipe book where his direct instructions were to "Pour one jigger absinthe into a Champagne glass. Add iced Champagne until it attains the proper opalescent milkiness. Drink three to five of these slowly." Since most of us don't have the liver of ol' Hemingway, I don't know if I would recommend step two, nonetheless, we can't help but feel ultra literary and decadent while sipping on one of Ernest's favorite cocktails. For that Death in the Afternoon deserves a revival.
1.5 oz absinthe
4.5 oz champagne
Pour absinthe into champagne or coupe glass and fill to top with champagne.
9. Bijou
Meaning "jewel" in French, this dazzling cocktail is not only a rich mix of colorful ingredients but abundant in flavor. First making an appearance in Harry Johnson's 1900 New and Improved Bartender Manual, this vintage drink dates back to the late 1800s. Not much can be found on the history of this gem-ridden classic cocktail, but we do know is that its sweet flavor makes for an interesting drink that we don't ever want to forget and plan on making at every cocktail party from now until eternity.
1 oz London dry gin
1 oz sweet vermouth
1 oz green chartreuse
1 dash of orange bitters
Combine ingredients in a mixing glass with ice, stir for 20 seconds and then strain into a cocktail glass, coupe or martini glass is preferable. Use lemon peel as garnish if desired.