April showers are said to bring May flowers. As we roll into the Spring season, love is in the air, gardens are turning green, and the weather is warming up nicely. If you haven't already, there is still plenty of time to sow some seeds of love. Nothing says Spring like flowers, and they are perfectly romantic gifts for women anytime. Anyone can buy flowers, but you can really impress her with mixed drinks made by you and garnished with some beautiful blossoms fresh from the garden.
As much as we would like to take credit for the idea of munching on marigolds, the practice of enhancing food and drink with flowers has been around for millennia. That's right millennia, as in 5000 years! From the start of human record we have used flowers for their many flavorful and medicinal benefits. Ancient China began the trend and trade carried the ideas all over the Mediterranean and even made it to the Americas with the Aztecs. Some cocktail add-ins are just passing trends, but as you can see flower power isn't going anywhere.
Before you go dig up the garden you should reference this list to ensure your favorite flower is safe for consumption. You're loving gift may not be well received if it ends with a stomach pump. If you don't have a specific flower in mind, we have three delightful drinks she is sure to enjoy on your next date night.
The Aviation:
Our first cocktail is one of our favorites, so we couldn't resist shaking some up for ourselves. Using a cocktail shaker, start with a scoop of ice. Pour in 2 shots of your favorite gin. We suggest Bombay Dry or Tanqueray 10. Add creme de violette and a half shot of maraschino liqueur. If you can't find maraschino liqueur, you can substitute another cherry infused spirit or even cherry brandy. There is no substitution for creme de violette, so be sure to locate a bottle before you gather the other ingredients. Squeeze and add the lemon juice next. Then shake for a few seconds to combine ingredients and chill. Strain the ingredients into a coupe-style cocktail glass. This mixed drink can also be served in a martini glass or a champagne flute. She's sure to love this vibrant violet drink whenever you decide to debut it.
Marigold Ofrenda Cocktail:

This next drink packs a punch and calls for 2 ounces of Tequila, 1 ounce of lime juice, 3/4 ounces of Triple Sec, 1/2 ounce of agave nectar, 1/2 cup of chopped cantaloupe, 1/8 teaspoon of chile de arbol powder, and one edible Marigold (garnish). To make one of these tequila cocktails you'll need to muddle the cantaloupe, agave nectar, Orange Curacao, in a mixing glass. After that, you can add the rest of the ingredients (not the Marigold) and ice, then shake for at least 10 seconds. Double strain into a cocktail glass and garnish with the Marigold. (Original Recipe)
Wild Rose Petal Sangria:

This batched rose drink requires at least 14 hours to prepare so plan ahead if you want to serve this sangria. To make this drink you will need a bottle of Rosé wine, 1 cup of washed rose petals, 1 cup of sugar, one cup of water, and 1 teaspoon of lemon juice, 1/3 cup Elderflower liqueur, and a handful of mint leaves. To make the syrup simply combine rose petals (save about 2 tablespoons for garnish), sugar, water, and lemon juice into a pot and bring to a simmer until sugar dissolves. Steep the roses for 12-24 hours then strain. Next, combine 1/3 cup of the Rose petal syrup and all other ingredients including the rose petals you saved previously. Refrigerate for 1-2 hours and serve over ice. (Original Recipe)
The Lady in Blue: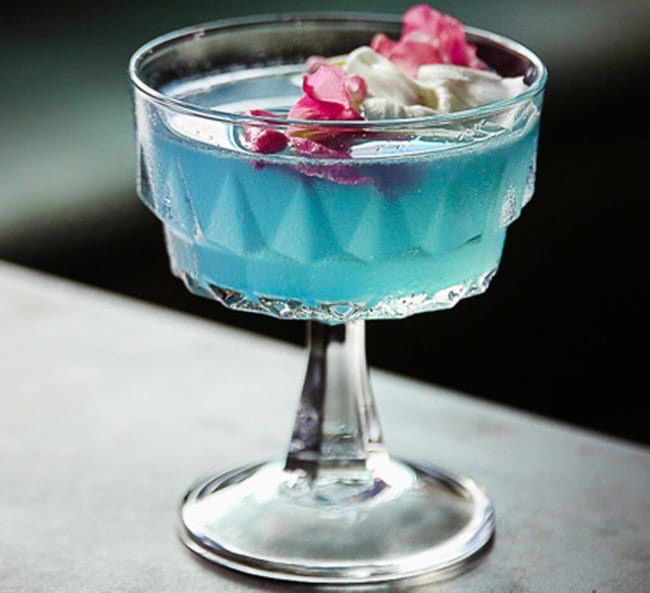 Last but certainly not least, the Lady in Blue is a fresh take on the White Lady. You'll need 2 ounces of gin, 3/4 ounces of lemon juice, 1/2 ounce of simple syrup, 2-3 drops of Orange flower water, 1/4 ounce of créme de violette, and blue curaçao. Simply add all of the ingredients into a shaker and shake vigorously. Strain into a glass and pour a slip of blue curaçao to give this drink it's vibrant electric blue hue. You can garnish this cocktail with edible flowers of your choice. (Original Recipe)