It's completely reasonable to put a lot of thought into gift-giving. You want whatever occasion you're celebrating to be as impactful as possible for your guy. We have curated a list of great gifts for men perfect for any moment. If you're celebrating a birthday, retirement, holiday, or even looking for a "just because" gift, we have got you covered. Still you may wonder, "How do I find luxury gifts or awesome outdoor gifts for men?" "What makes a gift great?" Or, "Is this gift right for the occasion?" Well, worry no more! This list is so detailed that you could get your entire shopping done for the year with just a few clicks from our selections.
Perfect Decanter for the World Traveler
A man isn't meant to be in just one place. Traveling the world is something your guy aims to do. He even has a world map with pins directing all his future trips. That's what makes this globe decanter set one of those great gifts for men that will help fill their wanderlust. They can fill it with their favorite spirit, pour it in their matching globe glasses, and take a sip while they dream about their next trip.
Monogrammed Coffee Mug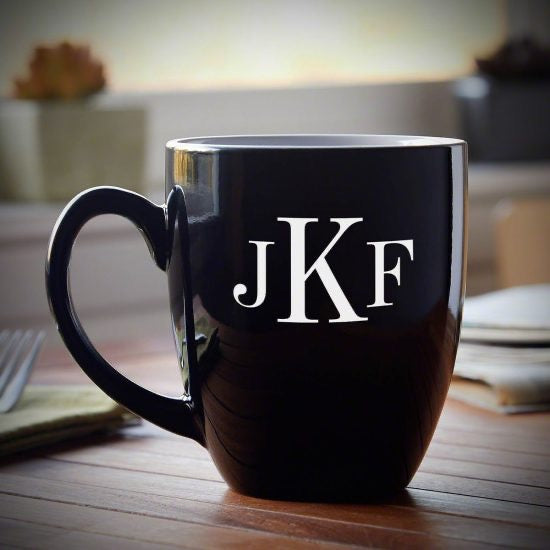 Your man owes at least 10% of his success in life to coffee. It gets him through meetings, got him through college, and you had your first date at a coffee shop. He has an appreciation for Java that's unrivaled. A monogrammed coffee mug is the only thing missing in his coffee-loving life. It's one of those great, cool gifts for men that they will use at home and in the office.
Homemade Bar Sign
His college posters are long retired. He now frames his favorite players' jerseys and hangs them in his man cave. But it's still missing that special touch that makes the space his own. A personalized, classic tavern sign will finally make his favorite space feel like it's his own. It's the finishing or starting touch for any man cave, one that he won't see anywhere else. It's perfect for any gift giving occasion.
Everything a Beer Lover Needs
Not a weekend passes where you guy isn't bringing home a sampler pack from another brewery he just discovered. Now he can take his love of craft beer to the next level with this custom growler set. He can to a brewery, get it filled, and take it with him wherever it's needed. It's ideal for the guy that loves to enjoy a beer outdoors or share his latest discovery with friends. He'll be daydreaming of people raising the four matching pint glasses in honor of his beer finding skills.
Great Gift for the Manliest of Men
It's a great time for manhood. You can spend each morning taking care of your beard so it's as pristine as possible and you can spend your evenings in the woods with an axe over your shoulder, ready to conquer mother nature. At least, your man can do just that with this .50 caliber ammo box. It has all the tools any man needs to get in touch with their rugged roots. This is the kind of unique gift for men who have everything that you can give the guy who has everything.
371+ AWESOME GIFT SETS FOR GUYS>
Learn from the Best
Your guy may never get a chance to learn shooting tips from Steph Curry, but thanks to Masterclass he can still get personalized lessons from experts in their field. Has he dreamed of being a writer? Sign him up to learn from Neil Gaiman. Wants to up his culinary game? Gordon Ramsey's available. Wants shooting tips? That's right. Steph Curry is available to improve your man's jump. This is one of those great, cool gifts for men that he'll remember for his lifetime.
Upgrade a Wine Lovers Life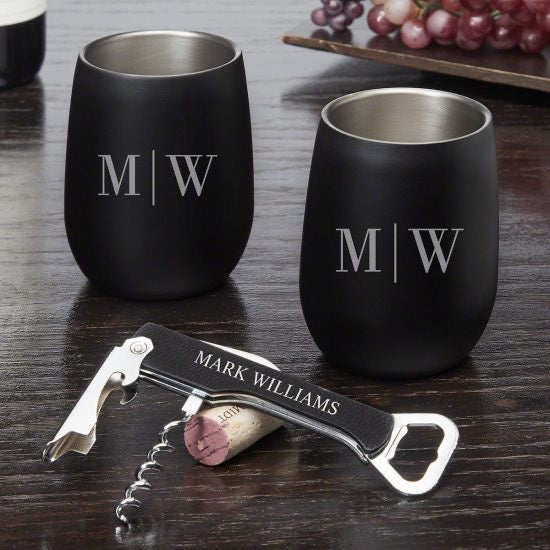 He may never become a sommelier, but your brother or boyfriend considers themselves something of a wine expert. Whenever you tell him what's for dinner he's 100% certain he's got the right kind of wine to go with it. Any amateur wine aficionado knows a wine gift set is a great gift for men. These stainless steel wine glasses aerate any wine and keep it at the ideal temperature the entire time he'll be drinking it. He won't want to drink from a regular wine glass ever again.
Essential Gift for Brandy Connoisseur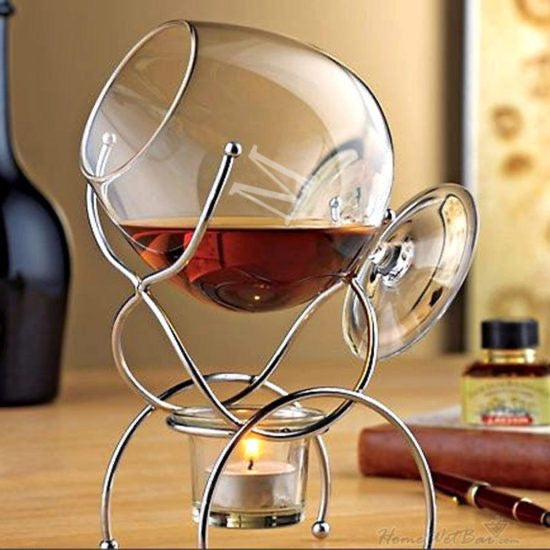 You can't just sip a glass of brandy. Well, you can. It will still be delicious, but it won't be at its full potential. That's where this brandy warmer comes in. Heating up a brandy unleashes all the subtle flavors your man won't get drinking straight from the bottle. The glass is a snifter, allowing him to nose it before taking a sip for the ultimate experience. It doesn't matter if you're shopping for Christmas, graduation, or even a retirement, your man will be impressed you were able to hunt down such an incredible gift.
Sleek Gift Outdoorsmen Need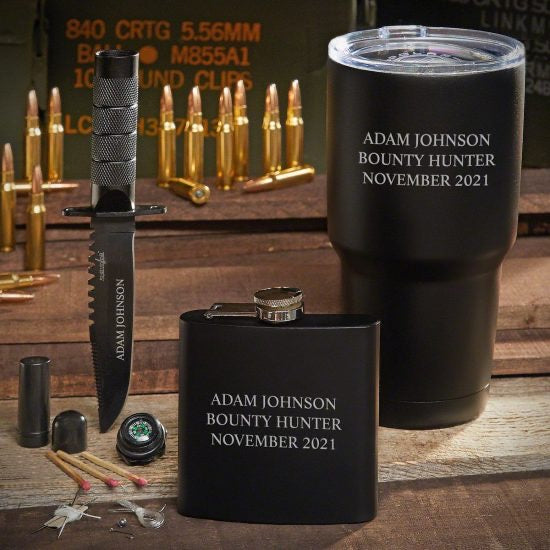 A man's knife is the ultimate item in his toolbox. He still remembers when he was a boy and got his first pocket knife. It was a life-changing moment. Now the great, cool gifts for men world has entered the realm with this Spec Ops gift set. He'll carry his favorite drink with him in the tumbler, spice it up when it's called for with the flask, and, of course, he'll have the tactical knife with a hidden compartment that's the stuff of his boyhood dreams.
Keep His Laptop Safe
You've seen the way your guy treats his stuff. It always seems to get dents and scratches on it. His cellphone can't go a full year without at least a tiny crack appearing. He uses his laptop every day for work and personal stuff and even that's looking a little worse for wear. This is a practical gift that will serve him well in the long run. Coach makes durable laptop sleeves, that look sleek and don't add a lot of bulk. Your man won't complain about his laptop lasting and he certainly won't mind that it adds a little more style to his life.
Shadowbox for the Sentimental Guy
Wine isn't just about what's in the bottle. It's about the memories you build with. Your man certainly knows this. He had a special bottle ready when he proposed to you. He had a bottle for your first Valentine's Day. Now he can save those memories with by storing them in this personalized shadow box. He'll love watching his collection grow and reflecting on all his wonderful moments in life that were capped off with a bottle of wine.
Grill Masters Cutting Board
Man has been searing meat over an open flame since they first discovered fire. Your man looks for an excuse to cook up a steak, pork chop, or his perfect kebab. Now he can have another excuse to cook over a fire when you gift him a personalized cutting board. It lists three of man's favorite thing: BBQ, beer, and meat. Give your brother or husband another reason to prep an awesome meal for everyone.
Best Way to Celebrate Beer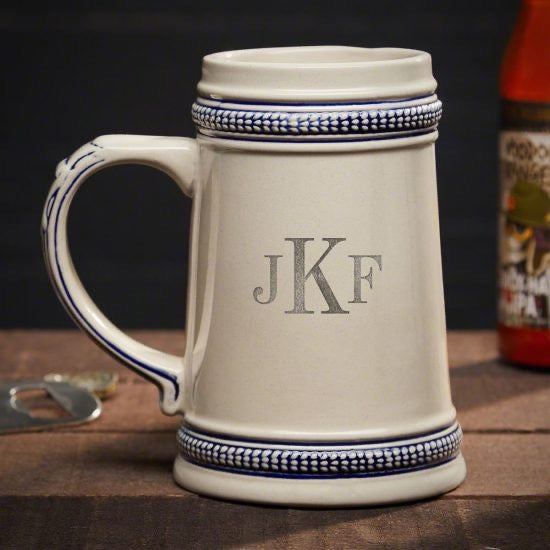 Do you know what makes any moment worth celebrating instantly better? An ice cold beer. That's one of the reasons why a monogrammed ceramic beer stein makes a great gift for men. Watching the head of a beer fill to the top and slightly spill over makes it even more fun. This is how his ancestors drank their beer and it's going to be how he wants to drink his beer from here on out. Just be prepared for a lot of toasts in his life, as he will look for any occasion to hoist this mug into the air.
Stylish Bluetooth Speaker
Marshall is the premier name in guitar amps. Your guy has one sitting in his garage right now. They decided to take all their years in making perfect sound into producing a top of the line Bluetooth speaker. It doesn't matter what song he plays, it will be like your man is hearing them for the first time all over again. It's one of those great gifts for men that makes any birthday or celebratory occasion instantly memorable.
Ultimate Whiskey Tasters Gift Set
There was a point in your guy's early drinking days that he thought the pinnacle of whiskey drinking was pouring a couple of ounces into a flat, diet soda. But he's grown wiser, he just doesn't have the tools he needs to ensure his perfect whiskey vision. Thankfully, this ultimate whiskey glass set is one of those great gifts for men that completes their scotch arsenal. It has Glencairn glasses that pair with every whiskey variety in his liquor cabinet. This set will make your dad or boyfriend the envy of every guy he knows.
Custom Beer Tap Handle
Every man needs a custom beer tap handle. It's great for the guy who has his own bar or the one who's the avid homebrewer. They take a lot of pride in curating their rotation of beers they keep on tap. They even make sure to have seasonal ales. It's one of the reasons why everyone's okay with him hosting a Super Bowl party every year. Now he can finally have something that matches the pride he takes in his homebrew.
Elevate His Spirits
He's a modern man. He gets his meals shipped to him, he has every streaming service available, and he likes his whiskey. This sculpted glass set was crafted with him in mind. The distinct and unique curves make these glasses naturally fit in any hand. It will be like he's experiencing art while sipping on his favorite spirit. This set even includes whiskey stones, so he never has about his drink not being the ideal temperature.
A Jacket for any Occasion
When he was a little kid, he had a go-to puffy jacket. When he was a teenager, he wore the same hoodie every day. When he just started working, he was nervous people would notice he only had one suit jacket. But now he needs a new kind of jacket he can wear for any occasion. Southern Tide makes a durable and stylish maritime jacket that's light enough to wear in the warmer months, but sturdy enough to make a solid winter coat. It's durable to wear when he's spending outdoors and stylish enough to wear on a date. It's a gift that's the be all, end all of jacket-wear for your guy.
Coolest Bottle Opener on the Planet
Okay, so in the past, he's broken a counter or dented a railing trying to open his beer bottle. It's understandable. It happens to every guy once or twice. But he won't ever want to be without this .50 caliber bullet bottle opener. It's one of those great, cool gifts for men they'll want to bring with them everywhere. Personally engraved just for him, it will open an endless amount of bottles so the beer is always flowing. It makes a great for holidays or anyone graduating from a military academy.
All-in-One Grill Tool
He has a lot to juggle when he's manning the grill. He's already made sure the steaks have marinated for the perfect amount of time. He's got his veggies all lined up to be charred, but only he has so many free hands. That's where this all-in-one BBQ tool set comes into play. Like a Swiss army knife, he'll have everything he needs to make the perfect burger or steak in one awesome gift. Imagine the look on your husband or dad's face when they unwrap this for Father's Day. Everyone will be having food from the grill that day whether it was planned or not.
Cigar Aficionado Premiere Gift Set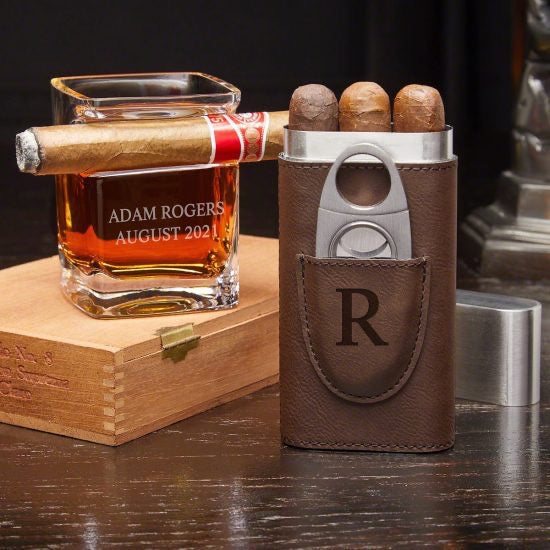 A man and his cigars are not easily parted. Well, it can be if he doesn't have any easy to transport them. But that's where this personalized cigar case and whiskey cigar glass come into play. It's a great gift for men that want to enjoy a cigar wherever they may be. It even stores a cigar cutter to cut down on any extra bulk. The cigar whiskey glass has a distinct groove to hold his cigars and give him a free hand when he's enjoying two of his favorite things. There's nothing more any cigar lover could want.
Every Tool Needed to be a Master Chef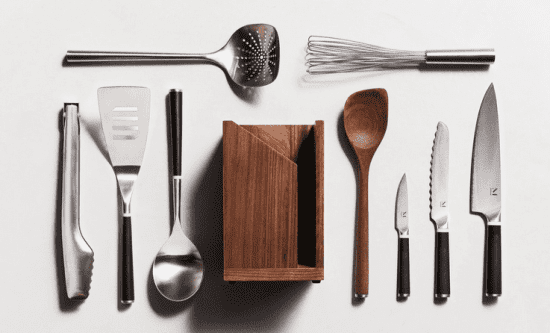 He's not going to expand his culinary skills without the right tools. Sure, you're impressed he made a half-decent macaroni risotto with only a spatula and the same skillet he had from his college days. But he really wants to expand his kitchen skillset. He didn't binge all those episodes of Top Chef for no reason. Material Kitchen makes an incredible set they named The Iconics. It has everything he needs to make an unforgettable pasta to a pan-seared duck breast. It's a gift that any guy looking to move beyond microwave ramen absolutely needs.
Every Guy Needs a Cornhole Game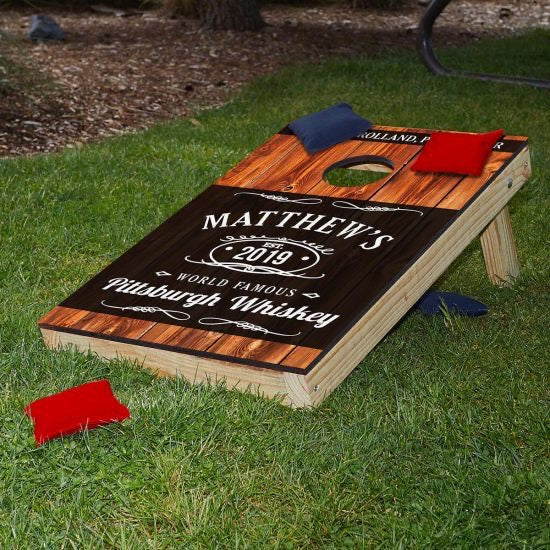 He thinks of himself as a one-on-one basketball champion. He's never lost a game of rock-paper-scissors. He wants to continue that competitive domination with him everywhere. A personalized cornhole game is great for him no matter his age. He can best his college buds in a game. Or, if he's a grandfather, he can try and show off his skill set to his grandkids. Every guy wants a chance to play with this set when given the chance. It's easily portable, so he'll be able to take it with anywhere and challenge anyone.
Massive Cocktail Shaker
It's not fun drinking a cocktail alone. Especially if you were the one that mixed it. Now, your guy can make his favorite cocktail for everyone with this giant cocktail shaker. He could make Old Fashioneds, the best Long Island Iced Tea, or Mint Juleps. It doesn't matter. They'll all taste great and there will be more than enough for him to serve his brother-in-law, father, best friends, and anyone else wants to sample the works of his amateur mixology.
Engraved Axe Guys Crave
Paul Bunyan is the sole folk hero that your man remembers. You might think it's because he had a big, blue ox. But, in reality, it's because of the mighty hatchet he carried over his shoulder. Your man has always wanted to chop firewood, get his own Christmas tree from the woods, or trim his beard in the manliest way possible. A personalized hatchet his one of those great gifts for men that only come around once a lifetime. It doesn't matter the occasion, this something any man wants in their home.
Phone Storage Water Bottle
Your husband prides himself on staying in shape. He should. He's worked hard for what he's achieved. But the worst part about being a gym rat in this modern day is not having any decent place to put your phone. It flies out of pockets. Arm straps are bulky and uncomfortable. Luckily, someone had the great idea to add a waterproof phone storage container to a water bottle. Now he can stay hydrated and stay in touch with this great gift for men.
Unique Way to Enjoy Whiskey
Some men prefer a splash of water in their whiskey, but it's a delicate balance. One ounce over and you've spoiled a perfectly good spirit. This rolling whiskey glass is a genius invention that your man will be sure to appreciate. It gives him the ability to easily make an ice sphere that rolls around the glass with each sip. It cools the drink and adds the perfect amount of water without ruining all the rich notes in his drink.
Bring Beer Anywhere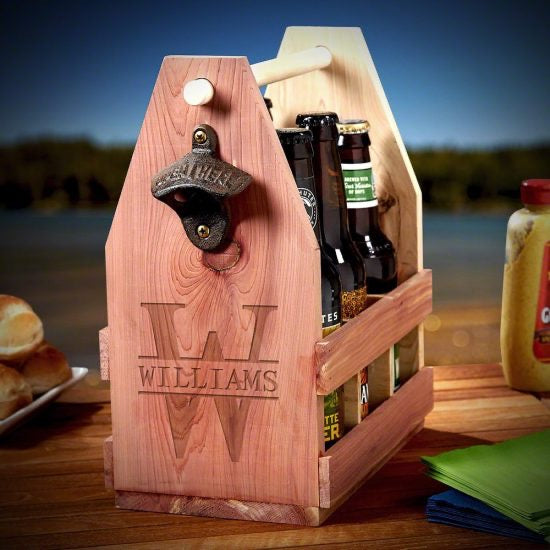 Lugging around a 6 pack in a loose cardboard container isn't going to cut it. By the time your guy has reached the lake or a BYOB celebration, it's practically disintegrated. That's why he'll be thanking his lucky stars when you get him a personalized wooden beer tote. He can now easily transport six of his favorite beers wherever he goes. This thing even has a built-in cast iron bottle opener so he won't have to lug around any extra tools. He'll be using this gift for years and years.
Classic Decanter Box Set
He still can't find a perfect place for his liquor bottles. He's proud of his spirit curation, but he tucks it away in a cabinet. A custom decanter is what's been missing from his life. He can show off his liquor of choice in a stylish manner. The liquor will look more enticing and this fits in perfectly on a home bar, in a study, or even in the living room. It's never too late for your boyfriend or brother to add a decanter to their home.