27 Impressive Cheap Gifts for Men
We all know that "it's the thought that counts" when buying a gift, but you also have to consider your budget. But that doesn't mean that an inexpensive gift isn't a good gift! In fact, cheap gifts for men can be just as impressive as a high dollar item. How so? Personalization makes all the difference between a regular old beer mug and a unique glass made just for him. Plus, you can get multiple items in a nice gift set for a great deal. But where do you start? Do you look into his hobbies? Do you simply search for unique gifts for guys and hope they fall within your budget? No, start right here! Put down those coupons, because we did all of the hard work for you and found 27 of the best inexpensive gifts for men under $80 for any guy on any occasion.
Custom Liquor Flask
A custom flask is always a cool gift to get a guy whether he's your best friend, boyfriend, brother, or husband. This monogrammed leather-wrapped flask is a classy, useful, cheap gift for men. He will enjoy bringing it along when he hangs out at his friend's house or goes camping with his family. A flask is the perfect birthday or Christmas gift to any guy in your life, but make sure to include a bottle of his favorite liquor too so that he can fill it up after unwrapping it!
Vintage Ceramic Beer Stein
Your boyfriend is an avid beer drinker who is known among his friends as the resident beer snob. He knows everything there is to know about beer, including its history. The only thing he ever wants for Valentine's Day or his birthday is a case of beer. While that's an easy gift to give, you want to give him something cool too. But why drop $100 on a genuine vintage beer stein when you could get an equally impressive ceramic personalized stein for a mere $34.95? This super cool stein is hand-painted and laser engraved with his name, initials, a year, and a phrase of your choosing. He'll love the vintage style that's inspired by 14th-century German steins. This incredibly beer stein is certainly one of the most impressive cheap gifts for men!
A Cool Gift Set that Won't Break the Bank
Your dad is the kind of guy who relaxes by going to the shooting range for a few hours and then comes home and pours himself a glass of scotch. His job is tough and he deserves to relax when he gets home. This Father's Day, you want to get him something really nice but you're also on a budget. This unique whiskey set looks really expensive, right? Don't worry, this three piece set of gifts for men is only $69.95. He'll love the cool bullet whiskey stones and monogrammed rocks glasses. He'll be so impressed and surprised that you got him such a nice but cheap personalized gift that will make his relaxation routine even better.
Custom Coffee Mug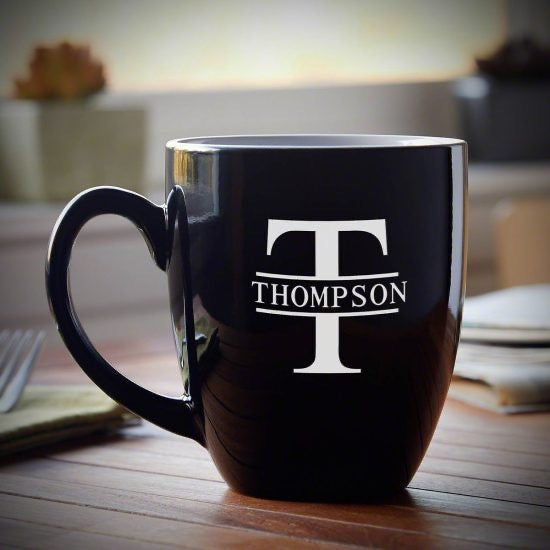 What's the best cheap personalized gift? A custom coffee mug! Most guys drink coffee or tea, and one can never have too many mugs. He'll love the simple design of his name and initial. He can keep the mug at home to add to his collection of mugs or take to work and make sure that no one else will steal his favorite mug thanks to the personalization. Pair this mug with a box of his favorite coffee and you've got a great, cheap gift for men that's perfect for any occasion or just because!
Whiskey Stone Gift Set
Your husband has an evening routine when he gets home from work: eat dinner, pour a scotch on the rocks, and watch TV in his recliner until bedtime. He loves his chilled scotch, but often complains that the ice ruins his drink and waters it down. However, he doesn't want to put the bottle in the fridge. What can you give him to solve his problem that won't cost a fortune? Forget a new ice machine, get him a set of whiskey stones! This set of nine whiskey stones will keep his scotch perfectly chilled and full of flavor until the very last drop. He'll love that he can reuse these cool stones over and over and that he never has to deal with ice again. You could give this set "just because" or as part of his Christmas presents.
93+ WHISKEY STONE SETS FOR HIM>
Repair Anything with the Bondic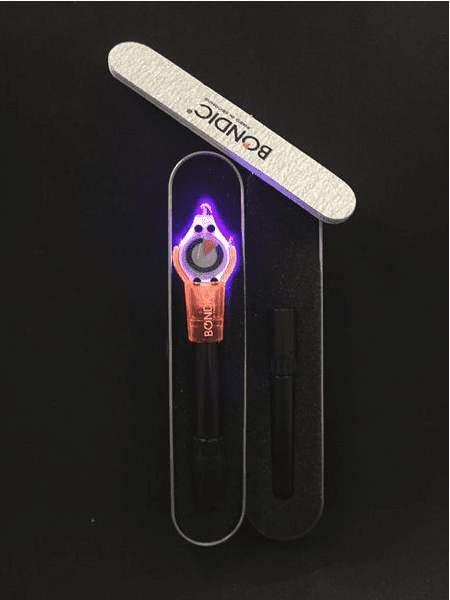 Is your dad or husband a handy guy who is always fixing things around the house? This incredibly awesome and inexpensive tool will change his life. The Bondic dispenses liquid plastic that will repair anything also plastic, wood, or even metal. He doesn't even have to worry about doing it quickly before it dries like glue because it won't even dry until he shines the LED light on it! How cool is that? Now he can take his time repairing that coffee table from Wal-Mart that keeps falling apart and can even fix those pesky frayed charging cables. He'll never want to use super glue again! The best part? It's $20!
A Top-Notch Personalized Decanter for a Good Price
Personalized decanters may look expensive, but they can be cheap gifts for men too! This handsome decanter, for example, is only $59.95. That's a steal! This decanter can be personalized with two lines of your choosing and will keep his favorite liquor safe and fresh. Plus, it's a classy piece of decor when not being used to serve.
Beer Lover Box Set
Any guy in your life who enjoys drinking beer will enjoy this awesome personalized mug set! It comes with a large custom engraved beer mug, a bottle opener, and a matching personalized gift box where he can store his bottle caps. He'll never want to drink out of a can or bottle again after using this awesome mug as it's insulated to keep his beer colder and fresher. Your boyfriend, husband, or brother are the perfect guys to give this great gift set to. It may not look like a cheap personalized gift, but this set is only $59.95! For a personalized three piece set, that's a pretty great deal.
His Own Bar Sign
Has your dad or husband always dreamed of having his home bar? Help make his dream come true with a custom bar sign! For the incredible price of $49.95, this awesome sign is one hell of a birthday or Christmas gift. He'll be amazed by its superior quality and will want to hang it or stand it on a table as soon as he unwraps it. Thanks to you, his home bar will be official.
Unique Whiskey Glass
Guys who drink whiskey dream of having their own distillery and custom label that is as widely recognized as Jack Daniels. You would love to make your boyfriend's dream come true, but unfortunately you can't afford to open a distillery for him as a birthday gift. However, you can give him a custom whiskey glass that's engraved with his very own whiskey label! How cool is that? He'll love the unique label and the cool glacier design in the base of the glass. He will be so surprised that you got him such a cool gift. Custom whiskey glasses like this one make the best cheap personalized gifts for men if you're shopping on a budget!
Easily Charge His Phone On the Go
The future is here, and in the form of a wireless charging dashboard mount for your man's phone! Now he can charge his phone while navigating to that brand new restaurant that opened downtown for your date night. This mount can hold any smartphone and be mounted anywhere he likes in his car, even the windshield! Traveling has never been easier.
Bottle Opener Coasters
Thanks to your incredible gift, your guy will never be without a bottle opener again. That's right, these nifty personalized coasters have hidden bottle openers on the bottom! How cool is that? Now his furniture will be protected from condensation stains and he'll always have a bottle opener on hand. It's a win-win! Include a six pack of his favorite beer and you've got an awesome but cheap gift for men. Ideal for your boyfriend, coworker, husband, dad, or anyone you know who drinks beer!
An Inexpensive Way to Show Off a Bottle Cap Collection
The beer-drinking guys in your life are usually pretty easy to buy gifts for as they love anything that's beer-related. Just wrap a six-pack in tissue paper, put it in a bag, and you're good to go. If you could afford to give them a beer subscription or one of those beer buckets, you would. This year, however, you want to give your boyfriend and brother something cool. These bottle cap signs are perfect! You could spell out their names, use their initials, or just get the first letter of their first name. Whatever you choose, any beer lover would get a kick out of these cool and cheap gifts for men. They're perfect for any occasion, and you can make them an annual gift.
Pair of Stout Glasses
Is your guy a fan of dark beers? Then these Spiegelau stout glasses are an absolute must! He and a friend will be shocked at how much better their favorite stout beers will taste in these unique glasses. Spiegelau specially designs their glassware to make the drink inside taste better than it would in a bottle or can. This is achieved through the wide, tapered base and large bulb at the top. He'll also love that you put so much thought and creativity into making him a truly unique set of glasses. Perfect for Valentine's Day, your anniversary, or Christmas!
Show off a Collection with a Shadow Box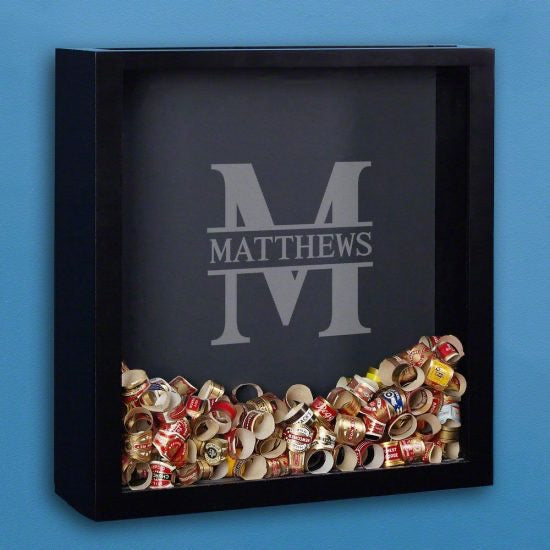 Your anniversary with your boyfriend is coming up and you want to get him something nice, but money's tight at the moment. You could make him something, but you don't have time. What can you give him that's meaningful but won't break the bank? A shadow box! You could give it to him empty so that he can start a collection on his own, or you could fill it with little mementos of the previous year(s) of your relationship. For example, the receipt from Valentine's Day dinner or the ticket stubs from all of the concerts and movies you've attended together. However you choose to present this thoughtful gift, he'll be speechless once he sees it. Cheap gifts for men can be turned into something really meaningful no matter the price.
The Most Useful Book He'll Ever Read
Want to give your dad or husband a gift that will teach him something new? This handy book will teach him all kinds of things from how to poach an egg, read the night sky, cure a stomach ache, and so much more. He'll love reading this book and passing along its wisdom to you, the rest of the family, and his friends! One of the best cheap gifts for men, it's perfect for any guy on any occasion, or just because.
Wall-Mounted Bottle Opener
Is your dad or brother the kind of guy who is always losing his handheld bottle openers? Solve his problem with a wall-mounted one! Impossible to lose, this handy bottle opener will always be there for him whenever he wants a beer. He'll enjoy seeing his own monogram engraved on it every time he uses it. Perfect for hanging in the garage, man cave, or game room. It's a great "just because" or birthday gift for guys!
Customizable Flask Gift Set
Don't be deceived by the simple appearance, this awesome flask gift set is one of the best gifts you can give a guy. Why? For one, the gift box is actually a cigar box! It and the flask are both engraved with up to three lines of text of your choosing. The handsome knife is a great addition to his pocket knife collection. Plus, there's plenty of room to include another small gift to complete the set, like a pack of beef jerky or a small bottle of liquor. At $49.95, this incredible 3 piece gift set is one of the coolest cheap personalized gifts for men, like your husband or boyfriend.
Set of Four Personalized Beer Mugs
Your husband is putting the finishing touches on his home bar, but just realized that he doesn't have enough glasses to stock it! He's scoured the local grocery stores but hasn't found the right ones yet. He wants cool glasses that his friends will be impressed by, that are unique, and hold plenty of beer. Now's your chance to surprise him with an incredible set of personalized beer mugs! Before you look at the price, these beer mugs individually are $21.95 a piece. This set of four is $49.95. You're saving over $30 by buying a set of four, that's a great deal! Plus, they're all engraved with your hubby's name and initial. Clearly, cheap gifts for men don't have to be lame or boring.
173+ MORE PERSONALIZED BEER GLASSES>
Custom Pool Hall Sign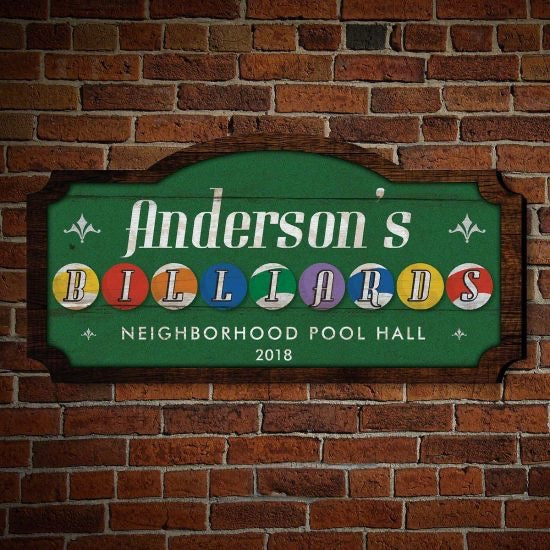 Does your brother or father have a game room with a pool table? Make the room official with this cool custom wooden sign! The vintage and colorful design will go great with his current decor. Definitely a conversation piece, he'll love showing it off to his friends when they come over for a game. This cheap personalized gift is the ideal housewarming or holiday gift to the billiards player in your life.
A Handy Gadget that Keeps Track of His Belongings
Is your boyfriend or dad always misplacing their keys, wallet, phone, and other essentials? Give him a Tile! These handy electronic tags will help him track down his items with the help of the app or remote. He'll never leave the house without his wallet ever again thanks to your incredibly useful gift!
The Perfect Gift for a Musician
For the musical guys, this fun cutting board is a great gift. Shaped like an acoustic guitar and engravable with two lines of text, the musician in your life will enjoy using it to prepare his meals. Plus, it looks great in the kitchen! Who knows? He might start cooking more often thanks to your super cool musical gift!
A Beer Mug Big Enough to Quench His Thirst
Your brother is famous for his ability to chug entire mugs of beer. He even won a local contest for it and won a prize for chugging beer faster than the previous champion! For his birthday one year, you got him a WWE-like belt that says "2013 Beer Chugging Champion." This year, however, you're stuck. He doesn't like expensive gifts, and you're shopping on a budget. Worry not, because this humongous beer mug is the best possible cheap personalized gift you can give! With a 33.8 ounce capacity, your brother will be facing a real challenge if he attempts to chug it.
Unique Wine Glasses
Thanks to you, your husband will never break another wine glass. These incredibly durable glasses are made of stainless steel, which also keeps your after dinner drinks chilled! Now you two can enjoy a romantic glass of wine by the fire and not worry about your fancy crystal wine glasses getting broken. Plus, you can take these glasses with you wherever you go thanks to the durability! Worry not, these cheap personalized gifts that will last you for years are only $29.95.
Craft Beer Set
Has your dad recently gotten into brewing his own beer at home or frequents craft breweries? With this awesome beer gift set, he can feel like a craft brewer himself. He can bring the amber growler to his favorite brewery and fill up with the newest brew to enjoy in the comfort of his own home. The amber glass will keep the beer safe from UV rays, which can affect the taste. The pint glasses are perfect for sharing a cold one with you or a friend. Looks expensive, huh? Relax, this awesome set is only $49.95!
JBL Wireless Headphones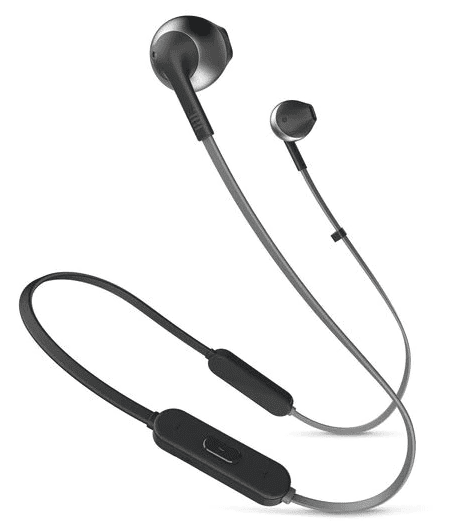 A good pair of headphones is always a fantastic gift. Wireless headphones are rising in popularity because they solve the issue of having to have a cord connected to your phone, which can cause all kinds of entanglements. JBL is one of the leading brands of speakers and headphones, and it's no wonder why! These awesome Bluetooth headphones have 6 hours of battery life, powerful bass, hands-free calling, and incredibly comfortable and secure earbuds. Rest assured, your boyfriend or brother can work out in peace with these headphones. They may not be Beats by Dr. Dre, but they're pretty good quality cheap gifts for men!
Whiskey Stone Set
Whether the guy in your life is a Game of Thrones fan or not, he'll get a kick out of this fun whiskey gift set. Engraved with "I Drink and I Know Things" followed by his name, he'll love using the glass and whiskey stones for his evening glass of bourbon. The stones will keep his favorite whiskey perfectly chilled until the very last drop without changing the taste as ice tends to do. This set both solves a pesky problem and is a cheap personalized gift that he'll never forget!
199+ MORE GREAT DEALS ON GIFTS FOR HIM>