We all want to give amazing, impressive gifts, but sometimes a budget can get in the way. You're searching for incredible gifts for the men in your life, but you can't spend more than $50. Just because you're on a budget doesn't mean you have to settle for a subpar gift. In fact, gifts for men under $50 can be just as awesome as luxury gifts by being personalized or by getting a gift set made of multiple things for a great value. Simply put, there are awesome, inexpensive gifts for men out there! No matter what occasion you're looking to give a gift for, we found the best gifts for men under $50 so that you can find something amazing without breaking the bank.
An Engraved Beer Caddy for Him
When searching for great gifts for men under $50, getting something that is incredibly useful for him may seem like a monumental task; however, this personalized wooden beer caddy begs to differ! This is the perfect gift that any guy can find an awesome use for. Whether he uses it to bring a six-pack out to the garage when he is swapping out a ball-joint on his truck or to bring some of his go-to brews to his buddies house, this set is sure to get a ton of mileage! Plus, it even comes with a built-in bottle opener, so he doesn't even have to worry about bringing a separate one with him.
The Perfect Gift for the Man Who Loves Beer
How cool is this bottle cap collector sign? Any beer lover or craft beer fan will enjoy filling up the USA map with his favorite types of beer. This unique piece of decor will look great in his man cave, dining room, or home bar. Pair this awesome bottle cap sign with a six-pack of his favorite beer and it becomes one of the best gifts for men under $50!
You Can't Go Wrong with a Custom Cutting Board
Looking for a nice gift for a man who enjoys cooking and doing meal prep? This personalized bamboo cutting board is perfect! The bamboo will look great in his kitchen and will likely be a welcome replacement to his old cutting board that's full of cuts and stains. You could even get a bottle of board oil to go with it and you still won't spend more than $50!
A Set of the Coolest Gifts for Men Under $50
Sometimes, a great way to make a gift under $50 stand out is to make it customized as well as useful. With this custom rocks glass and matching whiskey stone set, he'll think you went well above budget to get him such an awesome gift! And you'll feel like you got away with a set of incredible cheap gifts for men, it is a win-win! Now, he can relax at home in style with a perfectly chilled whiskey or cocktail in hand!
Watch How Much He Loves This Leather Case
Start his day off right each day with this personalized leather watch case. Every morning, he'll be going into your gift to find the perfect watch to match his outfit or even the one that matches the pair of shoes he has for the day. Long gone are the days of searching for where he placed his favorite or special watch since from now on, he'll store each one inside this watch case.
599+ MUST HAVE WHISKEY GIFTS UNDER YOUR BUDGET>
Shaving Essentials Every Man Needs
Whether he's a man with a full beard or has to be clean shaven for work, every man needs a quality shaving set. Some kits can be pretty expensive, but not this one! This three piece set of shaving essentials can be used with his razor and other tools of his choice so that he gets the perfect shave just the way he likes it. Once he uses these high-quality oils and creams, he'll want the set as a gift for every occasion from now on so that he has a constant supply!
Your Go-to Best Gift for Men Under $50
You'll be surprised to learn that this customizable ammo box has literally endless uses. Yes, really! Ammo boxes can be utilized hundreds of different ways, and you can create even more by changing up the personalization. Whether you give him just the box engraved with his name or put all of his favorite candy or ammo inside, this is a gift that works for any man on any occasion, making it the best of the best gifts for men under $50!
Complete Flask Set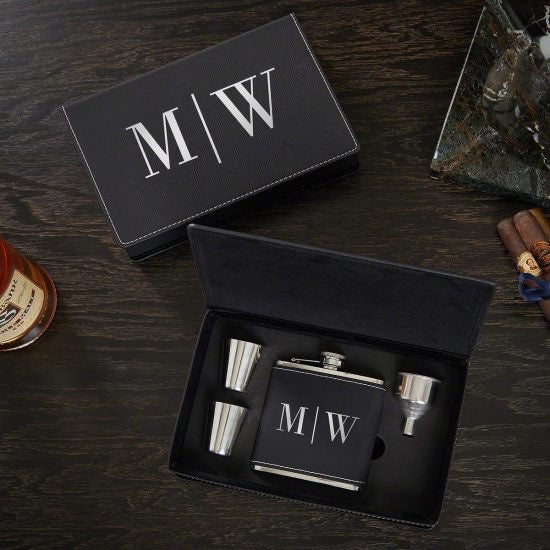 Why give just a flask as a gift when you can give it in a custom faux leather gift box that also comes with shot glasses and a funnel? This suave gift set won't break the bank, but it's dressed to impress! You can even fill up the flask with his favorite liquor before giving it to him and you'll be able to stay within your budget. He'll be taking his new flask everywhere, and he can even convert the gift box into a keepsake case simply by removing the foam.
Personalized Wine Tumbler Gift Set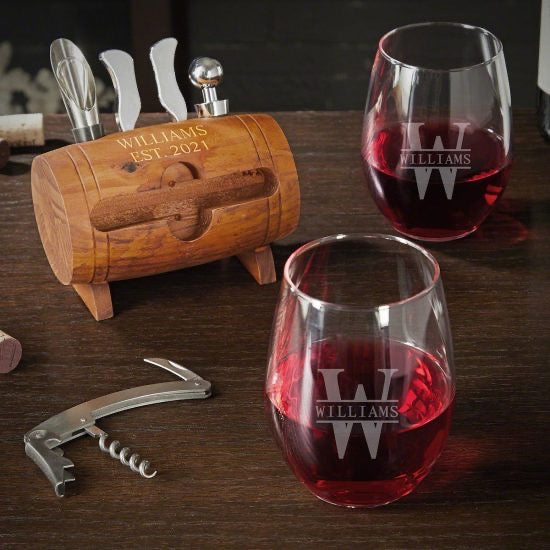 Check out this awesome wine tool gift set with stemless tumblers that you can get for him, all while staying under $50! How many awesome gifts for men under $50 do you think can get you this much cool stuff? This is the ideal gift to get the guy who simply can't get enough of his favorite Riesling or Merlot. Thanks to the wine barrel complete with tools, he'll be ready to enjoy a drink at the drop of the hat. Plus, this gift set is so good looking, it is the perfect gift for his birthday, anniversary, or even just because!
You Can't Go Wrong with a Personalized Pocket Knife
Fact: men love pocket knives. You can give a guy a new pocket knife for every occasion in the year and he'd be perfectly happy with his growing collection! This time, go the extra mile and get him one that's personalized and even comes with an engraved gift box that he can use to store his prized knife, a couple of stogies, or anything else he wants. Seriously, this is the best gift for men under $50 for any man, any occasion.
Men Love New Work Boots
Whether he needs a certain type of footwear for his daily job or enjoys having durable boots for his outdoor excursions, one of the easiest gifts for men under $50 you can give is a new pair of leather work boots. These all-terrain boots can be worn in any weather and are designed to last for years! Once he sees them, he'll be amazed that you spent so much money on such a nice pair of boots and certainly won't believe you if you tell him they were less than $50.
A Classy Crystal Gift
Keep him feeling classy with one of the best gifts for men under $50, this crystal Glencairn tasting glass! If he is a guy that simply can't get enough whiskey, bourbon, or scotch, this glass is the best way for him to get even more out of every drink. When he uses this gift, he'll be experiencing all the unique flavors and aromas from his drink, allowing him to feel like a true connoisseur!
A Unique Flask Set of the Best Gifts for Men Under $50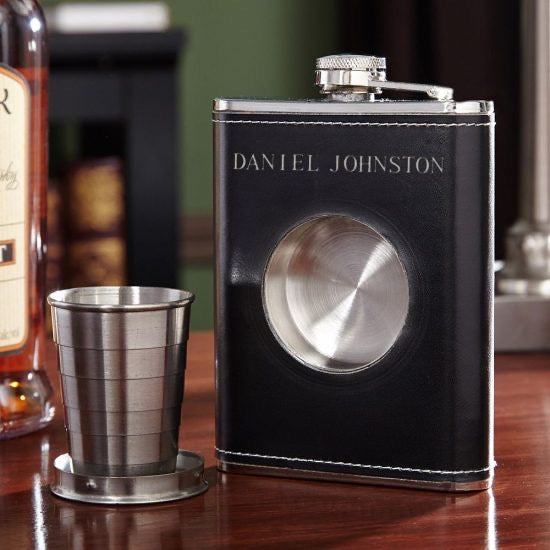 Make enjoying a drink on the go easier than ever before with this unique flask gift set. Sure, flask makes things easy to grab a quick nip, but the added shot glass means he can pour his own drink anywhere he goes. Talk about a useful gift that he is sure to keep on his person that you managed to get for under $50. Thanks to the classy and unique design plus the embossed leather, he'll think you spent way more than that for such a great gift!
The Ultimate Beer Mug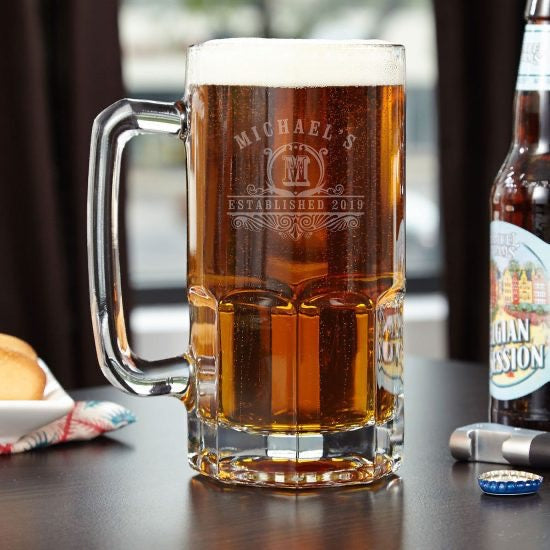 It may not look like this mug is twice the size of a normal beer mug and can hold up to one liter of beer, but this impressive mug really can! Its larger than life capacity ensures that any beer-loving man can kick back, relax, and enjoy three bottles of beer in one convenient glass without needing to get up for a refill. Any guy would be thrilled to get such an awesome beer mug as a gift!
Practical and Unique Gift for Men Under $50
Looking for a gift for the man who has everything that won't burn a hole in your wallet? Get him a personalized hatchet! This handy little tool can be used for yard work, camping, hunting, fishing, and more. The fact that it's personalized makes it one-of-a-kind, and he definitely doesn't have one already. He'll never guess that you only spent $30 on it!
219+ UNIQUE GIFTS FOR MEN WHO HAVE EVERYTHING>
Indoor Grill
There's nothing worse than craving a freshly grilled steak but not being able to make one because the weather is bad and he can't use his trusty grill! Make sure the grill-loving man in your life can enjoy his favorite foods whenever he wants with this handy tabletop grill. Perfect for single-serving meals or just for grilling up meat for dinner, this indoor grill will become his new favorite kitchen gadget!
The Best Gift for Men Under $50 Who Love Cigars and Whiskey
You want to get him something nice that's related to his interests, but his hobbies and anything related to them tend to be a little over your budget. That is, except this custom whiskey glass! For the man who loves whiskey and cigars, no gift is better than his own personalized cigar-holding rocks glass. That's right, this revolutionary glass really does hold his cigar for him! You can't get any cooler than this for a gift under $50.
A New Piece of Decor
Everyone knows a guy who loves beer and dreams of having his own brewery some day. You might not be able to afford to get him an entire brewery, but you can certainly help him out. One way to help make his dream come true is by giving him a custom brewery sign! It might inspire him to get into brewing his own beer at home so that he can display it above his own creation. He will love the awesome design and how great it looks in his home bar or brewery, especially since you can get it in his favorite color!
Fail-Safe Beer Gift for Men
When in doubt, go with a gift that any man would love: a custom beer mug that comes with a bottle opener and a lighter with plenty of room for a cigar or two! This simple but thoughtful gift is perfect for celebrating special occasions, and he's sure to enjoy each piece over and over. He won't want to drink beer at home any other way once he tries out this awesome beer mug! Even simple sets like this are one of the greatest gifts for men under $50, especially since it looks like it costs so much more!