Your groomsmen are your closest friends and they deserve a fantastic gift as a thank you for being by your side from the day you met all the way up until your wedding day. But what should you give them? A box set! Filled with all kinds of cool stuff like glasses, their favorite liquor, or neat essentials to get them prepared for the wedding, you just can't go wrong with these groomsmen gift boxes. First things first, would your groomsmen rather have matching sets to commemorate their time together for the wedding (great option for friend groups) or do they all have different tastes requiring a more individual groomsmen set? Are you looking for a special gift for your best man or father-of-the-bride? Do you want to get them something they can use for the wedding? Relax, we've answered all of your questions with these awesome groomsmen boxes!
Boxed Groomsmen Set Perfect for Scotch Drinkers
Groomsmen gift boxes are either for giving as an invitation to be your groomsmen or a thank you gift at the bachelor party or wedding reception for being your groomsmen, and this set works for either! Included are two shot glasses, a set of whiskey stones, and a pair of tongs all inside a personalized wooden gift box. You can engrave it with two lines of text of your choosing, such as "Blake Jones, 2019" or "Mike: The Best Man." Whatever you choose, your groomsmen will be touched that you got them something so uniquely personalized. They'll love having a cool new set to enjoy a couple of scotch on the rocks with you, too!

A Beer Groomsmen Box Set Everyone Will Love
For the guys who prefer a nice cold beer over a cocktail, this beer-themed groomsmen gift box is the perfect gift for your best man, father-of-the-bride, and all of your beer-loving groomsmen. With two mugs and a new bottle opener, your groomsmen will be able to share a drink with a friend in the proper glassware. Make sure to have a case of beer ready for them to try these out at the bachelor party as your groomsmen will want to use these to raise a toast to you.
Customizable Gift Set for All of Your Groomsmen
Are your groomsmen guys who enjoy liquor and beer? Give them this unique groomsmen box! When they feel like a glass of scotch after dinner, they'll have a go-to glass. Or if they want a beer instead, they'll have a handy bottle opener to open it with. At your wedding or reception, the flask and lighter are perfect to have a celebratory toast and a cigar with the wedding party. You just can't go wrong with this set!
A Cool Groomsman Proposal Gift Set
How do you ask someone to be your groomsman? With this super cool cigar-themed gift set! The set comes with all of the essentials for a proper smoke: a cigar cutter, lighter, cigar box, and even a bow tie to wear at your wedding. Now your groomsmen can enjoy a couple of cigars together at your bachelor party and after the wedding in style! At home, they'll have a nice storage box to keep their stogies fresh and organized. This list even has a bunch of exciting groomsmen gifts you won't see anywhere else.
Whiskey-Themed Groomsmen Boxes for Everyone
Looking for a matching gift for your groomsmen? This set of five incredible groomsmen gift boxes are made up of military ammo cans that come with two whiskey glasses and a set of whiskey stones. Your best friends will love these cool gift sets! Matching groomsmen gifts are always a good idea, and it makes the shopping process easier on you. Your whiskey-loving bros are sure to love their super cool gifts. These sets are perfect for gifting as groomsmen proposal sets or as thank you gifts at your wedding reception.
403+ WHISKEY GIFT SETS THEY WILL LOVE >
An Accessory Set for Their Tuxes
Why not give your groomsmen a set that will help them look snazzy for your wedding day? This classy box set comes with a set of cufflinks and a tie bar. They'll be thankful for such a great gift that they can use for your wedding day and years afterward for special occasions that require dressing up.
Unique Groomsmen Box Set
The guys will love having an insulated pint glass to keep their beer cold and a cool new bottle opener to crack open their beers with. When they feel like something stronger, the flask is ideal for holding a few ounces of their favorite spirit. Plus, the flasks will come in handy on your wedding day so that you and your groomsmen can share a celebratory drink together before you walk down the aisle. Everything about this incredible gift set makes it one of the best groomsmen gift boxes!
The Perfect Beer Gift Set for the Whole Wedding Party
Sometimes life gets in the way, preventing you and your bros from getting together at your favorite bar for a beer. Since you're all together now for your wedding, you and your groomsmen can knock back a couple of cold ones together with a set of these awesome beer mug groomsmen boxes! Each groomsmen (and the other beer drinkers in the wedding party) will love having their very own beer mugs to enjoy their favorite craft beers from.
A Groomsmen Box with a Little Bit of Everything
Giving specific groomsman boxes tailored to each of your groomsmen is far too much stress and time for you to deal with before your wedding, so why not give them a variety gift set they will all enjoy? This cool gift set comes with a whiskey glass, bottle opener, lighter, flask, and a gift box. Thanks to you, they'll each have a go-to glass for their liquor of choice or cocktail, a handy bottle opener for their beers at the bachelor party, a flask for a shot of liquid courage before you all walk down the aisle, and a lighter to light up their stogies after the wedding.
Manly Groomsmen Box Set for the Manliest of Groomsmen
For the manly dudes, this is one of the coolest, manliest groomsmen gift boxes you can give. It comes with a genuine military ammunition box, a pint glass, a sizeable flask, and a hatchet. They'll love having a proper glass for their beers and a handy flask to carry around their favorite liquor when they feel like a stronger drink. The hatchet is one of the manliest tools a man can own as it is used for chopping firewood, cutting down unwanted trees in the yard, and clearing pesky branches that are in the way.
Make Sure Your Groomsmen Are Dressed to the Nines for Your Wedding Day
Why not give your groomsmen a gift that will help them be both fashion-forward and prepared for your wedding? This handsome box set comes with four ties, three pocket squares, two pairs of dress socks, two tie bars, and one pair of collar stays. Your groomsmen will be dressed to the nines on your wedding day, for formal work suits, and for special occasions thanks to this cool gift set!
A Set With Everything He Needs
How do you choose a best man? Is he the guy who you've known since elementary school or your college roommate? Whoever you choose, this awesome box set is a great way to ask him to be your best man. This set comes with a personalized whiskey glass, a bow tie, a flask, a greeting card, and a matching personalized wooden gift box. He will love using the pieces of this set for a nice glass of scotch after dinner or a pick-me-up during the wedding rehearsal from his trusty new flask. Plus, the bow tie gives him one less thing to get for the big day!
Flask Box Set
This sleek black flask gift set is a great groomsmen gift. This handsome set comes with an elegantly engraved flask, four steel shot glasses, a funnel, all encased in a classy cherrywood storage case. Your groomsmen can share a round of shots at your bachelor party or right before you walk down the aisle in celebration with this set! Afterward, they can bring this set anywhere they want thanks to the durability of the stainless steel. You all can do shots together when you go camping, fishing, golfing, or hunting!
Gnarly Beer and Knife Groomsmen Box
This set is the coolest of all groomsmen gift boxes. It comes with a personalized beer mug, an engraved tactical survival knife, and a custom gift box. Your groomsmen and best man will enjoy having a top-notch beer mug to enjoy their favorite craft beers from in the comfort of their own home just like they do in your favorite bar. Plus, they'll have a handy survival knife to have around when they go camping, fishing, or hiking!
Poker Gift Set
Whether you and your bros play poker often or have been wanting to, this custom poker set makes a fantastic gift set for all of your groomsmen. They'll love being able to play Texas Hold 'Em, Farkle, and Seven-Card Stud with this awesome set. Now you all can take turns hosting poker night every week!
333+ UNIQUE BOX SETS FOR YOUR GROOMSMEN>
 Dress Sock Box Set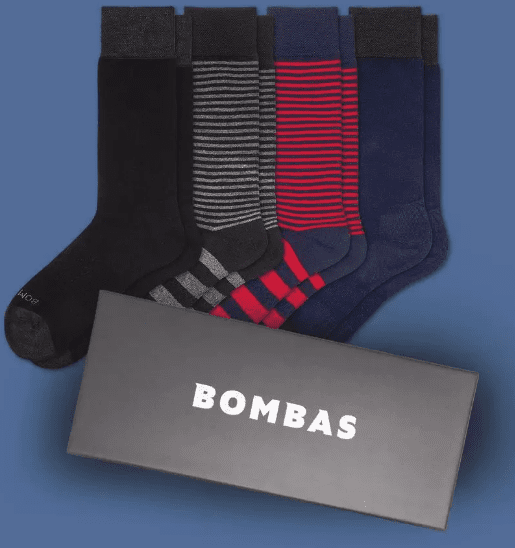 Your groomsmen need to look their best from head to toe on your big day! Help them be prepared with a nice set of dress socks. Your groomsmen will be so thankful for giving them such a unique gift that they can use for your wedding day and for formal occasions in the future. Each of these groomsmen boxes comes with four pairs of socks in five different sets of colors to fit your wedding colors.
Cool Groomsmen Box
Looking for a gift set for a specific groomsman or your best man? If he's a super cool guy who enjoys cigars, liquor, and tools, then this is the perfect set! Included is a personalized liquor flask, a handsome pocket knife, and plenty of space inside the gift box for a couple of cigars or a sample bottle of liquor. Plus, the gift box is actually a cigar box! Now he'll have a place to keep his cigars organized and fresh. The flask will come in handy when he wants a drink while golfing or fishing, and he'll always have the trusty knife at his side. You can even find a bunch of groomsmen gifts that won't break the bank right here.
Whiskey Decanter Gift Set
For the whiskey drinkers, this set is perfect. Your groomsmen will love that their groomsmen boxes and decanters are personalized with their names. The decanter will become the new centerpiece of their home bar as it will house their favorite and finest whiskey. The whiskey stones and accessories will help him enjoy a chilled drink like a true connoisseur. Your best man, ushers, and the father-of-the-bride would also appreciate this great gift set!
Western-Themed Groomsmen Gift Box
Are you having a rustic or Western wedding? Look no further, this incredible set goes great with your theme, especially if your groomsmen are cowboys! They'll love the cool design on the ammo can and pint glasses. Also included are a cigar cutter and lighter for their celebratory stogies after the wedding and a handy tactical knife that is perfect for using when hunting, hiking, or camping.
Calvin Klein Euphoria Cologne Gift Set
You can never go wrong with a quality cologne gift set for your groomsmen! Thanks to you, they will all smell amazing. This Calvin Klein gift set comes with a bottle of cologne, aftershave, and a deodorant stick. The spicy, musky scent is one of the best blends that Calvin Klein has come out with yet, and there's no wonder why it's the best-selling set all of 2018 into 2019!
Groomsmen Gift Box for Beer Drinkers
For the groomsmen who love beer, this is one of the best groomsmen boxes to get! Included is a 64-ounce growler for bringing beer on the go, a classic pint glass to use at home, and a handy new bottle opener to ensure that they'll always have one around to crack open a cold one. They'll love using the growler to bring their favorite brews to cookouts, parties, and on day trips to the beach or lake as it will keep their beer ice cold all day long!
401+ MORE GROOMSMEN GIFT IDEAS >