23 Perfectly Personalized Cutting Boards
On the surface, cutting boards may seem simple and straightforward. However, with unique personalization, they can be an amazing addition to your cooking experience. Not only do different boards have various, unique customizations, but they are also made of different materials and crafted into different shapes. You want to find the perfect personalized cutting board for you, but you have some questions to ask in order to find it. What kind of personalization should you get? Should you pick wood, bamboo, glass or plastic? Can you use a cheese board as a cutting board? These personalized cutting boards are the ones you need to consider.
Thick Personalized Cutting Board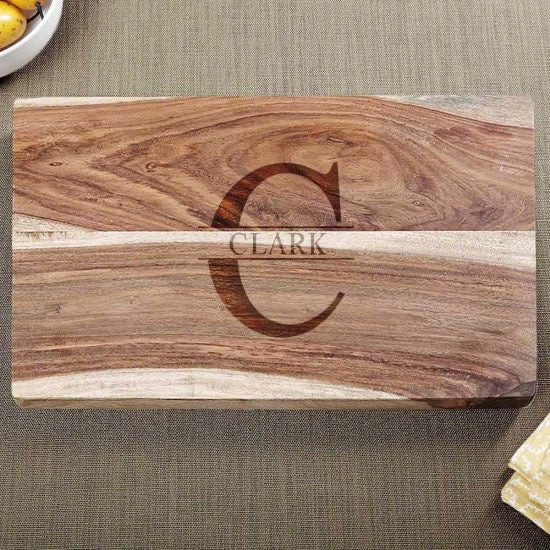 This hand-crafted cutting board is made from Sheesham wood, which is naturally found in parts of India and Iran. What makes this wood unique in personalized cutting boards is that it is incredibly sturdy and durable, meaning it won't split easily and will last a very long time with little maintenance. Sheesham also has very exquisite wood grains and double colors, making it an attractive choice for any kitchen. Not only is this hefty cutting board terrific for chopping food, but it also makes a great trivet for hot dishes so your tabletop won't get burned.
Serve them on Slate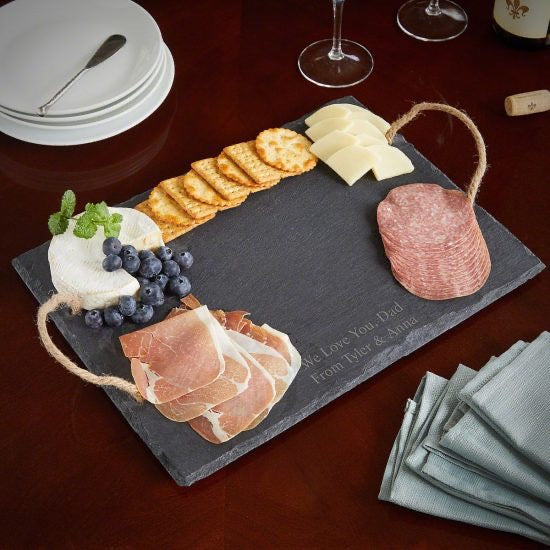 A handsome, unique charcuterie board that has handles for serving your guests? What more could you want in a cheese board! This slate charcuterie board is an incredible board that you will love! It's personalized just for you, and it also comes with a piece of chalk so you can write on this board! When you're having a dinner party with friends, you'll love the convenience of labeling the various hors d'oeuvres with the chalk and serving your guests!
Personalized Cutting Board for a Couple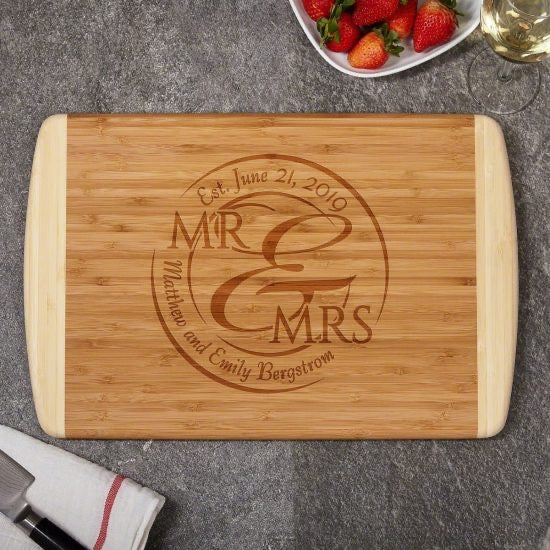 You have a friend's wedding coming up, and you want to buy them something beautiful, functional, and personal to the newlyweds. The perfect gift to get is this all-natural bamboo personalized cutting board. The natural bamboo means it's durable and will last a very long time for the couple. The personalization in the middle celebrates the life-changing date that the wedding takes place on, so they'll always remember that they received this brilliant gift from you for their wedding.
Write it Down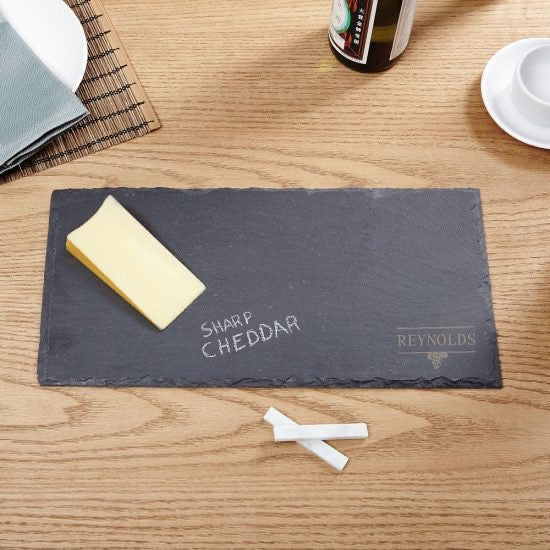 You want an easy way to serve food to your guests, and you're also a big fan of labeling what you serve. You've found the perfect cheese cutting board for you. This personalized cheese board is perfect for serving and labeling because you can use chalk on it! Simply place the food on the board, grab your chalk, and write directly on the board. There is felt on the bottom to protect any tabletop or counter surfaces.
Perfect Personalized Cutting Boards for your Next Barbecue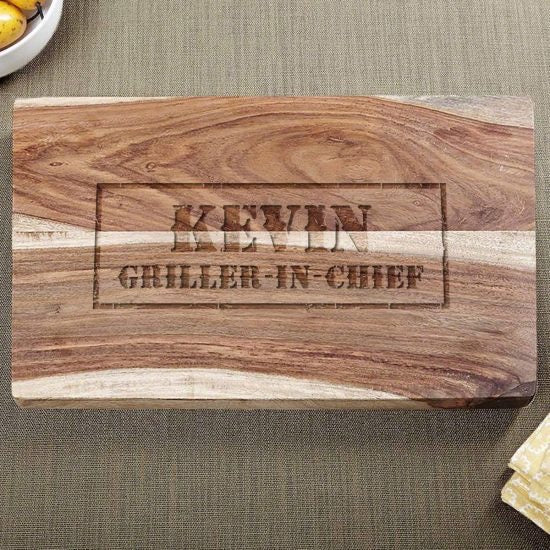 You have dubbed yourself a master of the grill, and you love throwing barbecues for friends and family. Don't use amateur kitchen materials when preparing the food, use this hardwood cutting board. Crafted from sheesham wood, this cutting board is durable enough to withstand even the sharpest knives that you'll use to chop up meat and veggies for the barbecue. Your guests will immediately admire its natural-looking exterior.
25+ ESSENTIAL BARBECUE ACCESSORIES & SUPPLIES>
Welcome, Welcome
You always want your guests to feel completely welcome in your home. Personalized cutting boards, believe it or not, can convey that message. The pineapple is a symbol of hospitality in the southern United States, which is why it's carved into the corner of this cutting board. You and your partner's name can also be carved into the top, making this hardwood cutting board a great conversation and decor piece for your kitchen.
Line it Up
You love making all kinds of meals for your family, and you like to follow recipes with extreme precision. You need this cutting board, perfect for any perfectionist in the kitchen. This board is full of different measurements in a grid, from batonnet to small dice to fine julienne. This cutting board will ensure that the recipe you're following is measures to perfection, and it's also a great conversation piece for guests.
Great for Serving
Many people not only use cutting boards for cutting, but for serving items as well. This gorgeous cutting board is great for serving guests because it has an easy-to-grasp handle perfect for serving. It's specially crafted from bamboo, so you can be sure that it's sturdy and smooth, ideal for chopping small fruits and vegetables. It's also a lovely light brown with an elegant engraving perfect for a family in the center.
A Host's Dream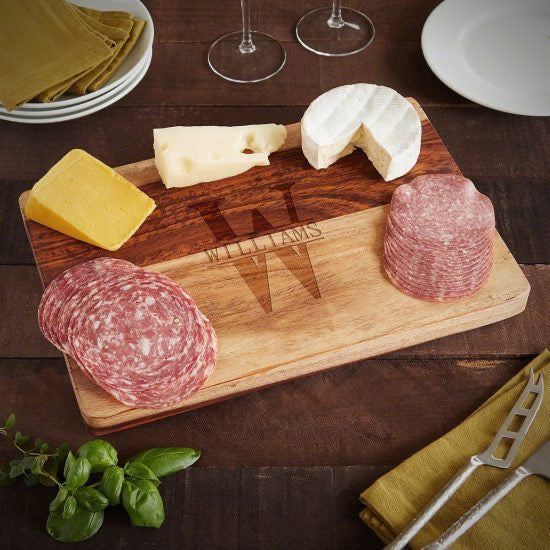 A classy cutting board is always a phenomenal choice, not only for cutting up various foods but also for serving them! Your snacks or hors d'oeuvres will look scrumptious displayed on this board, and you'll be a big fan of how easy this board makes serving your guests! This cutting board also makes a fantastic gift idea for a loved one who you know loves to be a host!
Manly Acacia Wood Cutting Board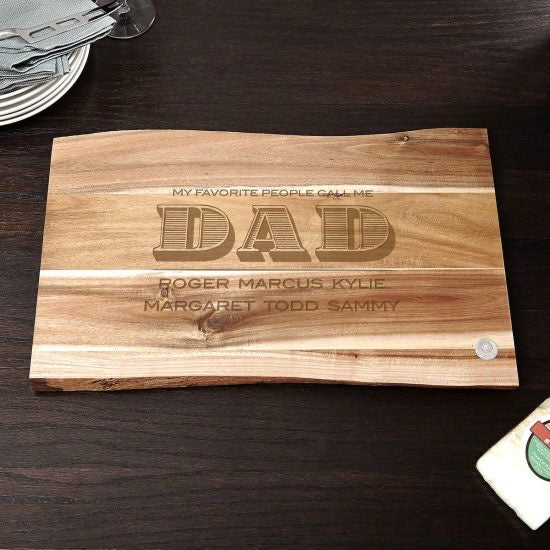 If you're going to give someone the gift of a cutting board, it should be a personalized cutting board, because they are made from high quality wood and look fantastic. This board, crafted from acacia wood, is very natural and manly-looking, so any dad will love chopping food items on it. It's engraved with his kids' names, too, who are the most important people in the world to him. Any father will greatly appreciate this board, which has the name of his kids on it to make it an extremely special gift for your old man.
You Can Handle It
Cutting boards that can go quickly from just cutting boards to a serving tray are ideal for anyone who loves to play host, but doesn't want an unnecessary amount of items in the kitchen. Made from premium maple wood, chopping food on this unique cutting board will be easy, without need for worry about your knives becoming dull. The convenient handles make serving the food you've just chopped to your guests way simpler than with separate cutting boards and serving trays.
Beautiful Bamboo Cutting Board She'll Love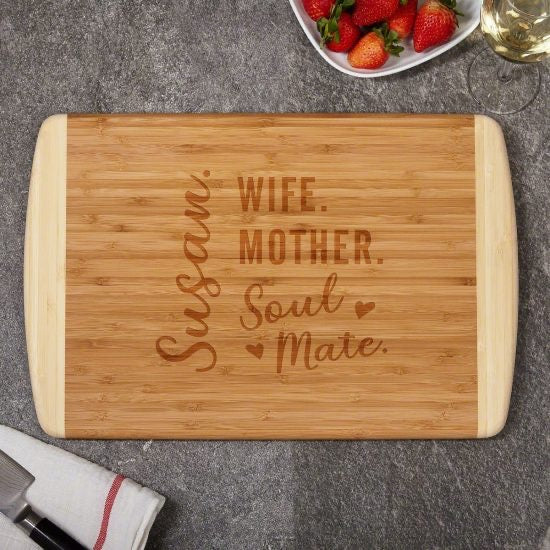 Your wife is an amazing cook, and you want to show her a token of appreciation for her hard work as well as give her something that will help her out. This bamboo cutting board is personalized to perfection to represent the woman you love. This gift will make her job easier, as the bamboo used in a lot of personalized cutting boards creates a hard surface, making cutting with precision more efficient.
For that Family Recipe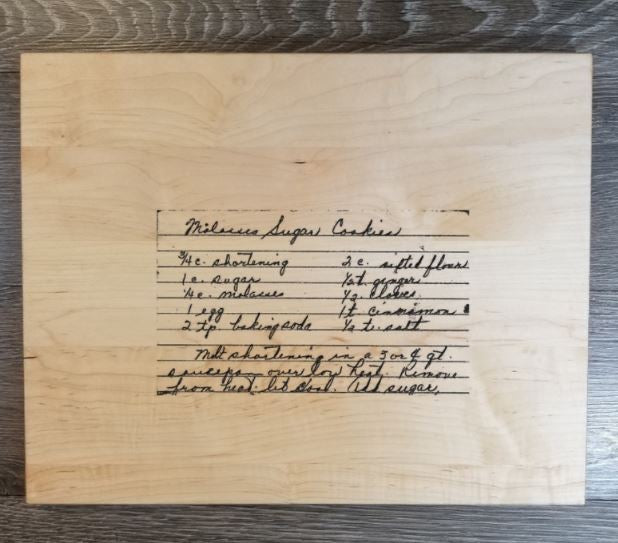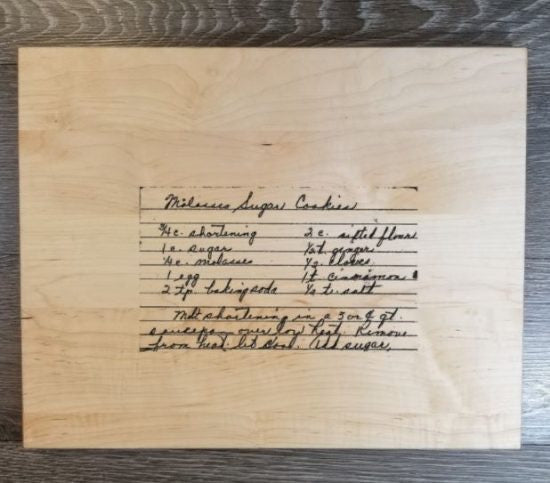 Have a secret family recipe or just a favorite of yours? Make sure it's remembered forever by having it engraved into this cutting board! This gorgeous maple wood cutting board is the perfect size for chopping up any food you can think of, and it looks super creative with the recipe engraving taken directly from a photo of the recipe written down! This will look so awesome in your kitchen when you aren't using it!
139+ STUNNING KITCHEN + TABLE DECOR>
Serving Manly Grilled Food

After a master of the grill does their cutting and grilling, they need a board on which to serve their delicious foods they've just created. That's where this rugged charcuterie board comes in! Their manliest steaks, brats, and other foods will look delicious displayed on this wooden board, and your guests will compliment how cool this board is.
Colorful Pattern Cutting Board
As a fan of patterns and colors, you want a cutting board for your kitchen that shows off these passions. The colorful chevron pattern and letter and name customization are made from tempered glass, giving a very smooth surface for cutting that is naturally stain and odor resistant. It's also one of the few cutting boards that you can easily put in the dishwasher to clean it. Just be careful not to drop it!
Classic Cutting Board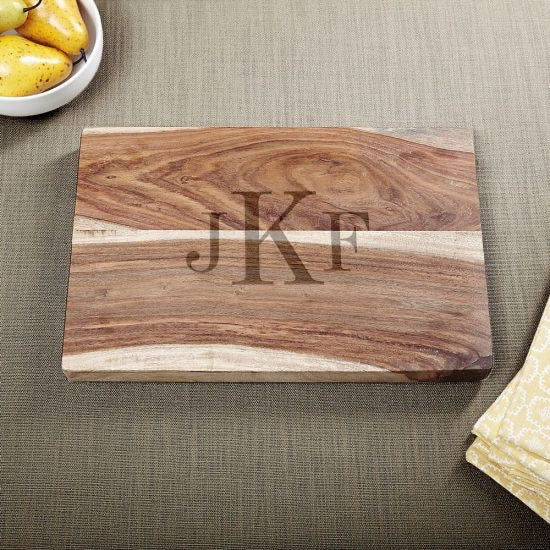 Sometimes classic is best. This one inch thick personalized cutting board is crafted from natural sheesham, so it's durable and sustainable, with a classic initial personalization right in the center. Its unique two-tone colors are specific to the sheesham, and each board is a little bit different. Everyone who sees this cutting board in your kitchen will be extremely envious of how high-quality and attractive it is.
Personalized Cutting Board with a Handle
If your main purpose for a cutting board is that you want to serve hors d'oeuvres to your guests with total ease, this is the cutting board for you! This acacia wood slate round serving tray is one of the best personalized cutting boards because not only does it look incredibly classy and fancy, but it'll make the whole vibe of your dinner party or friendly get-together feel classy, too! The unique square shape of this board will make it look fantastic displayed in your kitchen as a brilliant decor piece.
Serve Snacks on Bamboo
You really enjoy being a host, but you wish you had the proper equipment to match your fantastic hosting skills. This custom bamboo cheese board is just what you've been missing! Your guests will be incredibly impressed by how the deviled eggs, smoked shrimp, stuffed peppers, or any other finger foods look on this handsome, personalized board.
Big Circle Cutting Board
You've cultivated a certain look in your home, and you want a circle cutting board to match that aesthetic. This round maple cutting board is the perfect fit for you. It's a large enough size that not only is it good for cutting all kinds of foods, but it makes a great serving tray for large groups as well for when you have a big group at your house. This board also has a juice groove around the perimeter, so if juice is leaking off meat or water off freshly washed veggies is running, it won't get onto the counter or floor. You can't go wrong with lovely, personalized cutting boards that maintain cleanliness.
For a Couple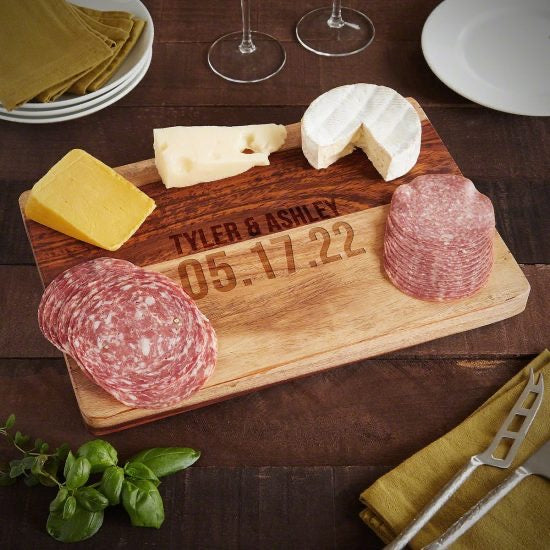 Couples who cook together, stay together! Any happy couple in your life will absolutely love using this handsomely personalized charcuterie board to display meats, cheeses, and fruits for themselves on a nice date night in. They may also decorate it with all kinds of small foods when hosting a dinner party for their closest friends and family.
Simple Last Name Personalized Cutting Board
Mass-produced, factory items aren't exactly your forte. You like to fill your home with unique, individual items. You're in luck with this awesome cutting board. It is hand-crafted from all-natural wood, meaning that each board is unique. These acacia wood cutting boards are perfect for your if you are worried about bacteria. They are less porous than other cutting boards, meaning they absorb less bacteria. You can use this to chop anything from raw meat to fruits and veggies.
Plastic Purple Cutting Board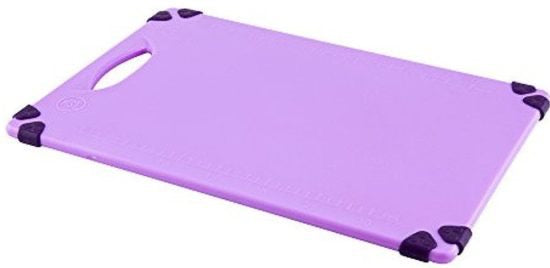 This awesome plastic cutting board is a durable and functional, with rubber corner grips to prevent it from slipping. The bright purple of this board will stand out, making guests extremely jealous of its novelty. Plastic is also a super easy material to wash, so you can just put this board in the dishwasher and it'll be as clean as new. You'll love using this bright, happy board to chop up food and even serve your guests.
Serve with Slate Style
You're all about the appearance of your cutting boards so you can serve food to guests in style. This slate cheese board is large, perfect for an array of hors d'oeuvres that your guests can enjoy. You can also use chalk to label each individual food or just to welcome your guests to your home. The two convenient handles are made from rope, which is very unique and visually appealing to your guests.
54+ BEAUTIFUL PERSONALIZED CUTTING BOARDS >