When you've found yourself deep in the world of cheeses, you know that a proper serving and cutting board for cheeses is an absolute must. Personalized cheese boards are the best way to cut, serve, and show off all of your gourmet cheeses! Long gone are the days of Kraft Singles (we still love you for grilled cheeses, though!) and bagged shredded cheese. With your new-found love for gourmet and delicate cheeses, you need a board that shows off their quality, makes them easy to serve, and even one that won't absorb some of the oily fatty goodness. So, when you've got a block of Gruyere, a wedge of Pecorino, or a hunk of Brie, look no further than one of these gorgeous cheese boards to make the most out of your cheese!
Let's Get Things Slate
A slate cheese board is one of the best ways to serve all types of cheese in any environment. They are non-porous, easy to clean, and do not react with any of the fats or oils found in the cheese itself. The handles on this board make serving a mountain of cheese and hors d'oeuvres extraordinarily easy. Serve and cut the cheese all night long and then simply wipe the board with a damp cloth and it is ready to go for your next party!
Brie Out the Next Board
Bamboo cutting boards double well as a personalized cheese board too. They are often very aesthetic, they do not absorb anything because of how hard the material is, and they offer a great surface to cut on. This allows you to be able to cut very soft cheese on the same board that you can chop onions and garlic on. The bamboo won't absorb any of the soft cheese fat; however, it is still strong and sturdy enough to chop anything you could ever want. Make your aesthetically pleasing two-toned bamboo cutting board a centerpiece to talk about while you pair your best cheese with good wine!
Who Cut the Cheese?
Every good get together with wine and cheese is going to need a good knife to get to all that creamy goodness. A good soft cheese knife will still cut through all of the cheese without squishing it or damaging the board underneath. Sure, you can use a Shun knife or whatever else you have, but you'll risk damaging that blade or the surface underneath. Look the part of the fine cheese connoisseur you are and use the best tool for the job!
Custom Slate Cheese Boards are a Gouda Idea
Want to create a unique experience when you have guests over who rarely have finer cheeses or rare hors d'oeuvres? Look no further than a personalized slate board! These work great as cheese boards because you can write on them with chalk! That may sound funny, but say you're entertaining guests and have to be away from the board for a moment, your guests can see the exact food they're trying since you wrote the name right next to it!
305+ MUST HAVE HOUSEWARMING GIFTS>
A Personalized Cheese Board – You Fetta Believe It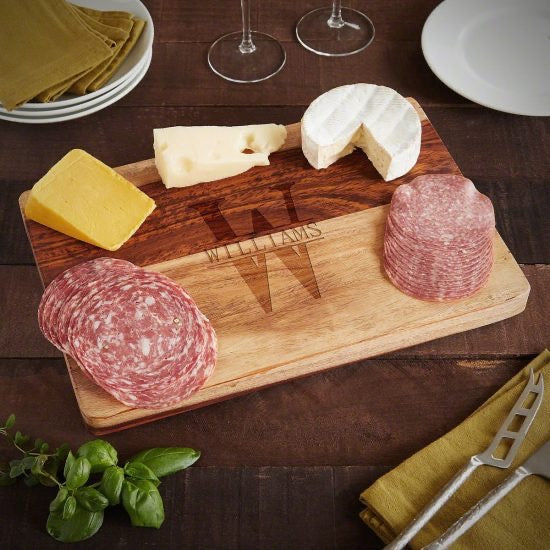 Cheese often pairs extraordinary well with different meats which makes this engraved charcuterie board a fantastic way to serve up finger-lickin' snacks while also looking like one of the classiest cheese boards you've ever seen! So, grab some of your favorite meats and add in a bit of Gouda, Burrata, Manchego, and Gorgonzola for a night full of flavors!
This Board is Grate
A clean and sleek design is a fantastic way to highlight the people you are spending time with rather than having all of the focus be on the cheese board and cheeses. Sometimes a nice centerpiece is exactly what you want, but other times you don't want to detract from the conversation. In those cases, a nicely finished bamboo board is perfect. You'll get all the benefits of both a cheese and cutting board without too much flash. This board will keep the conversation on your exotic cheeses and all of your guests' best stories!
Grotto is the Motto
Storing cheese without aging it too fast can be quite difficult sometimes. The best solution for a slow age on your expensive cheese is to put them in a grotto. Here, you can control the humidity and limit all other exposures. With a grotto, your stinky cheese will stay at just the right kind of funk, and your gooey soft cheese won't turn into some amoeba-like blob. Don't let your expensive cheese go to waste again, buy yourself a grotto to slow the maturation!
Nacho Average Cheese Board
A hardwood like sheesham is able to work double time; it can make an excellent cutting board as it resists blade strikes, and that feature also means it'll work well as a cheese board. This hefty, but gorgeous looking wood is not porous, so any fatty, oily, or gooey cheese will be able to rest on the board without having its flavor changed or ruining the board by depositing those fats into the wood. For those that want to prepare their food and serve it on the same surface, this board is for you!
Don't Be Left Provolone With Your Cheese Board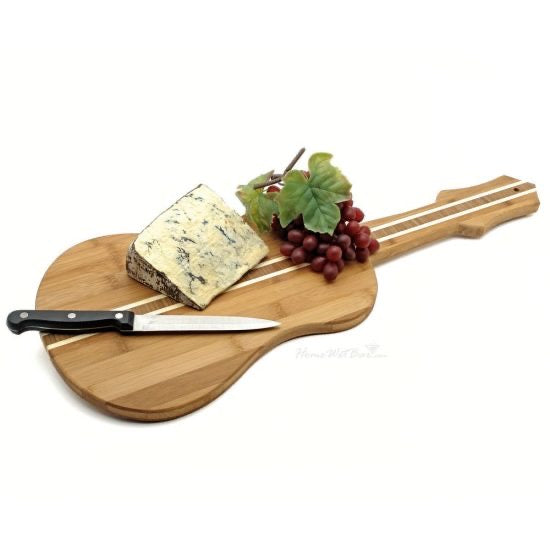 Strum up the guests with this uniquely shaped cheese board! The body of the guitar provides plenty of surface area to serve food while the neck gives ample room to hold onto the board and carry the tray out! Make your next party sing with the most uniquely-shaped board out of all of your friends!
The Best Thing Since Sliced . . . Cheese?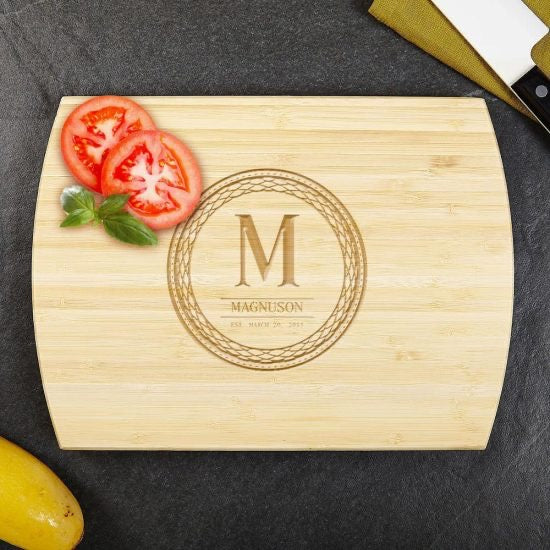 You're having plenty of people over for a party and you want to make sure the cheese board stays exactly in place and doesn't slip off the table. A hard bamboo cutting board is perfect for that occasion. It comes with a set of rubberized feet, so it and the cheese won't be going anywhere! Have the craziest wine, cheese, and hors d'oeuvres party you can with this personalized cheese board!
This Board is a Munster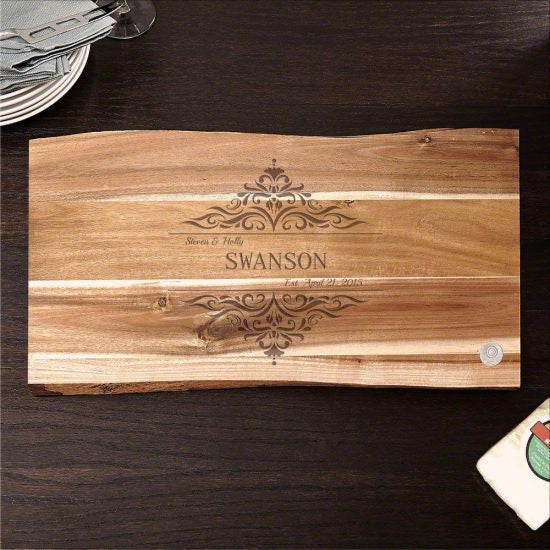 Some boards need to be functional, while others need to be stylish. Get one that can be both! This multi-tone acacia wood gives a reclaimed and organic feel while still providing top-notch quality in wood! Since it is also a cutting board you'll have plenty of room for all of your cheese and nuts. The large size of this personalized cheese board will work perfectly for large rustic cuts of cheese paired with full bodied wines!
Say "Cheese"
So, you've gone down the Swiss cheese rabbit hole. In your waking hours (including at work) you are searching for all sorts of different cheeses and the correct wines to pair with those cheeses. To get your ultimate fix get yourself this ultimate cheese and accompaniment set! You won't be shy on any cheese, meat, oil, jam, or bread. You'll look like you've been cheesing all your life at your next party!
Cheese Boards are for Both Indoor and Outdoors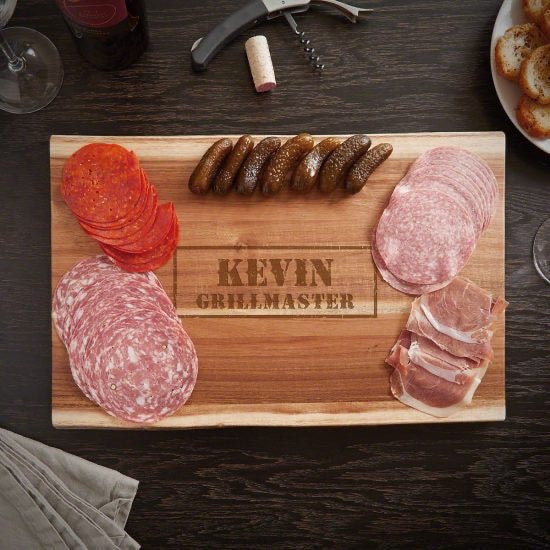 A cheese board isn't just for enjoying around a coffee or dining room table, they're also great for around the grill! In fact, grilled meats are also great to pair with fancy foods. This personalized cheese board is one of the best ways to both prepare the grilled food as well as serve it! It even comes with the grill master's name on it! Who could ask for more than that?
51+ CHEESE AND CUTTING BOARDS>
David Harrington is a seasoned researcher with a degree in English literature. He uses his extensive training and research skills to evaluate thousands of gifts a year. He then narrows that list down to a select few, choosing unique gifts that will surprise and delight his readers and their gift recipients.