Cheese, it is one of those foods that goes with nearly everything. And dietary restrictions aside, almost everyone eats it when they get a chance. However, when you really want to take things to the next level, a gourmet set of cheese and accompaniments are where it is at. Ditch the Kraft Singles for Munster and get rid of the blue for some Brie. When serving these sorts of cheese to your guests, you are going to want a personalized cheese board. A quality cheese board won't change the flavor or absorb any of the softer cheeses but more importantly, it will create a gorgeous presentation for your gourmet cheeses and other horderves. More goes into choosing a cheese board than just buying a hunk of material to serve cheese on. We're here to tell why each board is the best for cheese!
Let's Get Things Slate
A slate cheese board is one of the best ways to serve all types of cheese in any environment. They are non-porous, easy to clean, and do not react with any of the fats or oils found in the cheese itself. The handles on this board make serving a mountain of cheese and hors d'oeuvres extraordinarily easy. Serve and cut the cheese all night long and then simply wipe the board with a damp cloth and it is ready to go for your next party!
Brie Out the Next Board
Bamboo cutting boards double well as a personalized cheese board too. They are often very aesthetic, they do not absorb anything because of how hard the material is, and they offer a great surface to cut on. This allows you to be able to cut very soft cheese on the same board that you can chop onions and garlic on. The bamboo won't absorb any of the soft cheese fat; however, it is still strong and sturdy enough to chop anything you could ever want. Make your aesthetically pleasing two-toned bamboo cutting board a centerpiece to talk about while you pair your best cheese with good wine!
Don't Be Left Provolone With Your Cheese Board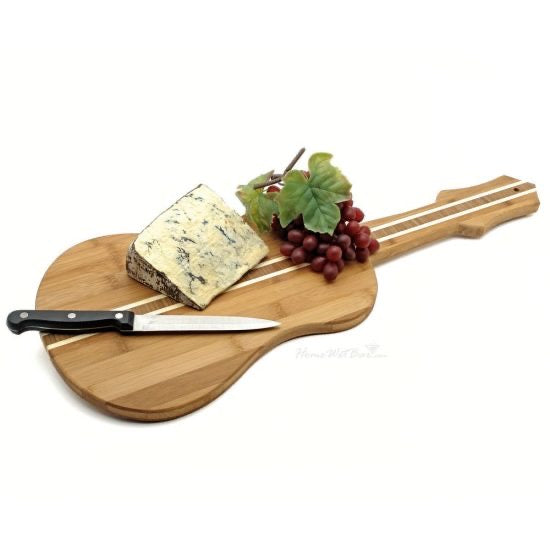 Strum up the guests with this uniquely shaped cheese board! The body of the guitar provides plenty of surface area to serve food while the neck gives ample room to hold onto the board and carry the tray out! Make your next party sing with the most uniquely-shaped board out of all of your friends!
Who Cut the Cheese?
Every good get together with wine and cheese is going to need a good knife to get to all that creamy goodness. A good soft cheese knife will still cut through all of the cheese without squishing it or damaging the board underneath. Sure, you can use a Shun knife or whatever else you have, but you'll risk damaging that blade or the surface underneath. Look the part of the fine cheese connoisseur you are and use the best tool for the job!
This One is a Gouda Idea
Slate boards are also a great idea for those who like to have personalized cheese boards. If you have guests who aren't familiar with different kinds of cheese, or you simply enjoy customizing your board, you can use chalk to write which cheese is which. Or you can draw whatever you like. The chalkboard is also perfect for writing which one of your wines pairs best with each cheese or piece of food you have out for your guests. Treat your cheese board as a chalkboard and go to town with your creativity!
305+ MUST HAVE HOUSEWARMING GIFTS>
Nacho Average Cheese Board
A hardwood like sheesham is able to work double time; it can make an excellent cutting board as it resists blade strikes, and that feature also means it'll work well as a cheese board. This hefty, but gorgeous looking wood is not porous, so any fatty, oily, or gooey cheese will be able to rest on the board without having its flavor changed or ruining the board by depositing those fats into the wood. For those that want to prepare their food and serve it on the same surface, this board is for you!
This Board is Grate
A clean and sleek design is a fantastic way to highlight the people you are spending time with rather than having all of the focus be on the cheese board and cheeses. Sometimes a nice centerpiece is exactly what you want, but other times you don't want to detract from the conversation. In those cases, a nicely finished bamboo board is perfect. You'll get all the benefits of both a cheese and cutting board without too much flash. This board will keep the conversation on your exotic cheeses and all of your guests' best stories!
Grotto is the Motto
Storing cheese without aging it too fast can be quite difficult sometimes. The best solution for a slow age on your expensive cheese is to put them in a grotto. Here, you can control the humidity and limit all other exposures. With a grotto, your stinky cheese will stay at just the right kind of funk, and your gooey soft cheese won't turn into some amoeba-like blob. Don't let your expensive cheese go to waste again, buy yourself a grotto to slow the maturation!
You Feta Believe it
This clean looking bamboo board is perfect for pairing and/or contrasting with your food. It can be used to pair a nice soft cheese and a white wine. The light color of the board will keep everyone in the mood for flavors that are light on the tongue. However, if you decide to change things up, the board will provide a strong visual contrast to heavier flavors like an aged cheddar with a nice full-bodied red. This personalizable board is perfect for all cheese occasions!
The Best Thing Since Sliced . . . Cheese?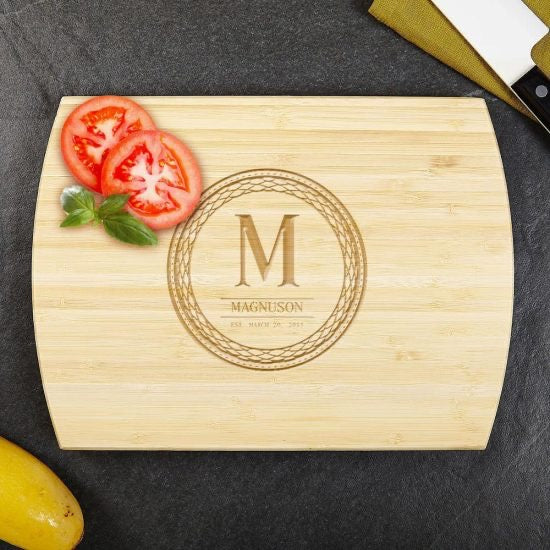 You're having plenty of people over for a party and you want to make sure the cheese board stays exactly in place and doesn't slip off the table. A hard bamboo cutting board is perfect for that occasion. It comes with a set of rubberized feet, so it and the cheese won't be going anywhere! Have the craziest wine, cheese, and hors d'oeuvres party you can with this personalized cheese board!
This Board is a Munster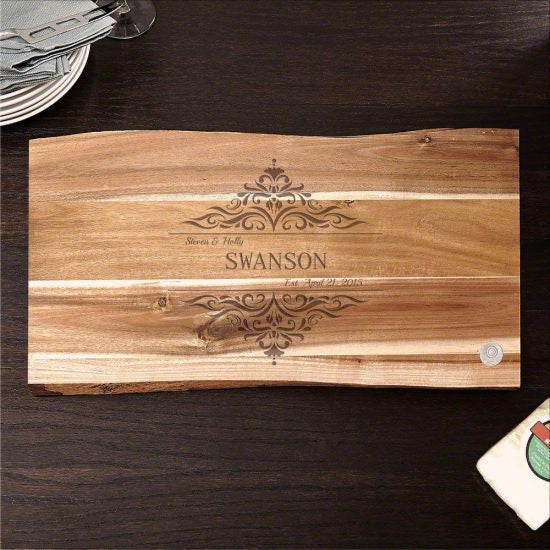 Some boards need to be functional, while others need to be stylish. Get one that can be both! This multi-tone acacia wood gives a reclaimed and organic feel while still providing top-notch quality in wood! Since it is also a cutting board you'll have plenty of room for all of your cheese and nuts. The large size of this personalized cheese board will work perfectly for large rustic cuts of cheese paired with full bodied wines!
Say "Cheese"
So, you've gone down the Swiss cheese rabbit hole. In your waking hours (including at work) you are searching for all sorts of different cheeses and the correct wines to pair with those cheeses. To get your ultimate fix get yourself this ultimate cheese and accompaniment set! You won't be shy on any cheese, meat, oil, jam, or bread. You'll look like you've been cheesing all your life at your next party!
Out of Personalized Cheese Board Puns
This mid-sized cutting board doubles as a fantastic cheese board because of its unique shape, durability, and engraved surface. You'll be able to cut the cheese and all of your other foods you're pairing on one board when your guests are over! The barrel shape is great for any whiskey or wine lover too! Your guests are sure to notice your name and your SO's name engraved as they clear the board of all the fantastic foods you have spread for them!
51+ CHEESE AND CUTTING BOARDS>