Men tend to be big fans of getting unique, funny gifts on nearly any occasion. However, if you're looking to get them something fun, take a break from the unique socks or colorful tie and get them a fun novelty gift instead. You might be wondering, however, what kind of novelty gifts would actually make him laugh and smile? Should you go with something that's simply decorative, or something that is useful? The greatest novelty gifts for men are one-of-a-kind, humorous items that will actually come in handy in one way or another. Still can't think of what to get? Luckily for you, we found the best of the best novelty gifts for him that he'll be obsessed with and will leave a big smile on his face.
A Spooky Novelty Gift Idea for Him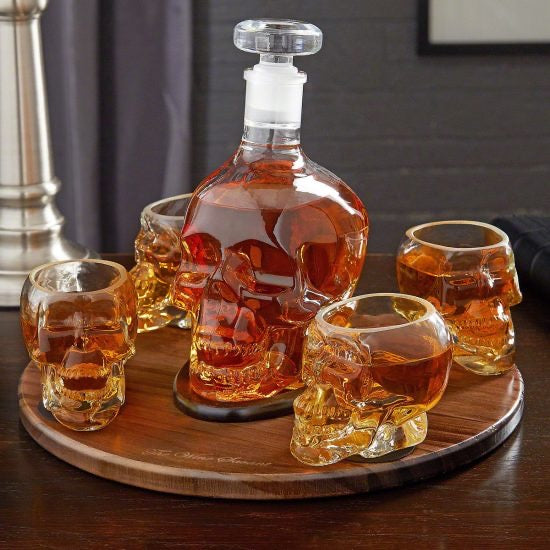 Spooky! This skull liquor decanter set is one of the spookiest novelty gifts for men. He'll love the intricate details of the decanter and glasses that look like super rad skulls, and he'll think it's so fun just to have in his home. When he enjoys a glass of his favorite liquor from one of these unique glasses, he'll really enjoy how badass he feels. He'll really like having this set as a cool display piece when he's not using it, and don't let him forget to put it on full display for the Halloween party!
On Par Gift
No matter what he's doing, he probably wishes he was on the golf course. When he can't be there, make everyday tasks a little more fun and enjoyable with this golf pens set! This set is one of the coolest novelty gifts for him because what better way is there for him to write down a grocery list, take notes for work, or write someone a letter using these creative pens.
Like Monopoly but Way Better
Get him his new favorite board game! This Beeropoly board game is one of the best novelty gifts for him because not only is it a fun, creative game, but it gives him an excuse to drink his favorite brews with his friends. He'll have a blast hosting a game night with his closest buddies and playing this game for hours on end. There's no doubt he'll be incredibly grateful for such a unique, fun present!
For Clearing Out the Home Bar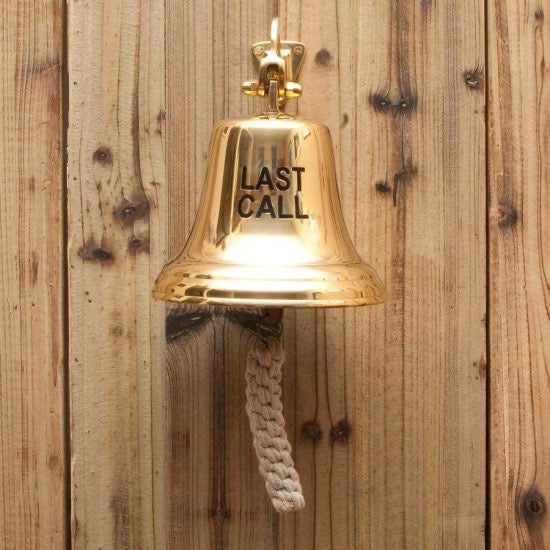 He needs this bell for his home bar! This brass "last call" bell is perfect for when it's time to call it a night at his home bar. It's one of the most creative novelty presents for men that will make him feel like he's the proud owner of a legitimate bar that's about to close for the night. Plus, it can't hurt having a fun way to tell people to go home!
Best Shot Novelty Gift for Men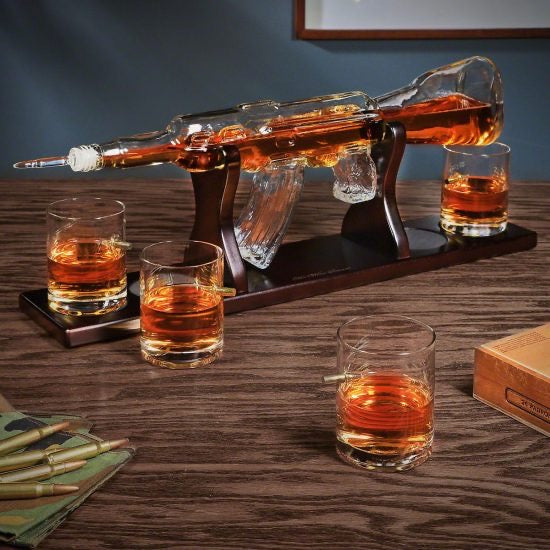 Don't jump the gun with a boring novelty gift! This rifle whiskey decanter set is definitely the choice to make. He'll think it looks awesome having his favorite liquor inside this gun decanter as it sits on his home bar or dining room table. After spending the day or weekend hunting, he'll really enjoy coming home and sipping on his favorite spirit using a glass with an embedded bullet that he poured himself from his gun decanter.
453+ UNIQUE WHISKEY DECANTERS >
A Novelty Gift He's Guaranteed to Love
You simply can't go wrong with funny t-shirts for a humor-loving guy! This hilarious shirt is one of the best novelty gift ideas for any man that you know he'll want to wear all the time. It'll make him laugh every time he puts it on, and he'll love the giggles he receives after people read the words on it. They'll definitely want to hear some of his "expert advice!" Honestly, he'll never want to take it off!
The Coolest Coasters Ever
Is he a music fan? Then he'll definitely think this set of vintage record coasters is one of the best novelty gifts for him! Not only do they look incredibly cool, but they are made from cutting from the center of real recycled vinyl record labels. How awesome is that? There's no chance that he will ever use any other coaster than these from here on out. When his drinks get to rest on the vinyl of some of his favorite artists, you know you got him an awesome gift!
He'll Get a Kick out of this Gift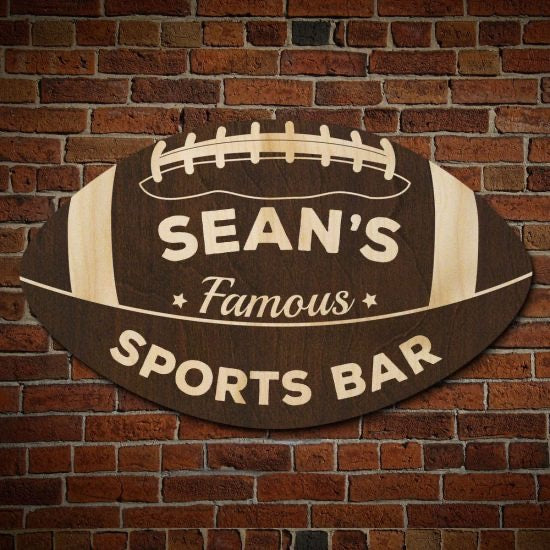 Go all out on your novelty gift for a sports fan with this personalized sports bar sign! He'll absolutely love this present that hangs in his home bar, man cave, or kitchen and makes the space feel like his own personal sports bar. The unique football shape will set this sign apart from any he's ever seen, and he'll feel so lucky to have such a special sign in his home bar, man cave, or office.
A Prescription He'll Fill Daily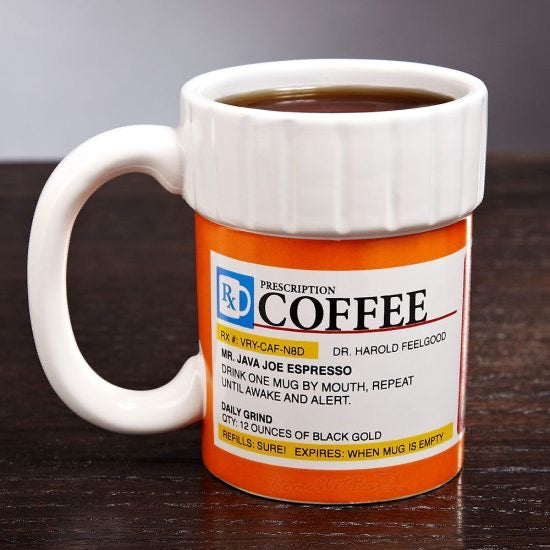 Novelty gifts for men that they can use every day are always phenomenal choices. This medicine coffee cup will ensure that he's getting his daily dose of caffeine! He'll think it's so fun to enjoy his morning brew from such a humorous mug, and he'll definitely never want to use any other mug for his daily Rx cup of Joe!
Creative Cleaning Novelty Gifts for Him
A gift that can allow him to be lazy and productive at the same time? Say no more! These microfiber floor cleaning slippers make it easy for him to dust and clean the floor simply by walking around on it! There's no need for him to be pushing a heavy mop all over the floor when he has these useful slippers. He'll be cleaning all the time without even realizing it!
Ice Cube Molds are Great Novelty Gifts for Men
Why use boring ice when you could use these awesome, spherical ice molds for the raddest ice he's ever seen? This is the perfect novel gift to make any man's drink feel so much fancier than his usual nightly cocktail. Instead of crushed ice or boring old ice cubes, he gets to swirl this classy ice-sphere around in his drink every night!
67+ NOTABLE NOVELTY GIFTS FOR MEN >
David Harrington is a seasoned researcher with a degree in English literature. He uses his extensive training and research skills to evaluate thousands of gifts a year. He then narrows that list down to a select few, choosing unique gifts that will surprise and delight his readers and their gift recipients.