Sometimes when you get a gift for a guy, all you want is to see him chuckle, facepalm, or bury his hands in his face because he is laughing too hard. There is nothing wrong with that! Getting gag gifts for men is a fun way to surprise them with something they'll find hilarious but still might have a use for them around the house! However, with everyone's sense of humor being slightly different, it can be hard to think what you think is funny is going to work as one of the perfect funny gifts for men. So, instead of questioning if this one gift is funny? Will he ROFL or LMAO when he sees this gift? You won't have to worry! These gifts are so good and so hilarious, there is no way he won't die laughing as soon as he unboxes them!
An Extra-Large Cocktail Shaker for Him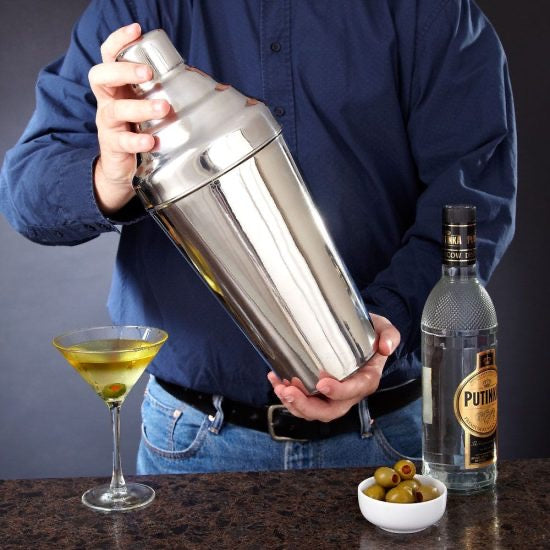 As soon as he sees the size of this extremely large cocktail shaker, he'll know that he just got one of the kings of gag gifts for men. This epically sized gift is almost 7x larger than a standard cocktail shaker. It'll be hilarious when he is mixing 110 ounces of Mojitos all at one time. However, he'll end up loving that he can mix a whole night's worth of drinks or make cocktails for all his friends with only one shaker's worth.
A Hilarious Sign for His Cigar Lounge
Put a smile on his face every time he goes to enjoy one of his favorite stogies with this personalized cigar lover's sign! Got a guy who is a bit of a know-it all? Or maybe does he always have little tidbits of information when he is watching a movie that he simply can't help but share? Then this custom sign is going to be the funny gift for him that he absolutely must-have for his man cave, cigar lounge, or garage. You know he'll get a kick out of his smart-ass sign each time he sees it.
Baseball Decanter Set of Gag Gifts for Men
Hey batter batter, hey batter batter, swing batter batter! That is all that is going to be going through his head when he gets this novelty baseball decanter gift! Sure, it is a bit of a goof on the guy who can't get enough baseball, but it is made of top-quality glass so when the game is on, it is the perfect way for him to enjoy his favorite scotch, whiskey, or bourbon. For the true baseball fan, you'll see this baseball decanter on his bar top, counter, or coffee table so he is ready to enjoy a drink during the game or a victory toast when they ring in the last batter!
May The Force Be with Your Funny Gifts for Men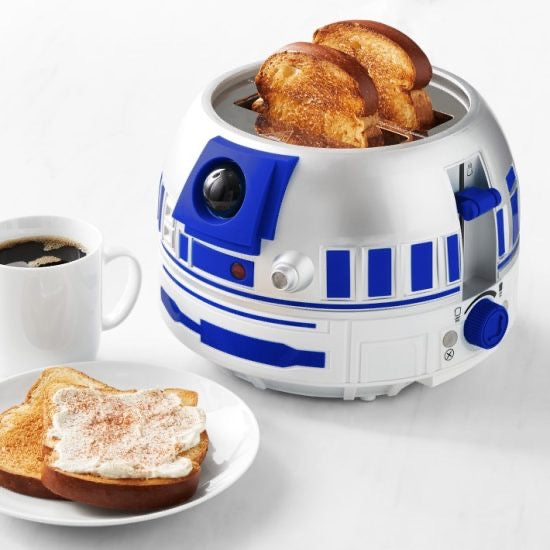 Help him blast his bread to make toast with more efficiency and accuracy than any Stormtrooper out there with this R2D2 toaster! While he is waiting for his morning toast every morning he is sure to be quoting Star Wars while trying to pull the bread up with the force or talk to R2D2 by chirping R2's famous Beep-bee-bee-boop-bee-doo-weep right back to the toaster!
How Old is He, Really?
Funny gifts for men can also be great gifts for him, too. However, it is even better when they make fun of him just enough. This set, lets him know that although he is awesome enough to deserve a good gift, that he is also aging. Whether you make him feel like a fine wine which is better than it was when it was younger or like a stinky cheese where he repels people, he'll be so thankful for such a unique and useful gift. These engraved wine tumblers are the ideal way for him to keep his drinks chilled for hours as he slowly sips because don't forget, he is aging, so he won't be as fast as he used to be.
533+ GREAT GIFT BOXES FOR MEN>
Monopoly – But for Adults
Make him feel like a little kid playing games with the family again, but with a twist when he gets this Beeropoly game set. This is the most fun an adult can have playing a board game with friends! It even comes with beer caps as markers. How cool is that?
ROFL Wine Glass Set of Gag Gifts for Men
Have him rolling on the floor laughing with a set of glasses to match his attitude! These rolling glasses will have him giggling each time he goes for a drink of Merlot or Riesling. Not only do they roll and spin for fun, but these funny guy gifts also help to make his wine taste even better. So, although it may be a gag gift, who is laughing now?
Super Hero Socks
Make him feel like a superhero everywhere he goes with this set of Batman socks that have a freaking cap on them! This hilarious gift will make him feel like his favorite superhero but without having to go through the trauma of what it takes to become Gotham's favorite vigilante hero. Instead, he'll be zooming around the halls of his house reenacting scenes from his favorite Batman comics or movies.
F#%!@ He is Old
Be a little more aggressive than most gag gifts for men when you make fun of him for being old with this personalized whiskey stone gift set. With a big middle finger to aging, this is the best way to tell him that although he is old, he is aging with grace (just try not to laugh at the old guy when you tell him so). Now, since he is a curmudgeon, he can be a little more relaxed since he'll always have perfectly chilled cocktails or glasses of whiskey.
Keep Track of His State of Drunkenness
Turn his beer drinking into a true hobby with a beer cap map of one of the United States. Pick where he lives, where he went to school, grew up, or the state he simply can't stop talking about. Now, he'll have that state as an awesome display, however, he'll also get a kick out of filling it up with his macro or microbrew beer caps.
The Biggest Beer Mug He's Ever Seen
What is a better way to make a gift hilarious than to make it far bigger than it should ever be? This colossal beer mug is actually so big that it is 3x the size of your standard bar mug. He'll feel like Oden each time he goes to grab the magnificent handle when he needs a sip of beer. Plus, you can even engrave the glass with his name, date, and an inside joke or something that takes a shot at his ego.
A Men's Gag Gift for Him to Finally Get Organized
Get him a gift that may finally help him get his shit together this year with a calendar that will remind him to do so every single day! This hilarious calendar is great for his home office or even on the refrigerator for him to use as motivation as well as reminders for appointments and important dates.
Funny Gifts for Men Who Love Dogs
Got a guy who loves dogs? Make it so he'll never be able to stop smiling with a personalized dog decanter gift set! This novelty gift set for men is such a fun gift that allows him to have man's best friend not only keep him company, but be more effective than a St. Bernard in an avalanche for getting him a drink of his go-to whiskey, bourbon, or scotch.
Let Him Have ONE Glass a Night
Sometimes people only want to limit themselves to one drink a night or the doctor says to keep it to one glass; however, no one ever said the glass couldn't include an entire bottle of wine! This wine bottle glass has got to be one of the top funny gifts for men! It is a fantastic gag that is also super practical if he is a bit of a wino and wants to sit down to watch his favorite movie or sporting event and never have to miss a second since he'll never need to leave his chair for a refill!
A Funny Game He'll Love Playing
Not all gag gifts have to be totally impractical. In fact, some can be fantastic gifts! Check out this whiskey label bean bag toss set. While it may not induce a rolling on the floor laughter, this funny gift will also make him swell with a bit of pride that you went to get him such a fun, cool gift that it looks like he runs his own whiskey label. So, as much fun as it is to just look at the gift, this will most definitely be there each time he hosts a BBQ or shows up for a tailgating event for everyone to throw a few rounds.
Take a Walk a Mile in His Shoes
Check out these hilarious fish flip-flops that are a perfect set of gag gifts for men. It doesn't matter if he loves fishing or you simply want to make him give a deep belly laugh, you are sure to have a pair of winners when he gets these fantastic sandals. Better still, they're fully functional. So, he can just as easily use these for fishing, yard work, or take them to the beach as a set of Nike or Adidas sandals.
Great Drinking Quotes for Him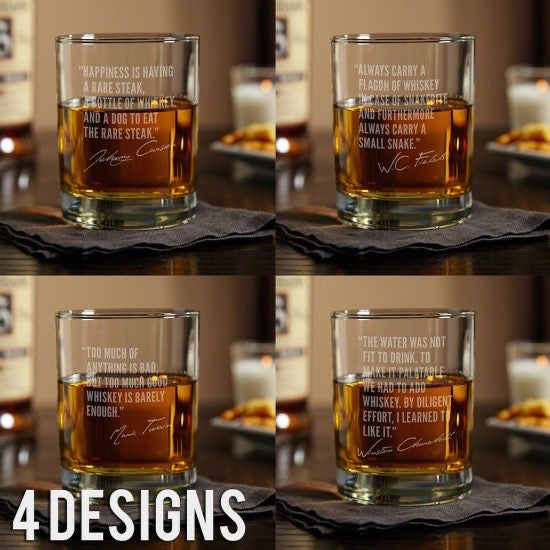 Keep a smile on his face each time he goes to get a glass of whiskey by getting him one of these unique whiskey drinking glasses. Each one comes with a different quote from a famous whiskey fiend about why whiskey is a fantastic thing to have. This gift will be the perfect funny excuse for him to indulge in that glass of whiskey anytime he is on the fence. Plus, anyone who sees his go-to drinking glass will get a massive kick out of the Johnny Carson, W.C. Fields, Mark Twain, or Winston Churchill quote!