The time has come, you need to get him a great gift. However, you can't just get him any old gift. You're shopping for an occasion that means the world to him, this might be his Christmas, anniversary, birthday, or any other super important gift. Regardless, this one needs to be the gift he has to have. When you've got such high stakes, you want to make sure that you're getting him these unique mens gifts he has always been dreaming of. These wide-ranging gifts are awesome things that will look cool on display, be functional tools or even custom gift sets that figuratively (and sometimes literally) have his name written all over them. Never have him suffer a disappointing gift or one that misses its mark when you choose one of these awesome gift ideas that have been curated just for guys who are as cool as the one you're shopping for!
Personalized Decanter Sets are Perfect Men Gifts
The perfect mens gifts are timeless items guaranteed to make him feel like a man just by looking at them. Want to give a gift you know he'll find that awesome? This engraved decanter set is the gift you're looking for! There is something special about decanter sets that all men find intriguing. Sets like these just have a way of making guys feel dapper and classy when enjoying a nice Glenodranch or Glenlivet from it. However, because this set looks so good, it is still a great gift for him, even when he isn't using it. He'll love seeing this custom set on display everyday on his mantle, home bar counter, or in the kitchen.
Arm Him with the Best Gifts
A soldier always needs his rifle, and this guy is a warrior for beer. Never have him be unarmed without his pint glasses. You can even supply him with plenty of ammunition (a sixer of beer) inside his custom ammo can. How cool will it be for him to get such a unique and manly gift that is so useful? After a day at the shooting range, at the lake, or in the woods while using his ammo can, a rewarding cold beer will be just what he wants!
Tool for Any Trade
Every guy needs to be prepared when life comes at him. Whether he is on the road, on the trail, or even around the house, he might not always have a full toolset on him. Instead of having to ask for help, make sure he can take care of any issue himself with a Leatherman that is sure to help him solve any problem he may run into!
Too Cool Tumbler Set
Many men see themselves as indestructible men. For these guys, you need an equally powerful set of mens gifts, like this stainless steel tumbler gift set! Whether he keeps them at home or prefers to take them on camping trips, these will always be the ideal way to enjoy a frosty drink. Perfect for anything from wine to cocktails, this personalized set will have him enjoying anything from a Jack and Coke to a Riesling in style thanks to these tough as nails glasses.
243+ UNIQUE GIFTS HE MUST HAVE>
A Too Hot to Handle Gift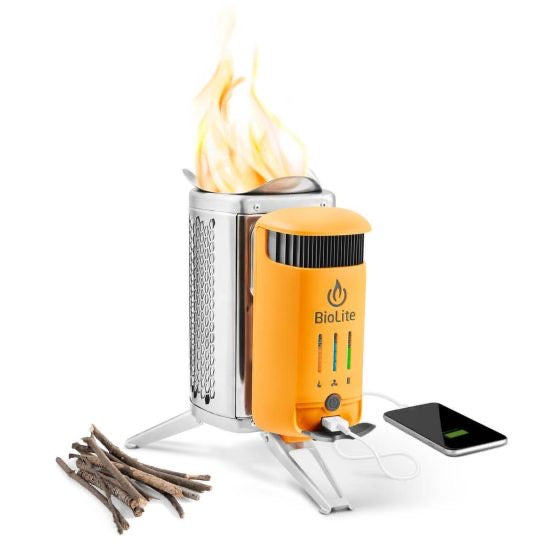 Is there anything guys like more than fire? No matter how old or young, there is an attraction to the orange flames at a bonfire or at the campsite. Well, now when he is in the wilderness and needs to cook food, boil water, or even charge his phone, he'll love fire even more! This portable stove will become the great outdoors gift he has always wanted! He'll never head to the campground without it!
A Suds Gift that Won't Be a Dud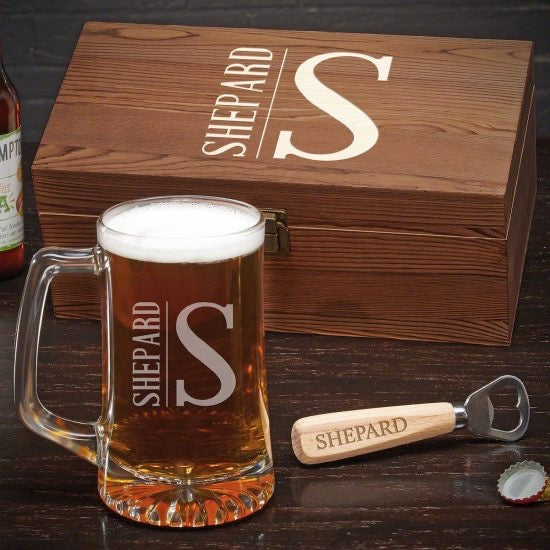 Make sure that your dad, husband, or brother is getting the most out of every bottle of suds he cracks open with a custom beer mug box set that is sure to set his taste buds ablaze! From his favorite lagers, ales, or pilsners, he'll always feel like a king each time he reaches to enjoy an ice-cold one!
Mark His Man Cave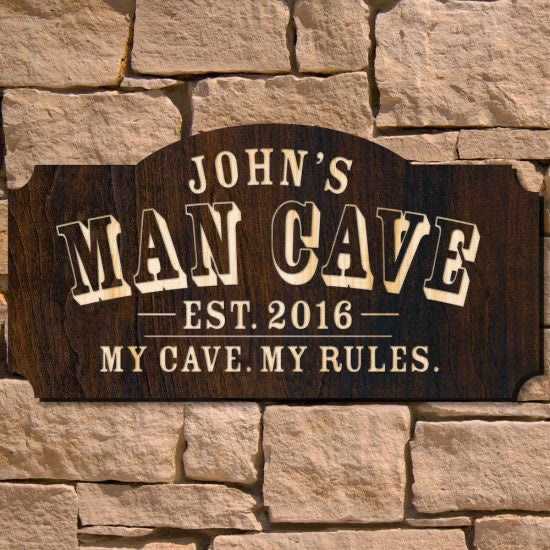 Does he have an official man cave or at least his own den to call his own? Well, whatever your answer, he will now! Nothing makes his spot to play games, watch sports, or hang with the boys more special and meaningful to him than when it has been officially recognized with a custom sign that has his name on it! Personalized signs are fantastic mens gifts that you know any guy will love. So, whether he uses this awesome custom sign to mark the outside of his cave or as a piece of decor on the inside, you can be sure he'll love this gift!
For Manly Whiskeys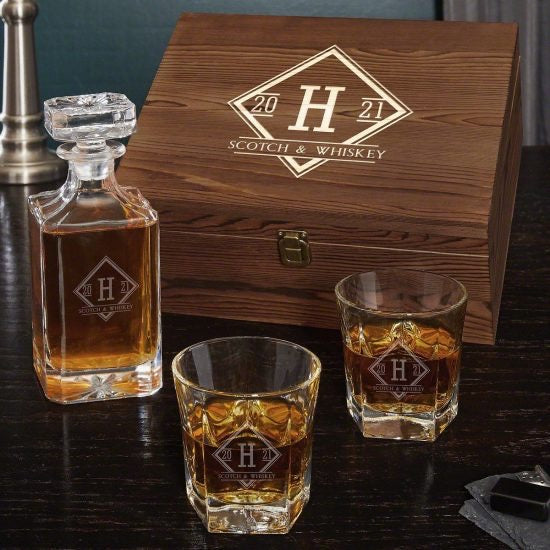 Some men gifts are given because you want to impress him with a gift that is clear you spent hours scouring the world (or in this case, the internet) for the coolest thing you could find. Well, look no further! This custom whiskey decanter set has a way of making a guy feel like he can take on the world as soon as he gets his hands on it. He'll love having a full decanter set that he can use every time he needs a drink or wants to entertain, but the icing on the whiskey cake will be that the whole set has his name on it, even the awesome keepsake, how cool is that?
The Perfect DIY Gift Set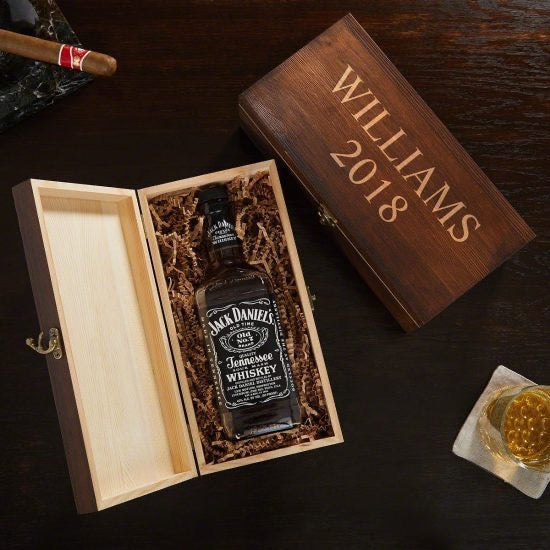 Not seeing the exact set of mens gifts you had in mind for your special dude? Not a problem. Get him the ultimate gift that you know he will love, a box full of gifts you picked out just for him! Use this awesome keepsake as a container for a bottle of his favorite scotch, some memorable photos, an addition to his collection of trinkets, anything he could be interested in! Just make sure to use a custom gift box as the added touch so he knows you went above and beyond!
Stop, Guy Gift Time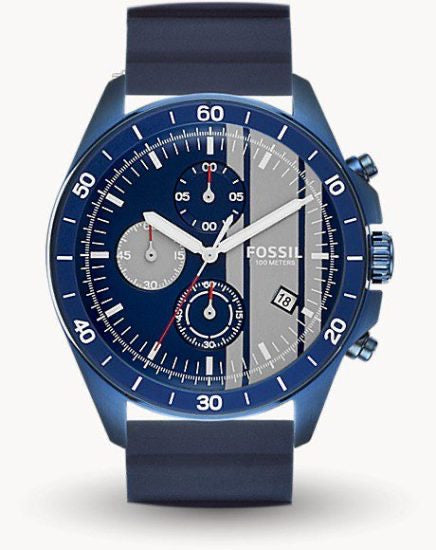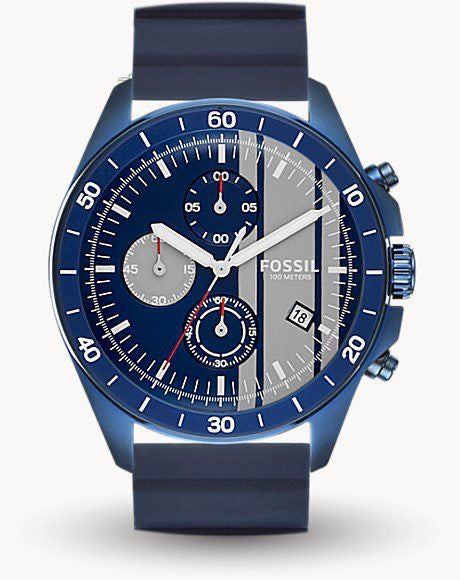 The perfect time to give a watch gift is now! The reason being? Because watches always make great gifts, no matter the occasion! A customized Fossil watch is one of those things he will see on his wrist that he knows other guys will wish they had.
Store His Great Men Gifts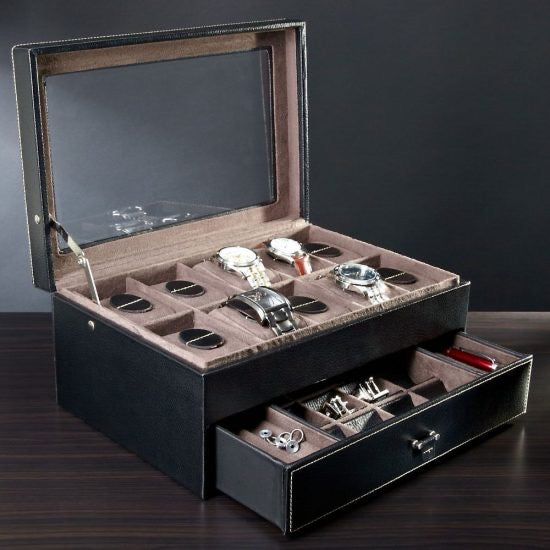 Make sure that great Fossil watch you just got him never gets lost and is displayed in the coolest case possible with this awesome valet box. Valet boxes make fantastic mens gifts, they don't just look great, they help make him look great. From now on, he'll always know where his coolest looking watch or favorite tie-clip is at since he will always be storing it inside this fantastic looking gift!
A Movie Magic Gift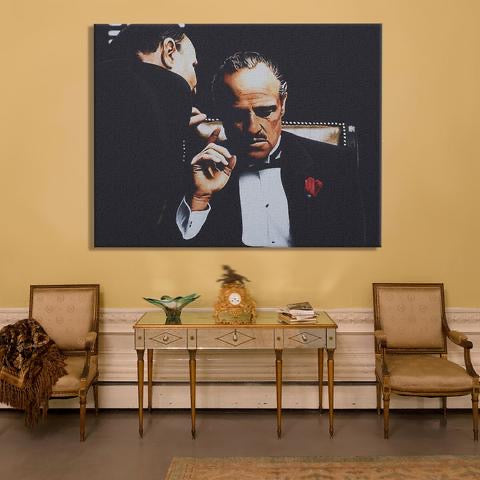 Whether you're coming to him with a gift on the day of his daughters wedding or it is some other big occasion, guys will love getting unique prints of their favorite movie! Every man has a movie that he watches over and over again, he may even have all the dialogue memorized, find that film and give him a piece of home decor he'll love seeing every single day!
Bet He Doesn't Have a Gift This Awesome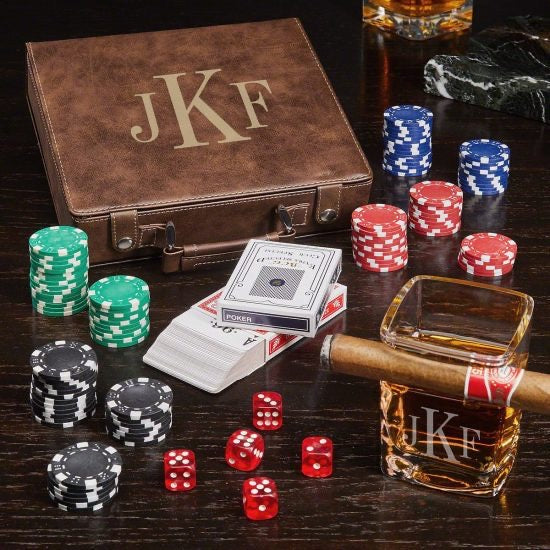 Ensure he always has the upper hand in his next poker game with a monogrammed set cooler than any casino could ever hope to have. Whether he has an established game night or you know he has been wanting to make one with the boys, these men gifts are the ideal way for him to enjoy some time with the bros. Plus, everyone at the table will know he is the card shark when they see that his monogrammed cigar whiskey glass matches his poker case too!
Wood You Get Him A Patriotic Sign?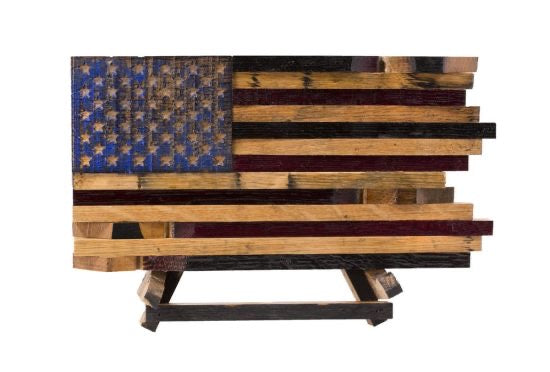 Got a patriotic guy? Give him a gift that looks so good it might just bring a tear to his eye. He'll love the way Old Glory looks on display in his apartment or house, especially when it has been made from old wine and whiskey barrels. What could be a more patriotic gift than this?
A New Kind of Tool Box
If there is one gift that men can never have enough of, it is tools. There has never been a man in history who couldn't find a good use for each and every tool he has ever gotten. So you know he'll love expanding his tool set, but this time he gets an awesome toolbox that comes with them too! The engraved ammo can is the perfect way for him to carry his sharp tools as well as some liquor and stogies with his cigar flask. This gift is so unique, he knows every other guy he shows it will have to get one of their own too!
493+ AWESOME GIFT BOXES AND BASKETS FOR GUYS>
Custom Wine Decanter Set
Not all great mens gifts have to be wrapped in some form of ultra-machismo. In fact, some can be classy gifts just like this decanter set. It doesn't matter if he prefers wine or will use this gift for anniversary and date nights, he'll love getting the most out of his bottle when he uses his new glassware gift. Plus, this impressive looking set will look amazing whenever he has it out to serve his spouse or guest his favorite Merlot or Cabernet.
Whoop, There it is!
Guys get used to doing things a certain way, whether that is exercise or sleep. However, that doesn't always mean they are being the most functional and effective. With Whoop, they get alerts as to how well they are working out, and even when their optimal sleep times are. So don't just give a gift for the sake of giving a gift, give one that will improve the quality of his life drastically!
A Tasty Whiskey Gift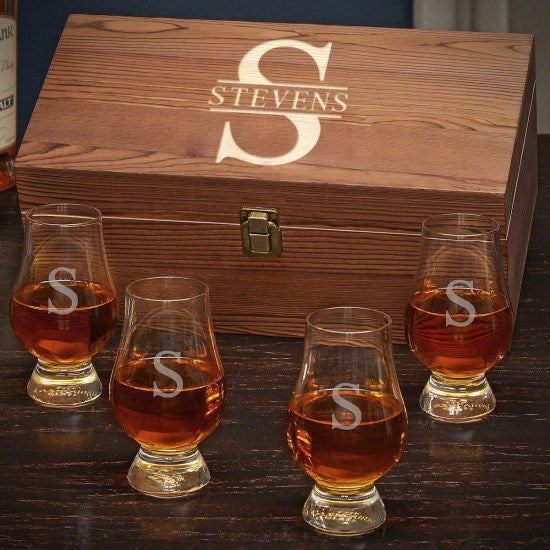 Let him experience his whiskey like never before with a tasting set you know he can't help but love. A whole set of Glencairn glasses means he can enjoy a glass himself, with friends, or even host a whole tasting party to hang out and discuss the nuisance flavors of his favorite spirit. Is there a better gift for a whiskey connoisseur than that?
Make a Game of the Best Mens Gifts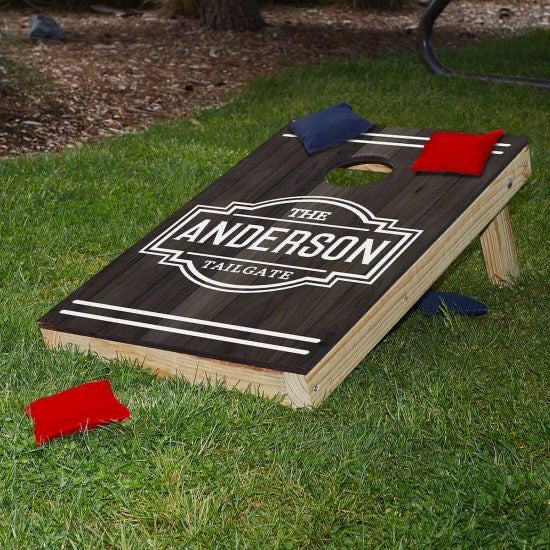 Picture this: He is outside, drink in hand, surrounded by friends and family. What is missing? How about his own custom engraved game! A bean bag set is a perfect gift for the guy who loves being the life of the party as well as being outside. Whether he loves to spend time at parties, tailgates, BBQs, or even bonfires, you can be sure this will be one of the first things he sets up at every get-together!
Tech Always Makes the Best Mens Gifts
Make his year with a gift that will bring him back to his childhood but will also be insanely fun to enjoy as an adult with this remote-controlled car! He may have had an RC car as a kid but it definitely didn't look and perform like this, in fact, this one even has a blaster! He'll have fun using this to explore the backyard on a smaller set of wheels or even just racing around the house!
His Favorite Brew and You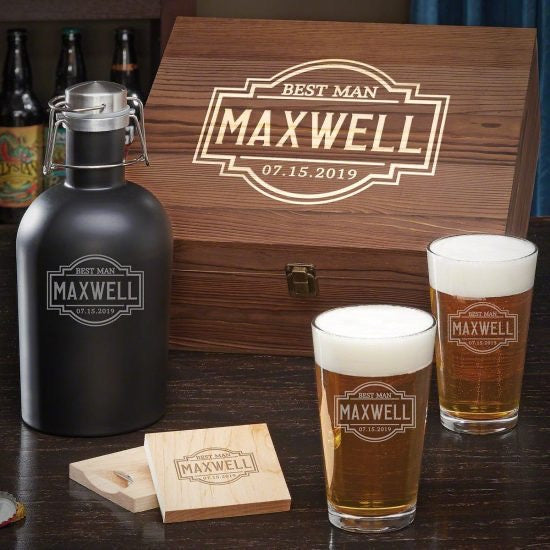 Back in the day, you had to go to the well or the watering-hole to get a glass of water. While faucets have removed that necessity, there still isn't a beer that every guy can get from the tap on his house. In the meantime, you can make sure he is never thirsty for his favorite local brew thanks to this awesome growler gift! You can even throw in a few rare bottles of beer that he can open with his coasters, what more could he want out of a beer gift set?
Who Doesn't Want a Whiskey Brand?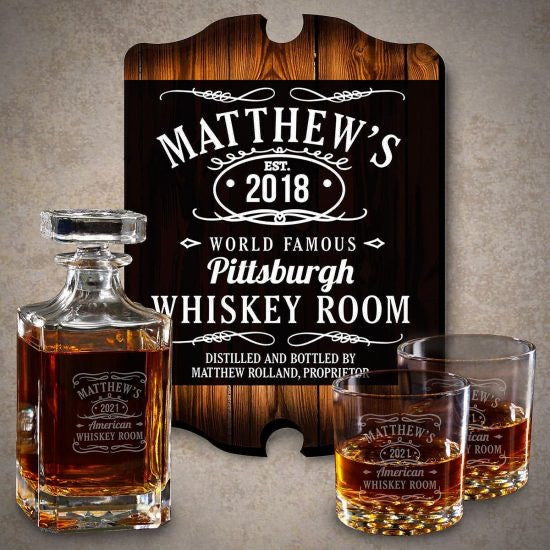 Can't decide on one set of men gifts that would suit him perfectly? Why not get him the coolest gift set he has ever seen with this all-inclusive whiskey gift set? This won't just be an awesome way to drink or enjoy some home decor but it'll have him feeling like he discovered a way to create his own whiskey label. With his name on the decanter, sign, and glasses, it'll be hard to find a better gift than this for the whiskey-loving guy!
Have Him Take a Hike
Prepare him for anything that comes his way with the ultimate lightweight hiking backpack. Whether he is a seasoned vet who has walked thousands of miles or this is his first major outdoor trek, every guy will love having the perfect bag. The lightweight and ergonomic design ensures he can carry all the tools he could ever need without feeling weighed down in the slightest!
A Tasty Gift is Better Choco-Late Than Never
Some great mens gifts find their way to him by going through what has long been known as an easy way to get to a guy, through his stomach! Get him a gift basket that will (hopefully!) take him days or even weeks to get through with this gourmet chocolate gift basket. From cookies to pure chocolate, he'll be thrilled to have so many sweet treats!
A Magnificently Massive Mug
Never make him feel like his mug is too puny for his appetite any more with the largest custom beer mug he's ever going to get his mitts on! This beer mug holds three times as much as a standard, making this the largest and manliest way for him to enjoy a frosty brew!
Keepin' Him Classy
A set of boots are men gifts that never go out of fashion. No matter what line of work he is in or how old he is, a set of boots that have been fitted right to his feet are a perfect gift. It doesn't matter if he is 20 or 60 years old, with proper care, he can wear this single set of boots until he never needs to wear shoes again!
For a Man of At least Two Hobbies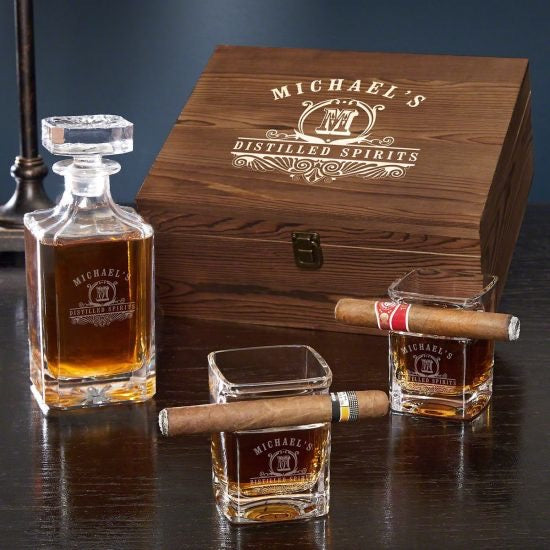 A great way to give mens gifts is when they are disguised as not only something really cool looking but as something incredibly functional as well. This gift set is the ideal way for your husband or father to enjoy a stogie and whiskey with a good friend with ease! He can be high-fiving and fist-bumping all night long since he'll have a free hand thanks to the design. When the night gets long, he can even keep both hands on his cigar and drink while he pours another glass, how cool is that?
417+ CUSTOM WHISKEY DECANTERS FOR HIM>
This Town Ain't Big Enough for Un-Personalized Gifts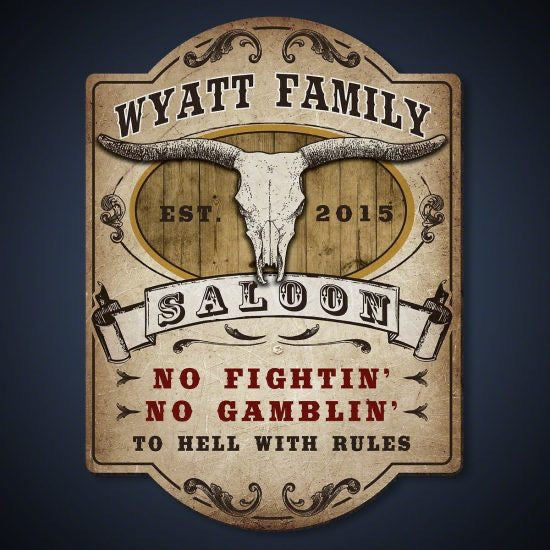 Make him feel like the outlaw or sheriff he always idolized as a kid when he grew up watching Western films with this fantastic vintage American style sign. He'll love that nostalgic but manly feeling this personalized Western sign gives him which makes it the perfect piece of decor for his home bar, man cave, or even garage! Now, his favorite hangout spot will be turned into his very own saloon, where he makes all the rules!
Anywhere You Go Espresso
Does he get that mid-day crash or is he potentially a coffee fiend? Never let him miss out on his caffeinated beverage ever again with an espresso machine he can take on the go! Perfect for in the office or even deep in the woods when he is off on an adventure, he can easily make a sophisticated and quality espresso whenever his heart desires thanks to this phenomenal gift!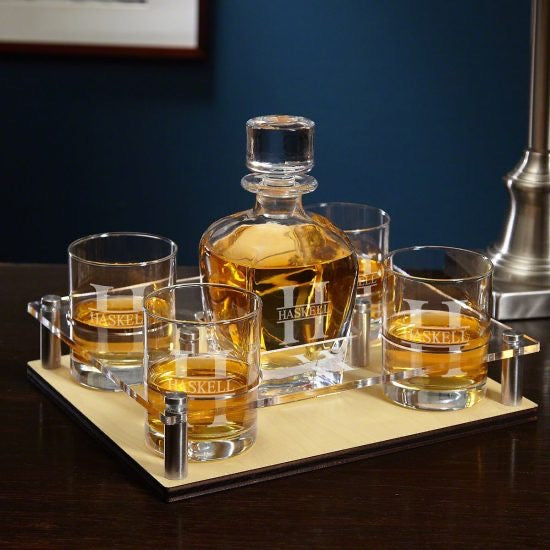 Want to get him a gift he'll never forget? This presentation set is dripping with so much awesomeness that he won't be able to help but love it! All six pieces of the set are engraved with his name and initial making this one of the most unique gifts he's ever gotten. Place a bottle of Johnnie Walker next to it and he'll know you mean business. This way, he can fill up his decanter to see how amazing his glassware set looks. Once he sees it in all of its glory, he'll definitely want to toast you for getting such an awesome set!
Appetizing Arrangements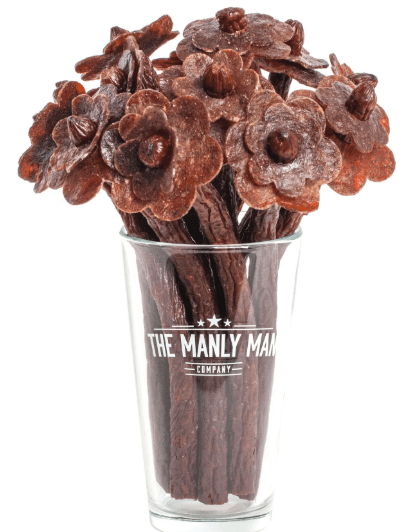 Whether this gift for him ends up on Valentine's Day or you think he would appreciate a bouquet, you simply can't go wrong when you get him a set of flowers that have been made out of his favorite snack, beef jerky! Almost every guy out there loves jerky. You know that any gift he can eat (especially jerky) will always be a win!
Engraved Beer Box
Sometimes the best mens gifts that they'll be talking about don't need to come in the largest of packages. Simply, make sure you get a gift set you know he'll want to use every part of. From the beer accessories to the cigar pieces, you know he'll get full use out of his personalized set. You can even tell him the keepsake is a great place to keep cigar wrappers, beer bottles, or even any other collectables he desires!
347+ IDEAL BEER GIFTS FOR MEN>
A Close Shaving Gift
Plenty of straight blades and old-school safety razors get features as men gifts that he will love, but what about making things quick and convenient? A high-quality electric razor is perfect for the guy who is in and out in the morning or needs to keep a close shave right before a big meeting.
Thanks for the Memories
A lot of the best mens gifts find a way to take him back to a special place or time in his life. Sometimes this is done with a nostalgic gift or other times it is done with a small memento or item he can collect. Start your man's collection off right with this awesome wine set and shadow box gift set! You can even pair it with a good bottle of wine so he can start his memory collection off on the right foot! However, that doesn't mean he can only put wine corks inside, if he has an affinity for beer, cigars, trading cards, photos and more, this is the perfect place for him to store his collection!
The Coolest Custom Colossal Ammo Can Set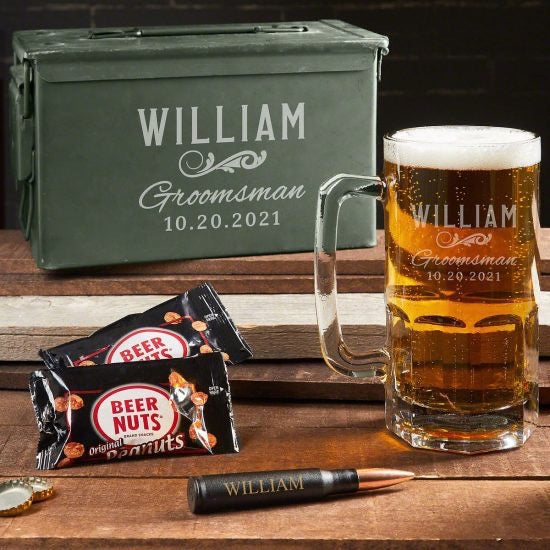 Give him the manliest of mens gifts with a gift box in the shape of an ammo can that has been locked and loaded with this awesomely giant beer mug and a few sweet accessories. Aside from a bottle of beer, this box set has everything any beer lover could ever want, it even has his name on each piece, how cool is that?
Give Him Whole New Worlds to Explore
Take him to a whole new reality from the comfort of his couch with an all-in-one headset that allows him to play games, watch movies, and television! How cool will he find VR mens gifts as a way to see places in the world he has never been or to experience a video game like never before!
Put His Initials on It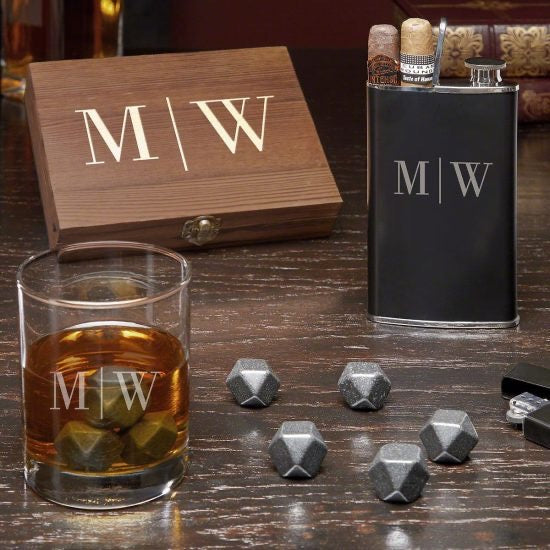 Got a guy who absolutely loves his whiskey? Why not get him a set that puts that love to good use? A whiskey stone set is the ideal way to enjoy his favorite whiskey since he can chill it without ever having to worry about watering down their go-to, perfectly aged drink. With this gift, they can even pair it with their favorite brand of cigars!
Classy Cognac Set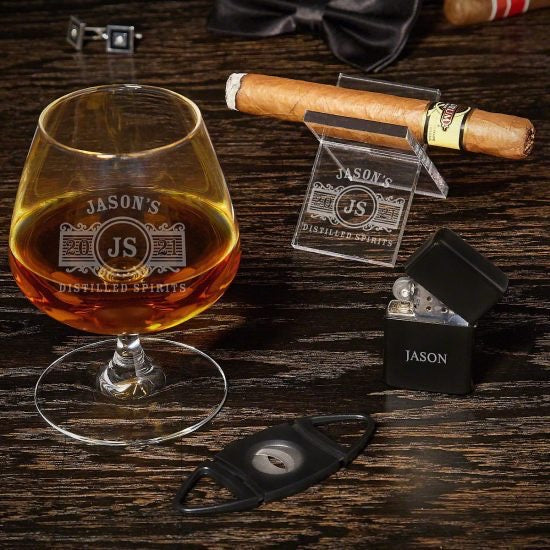 Make the guy who loves the simple things in life extraordinarily happy with a custom cognac set that has been hand-picked just for him. When he unwraps and unboxes his new gift, he'll practically be able to smell the fireplace burning that he'll want to enjoy this drink right next too. If he doesn't have a fireplace? Well, that won't stop him from feeling like the most refined man in the land!
Custom Tools are Perfect Men Gifts
Okay, so you need to find a custom set of men gifts that you know he will love and you've always found tools to be a safe bet. However, you can't just go to the store and get him any old set; instead, fully build his own custom toolset, including the inserts! This is perfect for the handyman or the guy who has big projects coming his way. What guy doesn't love new tools?
Cocktail Hour Every Hour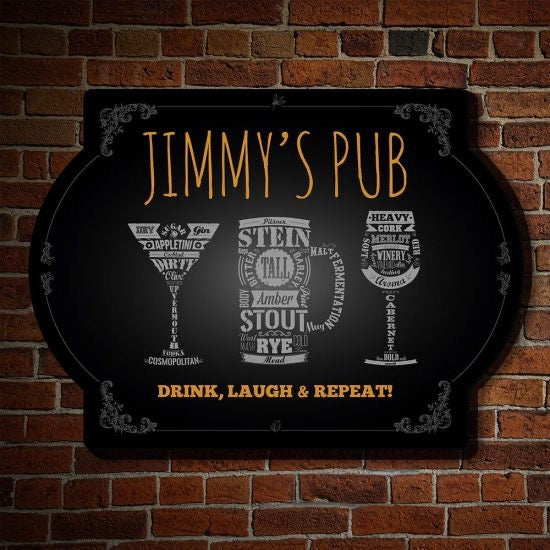 Ensure that each time he pours himself a drink, he gets to do so as his own bartender, or better yet, if this is his home bar or man cave, he'll now be the official bartender of his own pub! This personalized sign is a gift that every guy wishes that they had in their favorite place to drink. Who doesn't want to have their own bar named after them?
Man's Best Friend
Giving someone a pet has never truly been a great gift, but that doesn't mean you can't have man's best friend always by his side when you give him this set of men gifts! He'll love enjoying a perfectly chilled whiskey from this set. Who knows, he may even name his new dog companion!
Take His Tunes Everywhere
Make a lot of noise with your gift that you know all his friends will want, his own portable speaker. However, this isn't just any old portable speaker, this is a Bose, that means he'll get high-quality sound everywhere he goes. Perfect for playing in the house, at an outdoor party, or thanks to its long battery life, even for camping trips!
An Arsenal of Cool Gifts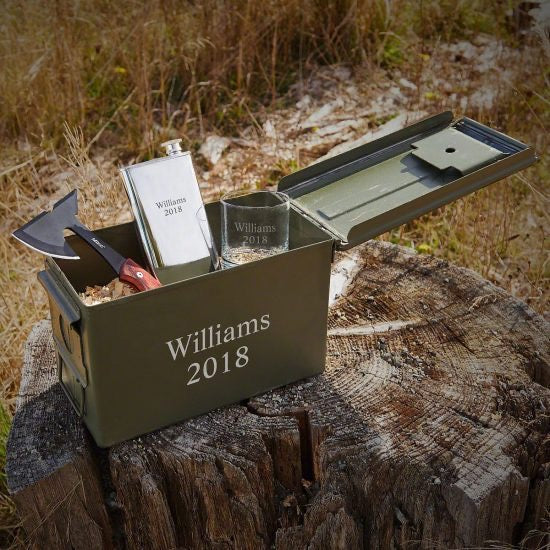 Make sure he is never far from the mens gifts you know he needs to survive with one of the coolest gift baskets he could ever want. This set has everything for the hardworking guy, from an axe and ammo can for getting things done to his very own flask and old fashioned glass when he is clocked out and it is time to put his feet up at the end of the day.