We've all drank out of some sort of wine glass before; whether it was for light-bodied or full, red or white, or even just whatever random glass you have laying around. Pairing the perfect glassware to the correct wine can really make the night, but some nights you just want to have a drink and have a good time. To make the good times roll a little sooner, why not get some funny wine glasses? These glasses will always make you laugh and smile when you read the writing on them or at their funky shapes. Be a goof and have a good time with the funniest wine glasses around!
A Glass of Pour Decisions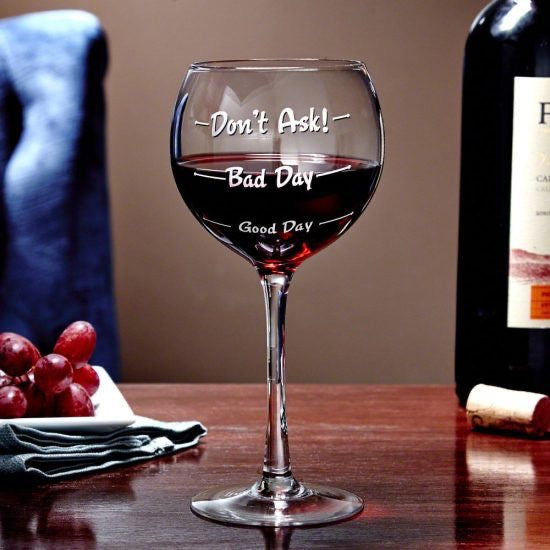 When asked "How was your day?" It can be a little difficult to answer when you have a mouth full of wine. To avoid having to explain before drinking the necessary amount of wine, simply point to your new hilarious wine glass! You can skip all the small talk until you are physically and mentally ready to go to speak. By the time you hit "Good Day" you'll be ready to talk about all the inconveniences and nuisances you've faced today!
Don't Get Bent Out of Shape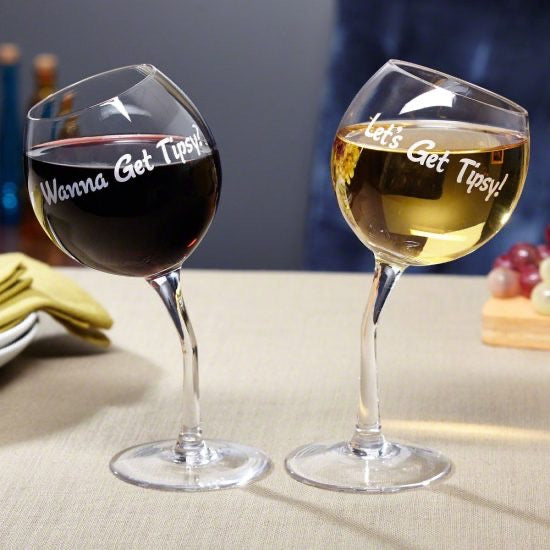 Would you consider it a good or bad thing for your new funny wine glasses to resemble yourself after a handful of drinks? Get tipsy, but not too wobbly with these tilted tipsy glasses! This set of glasses are great for a night in with your SO or your best friend. Just remember, before having too much wine, the glasses were bent before you started drinking, it is not the world spinning making them look like that. As the night goes on these topsy turvy glasses will have you laughing more and more!
This Funny Wine Glass is Grape!
You've seen funny wine glass quotes on standard glasses before, but not on one like this. When you're really feeling the need to open a whole bottle of wine for the night, and maybe keep it all for yourself, this glass is perfect! And don't let anyone think otherwise! You tell them that this glass suits your needs and no other will do, don't succumb to peer pressure, do you and drink out of the glass that suits your needs with this unique wine glass!
Parental Medicine Glass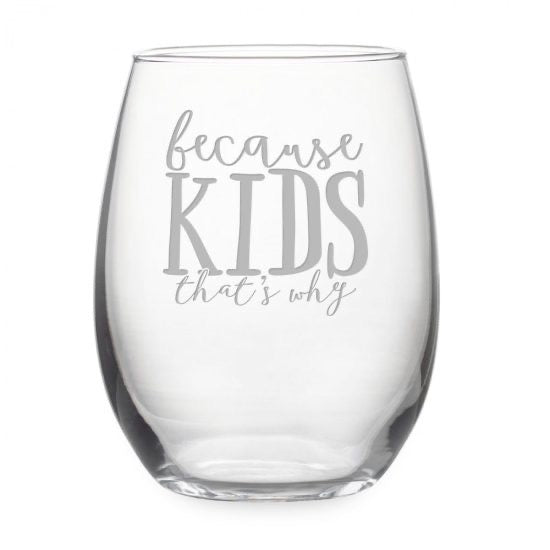 Everyone loves their own kids and they will never say otherwise. However, deep down, you know their crazy antics are aging you from stress like crazy. Whether they're learning how to drive they're toddlers who habitually scribble on your walls with markers, having kids can add to your stress levels. Make sure your favorite wine match the reason you need to take the edge off at the end of the day with this funny wine glass!
A Barolo of Laugh Glasses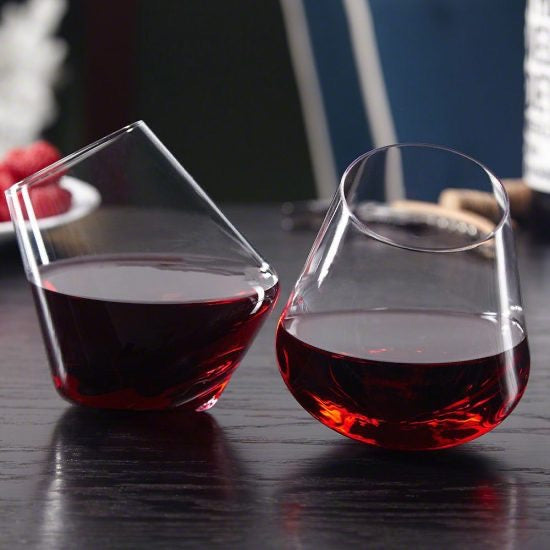 After a few drinks these rolling wine glasses will have you ROFL! It will all start with an accidental bump which will soon spiral the evening into seeing how fast you can roll the glasses without spilling! You'll feel like your cat when he keeps messing with everything on your coffee table, but after a few drinks you finally get the fun of constantly batting at things! With a little wine and a splash of goofiness, embrace all the humor and endless rolly fun you'll have with these wine glasses!
153+ Perfectly Personalized Wine Glasses>
Funny German-Style Wine Glass
For you, wine is just better than beer. Although you love the look of German beer mugs and steins, filling one of those up with a red wine is just weird. However, you do have a bit of a silly side but you aren't quite into the funny wine glass quotes, so what's your solution? You need to combine your wine and love for beer steins with this hilariously Oktoberfest inspired wine glass. Top off your new mug with your best wine and become the talk of the party!
De-Vine Funny Wine Glasses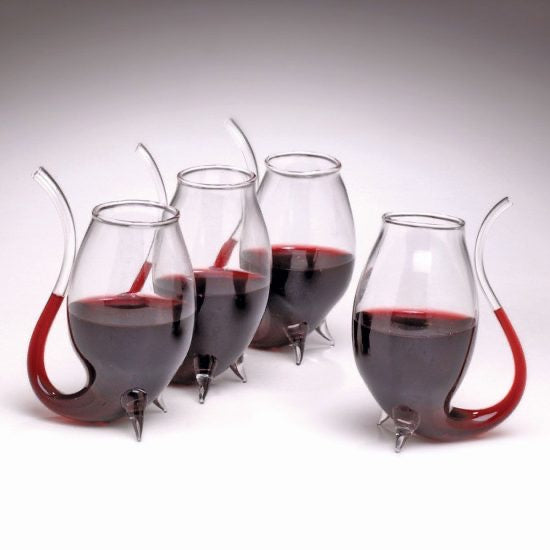 Nothing gets the party started with your friends like goofy glassware! When you go out your group is always drinking out of fish bowls or crazy straws. When the bars are closing, bring the party home with your own set of funny wine glasses! These uniquely designed glasses let you drink through its own built in straw! Although purposeful in their design to help with aroma, after a few drinks you won't be able to get over how it looks like some weird alien whose butt or tail you're drinking from!
A Dino-Mite Glass
Are you a self-labeled winosaur? If so, you'll need your glass so you can truly own your title! This engraved glass will let everyone know, nothing comes between you and your wine! As you fill up your new glass and get a few drinks in, you'll start loving your glass more and more! After a while, nothing will stop you from making constant dinosaur puns, like how much of a Rawrin' good time you're having!
A Glass a Day Keeps the Doctor Away
Sometimes you only have enough wine left over for one glass at the end of the day. When those occasions occur, just try and make sure it is this glass that you can fill! You'll love showing off your new glass to all your friends (or cats) as you drink your one glass of wine a night, that you're pretty sure the doctor said was healthy for you. You just made sure not to ask the size of the glass, right? Not only will you have a great wine glass, but you're also get one of the best sarcastic funny wine glass quotes out there with your new wine glass!
No Wine'ing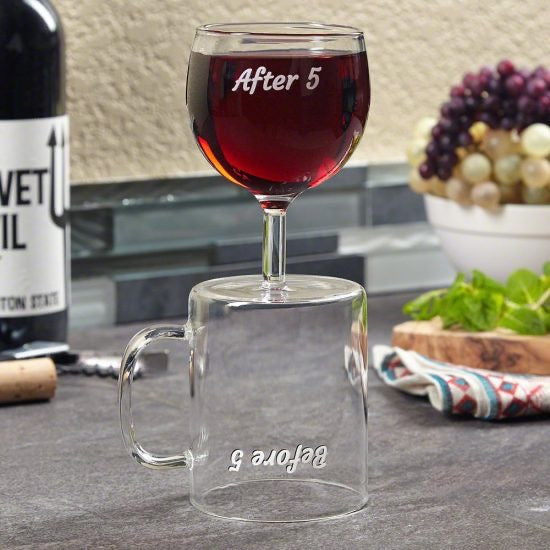 The best glasses are ones that you can use any time of day. This coffee/wine glass combo is perfect for drinking throughout the day! You'll always get a giggle as you have your first cup of coffee each morning. However, at night you'll be holding onto your sides after a couple of glasses of wine as you realize the absurdity of your new favorite glass. Just make sure not to mix up the ends and have coffee at night and wine in the morning!
Face Your Fears
Your funny wine glass quote just so happens to express your greatest fear—being out of wine! Much like when Jack Sparrow runs out of rum, you first get confused, and then begin checking all of your reserves while wondering how it could've all disappeared so quickly? Make sure people know what you're about and to always keep you well stocked with your favorite wine as to avoid your greatest fear, an empty wine glass.
The Wine Barometer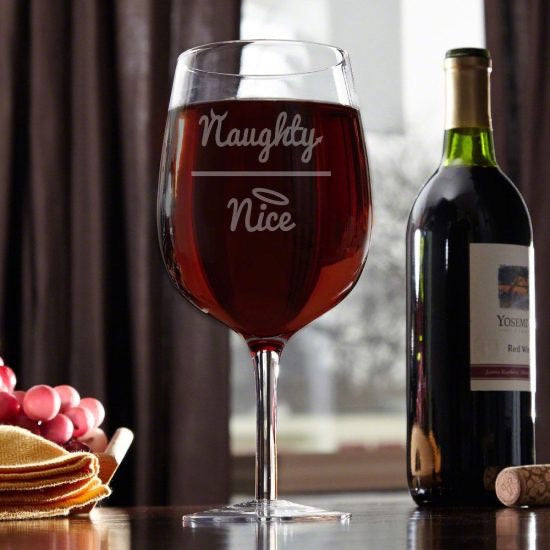 Naughty or nice will be debatable when you drink out of this extra-large wine glasses. At 9" tall, and holding 750ml, it is a little unlikely your wholly good for drinking all of it, but you'll still get a good laugh out loud at your funny wine glass! You will start laughing as you see the bottle go empty filling it up, and you won't stop laughing at the hilarity of the wine until it has entirely run out!
I'm On a Boat!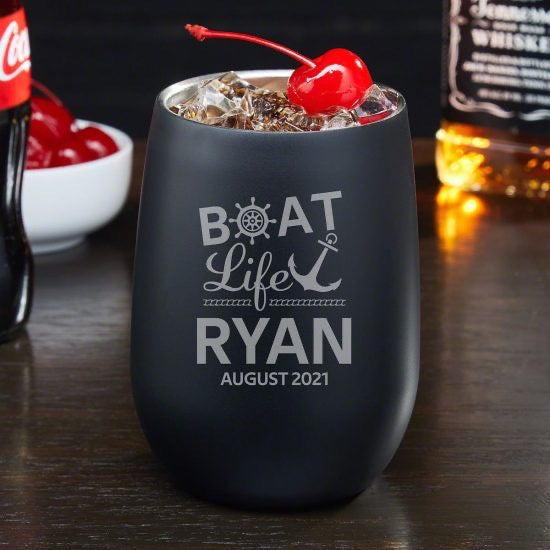 Whether you are actually drinking on a boat or just want to show off to everyone that comes by, you'll get a kick out of your boat life wine tumbler. Every time you see it you can't help but sneak in an "I'm on a boat" reference from that Lonely Island song a handful of years ago. You and your friends will love the insulated glass for drinking around the house or for when you're out laughing on the water and out in the sun!