Elevate your wine experience with glasses that are so amazing and so unusual that no one else you know will have them! Unique wine glasses can be personalized, be designed to enhance your wine, have an unusual shape, or even be made from something other than glass. With different custom wine glasses, your favorite wine will taste brand new or possibly taste even better than before. Whether you're in search of stemmed or unique stemless wine glasses, we have picked out the best of the best glassware to make your wine experience incredible.
Tumblers Are The Coolest Unique Wine Glasses
Do you have a set of wine tumblers yet? If not, you need this custom tumbler set! These stainless steel tumblers are double-walled and vacuum-insulated so that your white wine stays extra chilly on a hot summer day or your warm mulled wine keeps its warmth in the winter. They're also virtually indestructible so that you can use them anywhere, even on the go! These unique stemless wine glasses are the perfect way to upgrade your home bar or even just enjoy your favorite wine at the perfect temperature until the very last drop.
The Best Wine Glass
This little wine glass may look like a fishbowl, but the design actually enhances the taste of your wine like no other! With its wide bowl and narrow mouth, this unusual design directs the aromas of your wine from the bottom of the glass to the rim so that you can enjoy its lovely scents with each sip. When you swirl the glass, it aerates your wine and makes it sweeter. While the shape and design are different than most wine glasses, this lovely little stemless wine glass will soon become your favorite because of how amazing your wine tastes in it!
Copper Wine Glasses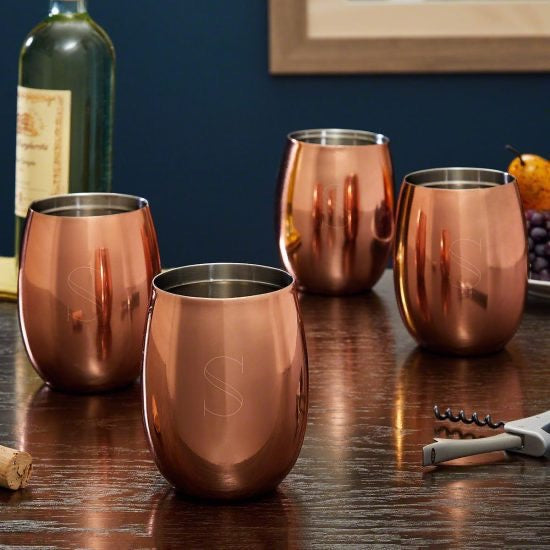 These copper wine glasses are must-haves! Made of double-walled stainless steel, these unique wine glasses will ensure that your wine is the perfect temperature for hours on end. This wine gift set of four is guaranteed to add a lovely pop of color to your home bar or kitchen, and you will never have to worry about rust with these glasses because the copper coating is designed to be rust-free, unlike other copper drinkware.
Self-Aerating Wine Glasses
You won't need a decanter ever again thanks to these unique stemless wine glasses! Their gorgeous curvy design aerates your wine as you sip and swirl so that each sip is better than the last. The stunning design makes them as beautiful as they are functional, and you might even want to keep them on display in between uses rather than putting them in the cabinet! Even the cheapest, most bitter wines will taste as sweet as a good Moscato thanks to these unique glasses.
Vintage Wine Goblets Make a Statement
With the addition of these unique wine goblets to your drinkware, your home bar will get an instant vintage vibe! Designed like the goblets used in Medieval times, these gorgeous glasses are a fun and cool way to enjoy your wine. The large, wide bowl actually makes them great for swirling red wine so that you can aerate it! The elegant engraving really adds to the vintage appeal of these goblets, even though they're brand new and personalized just for you!
159+ UNIQUE PERSONALIZED WINE GLASSES>
Colorful Recycled Glasses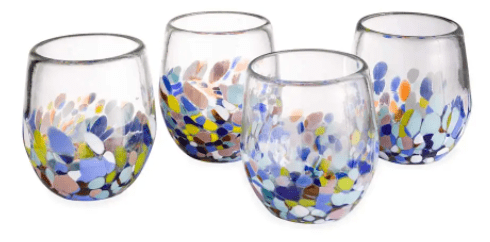 How beautiful are these painted wine glasses? The modern style of these unique wine glasses make them a lovely addition to any wine lover's home bar, and they're certainly perfect for using in the spring or summer! These wine glasses are actually made from recycled glass and designed to be thick enough to keep your Riesling the ideal temperature no matter how hot it is outside by the pool. Because these glasses are handmade, each glass is one-of-a-kind! You really can't get any more unique than these lovely wine glasses!
The Most Unique Wine Glasses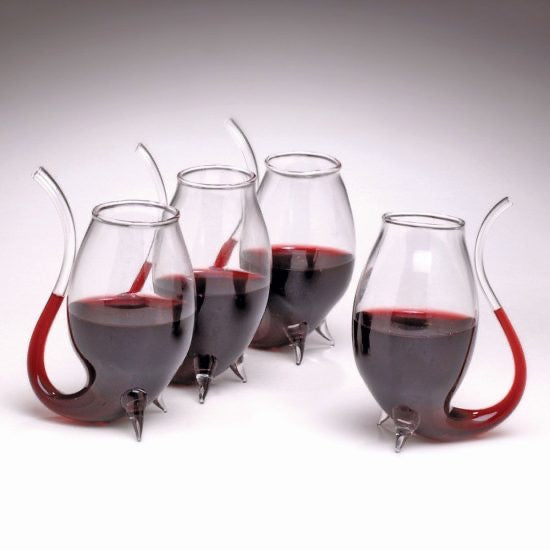 Have you ever seen wine glasses like these? Designed to be held gently in your hand so that the bottom absorbs the warmth of your hand and reveals the wine's hidden flavors, these cute port sippers are a whole new way to drink red wine! The built-in straws allow you to taste the fullest flavor of the wine by drawing wine from the bottom of the glass where it's been warmed and not oxidized. For anyone who wants to be better at wine tasting or to become a sommelier, these glasses are an absolute must-have!
Unusual Wine Glass
How cool is this stemless wine glass? With beautiful vintage-like etched details and a unique iron stand, this glass is one of the finest additions to your home bar. The iron stand helps keep your wine from being warmed up by your hand or from producing condensation. It also makes the glass more decorative when you're not using it! This unique wine glass is perfect for red or white wines, chilled or mulled wines, and even for casual drinks or only special occasions.
Large Sangria Glass
There's nothing like a glass of sangria with brunch or on the patio! This large, unique wine glass is perfect for enjoying sangria because it has more than enough room for your favorite fruits and ingredients. Or, if you've had a really long day, this glass will hold plenty of your favorite wine or even a tasty wine spritzer! Everyone needs an extra-large wine glass in their cabinet for such occasions. Besides, can you imagine how awesome it would be to have mimosas every Sunday in this amazing glass? Talk about the perfect brunch glass!
Unique Stemless Wine Glasses That Roll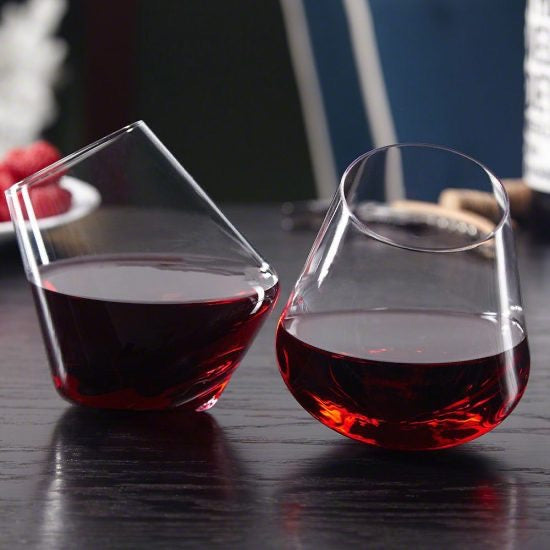 Growing up, your parents always told you to never play with your food, but they never said anything about your drinks! With these fun rolling glasses, your wine will be swirled around constantly with zero effort on your part. While they're great fun just to use, they actually make your wine taste better and smoother than ever because of the natural aeration! Plus, you never have to worry about spilling your wine ever again thanks to these glasses.
Everyone Needs a Couple of Crystal Wine Glasses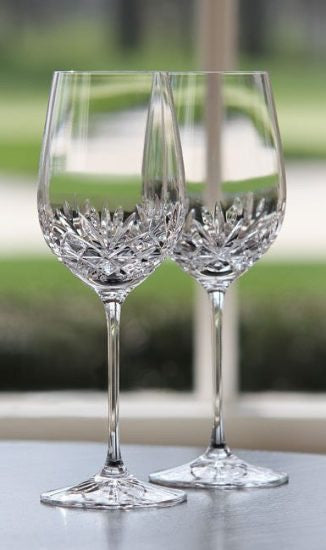 This stunning crystal wine glass set is so unique, you won't want to put them away in your cabinet. The pair is ideal for having your nicest bottle of wine to celebrate holidays and special occasions, or even if you just feel like having a classy drink. Each set of glasses are handmade, which guarantees their uniqueness and makes them even more special when you've got a one-of-a-kind set in your home!
The Balloon Glass
One of the most unique wine glasses ever, the balloon glass is a large wine glass unlike any other! The extra-large and wide bowl is designed to hold the aromas around the rim so that you can inhale the sweet scents as you sip. Designed in Spain, this lovely glass is a must-have for aspiring sommeliers because they make wine tasting even better. You can also use the glass for sangria, wine cocktails, and a hefty helping of your favorite wine!
You Can't Go Wrong with Custom Wine Glasses
Looking for wine glasses that are unique but not too out there? Then you need a personalized set of wine glasses! These large stemmed glasses are the perfect addition to your home bar or dining room because they retain the classic, sophisticated appeal of regular stemmed glasses but the unique personalization makes them stand out. These glasses are even designed to be perfect for red or white wine so that you don't have to limit yourself to a certain type of glass to match the wine you're in the mood for.