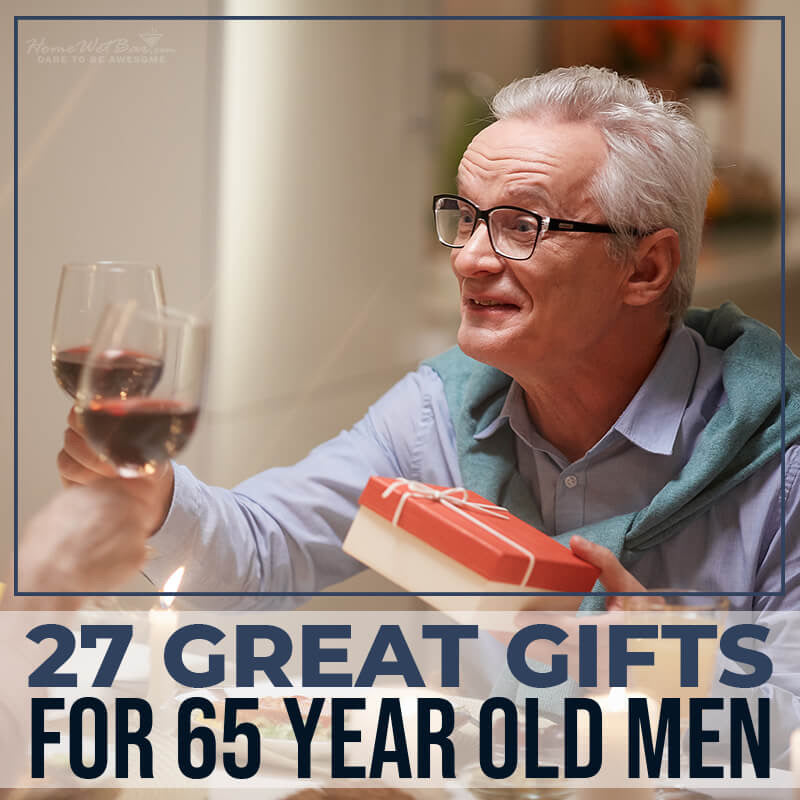 27 Great Gifts for 65 Year Old Men
Check Out Our Awesome Gifts for 65 Year Old Men
Are you asking yourself, "What should I get my 65 year old dad for Christmas?" or "What do you give someone for 65th birthday?" Whether it is for your dad, husband, or grandpa, buying a gift for a 65 year old man is no easy task. With each new idea, you remember that he already has a dozen polo shirts, tool kits, and books to read. Everywhere you turn, there is nothing unique that will really impress him. That is because the best gifts for 65 year old men are not about giving him something practical, they are the gifts that let them indulge, sit back, and relax. For a man who has lived through so much, the most amazing thing for him is a new, relaxing experience. Still wondering what to buy for an older man who has everything? Then you have come to the right place because any one of these unique ideas are guaranteed to bring a smile to his face.
To Unwind with Engraved Whiskey Gifts and Cigars
He is an old-school kind of man, and that means that he loves having the best of the best, especially when it comes to an elegant home bar display. This personalized decanter and cigar glasses gift set is one of the most awesome gifts for 65 year old men because it will help him to relax and truly enjoy any occasion, whether he is celebrating Christmas, retirement, or his birthday. As soon as he lays his eyes on this fine craftsmanship, he will be so eager to put it to good use with a top-notch whiskey and fine cigar.
An Ammo Can of Awesome Items
After so many years of making wise purchases and saving their money, men in their 60's just want something fun. And what is more fun than an ammo box of shiny new toys? The engraved ammo can gift set is among the most perfect gifts for 65 year old man who lives for the outdoors, thrives off of his newest home project, or simply loves to add to his collection tools. Only now, thanks to his custom ammo box, he has the perfect new place to store his new tools along with the rest of his collection!
Custom Décor for His Man Cave
His beautiful home is his pride and joy, and nothing will compliment it more than a personalized English pub sign for him to proudly display. This is an ideal gift for a man with great taste who wants to take his man cave to the next level. Each time he passes by his favorite part of the house, he will see this glorious sign and remember how amazing he felt when he first received his beautiful gift, and he will have you to thank!
An Elegant Wine Decanter
Why let him pour his wine out of any old bottle when he ought to be using a fashionable, engraved wine decanter instead? This stunning centerpiece also acts as an aerator, and it brings an air of class to anywhere it is displayed. For a man who loves his wine, he will never again want a glass without first aerating it in this lovely decanter. Rich flavors and aromas are the highlights of this awesome gift, but when he sees that personalized touch? He will be over the moon.
The Best Whiskey Tasting Box Set
Whether that is getting dressed up to go to a dinner party, or maybe even hosting a family gathering, he needs something great in store for the main event, like the monogrammed whiskey tasting gift set. This is the ideal gift for a 65 year old man who wants to improve his pallet or even to share this fine experience with the people he cares about. After so many years of hard work, he wants to enjoy himself with the finer things in life.
723+ UNIQUE GIFT BOXES FOR MEN >
The Perfect Present for His Pocket
65 is a big year because it marks the beginning of his golden years. For making it to such a monumental milestone, he deserves something extra fancy. An open-face pocket watch is a fantastic accessory guaranteed to make him look extra sharp. He will be so pleased with his new accessory when he boldly pulls out his pocket watch to check the time or simply show off his gift. Besides its gorgeous design, this is one of the most awesome gifts for 65 year old man because it is the sort of thing he has probably always wanted and never got for himself, making it the perfect gift for a man who seems to have it all.
Lock and Load These Great Gifts for 65 Year Old Men
Here are some gifts for 65 year old men that are worth a shot. The shotgun decanter and bullet glass gift set is one gift that any man will be proud to own because of its intricate design and excellent practicality. This is a wonderful gift to display in a home office or have out as a fantastic conversation piece. He will be ecstatic to host an evening with his friends and sip on his favorite whiskey with them as they all catch up on good times using his new favorite decanter and glasses.
So He Can Let Out His Inner Viking
He shouldn't drink beer like just anybody. He's 65 years old, he's been around the block a few times, so he needs something a little extra fun to make his beer extra special in a way that he will not see coming. This personalized ox horn beer set is a wonderful addition to any beer collection, not to mention the engraved gift box to keep his new engraved beer opener and any other fun bar tools he has. He will love getting something so unique and unexpected, and he will certainly always remember his amazing celebration each time he embraces his inner Viking with a tasty, cold beer.
A Present with Presentation
A personalized presentation set is the ideal gift for 65 year old men because it will be one of the only things that could still truly surprise him. This set is so gorgeous that it can easily fit in with his classy style. A presentation set will quickly make its way to being his favorite item in his collection, which is really saying something for a man of his age who has spent so many years finding the best of the best when it comes to his collectible items. Whether he enjoys a glass in solitude or if he wants to share with friends, there is no classier way to enjoy a perfect whiskey.
To Keep His Wine Perfectly Chilled
He doesn't have time for an annoying glass that sweats or doesn't hold a chilly temperature, which is why stainless steel is the way to go. Give him the gift of the perfect glass of wine, one he can sip on all evening without it sweating or losing its chill. The custom stainless steel wine lovers' gift set is full of outstanding gifts for 65 year old man. This gift set is awesome not just because of the way it enhances his favorite drink, but also because it will provide an excellent opportunity to share a drink and lots of laughs with the people he loves, and then he can hang on to every single memory of his favorite bottle's corks in this awesome keepsake box for his next riveting conversation with a fellow connoisseur.
Tremendous Grilling Tools
He may be getting older, but his skills behind a grill are still fire. During this upcoming celebration, you will light up his world when he sees this gorgeously engraved grill tools kit. This is one of the best gifts for 65 year old men because, at his age, all he wants is the opportunity to show his family and friends that he's still got it and he can bring something to the party that everyone will enjoy, like his famous grilled ribeye.
Make Your Message Crystal Clear with a Decanter Set
All he really wants is something fun, useful, and classy. The personalized ashtray glasses gift set is a gorgeous display for any home bar or office, and it provides the perfect opportunity to discuss a new business venture over drinks or to catch up with an old friend. This nifty gift set is simply too much fun for a man his age because it allows him to tinker with well-crafted glassware, switching up when he wants his ashtray to the side or to act as a lid for his drink. This is one awesome set with so many different combinations to enjoy depending on what his evening calls for, making it the perfect gift set to celebrate any important occasion with for years to come.
What Every Wino Wants
What gets better and better with age? He does! Of course, wine does too. Someone with his level of class does not want some simple bottle of wine that he has had a hundred times before. Instead, he wants something that will make all of his future bottles of wine better from here on out. That is precisely why the engraved wine accessories gift box is one of the greatest gifts for 65 year old man because he deserves the wine gift set with accessories. The best part is this is a fantastic and elegant gift that will certainly live up to his fine style. For every special occasion, he will pull out his engraved gift box with pride and look forward to sharing a wonderful experience with friends and family, never needing to stress or track down the necessary accessories.
Save Him Some Time By Organizing His Watches
The greatest generation still needs an organizational station. Therefore, the best thing that you can do for gifts for 65 year old man is to make his time getting ready easier with a personalized 10-watch organizer. Every morning or date night will be stress-free when he gets ready because he won't be rummaging through all of his drawers looking for that one accessory he needs to look extra dashing. Not only this, he will really enjoy having an elegant display for his prize collection, and there is plenty of room for any of his miscellaneous items, or it is the ideal space if he wanted to expand his collection in the future.
Cheers His Beers
Gifts for 65 year old men can be super simple. As long as it is a high-quality present that clearly piques his interest, he will be happy. An engraved beer box set is a great answer that almost any 65 year old man will absolutely adore, especially when it comes engraved just for him. He will enjoy keeping a special stash in his keepsake box and busting out his custom glasses to surprise friends and family, anytime the occasion arises. This is an ideal gift for the man who loves a beer on occasion or for the man who enjoys one with the football game every Sunday. No matter what kind of beer lover he is, let him better enjoy his most relaxing moments with an amazing brewski.
249+ GREAT GIFTS FOR BEER LOVERS >
For a Relaxing Morning Routine
All he needs is some extra comfort and to feel pampered. After so many years of hard work, it can be difficult to slow down and relax, which is why a silky-soft robe gift set is one of the best gifts for 65 year old men. Not only will this improve his mornings when he is enjoying his coffee, but he will also feel completely refreshed when he adorns this after a relaxing shower. After wearing it just one time, he won't want to change out of it! He doesn't need to wake up grumpy ever again when he has such a luxurious robe gift set to look forward to each morning.
To Get a Better (Leather) Grip
Nothing beats a fine piece of leather when it comes to craftsmanship, and a man of his age of fashionable style will appreciate something made from such a high quality material. The personalized leather wrap whiskey glass gift set is an amazing gift because it is the perfect addition to any occasion. Between having the ultimate display around a dinner table with family, to cheersing a great glass of whiskey with an old pal, this gift is right up his alley. These gifts for 65 year old men are ideal because they combine the classic style of a hard-working man with their chic leather wraps and balance it with the elegant class of a damn fine whiskey glass.
Marvelous Marble Ashtray and a Gorgeous Cigar Glass
A truly exceptional cigar is hard to come by, and it takes years of training and selectivity to know the best of the best from the run-of-the-mill. That means that maybe finding his perfect stogie is not on the docket for this occasion, but a complete custom cigar smoker's kit certainly is. Between having a custom cigar glass to enjoy his finest whiskey while smoking and an engraved ashtray made of pure marble, he will feel so spoiled with this awesome gift. He may even show his soft side and invite you to join him with the special cigars he had been saving, making it one of the best and most memorable occasions of his life–sharing an outstanding cigar with one of his favorite loved ones.
A Personalized Pick-Me-Up
What is the first thing he thinks of in the morning? Coffee. Men in their 60's love a constant routine, and he likely has his ritual for his morning brew. With a custom coffee and carafe gift set, he can add another fun layer and convenience to his morning routine. He will love drinking from his personalized coffee mug, but the even cooler part is that he will not need to keep running back to his coffee pot for more. He can easily take his carafe with him wherever he enjoys his coffee, whether that is to his workshop, home office, or right in front of the TV when he's watching the latest news.
So He Always Gets a Clean Cut
If you want to really surprise him with something that he will get so much use out of and never see coming, then an engraved cutting board is the gift for him. What makes this one of the coolest gifts for 65 year old man is he will find a new enjoyment in the kitchen whenever he wants to go all out for breakfast or dinner and feel like a real master chef with such a thoughtful personalized gift.
A New Way to Let His Wine Breathe
From the time he first picks out his newest bottle to when he finally pours himself a glass, that 65 year old man loves every single moment of it. With the swirl wine aerator, he can add one more step to the entire process, making it superior to most gifts for 65 year old men who love their wine. Only true winos know that drinking wine is a patient process, much more about enjoying the craftsmanship of the carefully curated beverage than the drinking itself. Give him a luxury that not everyone has the opportunity to enjoy, perfectly aerated wine with a truly special gift and experience for him that he can enjoy over and over again.
Journey to the Center of the Earth in a Globe Home Bar
If he doesn't already have a home bar or if he wants to add to his existing one, then the 16th-century replica globe bar is the gift for him. This portable globe bar makes for a beautiful addition to a home study or living room. Perhaps the coolest part is if he leaves the top lid closed, no one will ever be the wiser that he keeps his top-shelf supply in there. Such a big and extravagant gift is sure to leave a lasting impression, and it is something he will get to enjoy for the rest of his life.
Throwback to the Good Old Days With a Beer Caddy
Liven up the six-pack you bring him with an engraved beer caddy. He will be so pleased by such a fun surprise and some beer to go along with it. Of all the gifts for 65 year old men, this one is perhaps the most useful. He can enjoy a six-pack with a friend at home, or he can take his favorite brews with him on a hunting or fishing trip with the guys. No matter what he does, whenever he needs to crack open a beer, he will remember the amazing gift you gave him and the wonderful time he had.
The Ideal Outdoor Gifts for 65 Year Old Men
Between getting new amazing tactical tools, some stupendous cigar accessories, and a beer with his name on it, he has everything he needs for an amazing celebration is one handsome ammo can. That is why the custom pint glass ammo can gift set is one of the most outstanding gifts for 65 year old man. He will love taking his ammo can with him on his next fishing trip and sipping on his favorite beer in peace as he waits for them to bite, and he will thoroughly enjoy his many amazing gifts right in the comfort of his own home. This gift set has everything a man needs to have a truly relaxing evening.
For the Card Shark at Heart
The best moments in life usually include at least one of two things: spending quality time with the people you care about and feeling like a winner. With a personalized poker gift set, he can do both! Help him feel like a real high roller and make the competition nervous when he struts in with this snazzy gift set, complete with everything he needs for an awesome game night. If he hasn't had much luck playing with the guys lately, maybe this is the exact kind of gift he needs to boost his confidence so he can pull off that masterful poker face.
Something To Help Him Get That Big Catch
Nothing beats the peace and quiet of a day on the dock staring at a quiet pond. Whether he is a seasoned fisherman or if he simply needs to take up a new hobby, nothing beats having the best equipment for when he needs to wrestle in his next big catch. That is why the master fisherman's fishing rod is one of the best gifts for 65 year old man who loves fishing. With a strong fishing rod like this one, it lightens his load and he can come home with an ice chest full of catfish and salmon feeling like a champion. Give a man a gift, and he is happy for a day. But give a man a high quality fishing rod and he is happy for the rest of his fisherman's career.
A Dashing Decanter Set for a Man of Class
Give him a gift that tells it like it is. Nothing beats an original, and there is no one that better fits that description than him. This gorgeously engraved whiskey decanter gift set is one of the most fantastic gifts for 65 year old men, and it will absolutely blow him away. Between the gorgeous design of the glassware to the fantastic personalized artwork, this is more than just a whiskey set. This is a gift that will make him smile every time he unwinds with his favorite drink.