The majority of Father's Day gifts you find in stores will be of the basic variety: neckties, funny t shirts, magazine subscriptions, blah, blah, blah. If your dad is way too cool for this type of thing, we've got the list for you! Whether he enjoys craft beer, top shelf whiskey, or just good times sharing a drink with his family, these 18 unique gifts for dad are sure to be a hit. Many of these gift ideas are personalized, because we know that having a one-of-a-kind present for any occasion will always make a lasting impression.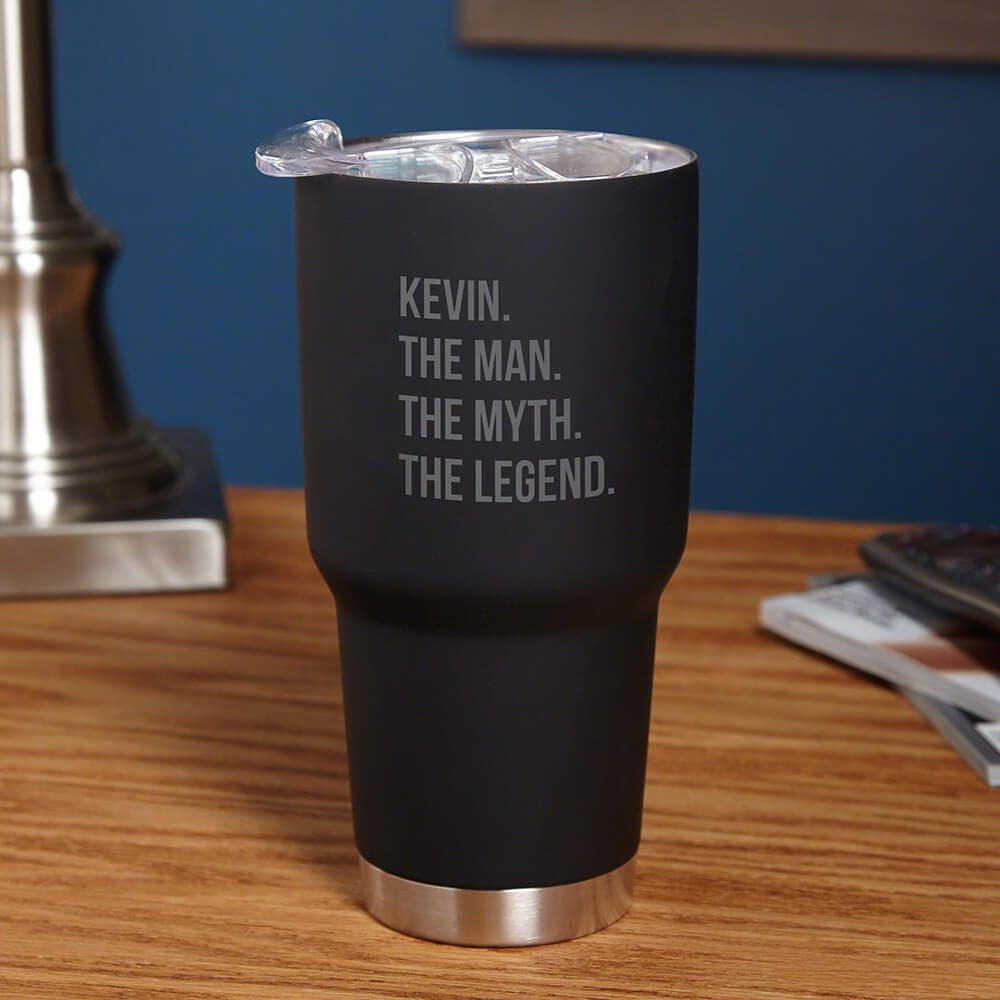 Fathers seem to end up going to bed on Father's Day with a desk full of useless accessories, but that's definitely not the case with this incredible insulated drink cup. Similar to the Yeti style tumblers you see everywhere, these stainless steel cups are insulated with the same technology, so beer and cocktails stay cold and coffee stays hot for hours at a time. These are great gift ideas for dad, especially with the custom engraving. You can add any name to the top line, but when purchasing for dad gifts, you could put "Papa Dean," "Grandpa Joe," or just simply "Dad."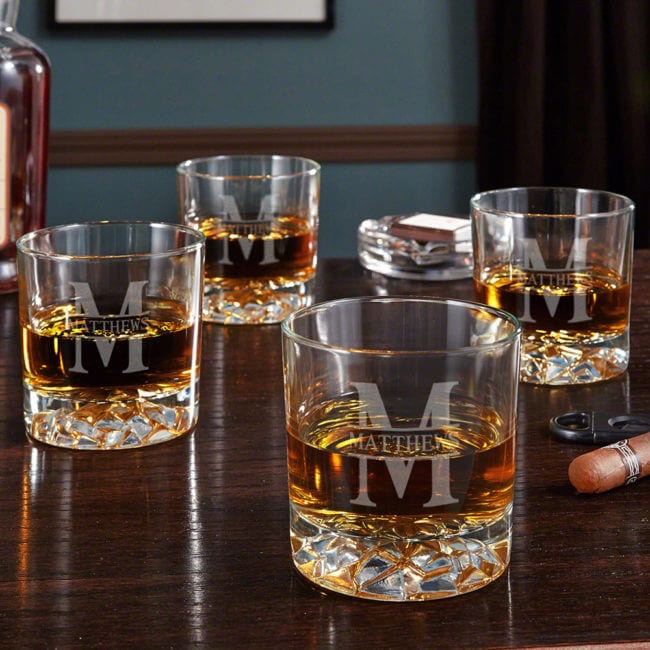 What makes these personalized whiskey glasses great gifts for dad is the uniquely sculpted base. Made to look like actual rocks, you get a handsome detail as sturdy as Dad himself. We're always big fans of whiskey gifts that people can use to entertain groups of people, because, who wants to drink along?
This whiskey gift for Dad is perfect for guys who like to keep their liquor on display. You can personalized with the current year, if he's a new dad, or with the birth year of his firstborn. The keepsake box can be used to store anything he wants, including the neckties that everyone else got him this year. Since it's actually a set of things that can be used both together and separately, it's one of the best gifts for dad we've found.
No matter what state he lives in, Dad is always the star on Father's Day. This high-caliber personalized bar sign is a superb idea for man caves, home bars, or to hang out by the grill. Custom made with any text you want, it's one of the presents for dad that will make him pull out the hammer and nails, and hang it up right away.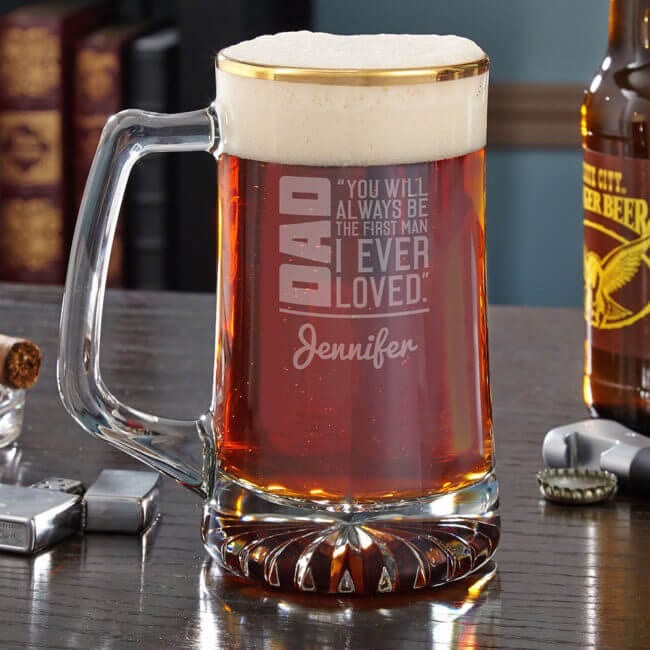 As if it's not already one of the best Father's Day gifts, it's topped with an actual gold rim! This brilliant glass beer mug is specially designed for daughters to present to their pops. Emblazoned on the side is a thought that all dads appreciate, "You will always be the first man I ever loved." These are especially fun dad gift ideas if you have a competitive father & step-father, so you can buy one for each, and wait for them to try and brag to the other.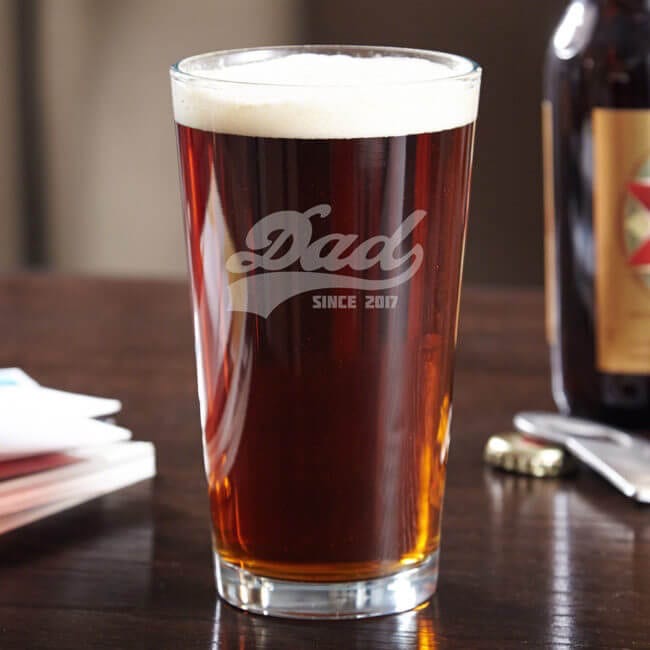 If you're looking for gifts for Dad who has everything, and he happens to love sports, you can stop your search now. These custom pint glasses say everything a guy needs to say when he's got the game on and enjoying his favorite cold beer. It sends the unmistakable message that he's into sports, and comes personalized with the year his first kid made it to the game (this game called "life").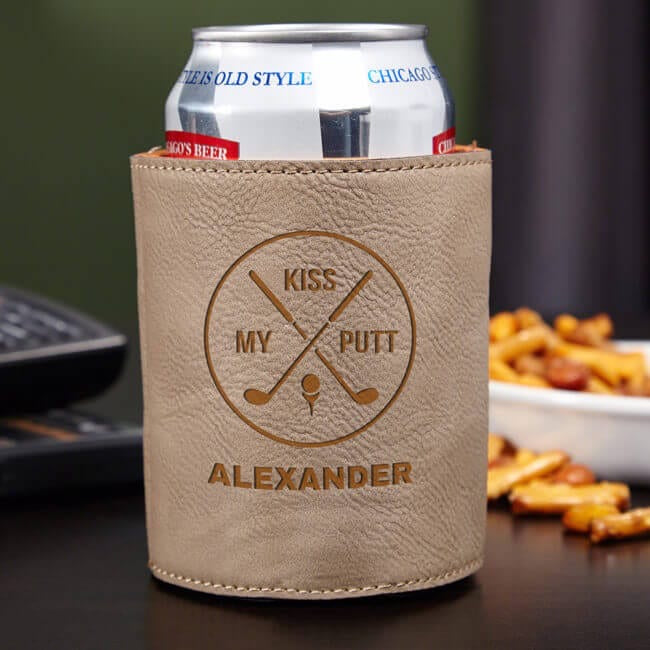 Koozies are go-to cheap Father's Day gifts, and they aren't without merit. They keep you cans and bottles cold, and are completely portable. These golf themed can holders, however, are top of the line when it comes to quality. Made of imitation leather, they are definitely the most stylish koozies you'll ever see. With a funny golf themed phrases and personalization, he'll need one for home, one for the office, one for the country club, one for the man cave…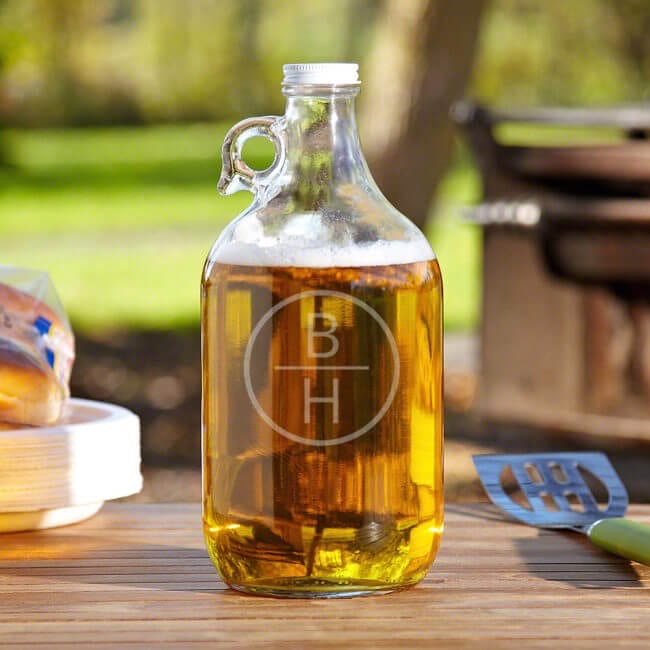 These growlers feature a contemporary two initial monogram, and make truly unique gifts for dad. He can take it to the local brewery to fill up with his favorite microbrew, or even fill it with his homebrew to take over to the neighbor's place for game night. If you want to go all out, you can even get a matching set of pint glasses, making your present surpass all other gifts for Father's Day.
Does your dad live for corn hole? If so, you have to get him this portable bean bag toss game. It's compact size means he can keep it in the truck and take it everywhere: tailgating, camping, the office parking lot. The best part is, no one will try to steal his game set, because it's personalized with his name! The same design is also available on koozies, flasks, beer tanks, and other matching gift ideas for dad.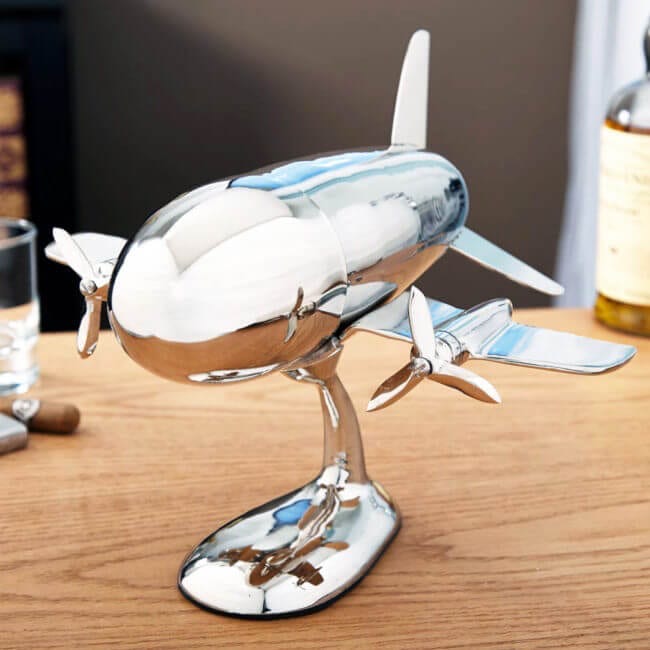 Sharp, whimsical cocktail shakers are a classic gift. Sure, a shaker shaped like an airplane isn't a super practical present for dad, but boy it will sure stand out in his office! A great idea for pilots, world travelers, or guys who just like planes, it's a statement piece that can also make him feel like James Bond.
One of our favorite presents for dads this year is beer cap maps. They are available in the shape of any US state, most continents, letters, numbers, and even the silhouette of a sexy mermaid! Magnificent gifts for beer lovers of all shapes and sizes. The great thing about bottle cap holders is you can keep adding to the wall the more beer caps you collect.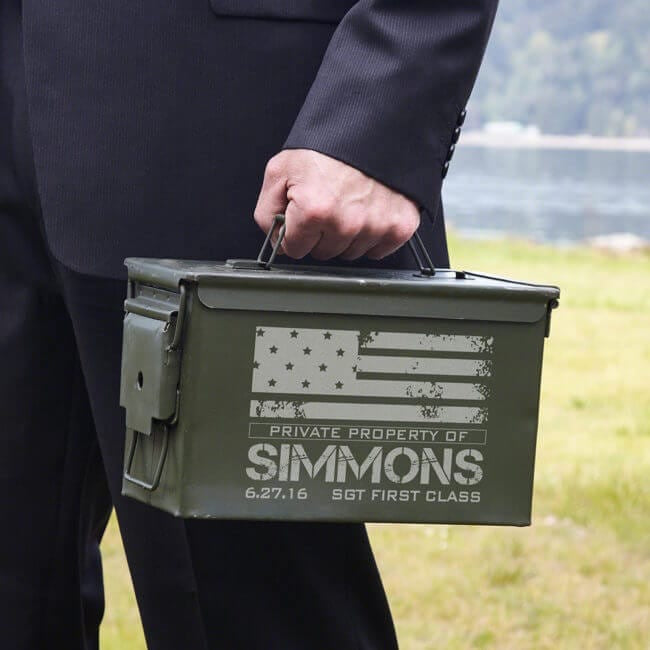 Military gifts for men can be tricky, but these 50 caliber ammo cans will be a high-ranking hit. Made from actual military surplus ammunition boxes, each once comes personalized with a name date and rank. So if you've got lots of officers in your family, you better just go ahead and buy a full set for everyone.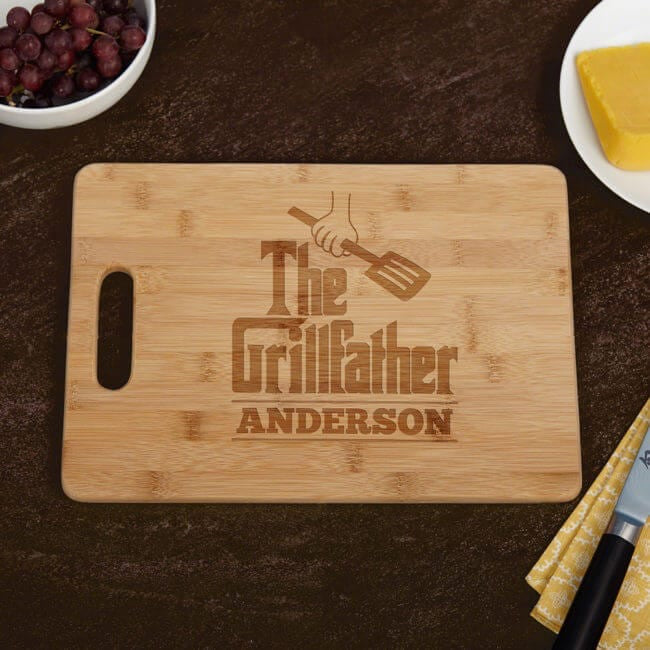 If you father's favorite hobby is grilling, good gifts for dad must be fun and functional. Make way for this foolproof cutting board. Engraved with a name and the the memorable title, "The Grillfather," your dad will want to fire up the charcoal and stream a classic movie all at the same time.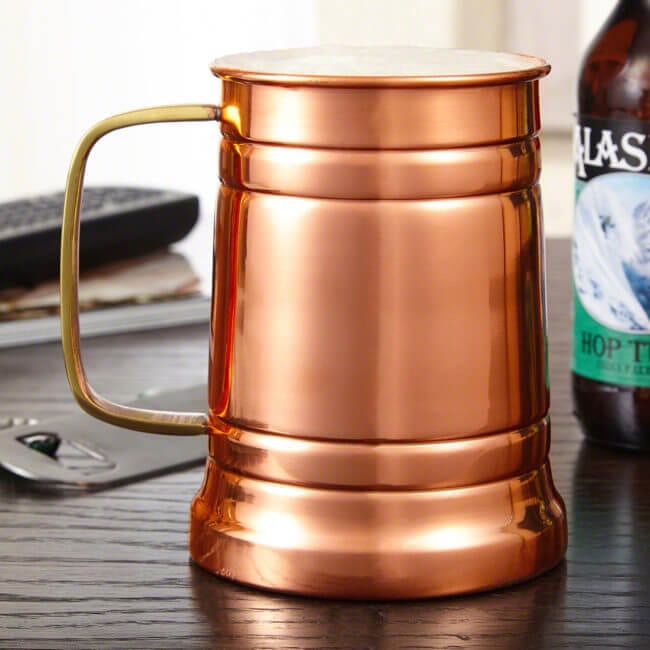 Moscow mule mugs have become a staple of Father's Day gift ideas, but if your dad already has a classic set, add to the collection with one of these cool beer steins. Made of beautiful, natural copper with a brass handle, these mugs are perfect for beer, or any king sized cocktail. The chill on the lips created by the copper gives a drinking experience like none other.
A hot summer is approaching, which means partying outside. That's why personalized signs make really cool gifts for dad. They come with hundreds of designs, perfect for any personality. Let him create his own wine bar, tavern, or cantina right on the back porch. Olé!
If he's got a tap or kegerator at home, you can't go wrong with a custom tap handle. These are made from hand stained maple wood, and laser engraved with anything you want. This series pays tribute to his profession, but the text is 100% customizable. Is he serving up more than one type of beer? Get a whole set!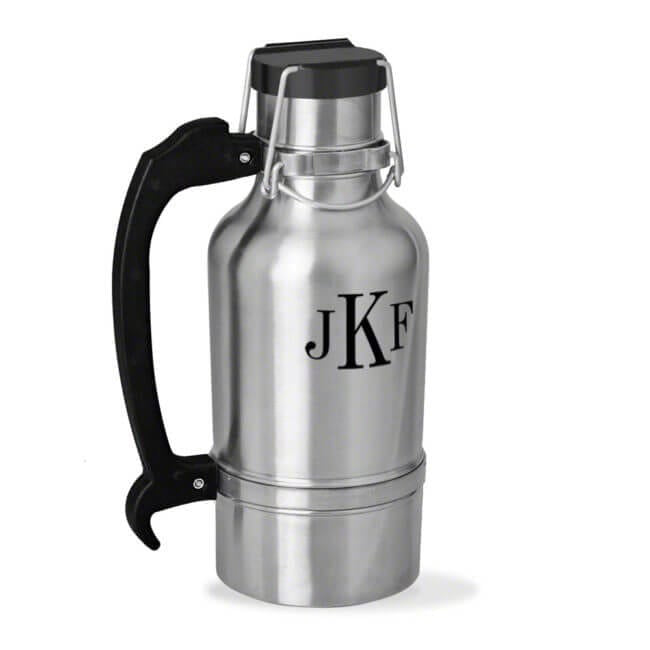 Travelling with beer has always been difficult, until now. Leave the cases of cans and bottles at home, and fill this monogrammed drink tank with 64 ounces of his favorite beer. It keeps it cold for hours, and the large sturdy handle makes it easy to pour. Don't forget the Solo cups!
If your father spends his time at home, taking in the newspaper and sipping on his favorite merlot, then this 16th Century replica globe bar is an exceptional choice for a gift this year. Made to store the glasses as well as bottles, you can lower the Northern Hemisphere when it isn't happy hour, then lift up at the equator when it's time for a drink!