Get creative this Father's Day by thinking outside the box for dad. After all, he really deserves a good gift. It doesn't matter if this is his first or fiftieth Father's Day, he has put in hard work raising his children and deserves a little appreciation. However, you know you should do more than just a card. But what else could you get him? Dad always seems harder to get a gift for than anyone else. This year, get him creative Father's Day gifts that make his hobbies better than ever, have him thinking of you, or even help him unwind after a day's labor. Plus, if you can find him a personalized gift, even better! Make sure dad gets the recognition he deserves with these unique Father's Day gift ideas!
A Smokin' Father's Day Gift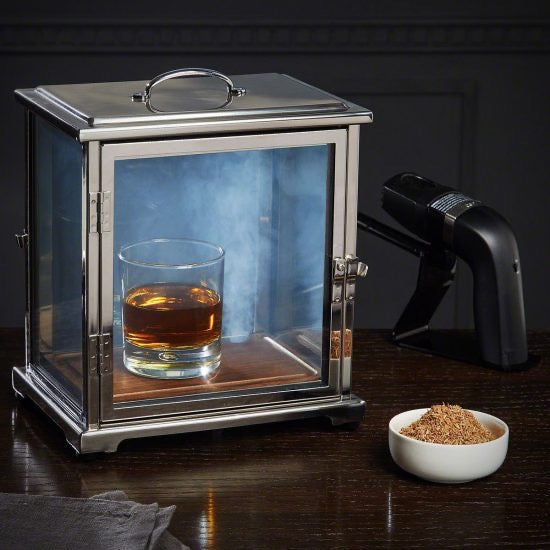 When there is smoke you know there is a fire Father's Day gift! This smoker system is a quintessential gift for dad on his special day. Not only is it a cool-looking gadget but it also lets him experiment with his liquor, what is more dad like? Now, when he wants to enjoy a glass of whiskey, he can put a personal twist on it by enhancing it with wood chips or dry herbs!
Creative Father's Day Gifts for Cigar & Whiskey Lovers
Few things out there are as good as this set of unique Father's Day gift ideas for your old man's big day. This creative engraved cigar whiskey gift set lets him indulge in his go-to vices with ease at home and on the go. You can be sure when you get him this gift this year, he'll be using it for every occasion possible, but he'll always make sure to use it on the next Father's Day too!
Custom Ammo Can Humidor
Speaking of cigars, no dad's cigar arsenal can be complete without a humidor. But this is your dad you are shopping for, take things to an 11 in terms of gifting with this personalized ammo can humidor. He'll love the novelty of the gift as well as the practicality. Plus, this humidor is portable and protects his prized tobacco. That means, when he needs to bring his stogies with him, he can guarantee they'll arrive in perfect condition to this unique gift!
A Toolset Everywhere He Goes
Dads are known for their surprising versatility. They always seem to have just what they need on them at all times. Help him always be prepared with the BitVault. This incredibly rugged device is an extra storage space he can carry with him to easily carry tools, extra SD cards, USB, cash, really anything he could need when he is on the go. It has a built-in screwdriver, too!
Unique Father's Day Gift Ideas for Game Night
What could be a more creative Father's Day gifts idea than a monogrammed poker gift set? This is the ultimate dad gift! He'll love using this set with the family on Father's Day or with his buddies for his bi-weekly poker night. The set even comes with a matching cigar whiskey glass which will have him feeling like a card shark for each hand he is dealt.
Engraved Decanter Set for Father's Day
Take a note from the old school with a gift that may seem perfectly happy in the 1950s media men's offices; however, decanters are truly timeless gifts. They are great for your dad to keep in his office where he can share a drink with a coworker, client, or boss but they work equally as well as gifts for his home so he can unwind with his Glenfiddich in style! Blow your dad away this Father's Day with this amazingly classy personalized decanter gift set!
Unique Beer Stein for Dad
Raise a glass to your dad for a toast, well, in fact, make sure he can raise a mighty mug to you with this custom beer stein! These make some of the most unique Father's Day gift ideas since few people have a custom stein around their house, let alone one that looks this good. Perfect for his ales and lagers, this gift will be as often his go-to mug as well as display piece since he will absolutely love how it looks even when there isn't beer inside.
A Box Full of Creative Father's Day Gifts
Take things up a notch for Father's Day with a gift box full of goodies for dad. This gorgeous black box set comes monogrammed with his initials on not only the box but the glass and flask too! Now, when he wants to celebrate at home or on the go, he can! He can even do so in style thanks to the high-quality gifts. Make this gift an 11/10 by adding a few small bottles of his favorite liquor inside the keepsake box.
Top-Tier Boots for Him
Give your dad a gift that has soul this year with a set of Red Wing boots! These are top-notch creative Father's Day gifts since it is a gift that he can use every day and works perfectly for the dad that is outdoor working all day to the one who likes them to go perfectly with his jeans on a date night!
State Your Business with a Cool Father's Day Gift
Add some decoration to his office or man cave with a beer cap map! These make surprisingly unique Father's Day gift ideas because not only does he get to fill the map in with beer caps of his choice but this map will come in the design of his favorite state. Whether it is the place he was born and bred in, went to college, or if he currently lives there, you can pick that state!
The Tumbler Box Set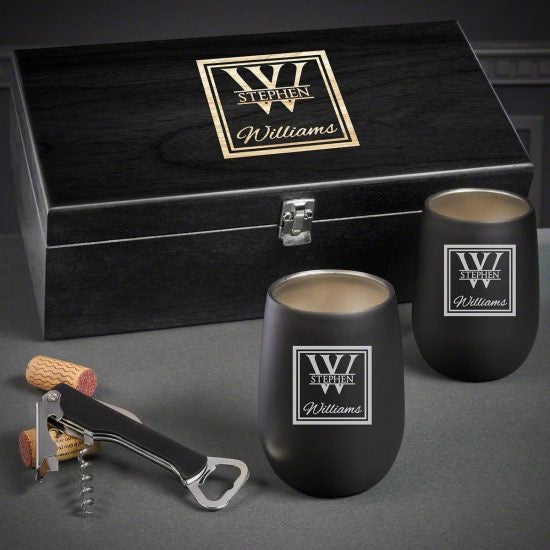 Your dad is so tough that he doesn't even need milk with his cereal. Get him a tumbler gift set this Father's Day that shows how rugged you think he is with this personalized blackout tumbler gift set. From chilled wines to the manliest Mojito, he'll love filling these glasses up each and every night, letting you know with a raised glass and subtle head nod that this is one of the best Father's Day gifts ever.
Custom Cutting Board for Dad
If he can handle himself on the grill, there are few things better than an engraved cutting board for the dad who spends almost as much time with the grill as he does his own children. Now, he can either use this gorgeous board to bring in all his burgers and brats or as the ideal spot to slice onions, tomatoes, and lettuce for his BBQ.
Way-to-Gu with this Meat Gift
Speaking of grilling, for the "Grillfather" a great gift on its own or with other unique cooking items is a Wagyu beef box. This extremely marble meat is the perfect treat for him to cook the best steak or roast of his entire life. When he's able to cut his meat with a fork, he'll know you got him a truly prime piece of beef.
Grill Tools are Unique Father's Day Gift Ideas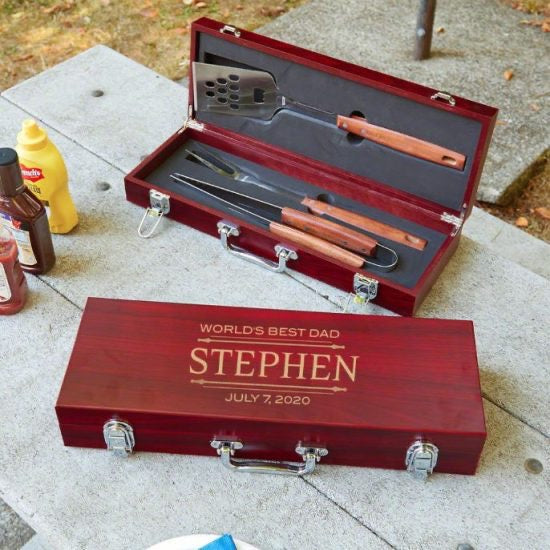 Oh, more grilling gifts? Yup, gifts that help him spend time on the grill are always great for dad! This personalized grill toolset is the last piece of the puzzle from the prior two gifts. If you get him all three items you can be sure he'll have his grill lit before the wrapping paper from this box set even hits the floor. This custom set is the best way to replace that old set he's been using for years with a quality wooden set he simply will want to use forever!
Arm Him with Whiskey Gifts
Arm dad with the toughest and coolest creative Father's Day gifts around with this personalized whiskey ammo can. Inside, he'll find everything he needs to indulge in his vices; however, he will also have a badass ammo can. Now, since he is a dad, you know he is going to repurpose it to be the coolest ammo can at the range, fishing tackle, or most badass office filing cabinet around!
134+ AWESOME AMMO CANS FOR DAD>
Manliest Mug Set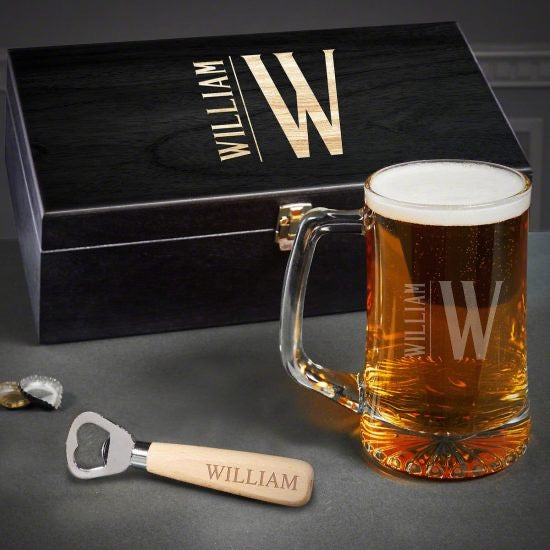 This set of unique Father's Day gift ideas is guaranteed to make him sprout an epic Viking beard as soon as he grabs the handle of his engraved beer mug. If he already has a beard, his beard will be a beard then! Men love drinking from mugs, there is simply something primal about it that makes each man feel 1000% more manly when they do. So, ensure he can feel like a true man's man whenever he wants by getting him this beer set for Father's Day.
A Box of Dad Tools
This set is so dad-ilicious that it should come with a dad card as well. This custom toolset comes with all the tools he'll need to fix, repair, and build things around the house. Just be prepared because once he starts this trip into dad mode. Now, you'll start hearing dad puns and reasons to fix things all day on Sundays from here on out.
Aim for this Gun Decanter for Dad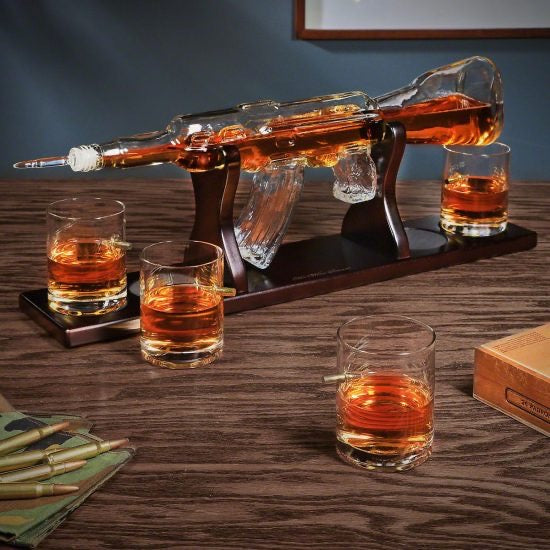 Take a shot (or a few) at getting the most creative Father's Day gifts with this AK-47 gun decanter with bullet whiskey glasses. This is the perfect gift for him to show off to all his friends and colleagues. Whether this goes on display on the counter of his home bar or office, you can be sure everyone who sees it will be blown away! Better still, he can have it filled with his go-to blend of Makers Mark or Crown Royal so he is locked and loaded for a drink of whiskey.
Creative Father's Day Gifts for Golf Lovers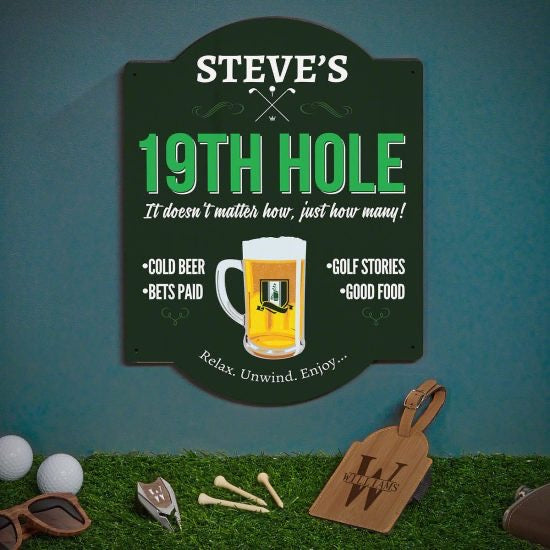 Is there a dad on earth who doesn't love golf? This Father's Day, make his round more enjoyable from beginning to end with this custom sign and golf gift set. While he is on the course, he will definitely feel like a touring PGA pro when he is using his engraved golf bag tag or divot tool. But, when he gets home with his card mates, he will absolutely love how it feels having the best 19th hole hang-out spot at his man cave, garage, or home bar.
Tie Travel Case
Keep dad looking dapper and sharp as ever with this travel brown leather tie case. Inside, he can keep his ties in great shape while also having room for things like cufflinks or tie clips. The next time he has an out-of-town meeting or event, you can be sure he will be one of the best dressed in the room.
Custom Shadow Box Gift Set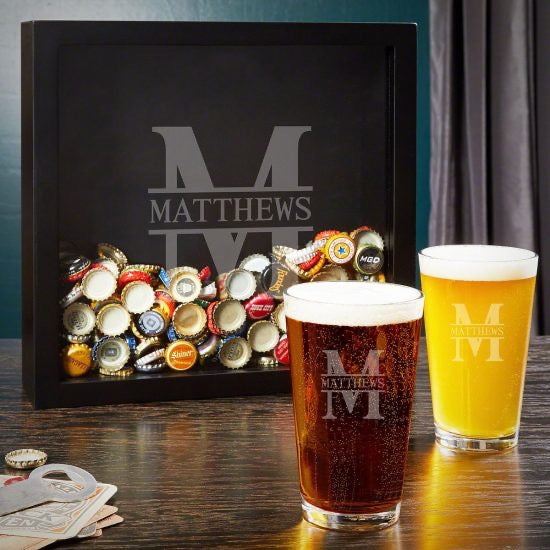 Make his year with a gift that will never be forgotten. This personalized shadow box gift set is a top-quality set of creative Father's Day gifts. Dads are always about sentimentality from their children, and you'll be able to make some memories with him thanks to this set. The two of you can crack a few cold ones on his special day, and the caps are the perfect way for him to start collecting memories. He can even collect tickets from games you've been to together, polaroids of his children, or handwritten cards.