28 Best Scotch Glasses for 2022
Use a Glass That is Fit for Your Finest Whisky with One of These Amazing Scotch Glasses:
Scotch, also known as "the Golden Nectar of Scotland," also known as "the water of life," is a liquor steeped in rich traditions and national pride. Naturally, scotch glasses are expected to be worthy enough of such a fine spirit and made of the highest quality materials. Distilled in a wide variety of single malts, single grains, and blended varieties, signatures of this whisky are oaky flavors and golden hues. The Scottish government still regulates production to this day, ensuring high standards when it comes to ingredients, coloring, and even minimum alcohol strength.
Proper scotch glasses are an important part of any home barware collection. While other spirits, such as vodka and tequila, can be poured into any old tumbler, authentic scotch traditionally calls for something more upscale. Even the best bourbon glasses slightly differ from what some scotch drinkers look for in glassware. We've selected the best scotch glasses for you to consider, taking note of size, quality, and their impact on flavor and aroma. Rounding up a variety of shapes and styles, you are sure to find the perfect choice for your next tasting.
Glencairn Scotch Whisky Glass Set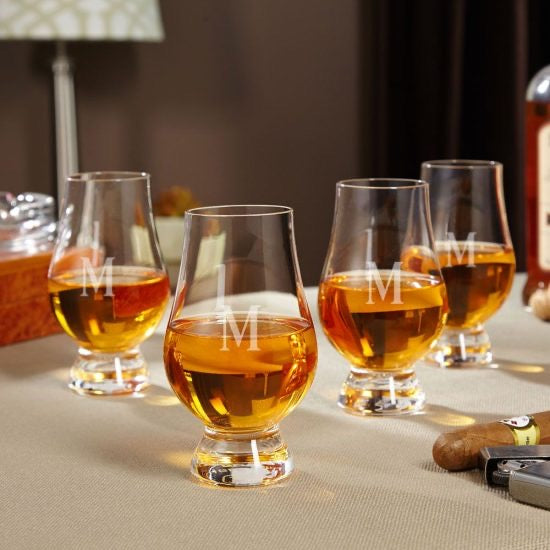 Most scotch lovers will agree that a Glencairn whisky glass set is a must-have for any home. The size and shape of these nosing glasses were specially engineered to enhance the flavor notes commonly found in single malt and blended malt scotch. The Glencairn Glass has been recognized by numerous organizations for quality and even won the Queen's award for innovation in 2006.
Scotch Whisky Serving Set
For the person who loves to entertain, why not make serving your guests easy? This handsome scotch serving set comes etched with your family name and last initial and is perfectly designed to allow you to easily serve guests in style. With plenty of scotch glasses to go around, everyone can enjoy your favorite and finest scotch.
Prism Faceted Tumblers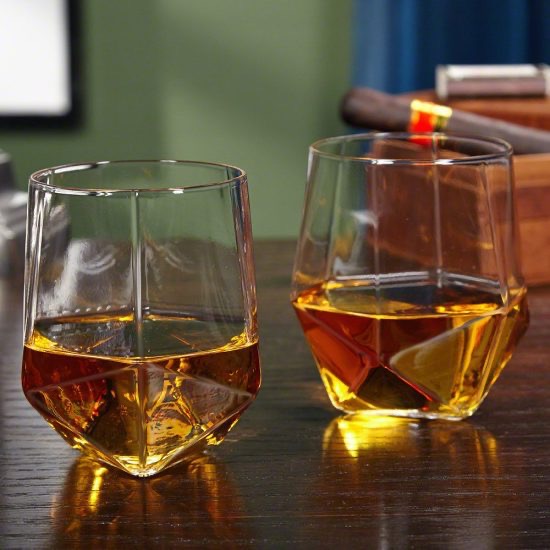 Intriguing and eye-catching, when you break out these bad boys people are going to notice. Great for slowly sipping a scotch, these prism faceted tumblers add dimension to your liquor would look great next to a custom decanter or a fine cigar. Coming in a set of two and holding 11oz they are great for sharing a fancy bottle of scotch among friends.
Official Tasting Glasses

These taster glasses are perfectly suited for those who love their scotch. Much like the Glencairn, the shape of these official Kentucky Bourbon Trail glasses enhances each sip of your refined liquor. Plus, the matching engraved set makes these glasses a perfect choice for dinner parties and special occasions, you might even want to get more than one set.
A Classic Rocks Style Scotch Glass
A handsome complement to the caramel hues of authentic scotch, this engraved rocks glass is ideal for pairing your incredibly unique scotch with an "Ultra Rare," person. The classic rocks glass is, to put it simply, one that will always be hard to beat when you're looking for a top-quality scotch glass. The open mouth of the glass makes sipping flavors and smelling aromatics easy, while the bubbled base ensures that even when you have the most chilled drink, you won't need to worry about condensation. There is a reason that every bar has a stack of these glasses, it is because every time it is guaranteed to give you a perfect drinking experience.
Geometric Scotch Glasses Set
Your scotch glasses don't always have to be cylindrical. Instead, make your home bar even more unique with this geometric decanter set! The triangular shape of the glasses and decanter add a modern touch to your glassware and offer a stronger, more stable grip than regular rounded glasses do. Now, you can sip your scotch with a couple of friends in style, talk about a great set of whisky gifts for men! Bonus: the shape of this glassware set even makes it easier to store as the straight edges fit neatly together, taking up less room in your cabinet.
A Legendarily Cool Scotch Glass Gift Set
The classic heritage of scotch lends itself to myth and legend, which is exactly what makes this personalized scotch stone set with crystal glasses an ideal way to enjoy a traditional scotch. The two unique glasses make each drink look as classy as they taste while the steel whiskey stones are guaranteed to keep your drinks at a perfect sipping temperature!
Glencairn Crystal Glasses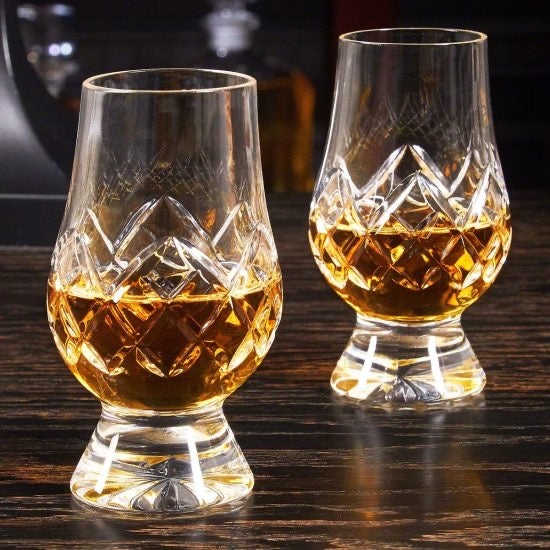 Historic and contemporary styles come together in these Glencairn crystal glasses. A new twist on a relatively recent invention, the exterior is finished in crosshatch detailing. A little thicker than their older cousins, these tulip-shaped crystal scotch glasses are an excellent addition to an heirloom drinkware collection and perfect for single malt scotches.
The Classic Scotch Glass
Whether your scotch glass is filled with ice or you take it neat, this personalized glass will always have it looking like you have some of the coolest features in your drink thanks to this glacial design in the base. Add in the personalization and this glass will be one of the most unique gifts to have in any scotch drinker's glassware cabinet.
256+ SCOTCH & WHISKEY GLASSES >
Keep Your Scotch on the Rocks Chilled
For those of you who aren't big on whiskey stones or you simply want a scotch glass that won't get your hands and furniture soaked in condensation, this leather-wrapped rocks glass is the perfect solution! Your drink will not only stay ice cold for longer, but it will also never produce condensation and even keep your hand from getting cold! Once you try this unique glass, you'll never want to drink your scotch on the rocks any other way from now on.
Nosing Glasses Perfect for Scotch Tasting
Looking for unique scotch glasses that are ideal for tasting? These Nosing glasses are the best types of whiskey glasses for tasting all of the hidden flavors and detecting the subtlest of aromas. Much like a Glencairn, the curvy shape is the secret to its flavor-enhancing properties and the mouth helps guide the aromas to your nose as you sip so that you get a full flavorful and aromatic experience all at once. You can even enjoy a couple of stogies with a friend thanks to this convenient whiskey gift set!
Must-Have Modern Rocks Glasses
Looking for some engraved scotch glasses to add to your home bar? This pair of square rocks glasses are must-haves! The modern design of a square base and a rounded mouth make these unique glasses easier to hold than a regular rounded one. Plus, the thick square base insulates your drink to prevent condensation rings and you don't have to deal with the awkwardness of sipping from a square-shaped rim like most other square glasses. You and your partner can enjoy a couple of scotch cocktails from these elegant monogrammed glasses or treat a friend to a nice glass of your favorite scotch!
Unique Scotch Glass Unlike Any Other
What glass is best for scotch? The Túath glass of course! Originally designed for Irish whisky, the unusual shape of the glass helps soften and smooth your scotch so that it actually tastes better. You'll notice a lighter feel on the tongue using the Túath compared to a rocks glass, but you'll still be able to discern all of the flavors and enjoy the full aromas. You're also meant to hold the glass in a specific way: pinch the triangular base between the thumb and index finger. This prevents the heat of your hand from transferring to your drink, which would otherwise affect the flavor.
One of the Most Stunning Scotch Glasses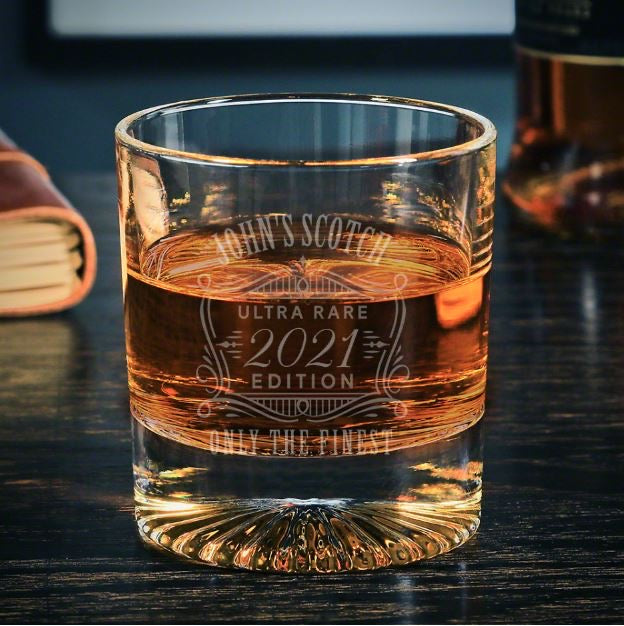 Looking for an above-average rocks glass? This is the scotch glass you're looking for! The stunning starburst base reflects light throughout the whole glass so that you can admire the beautiful golden hues of your finest scotch. The effect makes it seem as if you're holding your glass over a lightbulb to illuminate it, making this glass far more impressive than any regular rocks glass. You'll feel like a true connoisseur with such a neat glass in hand!
Incredible Scotch Drink Smoker
Want to experience scotch in a way you didn't even know was possible? This advanced drink smoker allows you to add spices, wood chips, and that distinct smoke flavor to any of your favorite scotches. Show off your newfound skillset to your friends and family.
Crystal Scotch Glasses
For those occasions where friends come over to sample from your finest bottles, you need to have only the finest scotch glasses too! These crystal glasses will highlight all the caramel and amber hues that naturally come when light hits your scotch. With this set of four, you and your friends will never feel classier when you're enjoying your next bottle of scotch!
Engraved Cigar and Scotch Box Set
The old-fashioned glass has been a staple for scotch whiskey drinkers for years. They're straightforward, and make enjoying a good drink a breeze. However, you can take things up a notch by getting a personalized cigar and scotch box set! Perfect for pairing the two vices together, it'll never be easier to enjoy an Ashton VSG and Lagavulin or a Padron 1926 with Springbank.
A High-Quality, Original Scotch Decanter Set
A personalized box set with a matching decanter and scotch glasses in tow? That is something that will make every drink feel special. Each time you go from a drink of Glenlivet or Johnny Walker, you know it'll taste far better when it is out of this matching box set. As you are an original scotch drinker, you know the importance of a quality decanter and glassware set. And with a set like this, you know every drink will feel original!
Manly Scotch Gift Set
Enjoying scotch is one of the manliest activities out there. Pair that with an axe and you're on your way to conquering the woods. Throw in some whiskey stones for an even manlier experience. This scotch gift set has everything you need to enjoy your scotch in the great outdoors.
DiMera Scotch Nosing Glass Set
Whisky from different regions of Scotland have signature scents, due to the grains that are native to those areas, and even the particles in the air. This scotch nosing glass set is useful for exploring these distinctions. Because the bottom of the reservoir is wider than the upper lip, the aromas build up inside until you are ready to smell. Some tasters hold their hand gently over the top to magnify the aromas.
Square Scotch Glasses
For something a little more masculine, you might like these square scotch glasses. More suitable for blended varieties, the size is generous enough for a few cubes of ice, or a giant ice cube if you wish. These classic rocks glasses also include a timeless monogram, making them ideal for gifting at anniversary and retirement milestones.
Cognac Glasses Set
Everyone works long hours, and such a special drink at the end of the day is well deserved. These cognac glasses and cigar accessories won't stick to a napkin or the counter and come etched with the name you decide. This glass is a unique scotch gift idea for anyone.
For Those Who Want a Double-Dose of Scotch
For those who always wish there was just a little bit more scotch each time they find their glass empty, this set of monogrammed double old fashioned scotch glasses are exactly what you need! Aside from holding twice as much liquor as your standard rocks glass, these monogrammed glasses are a great way to feel like the classiest person in the room as you're enjoying your favorite drink. From the monogram to the large and solid glassware design, everything about these glasses simply screams sophistication.
Legendary Scotch Set
Oftentimes, scotch is meant to be enjoyed in a pure, unadulterated form. However, that doesn't mean a few whiskey stones to chill the drink aren't allowed. In fact, this legendary set is perfect for enjoying a chilled scotch without spoiling or watering down it's mythic flavor!
Sculpted Scotch Glasses & Decanter
Sometimes it's a special occasion, but sometimes it's only Tuesday. These sculpted glasses are perfect for the latter made from durable glass but still stylish, and they hold plenty of the good stuff, since some mid-range blended varieties actually taste better with a cube or two. The engraved wood box this scotch set comes in is nice to, and endless useful for storing most anything, socks, ties, watches, you name it.
Scotch on the Go
Want to be able to enjoy your scotch at home with the perfect glass? Check. Want to have a lighter ready to pair with a quality cigar? Check. Need to take your scotch with you outside the home? Check, again. This incredible scotch box set has all the tools you need to enjoy your scotch no matter where you are.
A Scotch Glass to Enjoy With a Stogie
There's nothing like a stogie to go along with your scotch on the rocks! This luxurious glass is certainly one of the finest crystal scotch glasses you can get as it comes with a monogrammed ashtray that conveniently sits on top of the glass so that you're never missing one or the other. The gorgeous cross-hatching of the cuts in the crystal ensures that it fits in well with your other crystal, even the antiques! Whenever you come home from a long day, this unique duo will be the first things you'll grab before you settle down and relax with a drink and a cigar.
Double Old-Fashioned Glasses
Sometimes a classic glass is the best way to go. This double old-fashioned glass not only works great for your favorite blends on ice, they also double as mixed drink glasses for the wife. Perhaps the perfect compromise of a glass that's both for him and for her.
99+ MORE BOURBON & SCOTCH GLASSES >