37 Best Groomsmen Gifts for 2021
With all of the time and effort required to prepare for your wedding, finding the best groomsmen gifts should be straightforward and stress-free. Now that 2020 is over and 2021 is here, you may be wondering what are the best gifts to get my groomsmen? How to choose good groomsmen gifts? What are some cool groomsmen gift ideas? We've put together a lineup of unique, creative, and non-traditional ideas that are sure to make everyone in your wedding party smile with pride. These cool groomsmen gifts are made to fit every type of guy.
1. Wood Boxed Whiskey Stones and Shot Glass Set – A Cool Engraved Groomsmen Gift
Wooden boxes always carry a certain mystique. Maybe because they tap into that boyhood dream of digging a hole in the yard and discovering a buried treasure chest. Maybe it's the memory of Dad's strongbox, home to antique pocket watches, coin collections, and the like. Whatever the case, this inexpensive whiskey stones and shot glass gift set is truly memorable and perfect for everyone in the wedding party.
2. Hatchet and Ammo Can Gift Set – Groomsmen Set Perfect for Outdoorsmen
A man should never stray far from his tools, and this unique hatchet and ammo can gift set makes that easier than ever. You get two traditional monogrammed drinking accessories, but the icing on the groom's cake is the real, usable hatchet, ready for cutting, chopping, or whatever the hell you want to do with it. Everything comes packed in an authentic military surplus ammo box, so it's especially great for troops, reserves, and shooting enthusiasts.
3. Custom Knives for Your Wedding Party
You want to get a groomsmen gift that stands out. That's completely reasonable. You also want to take care of everyone in your wedding party with the touch of a button. Thankfully, these engraved liner lock knives are available so you can get your groomsmen a gift they won't ever forget. You can still customize each one to their liking. This multi-function knife will fit in most pockets and won't add any extra bulk. It's the perfect knife for everyday use or while in the great outdoors. It's a thoughtful token of their friendship throughout the years.
4. Vintage Style Laser-Etched Colossal Beer Mug
If you are wondering what are traditional groomsmen gifts, the mug above, and flask below are two such gift ideas. Groomsmen mugs are a popular gift idea and with good reason. You can use them to get the bachelor party started, or for the big toast at the reception. These vintage-style beer mugs are on our list of favorites because of their massive size they stand out and have a uniquely detailed base. The sculpted texture is almost diamond-like, a nice nod to wedding rings and studded cuff links. Each person gets their own name on the side, too.
5. Cool Grey Hip Flask with Engraved Name
These cool hip flasks make for gift ideas they can actually use on the big day. Just tuck this little guy into the inner pocket of your tuxedo jacket, and you're ready for a quick nip whenever and wherever you need. The silvery grey leatherette is more durable than real leather, so the flasks will look new for a very long time. The contrasting black engraving ensures the personalized text looks sharp and sophisticated.
6. Personalized Whiskey Stones & Rocks Glass Set
Being there on your big day is an incredibly personal experience, so thank your groomsmen with an equally personal and unforgettable gift like this engraved rocks glass and whiskey stones set! Whether you're sharing drinks at the bachelor party or raising a glass at the reception, this classy set of groomsmen gifts is the ideal way for you and your boys to celebrate your wedding!
7. Watch Case Gift Set of Groomsmen Gift Ideas
Groomsmen already have a lot on their plate, so make their lives easier by ensuring they're just as ready to party as they are to stand beside you at the altar with this custom watch case gift set! This set of groomsmen gift ideas has everything your groomsmen could possibly need. The watch case will hold their watches, cufflinks, tie clip, and anything else they need to look at their most dapper while the flask and rocks glass ensure they'll be ready for impromptu toasts!
8. Vintage Whiskey Barrel – Made into a Watch
We've seen a lot of good uses for wood rescued from whiskey barrels, but this one is sure to stand the test of time. These nifty watches are made with reclaimed American oak bourbon barrel wood, stainless steel, mineral crystal glass, and quartz functionality. You can even enjoy the faint smell of whiskey when you wear it, a good excuse when your significant other asks, "Have you been drinking?"
9. All-in-One Groomsmen Gift Set
If you're wondering what makes a creative groomsmen gift, this is it. Instead of buying an individual gift get a set of gifts for your groomsmen. Combining personalized things such as a engraved glass and card with his name on it along with other fun accessories such as mini liquor bottles, morning after aspirin, maybe a bowtie or something else for the night of friends and fun that will be your wedding. This custom groomsmen set comes personalized in an engraved box and has all of the gifts ready for you to make it easy, or your can make your own DIY groomsmen set if you prefer.
10. Great European Glass Beer Stein with Flip-Up Pewter Lid
With great mug, comes great responsibility! This is a classic, yet fun gift idea for your groomsmen. Few things are as striking as this traditional European glass beer stein with the signature flip-up pewter lid. These mugs always conjure up an image of guys sitting around a huge wooden table at a tavern on the square, raising a toast to anything and everything–a moment of camaraderie we all use more of. With a gorgeous traditional monogram on the side, it's one of the best groomsmen gifts ever made.
11. Unique Bullet Whiskey Stones
Just like there's no one else out there like your best friends. There's nothing out there like these bullet whiskey stones. Your groomsmen will love having their spirits perfectly chilled from the stones. It comes with a handsome wood box and set of rocks glasses, so all they'll need is their liquor of choice. Adding in a couple of the bullets is easily the manliest way they can drink their whiskey.
12. Weekender Kit – Prepare Your Groomsmen for a Bachelor Party
Have a bachelor party planned with your groomsmen? Get them a weekender kit that ensures everyone will be their freshest for the trip. Whether you're bar-hopping, spending time outdoors, or trying to be high rollers in a casino, everyone will want to make sure that they're on their A-game when they get these awesome groomsmen gift ideas.
13. Personalized Whiskey Glass with Their Name – A Classic Groomsmen Gift Idea
Since whiskey technically can't be your best man, why not give your best man an awesome way to enjoy his own whiskey? Pair it with a bottle of whiskey and some cigars and you got a heck of a great whiskey gift for your groomsmen. These personalized old fashioned glasses come laser-engraved with his name, title, and the date of your wedding. The thick base and bubble detail at the bottom add a distinctive touch to this otherwise classically designed tumbler. Because they are made to order, you know that you are giving a one-of-a-kind gift to every groomsman.
14. Get A Groomsmen Gift to Show Off
Get your groomsmen a gift they'll take with them everywhere. This .50 caliber ammo box can be used to store tools, camping and fishing supplies, liquor, or even keepsakes they want to be sure and hold on to. This ammo can is even personalized with the title, name, and date of your choice. That way they have no excuse to forget the date of your wedding.
15. Leather Weekend Bag
Every guy needs a quality bag when they need to get away. Your groomsmen are no exception. Mahi Leather crafts exceptional leather bags that are perfect for the business trip, weekend getaway, or road trip. It's a versatile bag with expert craftsmanship. You can even have a monogram added to the bag to make it one-of-a-kind. Don't be shocked if each of your groomsmen as these in tow on your bachelor party.
16. Stainless Steel Flasks for Everyone
Take care of your entire wedding party with this groomsmen gift idea. Everyone needs a stylish flask. It's even better if it's personalized just for them. What makes these groomsmen gift ideas so cool is that you can also easily take care of your usher, father of the groom, or anyone else at your wedding who deserves a thank you.
17. The Ultimate Engraved Whiskey Set for All Your Groomsmen
Your groomsmen have been your battle buddies in life. They've been there during your toughest times as well as some of your best moments. Because they're your boys or even your soldiers, make sure you arm them as such! These personalized ammo cans are the ideal way to outfit all your best friends with the coolest groomsmen gifts! Inside their ammo can they'll find whiskey stones and two matching rocks glasses, making this set the perfect gift to help start the bachelor party off right!
MORE PERSONALIZED WHISKEY GIFTS>
18. Sonos Play 1 – For Groomsmen Who Rock
For the groomsmen who loves music, not much could be better than this portable speaker. It is wireless and will allow him to listen to music in his garage, bedroom, office, or anywhere he plugs it in.
19. Engraved Groomsmen Gift Box Set
For the groom who wants to hand out a stylish gift, but wants to give more than just one or two items, no gift set could be more highly recommended than this engraved groomsmen gift box! This is the perfect gift that they can use before, during, and after the wedding! Whether they've got their matching shades on for pictures, a celebratory cigar, or simply rock the wooden watch for years after the wedding, you can be sure this is an unforgettable groomsmen gift idea!
20. Survival Knife for the Coolest Groomsmen
Sometimes, you simply have some manly groomsmen who would like nothing more than their own personalized knife as a gift while other weddings feel like an event that needs a bit of survival equipment. Either way, you can't go wrong with this set of personalized survival knives! From cutting last-minute dangling threads off dress shirts to crazy adventures in the wilderness, these knives have your groomsmen covered!
21. Wooden Tie Clip – For the Well Dressed Man
Pretty often, the guys in a wedding party have something in common. Either they are all from the same town or went to the same college together. These mens tie clips can be ordered with either your groomsmen's initials or some other place or word that connects you. Or if you all come from different places, you can have them made with everyone's hometown or the place where you are getting married.
22. Unique Groomsmen Signs For Everyone in Your Wedding Party
What guy doesn't love a cool bar, golf, movie, whiskey, beer, etc. sign he can hang on the wall of his apartment or home? These custom signs are amazing because they are made of real wood, come personalized with your groomsmen or best man's name, and they come in over 200 styles and shapes. What's great about that is you can choose a sign that's different for each groomsmen and fits each of your unique style or interests.
23. Shoot, Drink and be Manly – 5 Piece Set of Cool Groomsmen Gifts for Manly Men
Another type of gift with undying popularity is a beer or ammo gift. These types of gifts really resonate with manly men. What red blooded American doesn't love to have a beer or shoot a few rounds. That's not saying your best man has to be a marksmen, it's the thought that counts here. What this groomsmen gift set says is man you are one cool guy, and I wanted to get you something awesome for being in my wedding. That's what good groomsmen gift ideas are all about, showing your guys you care.
24. Socks with Style
Your groomsmen are going to look sharp for your wedding. That's a given. Why not give them a chance to have a little flair too? Happy Socks makes awesome, curated boxes of socks that will add some much-needed color to your groomsmen's wardrobes. They've got a massive selection, so you can find what fits best for each member of your wedding. It will be the first time your friends have ever gleefully compared socks.
25. A New Twist on Groomsmen Gift Ideas
Asking a guy to be there on your big day is a meaningful time for any groom. He is showing who he needs by his side at one of his biggest moments. For such an event, only the classiest of gifts will do. Take this engraved whiskey set of groomsmen gifts for example. It is the ideal way to show your groomsmen both how serious you are about making your wedding special, but that you want them to feel incredibly classy too! Add in that they can toast to your wedding right away, and you have one of the best groomsmen gifts ever!
26. Monogrammed Cutting Board
You and the boys have spent years in the kitchen together. From prepping food for the grill when you were tailgating in college to slicing up cheese for hors d'oeuvres at a house party, you've done it all. Get them a gift that shows you appreciate the time you are able to hang out with them with this monogrammed cutting board. It is as tough as any one of your groomsmen and probably better looking too. Now, they'll not only have a gift from your wedding but a super useful one they'll use each time they need to make some delicious food!
27. Custom Groomsmen Gifts for Beer Loving Best Friends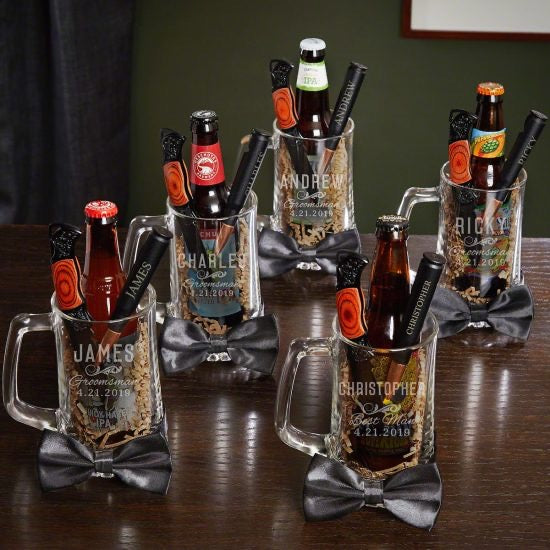 There are no groomsmen who don't want to feel as mighty as Thor when he has Mjolnir in his grasp. While a legendary hammer may not be available, this custom beer mug gift set is! Thanks to this set of 5, each of your groomsmen will get to hold onto the handle of their own custom mug and feel as mighty as the Norse God of Thunder himself! How cool is that? This whole box set comes chock-full of the top groomsmen gift ideas. Not only will they be able to take their beer gifts to the reception or your bachelor party, but they will also forever have the coolest way to enjoy a beer from now on!
28. Metal Valet Tray
As you and your friends have gotten older, you've learned the importance of keeping things organized. With a metal valet tray, your groomsmen can keep every day things that are important to them organized, on their desk or near the bedside, and most importantly, with style and panache.
29. Axe Them – Will You Be My Groomsmen?
Being a groomsman is more than just being a guy who shows up to his buddy's wedding. These men are asked because they mean something to the groom. In essence, they have an honor that he respects. Give the men you would take into battle or deep into the woods an honorary personalized hatchet as a way to symbolize just how much each of these guys means to you.
30. Custom Grill Tools for Groomsmen
Not every set of gifts for groomsmen needs to be perfect for the bachelor party, wedding, or reception. In fact, some are great for enjoying when all the festivities have come to an end. This way, your groomsmen don't feel rushed to enjoy their gift. With these custom grill tools, they can kick back and relax after the bachelor party or wedding and cook up some delicious food on an open flame. After all, there are few gifts for men that are better than one that guarantees easy and tasty BBQ!
31. The Safest & Toughest Groomsmen Gift Idea
If there is one thing that weddings bring out in every guy, it is their inner-cigar aficionado. When everyone is celebrating and at the reception or bachelor party, there are bound to be stogies everywhere. Not only are they great for the moment, but they let people relive and reflect on your wedding. Make sure that any cigars they have from here on out are as fresh as their main course was at your reception with this personalized cigar humidor. You simply can't ask for a more useful or more badass groomsmen gifts than this!
32. Comic Book Bow Tie – A Fun Groomsmen Gift Idea for Geeks
Some might say that these bowties are for the nerds on your list, but with comic book movies grossing well over a billion dollars in 2016 alone, graphic novel lovers have made their way into the mainstream. Meaning there's a good chance that each groomsman will have a vote for their own favorite superhero. Also available in Dr. Who, Star Wars, Star Trek, and any number of other geeky themes.
33. The Perfect Groomsmen Gifts for Cigar and Whiskey Lovers
Check out this epic set of groomsmen gifts! With gifts like these, your groomsmen may remember hanging out with stogies and scotch more than the wedding itself! Never before and maybe never again will they feel as classy as when they first open up their gifts for groomsmen. This gorgeous box set comes with everything they need to toast you and your lovely bride as well as for them to have a good time at the bachelor party, too!
34. Style Upgrade Subscription Service
Your groomsmen are modern men. They like to take care of themselves. Make it easy with a Birchbox gift subscription. Each member of your wedding party can tailor the service to their interests. If they're into shaving, gear, skincare, or style, they'll love having specialized items sent to their house every month. Talk about one of the best sets of groomsmen gift ideas!
35. The Classic Groomsmen Gift – Dapper Custom-Engraved Liquor Decanter
There's no more definitive choice for a handsome-yet-practical keepsake than a custom engraved liquor decanter. Ready to serve as the centerpiece of any home bar or office shelf, a high-quality decanter can turn an average bottle of whiskey into a prestigious vessel of spirits. The laser engraved monogram on the front adds creative detail without compromising the chic look and feel. Your best man won't want to stop at just one toast when the drinks are poured from this superb container.
36. Stanford Personalized Pint
A refined pint glass for your groomsmen is a classic gift idea, pair it with a couple cigars or a mini liquor bottle and you've got some cool groomsmen gifts they are sure to enjoy. This Stanford pint glass for groomsmen we particularly like, because you can easily put their title and the month and year of your wedding on it. It's ideal for enjoying premium draft beer.
37. For the Memories
Weddings are a thing to be remembered. After all, it is about two people joining together on what is likely the most memorable day of their lives. While many groomsmen gift ideas are about celebrating, get something that lets your boys remember every night you hang out, not just something memorable from your wedding. With this custom shadow box, every time you come over and enjoy a few stogies they'll be able to add a wrapper inside, making it a perfect excuse for you and the boys to still have a guys night, even years into your marriage.
If you're still wondering where to get groomsmen gifts checkout the link below for hundreds more gift ideas that you can have personalized and shipped directly to your door.
EVEN MORE COOL GROOMSMEN GIFTS >