Your wedding is planned to perfection and you got every little thing you needed including the groomsmen gifts… You did remember to get your groomsmen gifts, right? It would be terrible to forget about your friends that have stood by you for your entire life. Just because it is your special day, doesn't mean that they have to go without practical groomsmen gifts that will be a reminder of your friendship for the rest of their lives. You may ask what kind of gifts do groomsmen like? How much should you spend on a groomsmen gift? Are there traditional groomsmen gift ideas? When it comes to gift-giving it's a great idea to get them something they'll use often. So, we've put together a list of 15 practical groomsmen gifts that they will use almost every day.
Personalized Whiskey Gift Set
If you want one of those sensible groomsmen gifts that will last forever then you'll like this handsome whiskey gift set. Your groomsmen will love drinking their favorite whiskey from a rocks glass with whiskey stones so his drink stays cool and the flavor doesn't get watered down. They will never drink whiskey out of anything else.
Ultimate Practical Groomsmen Gift Set
If you want a practical gift idea for your groomsmen that speak to their characters, then this unique gift set is exactly what they need. Your best friends are men who are all about practicality and insisted that you didn't need to try to find the perfect gifts for each one of them. With this variety gift set, you're killing two birds with one stone. Not only would any of your groomsmen appreciate this set, but they'll all enjoy each piece. You can engrave each set with any three lines of text to make each one a little bit different! They'll love having a go-to rocks glass for their evening scotch, as well as a flask to bring their Crown Royal on the go with them. The lighter is perfect for having on hand when everyone gets together before you walk down the aisle to enjoy a cigar in celebration of your special day. Don't worry, there's a cool bottle opener in the set for the guys who gravitate toward beer more than whiskey. Seriously, can a groomsmen gift be any more useful?
Custom Beer Mugs – A Gift Set for Every Groomsmen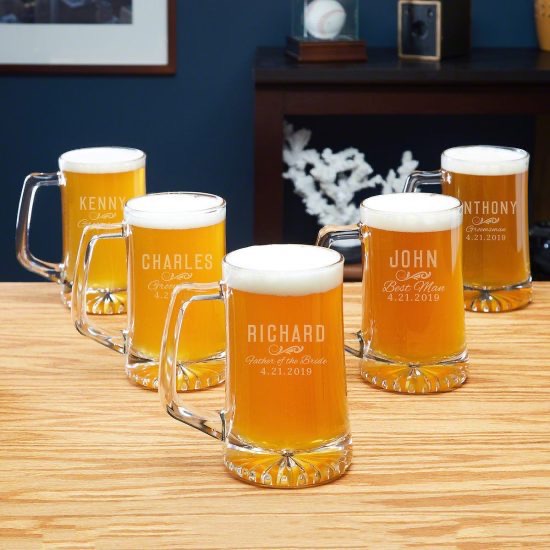 You can probably name the favorite beer of every member of your wedding party. That's why these custom beer mugs are one of those great, practical groomsmen gifts each of your groomsmen will love. Put an unopen bottle of their favorite beer in each mug when you give them the gift. This will be their go-to glassware item for every beer they drink. These matching beer mugs are great gifts for groomsmen and the entire wedding party. 
Awesome Hatchet & Ammo Can Groomsmen Gift
It's a guarantee that your groomsmen have thought at least once in their life, "If only I had an axe." Now you can finally make that a reality with this cool, sensible and custom groomsmen gift idea. Your groomsmen will love hacking away brush with the axe, drinking a refreshing beer from the pint glass, sipping their favorite liquor in the flask, and storing whatever's needed in the ammo can. This is the swiss army knife of groomsmen gifts.
Monogrammed Money Clip
You're getting married. You and your groomsmen aren't as young as you used to be. That's why these monogrammed money clips are an awesome gift idea for your groomsmen. They will appreciate ditching their Velcro wallets held together by duct tape for a classy way to carry their money and cards. With the monogrammed design, they'll never forget their money at home and leave you with the bill by accident.
The Best Gift for Groomsmen Who Smoke Cigars
Your groomsmen are classy guys who enjoy smoking cigars when you all hang out. Why worry about finding guy the perfect, practical groomsmen gift when you can get them all this one incredible gift set? It comes with a classic black bow tie that they can wear for the wedding and future formal occasions, a cigar cutter, lighter, and your choice of a greeting card. There's also plenty of room inside the box for an additional gift or two, such as a small liquor bottle and a cigar or even their favorite candies. Best of all, the wooden gift box is actually a personalized cigar box where your bros can store all of their favorite stogies instead of just having a small pack on hand at a time. This useful gift set is an homage to all of the good times you and your groomsmen have enjoyed together, including your wedding!
Two-in-One Cigar Holder and Whiskey Glass
Your groomsmen are simple but classy men. They enjoy a glass of scotch and a Macanudo after dinner as much as the next guy. They insisted that you didn't need to get them anything, but you're determined to get them a cool and practical groomsmen gift. Once they see these personalized whiskey glasses that hold their stogies, they'll be amazed. That's right, this revolutionary rocks glass actually holds a cigar. Now your groomsmen can enjoy a smoke and a drink while having a free hand to change the channel on the TV or scroll through their Twitter feed. This awesome glass is even personalized with each groomsman's name, title, and the date of your wedding. Every time they use this glass, they'll remember your incredible bachelor party and how awesome of a friend you are.
469+ WHISKEY GIFTS FOR GROOMSMEN>
Essential Beer Gift Set
Craft beer has exploded across the country, and your groomsmen have been sampling as many as they can, trying to find their favorite. This custom beer mug set will allow them to drink their carefully crafted beers in the way the brewers intended. The bottle opener is pretty self-explanatory, but it'll certainly replace all of the bottle openers your bros tend to misplace in the kitchen drawers. They won't want to lose this one because it's engraved with their name! Your groomsmen will also love being able to use the gift box as a handy place to store their watches, bartending tools, or start a collection. This set may not look like much, but it is certainly useful in ways they never would have imagined.
Cold Brew Coffee Maker – A Practical Groomsmen Gift for Coffee Lovers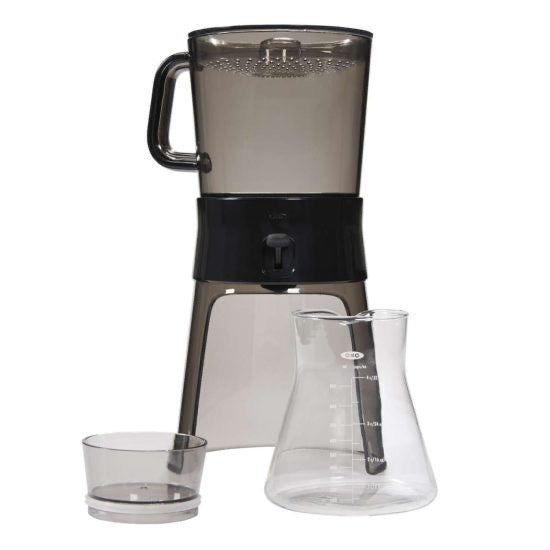 Cold Brew Coffee is all the rage. You can look in almost any direction and see someone enjoying a refreshing glass. Your grocery store has an entire section dedicated to it. Your groomsmen will love enjoying a fresh glass of cold brew coffee on a hot, summer day instead of driving to the coffee shop and waiting in an unreasonably long line. Plus, it will make sure they're at full attention on your wedding day.
Customized Groomsmen Gift Set
If you're having trouble thinking of a way to ask your groomsmen to be a member of your wedding party then you might need a handsome wood gift box that will ask the question for you. With a custom whiskey glass, a sharp black flask, a matching bowtie, and a card that says it all without leaving an option to turn you down. They can even store watches, cards, or anything else in the wood gift box.
201+ GIFT BOXES GROOMSMEN WILL LOVE>
Engraved Flask Set
Some custom groomsmen gift ideas are meant for a certain type of groomsman. If anyone in your wedding party fancies themselves a whiskey Icarus then they will love this engraved flask set. Not only can they fill the flask easily with the funnel included, but they'll also have four shot glasses ready to go at a moments notice. Pair it with a bottle of liquor so you guys have an excuse to practice giving toasts.
Leather Travel Cigar Case Gift Set
Groomsmen love to enjoy a cigar any chance they can get. Now they can make sure they'll never be without one when the occasion strikes with this travel cigar case. For sensible groomsmen gifts, it doesn't get better than this for cigar lovers. Your groomsmen will be able to conveniently store three cigars and have the cigar cutter and lighter all tucked into one sleek travel pouch. This is the kind of gift they will take with them everywhere.
Vintage Polaroid Camera – A Fun Gift for Groomsmen
Posing for a picture isn't what it used to be. Someone snaps a shot, it goes into their phone, and maybe look at one more time before they upgrade to a new phone. That's why this vintage Polaroid camera is an awesome gift for groomsmen. They can snap photos at your wedding and everyone will make sure they look their best as the flash goes off. People will be begging them for the photo or a chance to use the camera.
Personalized Wine Cellar Sign
Some of your groomsmen are bound to have a wine cellar, wine rack, or wine rack they make sure is always full so they can pair the right wine for the right occasion. If that's the case, they will love this awesome, personalized wine cellar sign to hang above their collection. With two available design choices, you can find the perfect one for their home. It's a great way to draw the eye to the wine collection they've spent so much time building.
Custom Shadow Box
Your groomsmen need a custom groomsmen gift that will tie a room together and give them something to do with their cigar wrappers besides throwing them in the trash. They will appreciate the thought you put behind customizing a shadow box that allows them to store cigar wrappers from their favorite cigars and favorite moments in their life. It's a gift that only gets more impressive with each passing year. Pair it with some of their favorite cigars to give them a head start.
283+ AWESOME GROOMSMEN GIFT IDEAS>