So it's your wedding day and your best man is really coming through for you. The legendary bachelor's party he threw left big smiles on all your groomsmen's faces, he got you to the ceremony right on time and he's ready to pass you that ring like a pro. Of course you want to thank him and all your groomsmen properly, but you have questions. How do you choose the best gift for your best bro? What makes a good best man gift for 2020, and what gifts were popular prior years like 2019 and 2018? How much are you supposed to spend on wedding party gifts anyway? Where can you find unique best man gifts? Who can personalize your gifts for you? The answers to these and many other questions are right here. So read on, you love-struck fool!
Upscale Wood Boxed Whiskey Gift Set
Who says you have to spend the same on all your groomsmen? It's ok, even expected, that you will spend a little more on your best man. He's your best bud after all it's expected. Get him something he can use for many years to come such as this handsome 100% USA made wood boxed whiskey set.
 Liquor Flask with Built-in Shot Glass for Sharing
Does your best man like to drink on the go? Is he the kind of guy who's always ready for the party to start? If that's the case then the Engraved Dual Liquor Flask with Shot Glass Set is perfect for him. Wrapped in beautiful black leather and engraved with your best friend's name, this flask is the pinnacle of class. When it's time to imbibe, the collapsible shot glass pops right out of the side of the flask like magic. He's always been there for you when it was time to party, why not help him continue his noble work?
Upgrade Him to a Manly Whiskey Set – Plastic cups are so college…
Let's face it, your main groomsman is a classy guy. He's going to have guests and he's going to want to impress them. Why not help him show off with the Oakmont Etched Whiskey Decanter Set with Square Rocks Glasses set? The jaws will drop as he pours from his personalized decanter into his own personalized glasses. And when those guests ask him where he got this luxurious set, he'll remember you and the big day he helped to create.
Only the Best Gifts for Your Best Man
Your best man is your best bro, and he deserves a nice gift as a thank you for being by your side all this time and on the most important day of your life. This awesome whiskey gift set is perfect for your best bro to kick back and relax with a quality glass of whiskey with his significant other or a friend! After all, wedding planning can be pretty exhausting and he just threw you the most incredible bachelor party. This thoughtful, relaxing best man gift is something he'll be able to enjoy even after you're well on your honeymoon!
Cool Fly Fishing Rod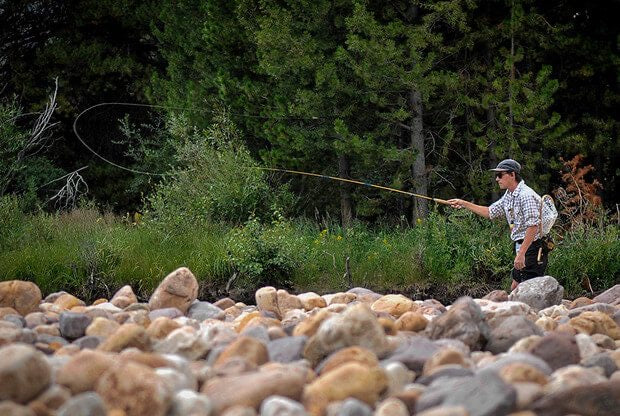 What is a good gift for the head groomsman who is also the ultimate outdoor adventurer? A fishing pole, of course! And not just any fishing pole will do for your advanced fisherman buddy. He needs the challenge of fly fishing, the manliest of fishing styles. The Tenkara Rods Mini Sawtooth Fly Package collapses to a mere 13 inches so it can easily be carried to the remotest of fishing holes. Even if he's not the outdoor type, this rugged gift will make him want to be. Show your best friend that you're not afraid to invest in his outdoor survival. Let him know he's the manliest of men. Those fish won't stand a chance.
All-in-One Personalized Gift Box Set
Show your #1 groomsman he's truly awesome with this personalized gift box set. Including a flask, a bowtie, and matching personally engraved box and glass, what more could your best friend ask for? In fact, consider getting one for every member of your groomsmen party.
A Gift Set for The Outdoorsy Guy
One of the reasons why you and your best man grew so close is because you both lead active lives. Show him his adventures have just begun with this black Spec Ops gift set. He can take his favorite drinks with him everywhere with the insulated tumbler. He can have an impromptu mixer with the matching flask. He can even take all of this when he goes camping with the tactical knife in hand. It has everything he needs for a comfortable adventure by the campfire or a Man versus Wild style excursion.
Customized Bar Sign for Your Best Man
Get him something that he will remember long after the wedding is over, and is infinitely more memorable than a shot glass. These personalized bar signs are handmade of maple wood and personalized with his name make a cool best man gift that will last for years. I mean, what groomsman doesn't like to drink?
Help Him Keep Time – Personalized Wooden Watch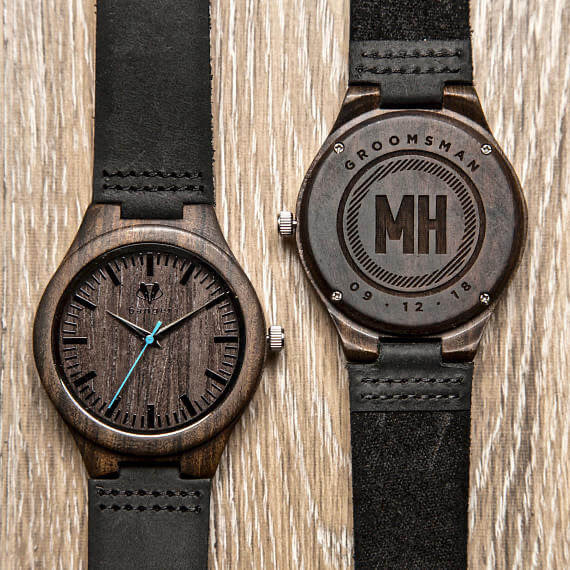 You need a gift that's a bit more practical. One thing you know for sure, you're going to want your best bud to be on time on the big day. This personalized wooden watch literally has his name engraved right on it. Made from sandalwood and with a striking leather wristband, he'll have no excuse for tardiness.
Engraved Steel Growler Set – So many uses…
This stainless steel growler set is just what the Dr. ordered for your entire wedding party. This unique best man gift is not only a great idea for hauling home craft beers it's also great if he wants to keep anything hot or cold. Beer, coffee, soda, wine, water, you name it, set is perfect for taking beverage with you on the go, hiking, biking, walking; really anywhere you travel.
Personalized Hatchet Makes a Unique Gift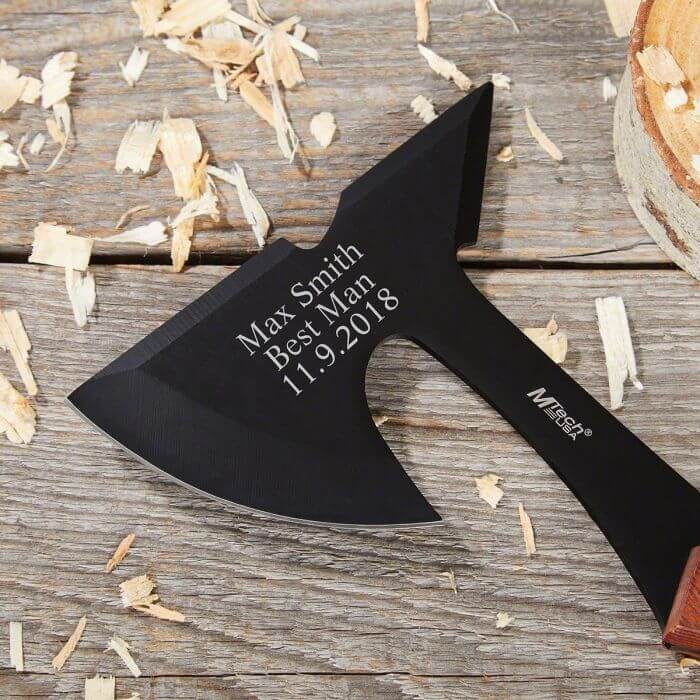 Why not give him a present that he'll never forget? Well, nobody ever forgets a hatchet. It cuts, it slices, and it has your right-hand man's name right on it. With The Personalized 9 Inch Hatchet with its natural pakkawood handle and imposing black blade, nobody will get in his way as he delivers those rings to you and your bride. It'll be the gift that everyone talks about.
The Ultimate Best Man Gift Set
Can't decide what to get your best bro? This unique gift set is absolutely perfect! He will be so surprised by the personalized flask, whiskey glass, and watch case that he'll be speechless when you give it to him at your wedding reception. You could make this unbelievable gift even better by putting a new watch in the watch case or including a bottle of his favorite liquor!
Classic Groomsman Gift Your Best Man Will Love
Your best man loves to bring his own beer to parties, cookouts, hanging with friends, the lake, road trips, and more! Make sure he's always prepared to bring his favorite six-pack securely and with ease with a sturdy wooden beer caddy! He'll definitely never accidentally break one of his precious bottles of beer ever again thanks to your great gift, and he will love that it comes with an attached bottle opener and is even engraved with his name. This classic gift for your best man would be even better if you filled it with his favorite beer before giving it to him!
Custom Ammo Can Cigar Set – Gift Idea for the Manly Man
What's the perfect gift for the guy who loves to smoke a good cigar and shoot guns? Give him a gift set that as unique as your friendship. This ammo can gift set for cigar lovers makes an super cool best man gift idea. It comes engraved with your best guy's name on it, year, and phrase of your choice. Pop a couple mini liquor bottles and some cigars in the gift can and you've got everything he needs for a night to remember. 
Headphones He Can Jam Out To
So your closest friend is a music lover. We suggest the Symphonized Wireless Wood Headphones. For late at night or on an airplane, these headphones will let your best friend know that you cared enough to say thank you with the gift of music. With their noise canceling, bluetooth functionality and sleek wood finish, he'll be in sonic heaven for years to come.
257+ AWESOME BEER GIFTS FOR GUYS  >
You Can't Go Wrong with the Essential Best Man Gifts
Whether your best man is the kind of guy who has a glass of whiskey every evening or only has it when he's out with the guys, he would love to have his very own whiskey glass and a set of whiskey stones! This set is a great thank you gift for your best man to give at your bachelor party or the rehearsal dinner, and would be perfect for all of your groomsmen too! He will enjoy using this set all the time, especially if you pair it with a bottle of nice whiskey for him to try it out with!
A Gift Set with a Little Bit of Everything
It's not easy choosing a great gift for your best man. He deserves an awesome gift that shows how grateful you are for having such a reliable friend standing by you on your wedding day, but you're not sure what to get him. Why not get him a gift set that has several gifts in it? This unique gift set has a little bit of everything: a custom rocks glass, a flask, bottle opener, and a lighter, all in a matching personalized gift box! How awesome is that? It even has room inside to include a few sample bottles of liquor, a bow tie, a couple of stogies, or even a new watch if you want to go the extra mile!
Beard Oil – for the Bearded Man
Your best man should have a soft beard. It should smell nice, too. For these simple reasons, this Beard Oil will be the perfect gift for him. The ladies will love the aroma of coffee and chocolate and he'll be able to twirl that mustache and part that long beard however he sees fit. Of all the fancy beards out there, your best friend's will be the fanciest of them all.
All-in-One Best Man Gift
Give your best man one of the most all-inclusive gifts he'll ever receive with this whiskey and cigar set! He'll know you truly value his presence at your wedding when you're helping him celebrate with a fully personalized cigar and whiskey set. You know when the time comes to break the stogies out, he'll be well prepared too! Reward the guy who has always had your back with a kickass best man gift! .
Custom Engraved Hunting Knife
Maybe we've been underestimating your best friend. Maybe he needs something more practical such as this awesome custom hunting knife.  Give it as a gift onto itself, or pair it with a fine bottle of whiskey, or a promise to take him hunting with you next season. Either way, this is a cool best man gift that is sure to find plenty of use. 
Cigar Gift Set
Struggling to find the right gift for your closest friend? Think about his interests. He may be your best man, but before that he's been your friend for many years! You know what he likes: cigars and whiskey. So get him this cool personalized cigar gift set! Not only does it come with a handy cigar case that has a handy cigar cutter attached, but also a whiskey glass unlike any other. This special glass will actually hold his cigar for him! How cool is that? Almost as cool as the custom engraving on it. Your best bro will love everything about this awesome gift set.
Modern Sunglasses For Every Occasion
Everyone wants to look their best at all times, whether they admit it or not. Your best man is stoked that your wedding gives him the excuse to wear a tuxedo or a high-end suit that normally collects dust in his closet. Now he just needs a pair of sunglasses that will accentuate his style and work for everyday life afterward. Shadyrays wooden sunglasses blend a modern and classic approach to sunglasses that make them perfect for taking photos for your wedding or for a day at the beach. They offer several different varieties, so you could even get some for your groomsmen while getting a special pair for your best bro.
Celebrate with Cigars
You can't celebrate your nuptials with your groomsmen without cigars! Your best man will need this awesome cigar and whiskey gift set to toast to your wedding and enjoy a celebratory stogie or two before you walk down the aisle. He will enjoy using the cigar glass so much that he'll want to have a cigar and a glass of whiskey every night even after the wedding! Make sure you put a couple of stogies in the set before you give it to him at your bachelor party or the rehearsal dinner so that he can enjoy his gift right away.
Custom Scotch Set – for a Legendary Man
Some men are smarter than others, some men are cooler than others, and some men are truly legendary. For those few legendary best men like your wedding party only one gift will do. We present the man, the myth, the legend, scotch and bourbon gift set. Ideal for serving a set of two, hint, hint, you and your best man! This set is going to look amazing sitting on his shelf or bar cart, and even more amazing when he pours a tall glass of his favorite scotch into it.
This Year's Hottest Gift
Get your best man a gift you know he'll flip for! Sorry for the pun, but as a fellow man, you know he is going to be so pumped to have his very own engraved grill gift box. All of his grilling tools will finally match and he'll have the best-looking display box for them too. You two have spent hours cooking and eating together, keep that awesome part of the relationship going with a best man gift that is sure to make him want to cook even more
Custom Ammo Can – Manly and Infinitely useful
Ammo cans are infinitely useful, not only can they store ammo, they can be made into coolers, speakers, lamps, you name it, someone has done it. More practically you can turn this into a cool best man gift by engraving his name on the ammo can and then filling it with a bottle of his favorite liquor, photos of your mischief or a million other things. It's the perfect gift for guys in so many ways. 
Beer is Always a Good Idea
There's nothing like an ice cold beer with your bro. Your best man is always down for chilling with a cold one, which makes this custom beer mug gift set the perfect gift to thank him for being there for you at your wedding! He will love having a large, hefty mug just like the ones at his favorite bar to use at home, especially since it has his name on it! The next time you come over for a beer, his custom beer mug will be the first thing he'll reach for.
Hopefully this humble list will help you find the perfect gift for the friend who's been there with you for it all. He stood by your side on your big day, the least you can do is send the guy a proper best man gift.