Dads are notoriously difficult to shop for. It doesn't matter what occasion, either your dad tends to say "I don't need anything" or "I don't want anything" when you ask him. Luckily for you, we tracked down plenty of the best gifts for your dad so that you're prepared for every occasion this year! The best dad gifts are those that show your dad how much you love and appreciate everything he does, but they're also something he likes! Before you start scrolling, think about your dad's favorite hobbies first to get a better idea of what would be the ideal gift for him. Whether you're here for Father's Day, his birthday, the holidays, or another special occasion, we found plenty of amazingly good dad gifts that he will love!
The Best Dad Gifts for the Father Who Loves His Stogies
Whether your dad is the kind of guy who enjoys a cigar every evening or just indulges in them on special occasions, this classy gift set is one of the best dad gifts you can give! Perfect for any occasion, this cigar gift set is ideal for celebrating his birthday, Father's Day, Christmas, and more. He will be so amazed by the awesome cigar-holding whiskey glass that he will want to use it all the time just because it's so cool and unique.
The Ultimate Dad Gift
Yes, that really is a set of barbecue tools shaped like golf clubs! This awesome novelty gift combines your dad's two favorite hobbies: golfing and grilling. He will get such a kick out of this gift when he first sees it, but he'll end up loving the tools once he tries them out on the grill! Once he shows it off to his golfing buddies, they'll all want a set too! Best of all, this good dad gift is perfect for any occasion because no matter what time of year it is, dad is always ready to grill!
The Sweetest Gift for Your Dad
Want to give your dad something so amazing that he might just cry when he unwraps it? This thoughtful personalized wood sign is perfect! Once your dad has regained his composure, he'll want to hang it up in his office or in the living room for all to see his greatest accomplishments in life: you and your siblings. Seriously, this sweet sign is one of the best dad gifts you can give, so make sure you pitch in with your siblings and get it as a group gift so that you don't outshine their gifts!
The Best Dad Gifts For the Dad Who Enjoys Beer
Dads and beer go hand in hand, especially when it comes to your dad. He enjoys trying new kinds of beer, which makes this tasting set the ideal gift for him! The set comes with four different types of beer glasses that are designed for the most popular types of beer: IPA, craft, stout, and pilsner. Thanks to their unique shapes, each glass will make his beer taste better than it would in a standard pint or in the bottle so that he can enjoy it to the fullest!
His Own Poker Set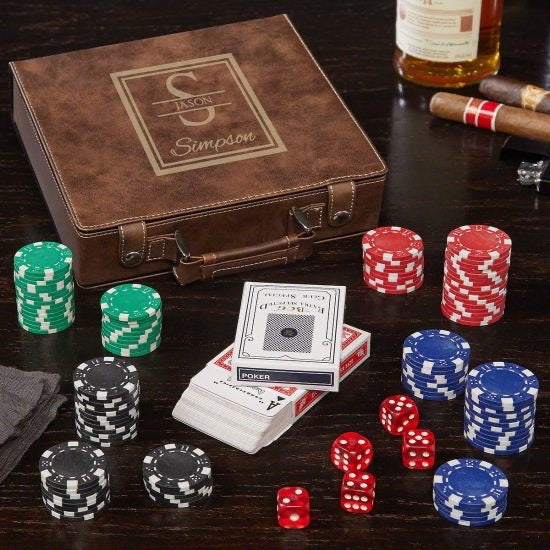 Does your dad enjoy the occasional game of Texas Hold 'Em or Seven-Card Stud? With his very own custom poker set, he can round up his friends for a weekly poker night! He will love having a conveniently portable chip set that he can take anywhere he goes whether it's on a business trip with some coworkers or to his buddy's house. This is one of those really good dad gifts that works for any occasion from Father's Day to Christmas!
489+ BOX SETS AND GIFT BASKETS FOR DAD>
All-in-One Record Player
All dads love to listen to music, whether it's on their records, their radio, CDs, or even cassettes! This incredible vintage-style record player also has a built-in Bluetooth, radio, cassette, and CD player. That's right, he can enjoy any type of music he wants thanks to this amazingly good dad gift that lets him enjoy his favorite tunes in any format.
The Ultimate Set of Gifts for Dad
Looking for the best dad gifts you can possibly find? Well, you found them! This badass ammo can gift set has it all: beer glasses, a nifty bottle opener, a flask, and a repurposed ammo can that was once used by the US military. Your dad will enjoy using each and every piece in this incredible gift set from beers with you at home to using his ammo can to store his favorite tools! Every time he uses one of the items in this gift set, he'll be reminded of you and how you've always said he's the world's best dad. You can't get any better than that!
Take His Golfing Anywhere
Your dad loves golfing and tries to go to the green as often as he can, but sometimes he ends up stuck at home or in the office due to weather or a busy schedule. Make sure your father can keep his putting skills honed with this amazing portable golfing set! He can take his favorite hobby wherever he goes to practice in his free time thanks to your amazing gift. This nifty set is one of the best dad gifts for Father's Day, Christmas, or to celebrate a promotion at work!
Essential Decanter Set
Whether your dad's liquor of choice is whiskey, tequila, rum, or gin, one thing is certain: the best way to store and serve it is in a decanter! This handsome personalized liquor decanter set is perfect for any type of spirit, and it will look great on display in your dad's office at work or home. He will love having his very own custom rocks glasses, too, to serve himself a scotch on the rocks or a Gin and Tonic. Just make sure to include a bottle of his favorite liquor with your gift so that he can pour it into the decanter right away!
Good Dad Gifts for Fathers Who Like Their Whiskey
Is your dad the kind of guy who likes to come home after work and pour himself a glass of bourbon or scotch? Make his relaxing routine a little bit more enjoyable with his own custom rocks glasses and a set of whiskey stones! This unique gift set is perfect for a double shot of his favorite whiskey or a Whiskey Sour. Best of all, he can use the wooden gift box the set comes in to store the glasses for safekeeping or use it to store all kinds of keepsakes!
The Ultimate Thermostat
Everyone knows that dads love their thermostats. It's only natural that they would want the house at the perfect temperature at all times to avoid unnecessarily high bills! With the Nest Smart Thermostat, however, your dad won't have to adjust it constantly. In fact, the Nest learns and adapts to the environment and his routine so that it automatically changes the temperature before he gets home from work or when a sudden cold front comes through. Seriously, the Google Nest Thermostat is one of the best dad gifts of all time!
Have a Beer with Your Dad
Dad loves to kick back a cold one, especially if you can join him! With this custom beer mug set, you and your father can enjoy a couple of beers like you would in the pub, but in the comfort of home. The large, hefty beer mugs allow for more beer, for one, and they're actually designed to insulate your brews so that you can enjoy it at the perfect temperature until it's empty! Your dad will love having his very own bar-style beer mugs, especially since they have his name on them!
Upgrade His Grilling Tools
Sure your dad probably has a set of grilling tools already, but does he have a set as nice as this one in a personalized case? Then get him one for Father's Day! These practical, good dad gifts are sure to be thoroughly used whether he's cooking up steaks for the family at home or bringing the set to a friend's for a cookout! After a few years of use, he'll want the same set all over again!
Every Dad Needs a Beer Growler
Whether your dad enjoys craft beer or he's into making his beer at home, he needs a growler! This beer growler set is essential for any dad who likes beer because the growler can be taken to a local brewery and filled up with a craft beer to enjoy at home or on the go. For the home-brewing dad, he can store his homemade beer in the UV-resistant growler to keep it fresh or take it anywhere. The fact that he'll have his very own custom pint glasses to enjoy his beer in makes this amazingly good dad gift even better!
A Special Gift from His Daughter
This thoughtful gift for your dad might just make him tear up once he sees it because it's just so sweet! Even though you're all grown up, your dad still sees you as his precious little girl, and this custom decanter set will remind him that he will always be important to you no matter what! Whether it's for Father's Day or as a father of the bride gift, this sweet decanter set is something he'll treasure forever.
637+ WHISKEY GIFTS YOUR DAD WILL LOVE>
The Best Dad Gift Ever
Whether he's a new dad or a well-seasoned father with his own repertoire of jokes, this hilarious book of Dad Jokes by Jim Chumley is a must-have for any dad! When you give it to him on his birthday or Father's Day, be prepared to stick around because he'll start reading them aloud right away! By the time he finishes the book, he'll be a full-fledged comedian with a lifetime of new dad jokes to entertain everyone in the family with.
Good Dad Gifts Like This are Hard to Come By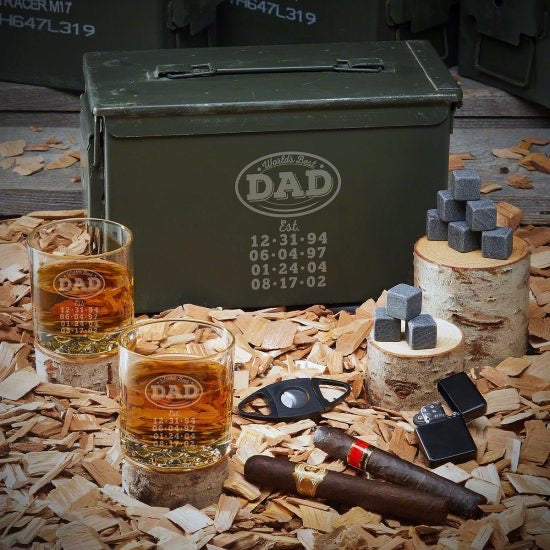 There's nothing like a refreshing glass of whiskey after a hard day's work, and your dad deserves to relax on his special day! With this awesome ammo can gift set, he'll be prepared for a cool glass of bourbon as well as his next project at work or home! The handy ammo can is great for storing anything from tools to fishing equipment, and he'll always have perfectly chilled whiskey thanks to his custom rocks glasses and whiskey stones. Plus, he'll have his trusty lighter and cigar cutter ready to go when he feels like treating himself to a cigar.
Make Dad Feel Like a Legend
Besides a case of his favorite beer, one of the best gifts you can give your dad is this kick ass beer gift set! He will feel cooler than Keanu Reeves with this custom set, and he'll want to make sure everyone he knows sees it! The insulated growler is great for bringing his beer to the lake or a friend's house, but it can also be used to bring home plenty of craft beer to enjoy in his custom pint glass. This incredibly good dad gift set is sure to make your dad feel like a legend on Father's Day or his birthday!
Dad's Own Cigar Lounge Sign
Does your dad enjoy a stogie now and then? Step up your usual box of his favorite cigars by adding this fun personalized sign to your gift! He will get a kick out of the fun design, and will thoroughly enjoy having it on display in his office for everyone to see. From now on, if someone dares to ask him how he knows something, he can simply point at his funny sign!
Create His Own Whiskey Label
Whether he's a casual whiskey drinker or considers himself a connoisseur, every dad dreams of having his very own iconic whiskey label like Jack Daniels or Jim Beam. You can help make his dream come true with this customizable decanter set! Your dad will love showing off his "official" branded decanter set to all of his friends, as he's certain to display it prominently on the home bar or in his office.
Make His BBQ Even Better
Most dads are known for their skills on the grill, but you can make your dad a bonafide grill master with this smoker box! Using different types of wood chips or special syrups, the smoker box adds a delicious, smoky flavor to everything on the grill with ease. Everything he grills from hot dogs to steaks will be juicier and more flavorful than ever! You could pair the smoker box with a variety of wood chips so that he can try it out right away on Father's Day.
The Manliest and Best Dad Gifts
Your dad is the coolest, manliest guy you know. With this badass beer gift set, he'll feel even manlier! From the kick ass bottle opener made from an actual bullet to the large custom gift box for storing the set or keepsakes, everything in this set is practical. He'll love munching on the tasty beer nuts and knocking back a couple of cold ones when you give it to him on his birthday or for Christmas!
329+ BEER GIFTS YOUR DAD NEEDS>
A Unique Place to Show Off His Cigar Band Collection
Does your dad enjoy collecting cigar bands or has he always wanted to start? By giving him a shadow box, he'll finally have a place to put them! Cigar bands are beautiful, unique keepsakes that deserve to be shown off rather than kept away in a shoe box, after all. Your dad will love having this unique piece of decor, especially since he can watch his collection grow over time! Just don't forget to include a couple of stogies with the shadow box so that he can have a couple of cigar bands to drop in it!
Good Dad Gifts Start With His Favorite Liquor
Sure, you could just get your dad a bottle of his favorite brand of whiskey, or you could go the extra mile and get him a decanter set to go with it! He will be so proud to have this incredible decanter set on display, and he will definitely make sure to enjoy a glass of his favorite liquor from it every night! Every time he looks at it, he'll be reminded of his awesome kids and how thoughtful their gift was. Everything about this distinguished decanter set makes it one of the best dad gifts for any father who enjoys whiskey or other liquors!
Dads Who Love to Fish Need This Sign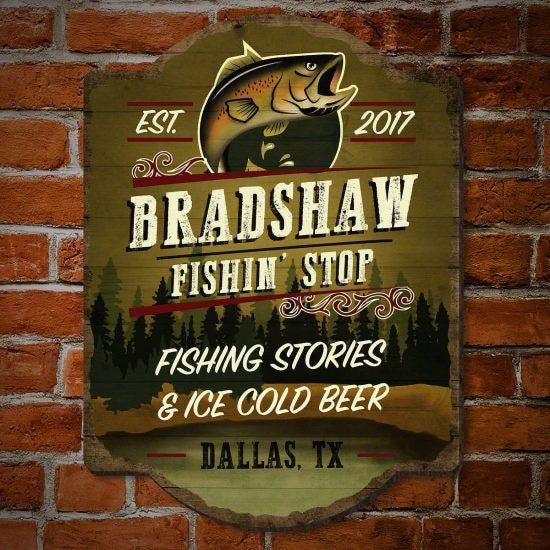 Dads love to go fishing, and every dad wants to have his very own cabin on the lake to relax at! With this custom sign, he'll be able to make his dream fishing lodge a reality, or at least have a cool piece of decor in his man cave or the garage! This custom wood sign will remind your dad of all of those fun fishing trips he took you on when you were younger. In fact, why not take him on a fishing trip and give him the sign for his birthday or for Father's Day? He'd love it!
A Quality Shaving Set is Always a Good Idea
Whether he keeps his facial hair neatly trimmed or prefers to be clean shaven, your dad definitely needs a good quality shaving set. Viking Revolution makes an amazing vintage-inspired set that he can use with any razor of his choice so that he can enjoy a great shave with the best quality product on the market. With the lathering brush, included mixing bowl, and the moisturizing shaving bar (and its refreshing minty scent!) he'll have the cleanest, smoothest shave every time. You can even give him a new shaving cream bar for every gift occasion to make sure he never runs out!
The Biggest Beer Gift Set Yet
You're here because you're in search of the best dad gifts money can buy, right? Well, what about the biggest and the best? This set has it all! The gigantic beer mug holds an entire liter of beer so that your dad can kick back and relax with plenty of beer to get him through a few episodes of his favorite Netflix show or an entire football game. He'll definitely enjoy the other accessories in this set, especially the badass ammo box that he can use to store all of his trusty tools, ammunition, or keepsakes. Everything about this amazing beer gift set makes it the best possible gift for your dad, no matter what occasion it's for!
Relaxing Gift Set for Dad
Whether you're celebrating dad's birthday or another special occasion, all he wants to do is unwind and relax. These amazingly good dad gifts will certainly help him out! This entire set has everything he needs for a tasty glass of scotch and a fresh stogie anywhere in the house, or on the go! He'll love that the entire set is personalized as it will make him feel even more special on the day that's all about him. Just make sure to include a couple of his favorite stogies and a bottle of his favorite whiskey so that he can enjoy the entire set right away!
Cute Sign for Any Dad
It doesn't matter if you're an adult shopping for a gift for your dad or a wife who wants to get something special for a father from his kids on Father's Day, this custom sign is going to make him proud! No matter how old he gets, he will always be your Papa Bear, and this personalized sign will make sure he knows that for years to come. By far one of the sweetest and best dad gifts you can get, this sign is so thoughtful that he might just shed a tear when you give it to him.