Your dad is your hero, and he deserves a Christmas gift that's as amazing as he is. Thanks to us, you won't ever have to worry about what to get your dad for Christmas again. No matter what his interests are, you're sure to find something amazing below. The best Christmas gifts for dad are typically something he wouldn't buy for himself, related to his favorite hobbies, and are a step above average. He'll be so impressed by your presents that he won't even want to open the rest of his gifts! Naturally, you have a few questions before diving in. What do you get for the dad who has everything? What are cool or unique Christmas gifts for him? How much should you spend on a Christmas gift for dad? You're about to find out. Relax, grab some eggnog, and start scrolling.
Infuse His Drinks with a New Flavor
Your dad is a pretty classy guy who always says he doesn't want anything for Christmas. Yet every year, you ask him what he wants or needs anyway. He's the kind of guy who has set routines, like a glass of whiskey after dinner every evening. One of the best Christmas gifts for dad you can give is something that will make a routine or hobby a little more enjoyable, like a smoke box system that will add a whole new flavor to his evening whiskey! This awesome gadget uses wood chips and a glass box to infuse a delicious, smoky hint to his Crown Royal. He can change up the wood chips or the whiskey to find out which combination he likes best, and he will certainly invite all of his buddies over to try it right after he unwraps this amazing gift on Christmas Day!
One of the Best Christmas Gifts for Dads Who Golf
Over the years, you've gotten plenty of golf gifts for dad for Christmas. It's his absolute favorite hobby, but you're stumped on what to get him this year. He's got plenty of professional equipment and all kinds of fun little novelty items, but surely he doesn't have a golf-themed bar sign for his home bar! After all, his friends all come over after a few rounds of golf to his place for a drink. With this cool sign, their favorite hangout will become the official 19th hole! Your dad will get a kick out of this funny piece of decor, and so will all of his friends.
A Christmas Gift From All of His Kids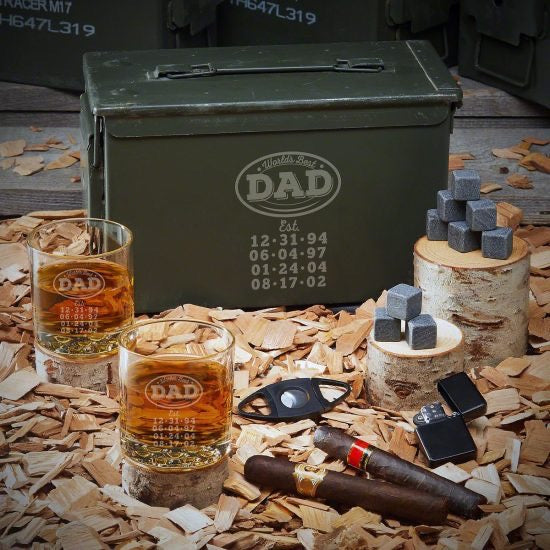 One thing is for certain: Dad will love whatever you get him for Christmas; whether it's a really nice gift that you and your siblings pitched in to get him or it's unique gifts from each of you. Naturally, you want to get him something really great, but you never know what to get your dad for Christmas. One of the most awesome and thoughtful gifts you can get him is this custom ammo can whiskey gift set! He will absolutely love having a set of proper whiskey glasses and stones as well as essential cigar accessories for his evening stogie. Once he sees the birthdays of all of his children below "World's Best Dad," he might just cry! Dad will treasure each and every piece of this amazing Christmas gift whether it's just from you or a group gift from you and your siblings.
Unique Beer Lover Gift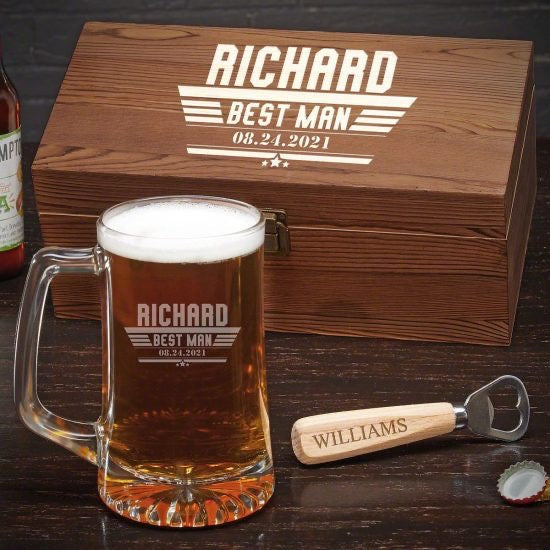 For years, your dad has had a routine of grabbing a beer as soon as he gets home from work. You've noticed that he doesn't have any actual beer glasses, so he just drinks straight from the can or bottle, but he often says that his favorite brew tastes much better at his local pub. One of the best Christmas gifts for dad is his very own beer mug gift set! The large size allows him to get a proper layer of foam, which improves the taste and aromas. He can certainly enjoy more than one beer at once, too, so that he doesn't need a refill during dinner. Dad will also love the wooden gift box, which he can use to store all kinds of keepsakes such as photographs or his prized collection of baseball cards. The bottle opener will certainly come in handy as well!
Show Him He Is Your Hero
For your entire life, you've looked up to your father. He's an amazing man who has always been there for you, and he's constantly inspired you to be just like him. You typically try to get him gifts that are just as awesome as he is, but you're never quite sure what to get your dad for Christmas. This holiday season, he will feel like the coolest man on earth with this incredible gift! The entire set boasts your dad to be a legendary guy, and he will always feel like your hero every time he uses each piece. He will love having his after-dinner drink with the old-fashioned glass and unique whiskey stones. When he's out and about with his friends or the rest of the family, his trusty new flask will always be by his side when he feels like a stogie or a sip of his favorite liquor. Everyone who sees it will immediately know that your dad is an awesome dude, and they'll certainly be jealous! Your dad will treasure this totally awesome Christmas gift for the rest of his life, that's for sure.
549+ CHRISTMAS WHISKEY GIFTS FOR DAD >
The Complete Guide to His Favorite Movies
Remember when your dad finally let you watch an Alfred Hitchcock film with him and it was the most intense movie you'd ever seen at the time? Your dad couldn't get enough of the suspenseful films, and he watches them all the time. Even in the modern day of cinematography when CGI is indistinguishable from live action, he still prefers his old black and white movies. This Christmas, give him a whole new look into his favorite movies with this complete Alfred Hitchcock guide! He'll get to read all about the intricate details, behind-the-scenes stills, and various thoughts from Hitchcock himself about each movie. It'll be like experiencing the movies all over again for the first time. This unique book is certainly one of the coolest Christmas gifts your dad will ever get, and he'll want to read about every film after watching them again!
The Best Christmas Gift for Dads Who Love Craft Beer
Your dad is a sucker for craft beer, and loves to try every new creation his favorite breweries come up with. Even if doesn't normally like the ingredients or the type of beer, he'll try it anyway! One of the best Christmas gifts for dads who love craft beer is his own beer growler and pint glass set. This way, he can enjoy plenty of his current favorite brew in the comfort of his own home! He can simply take the amber growler to the brewery, fill it up, and then bring it home to enjoy in his cool new pint glasses at his leisure. This way, he can keep watching his TV shows and lounge in his chair while enjoying the newest concoction. He'll love using the set so much that he'll recommend a growler to all of his friends and the other regulars at the brewery.
Give Him a Place to Store His Cigar Band Collection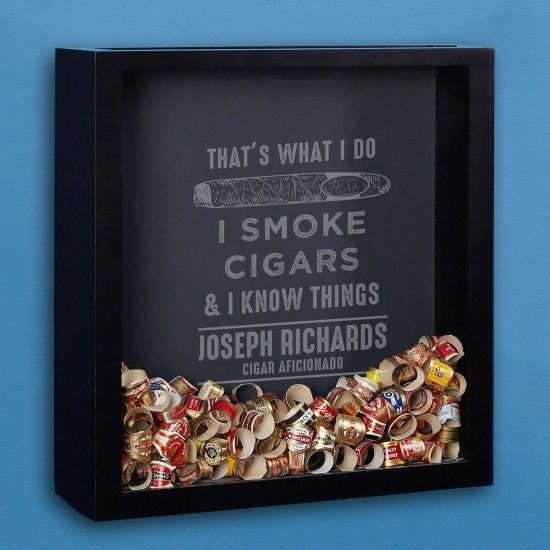 Growing up, you always associated the smell of a cigar with your dad. He enjoyed a stogie on every special occasion as well as to unwind after a long day at work in his home office. After he was done with his cigar, he'd show you the beautiful, shiny band that had been wrapped around it before tucking it away in a box where he collected them. Sometimes, you'd sneak into his office just to look at the colorful collection. One of the coolest Christmas gifts for your dad is a shadow box that will let him show off his vast collection of cigar bands! This awesome piece of decor will hold his entire collection with plenty of room to spare for future ones. He will chuckle at the cool design every time he finishes off a stogie, and will love watching his collection grow over time.
Handsome Crystal Decanter Set for His Office
Add a touch of luxury to your dad's office this holiday season with a handsome crystal decanter set! Like any classy corporate guy in movies, he will look cooler than everyone else in the office with this set. Made of the finest lead-free Italian crystal, your dad will be able to serve his clients and coworkers an excellent glass of Jack on the rocks or a sizable cocktail. The unique and hefty glasses are star-shaped, which makes them easier to grip. Dad will love showing off his handsome set whenever he gets the chance from this Christmas until the day he retires! So, whether these Christmas gift ideas for men are for your dad, or your grandpa, you know they'll use it for years!
Help Him Keep His Timepieces Organized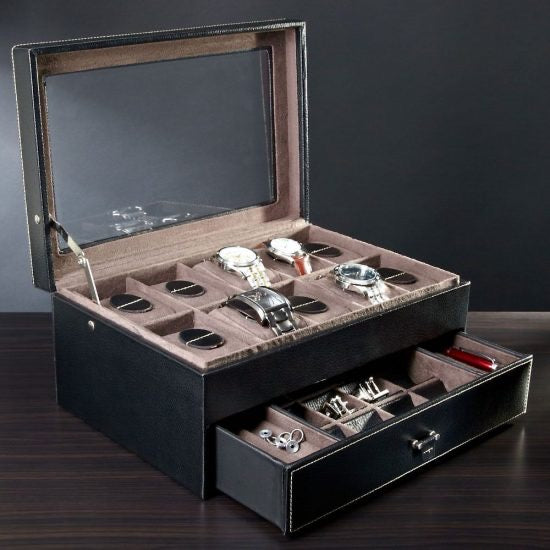 Dad loves his watches, and he has one for every occasion and every suit! However, he never keeps them all in one place. More often than not, he runs around the house every morning looking for that one specific watch he wants to wear for the day. Solve his problem with this watch organizer for Christmas! This incredible organizer will hold up to 10 watches and even comes with a drawer to keep track of his extra links, batteries, and other accessories. Thanks to your helpful gift, he'll always know where his watches are.
The Ultimate Coffee Machine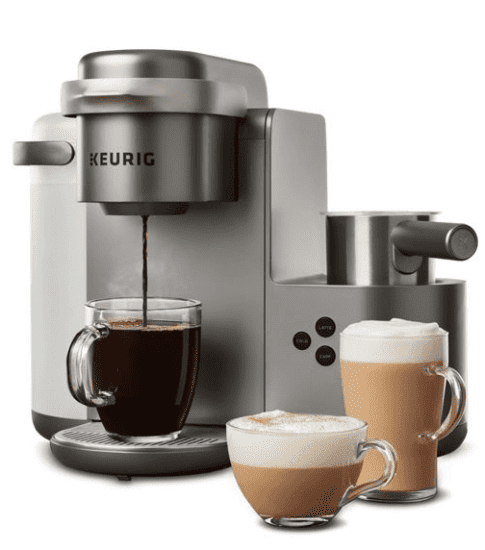 Your dad is the kind of coffee drinker who doesn't just prefer a certain type of coffee, he loves all kinds! Sometimes he just wants it black, other times he feels like a latte or an iced au lait. However, he doesn't like having to go to a coffee shop to get the kind he wants. The best Christmas gift for dads who love all coffees is the K-Cafe! A barista and a Keurig all in one, this incredible coffee machine can make just about every type of coffee concoction he desires. Never again will he have to leave home early to go to Starbucks for a latte, he can make his own at home!
Warm Him Up With a Cognac Set
There's nothing like a warm glass of Hennessey on a cold winter day. Your dad enjoys a warm brandy or cognac almost every day in the winter, and swears that it's the best holiday drink instead of eggnog. You won't have to worry about what to get your dad for Christmas any more this year, get him a cognac glass set! He will love having the proper glassware for a perfectly warmed drink. The snifters fit snugly in his palm, gently absorbing the warmth from his hand and unleashing the complex flavors and aromas. He will also enjoy the cigar accessories for his holiday stogies, which he enjoys with every glass of brandy. He'll finally be able to enjoy his cognac in all its glory thanks to your amazing Christmas gift! When it warms up again, he can store the glasses in the wooden gift box for safekeeping or use it to store his cigars.
He Might Just Cry on Christmas Morning When He Sees This
Want to give your dad something so meaningful and sweet that even he, the manliest guy you know, will tear up at the sight of it? This is it. Your dad has been your role model your whole life, and for all of your siblings as well. You all want to get him something amazing for Christmas, like this personalized sign! The moment he reads "My greatest blessings call me dad" he will tear up! This beautiful piece of decor is a very sweet tribute to your father, and he will treasure it forever. He won't even want to open the rest of his presents, he'll just want to look for the perfect place to display his new sign!
The Manliest and Best Christmas Gift for Dad
Dad is an adventurous, outdoorsy guy who has always loved to spend his free time going fishing, hiking, hunting, camping, and other trips. He enjoys bringing all kinds of tools and gadgets that ensure he's prepared for anything and everything. You usually get him something related to his favorite hobby as a gift, but you have no idea what to get your dad for Christmas this year. Worry not! This incredible ammo can gift set is perfect for him. He will love using the .30 caliber ammo box to carry his hunting ammo, fishing gear, or any other essentials he needs on his trips thanks to the super secure watertight seal. He'll certainly never leave for a trip without his trusty new tactical survival knife, which is loaded with plenty of useful features and a hidden survival kit. When he gets home, his beer glasses and cigar accessories will be waiting for him.
A New Set of Grilling Tools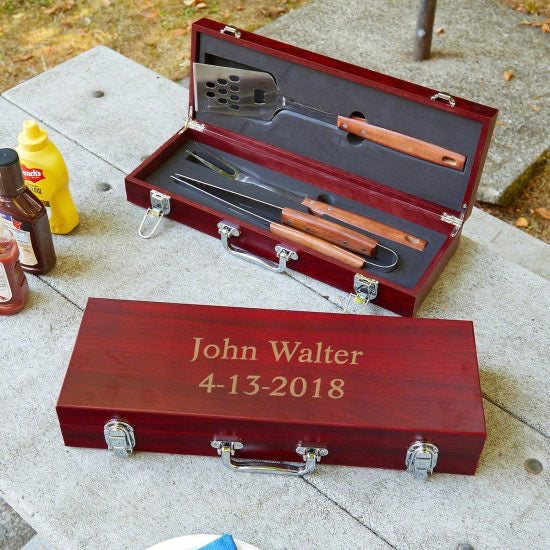 It may be winter right now, but that doesn't mean grilling season is over! Your dad loves to grill, and the weather certainly doesn't stop him from enjoying his favorite way of cooking. Since he grills so much, his tools are looking a little worse for wear. One of the best Christmas gifts for dad is a whole new grilling set! This handsome set of grilling essentials all have wooden handles and rust-resistant stainless steel, and the rosewood carrying case is simply stunning. He will love using this new set to cook up some delicious ribs and burgers to enjoy at Christmas dinner and for all of his grilling.
27+ GRILLING GIFTS YOUR DAD WILL LOVE>
The Newest FitBit
Almost everyone you know has a smart watch, and your dad has been wanting one for a while. He wants to be able to keep track of his health and fitness more accurately, but he isn't sure what model to get. Help him out by getting him the best fitness tracker on the market for Christmas: the FitBit Versa 2! This incredibly high-tech smartwatch can do it all: track heartbeat, sleep, exercise, use voice-activated Amazon Alexa, control Spotify, tracks swimming, FitBit Pay, and tracks your runs with GPS. He can even reply to texts and calls with his voice, so he hardly needs to get his phone from his pocket!
Make Him Feel Like James Bond
He's been a huge fan of the James Bond movies for as long as you can remember, and he's always tried to be just as classy and cool as 007. He's become a pro at poker, smokes cigars, and drinks only the finest whiskey because of the series. Make your dad feel like Bond himself with his own custom poker set and the coolest whiskey glass he's ever seen! This suave poker set comes encased in an attractive faux brown leather case that he can take everywhere to play a game with his friends or coworkers on the go. At home, the first thing he'll reach for after work is the awesome cigar-holding glass.
For the Dad Always On an Adventure
Is your dad always going on outdoor adventures such as camping, hiking, hunting, and fishing? You usually get him new camping equipment or survival tools as Christmas gifts, but he said he doesn't need any more! You don't need to worry about what to get your dad for Christmas anymore, this set is the answer. Inspired by his outdoor excursions and love of relaxing at home, your father will absolutely love every piece in this gift set. While he's on the go, his new tactical knife will always be by his side because of its many useful features and hidden survival kit. He and his buddies can enjoy a tasty cigar to celebrate a successful hunting trip with his new cigar cutter and lighter, or he can just use them once he gets home to accompany his tale about his recent adventure. As soon as he returns from a trip, the first thing he'll reach for is his large personalized beer mug so that he can cool down and relax with an ice cold beer.
Show Off His Favorite Beers
Speaking of beer, your pops has been all about it for as long as you can remember. On your 21st birthday, he took you to his favorite craft brewery to introduce you to the many different kinds of beer. Since then, you two have enjoyed going to various bars and breweries together to sample beers. Sometimes he brings home a souvenir from a particularly good brewery, such as one of the brewery's coasters or the bottle cap from the beer itself. For Christmas this year, give him a way to show off all of his favorite beers with this unique bottle cap collector sign! He will love coming home with a new piece to show off to everyone and watch as it fills up over time. When he's filled it up, you're going to need to get him a new one or a shadow box so that he can continue his collection!
The Best Christmas Gift for Dads Who Love Whiskey
Is your dad more into whiskey than beer? Don't worry, you can put down that expensive bottle of bourbon. One of the best Christmas gifts for dads who love whiskey is this ultimate tasting set! This complete set of whiskey glasses comes with the five most popular tasting glasses that all have unique effects on the liquor. Starting from the left, the Canadian Glencairn is designed specifically to enhance the complex flavors of Canadian whisky with its curves. The square old-fashioned glass is perfect for its namesake cocktail or an after-dinner shot of whiskey. The Glencairn glass is the most popular tasting glass in the world for its delicate hourglass design, which delivers the most flavorful and aromatic experience every time. The double old-fashioned glass is perfect for doubles of scotch on the rocks or a sizeable cocktail. As for the snifter, its bowl-like design helps improve the aromas of whiskeys and cognac. Plus, he gets a set of whiskey stones and a handsome wooden gift box to store the entire set in when he's not using it. Whether your dad is just getting into whiskey tasting or has been a connoisseur for some time, he will love having a complete set of whiskey tasting glasses.
Vintage-Inspired Record Player
Any father with a love of music says "back in my day, we used cassette tapes and vinyl records" every time he has trouble working a modern music-playing device. He's got an old record player, an even older stereo that plays CDs and cassettes both, and you've tried time and again to help him master using Pandora or Spotify on his phone. Give him the ultimate vintage music player for Christmas that plays it all! This incredible 7-in-1 music player comes loaded with a 3-speed turntable, cassette player, CD slot, radio capability, Bluetooth connection, auxiliary input, and even a headphone jack so that he can listen privately. He can finally get rid of his old music players that he's had to keep repairing for years thanks to your incredible Christmas gift!
For the Dad Who Loves His Stogies and Bourbon
Your dad is a classy guy who loves to come home from work to a glass of Seagram's and a Romeo y Julieta cigar. They're his two favorite things to help him relax, and he enjoys them just about every evening. The past few years for Christmas you've usually gotten him a new bottle of his whiskey and a pack of stogies, but you want to get him something different for a change. Look no further than this awesome cigar and whiskey gift set! The perfect upgrade to his evening routine, your dad will be able to enjoy his Seagram's in the coolest glass ever with a set of whiskey stones. The unique glass can actually hold his cigar for him, how cool is that? Now he can puff and sip in one hand while reading a book or flipping through TV channels on the remote with the other! His routine will be even more relaxing than ever thanks to you.
The Coolest Bar Cart
Dad has been wanting a cool home bar for a while now. All of his buddies have one in their homes, but your dad just hasn't gotten around to building it yet. Help him get started this holiday season with a vintage globe bar cart! This incredibly cool piece looks like an antique globe at first glance, but the globe itself opens up to reveal a storage area for glasses and liquor bottles. There's additional storage at the bottom of the cart, too, so that his guests have options. Plus, it has wheels so that he can move it around the house if needed. Once his buddies see his new bar cart, they'll be the ones who are jealous!
A Dad Joke on a Cutting Board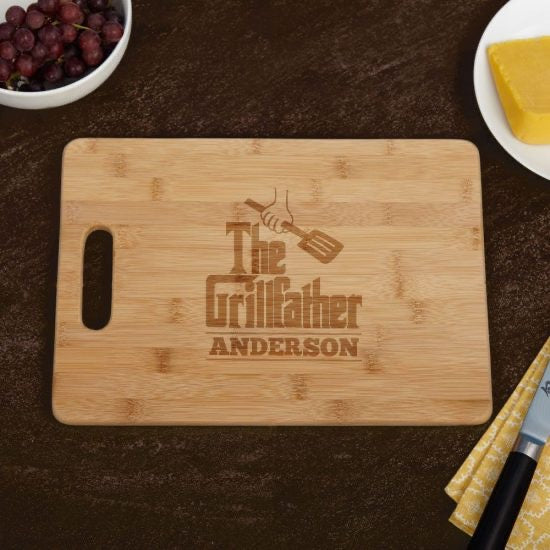 Does this totally awesome cutting board really need an explanation? It's a clever dad joke about The Godfather, being a dad, and grilling. What's not to love? Your dad will laugh every time he uses this hilarious bamboo cutting board for his grilling preparation. He'll certainly show it off to every single one of his friends, who will all want one too! Any punny or comedic gifts like this cutting board are always the best Christmas gifts for dads.
The Classiest Decanter Set He's Ever Seen
For the dad who enjoys a glass of bourbon and a stogie from time to time, a decanter set with cigar-holding glasses is without a doubt the perfect Christmas gift for him. He will love using the cool multi-tasking glasses, which allow him to drink his whiskey and smoke his cigar at once. He will love showing off his favorite bourbon in the classy crystal decanter on his home bar, too. This exquisite three piece set will look great in his home office, home bar, the living room, or even his man cave.
Make Sure He's Prepared for Anything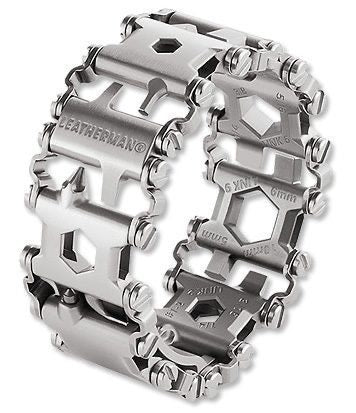 This isn't your regular old men's bracelet. In fact, it's an entire set of screwdrivers and wrenches! That's right, each link has a different tool, totaling 29 tools overall. This awesome bracelet has various types of screwdrivers, Allen wrenches, box wrenches, hex drives, a glass breaker, bottle opener, drive adapter, and even a pick! Seriously, every dad needs this amazing bracelet for Christmas. There's even a watch version if you want to make it even more impressive. Whether dad's doing a project in the garage or is on the go and needs to fix or tighten something, he'll always be prepared with this handy bracelet.
Customize a Sign Just for Him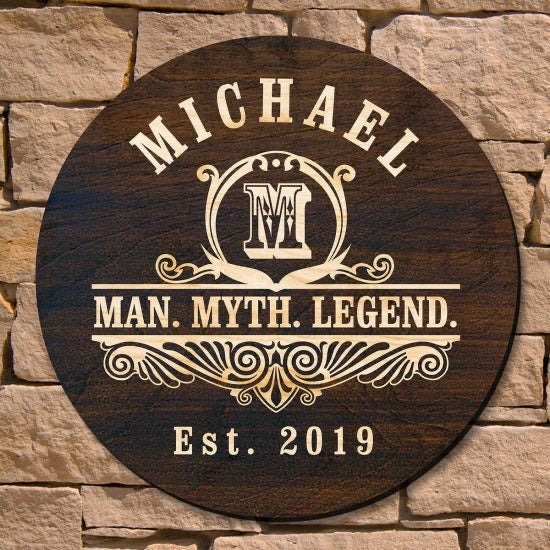 Not sure what to get your dad for Christmas? You can never go wrong with a piece of decor, especially if it's personalized! This rustic sign is totally customizable to make it the perfect finishing touch for his home bar, man cave, or a nice family sign for the entryway. He will love how creative you got with this unique sign to make it a one-of-a-kind work of art for his home.
For the Dad Who Loves Guns
For the dad who loves to go shooting at the range and compete in competitions, anything gun-related is the best Christmas gift for him. He'll get a kick out this unique whiskey set, that's for sure! The stainless steel bullet whiskey stones look just like actual bullets and will keep his after-range drink perfectly chilled without watering it down. If he feels like a beer instead, the awesome bottle opener made from a real .50 caliber bullet will help him out. Soon after getting this amazing gun gift for Christmas, he'll start a routine of having a drink with the set every time he gets back from shooting.
Give Him a Place to Show Off His Collection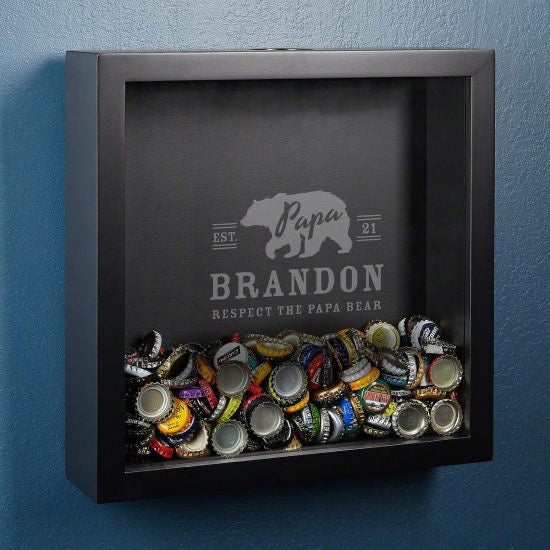 As mentioned previously, a shadow box is a great way to show off a collection of bottle caps, but they can be used to store all kinds of things. From this Christmas until the next, your dad will finally have a dedicated place to show off his collection of golf balls, ticket stubs, Hallmark cards, or just about anything else he wants! He will love the papa bear design that reminds him of when you were little and insisted on reading Goldilocks and the Three Bears every night. He will love watching his collection grow over time with this awesome shadow box. When it's full, he can empty it and start over, or you can get him another one to fill up the next Christmas!
A Unique Christmas Gift for Dads Who Drink Wine
Is your father more of a wine sommelier than a beer snob? He's an expert at discerning the amount of years a wine was aged, where the grapes were grown, and every secret ingredient in just a few sips. While he loves wine tasting, he does like to drink casually now and then, but he doesn't want to use his priceless crystal tasting glasses for those times. Solve his problem this Christmas with these stainless steel wine tumblers! Insulated and indestructible, your dad can enjoy wine to his heart's content without a care in the world. He won't worry about breaking his precious glasses, and his wine will stay the perfect temperature as he sips. He'll love the fun engraving on the set, as well as the handy corkscrew multi tool which will come in handy when he travels. Bonus: the wine glasses are easily portable thanks to their super durable double walled stainless steel so that he always has the right glass wherever he goes. He can keep the set in the included wooden gift box when he's not using them, or use the box to store all kinds of keepsakes!
Take His Grilling Anywhere
Grilling is one of your dad's favorite things whether it's cooking up steaks for the whole family at the annual holiday reunion or going camping and making hot dogs for his buddies. He's got a really nice grill at the house, but he's always wanted a portable one to take on the go so that he doesn't have to use the community grill at the campground or park. Make his wish come true on Christmas Day with this awesome portable grill! Using propane, this handy little gadget will ensure that your dad can grill whatever he likes wherever he is. It's compact enough to fit easily in the trunk along with the rest of the camping equipment and light enough to carry around.
The Coolest Beer Lover Gift
Is your dad the coolest guy you know? He's known around town as the reigning beer drinking champion for several years in a row, and he's an all around awesome guy. One of the best Christmas gifts for your dad is both beer-related and a testament to his awesomeness, like this set! He will love every piece in this incredibly cool set from the insulated stainless steel growler to take his beer wherever he goes to the pint glass that he'll use every night for his drink at dinner. Besides, you can never have too many bottle openers, and he'll be able to hang it on the wall for easy access.
Enjoy a Cognac With Him on Christmas Day
Cognac is one of the best holiday drinks because it's best served warm. Your dad loves a warm brandy after being outside in the cold weather, but he's never had the proper tools to enjoy it to the fullest. Give him everything he needs this Christmas with this complete cognac and cigar gift set! He will love using the brandy snifters to sip his perfectly warmed brandy from, as well as the cigar cutter and lighter for an accompanying stogie. After all, cognac and cigars are the best combination to warm you right up on a snow day. He'll love having a cool cigar box to store a couple of stogies so that they stay fresh for even longer.
The Best Christmas Gift for a Dad Who Enjoys the Outdoors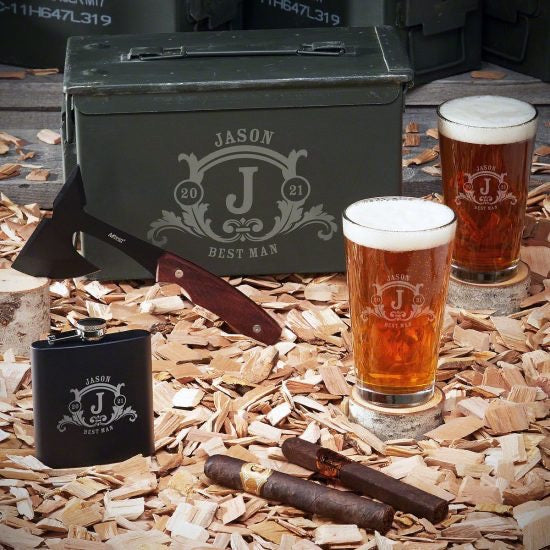 Your dad is a manly, outdoorsy guy who loves to spend all of his free time outdoors. He's not big on winter because he can pretty much only go ice fishing and skiing, and he's not a fan of shoveling snow. Cheer him up with a Christmas present all about his favorite outdoor activities that he can look forward to using when it warms up! Everything in this awesome ammo can set is manly and incredibly practical. The .50 caliber ammunition box is great for storing all kinds of things such as live rounds, fishing gear, tools, or even as a safe for important documents. He'll want to bring the flask and hatchet along on every outing so that he's always prepared to get firewood or make his own path through the woods as well as have a drink whenever he wants. When he comes home from an adventure, his custom pint glasses will be waiting for him.
The Best Christmas Gift for Dads to Share With the Family
One of the best Christmas gifts for your dad is one that he can share with the entire family. Cornhole or bean bag toss is a timeless, simple game that's great fun for all ages! That means he can teach the grandchildren how to play and break out the set at every holiday as a new family tradition for years to come. He will love bringing the set to tailgates, BBQs, parties, and family reunions too thanks to its compact size and portability.
The Ultimate Sports Fan Christmas Gift
Is your dad a huge sports fan? He goes to every game that he can and has tons of memorabilia. You usually get him something related to his favorite teams for Christmas, and this year you're going to top all of your previous gifts. Make this Christmas gift one he'll never forget by getting him three hall of fame jerseys! Any major sports fan will love receiving a mystery box that has some of the best athletes jerseys of all time!
Create His Own Whiskey Label
Any whiskey lover has dreamt of having his very own whiskey label ever since that first sip of Jack Daniels. Your dad has always wanted to get into distilling and having his very own custom label that's just as famous as Crown Royal or Jameson, but he's never quite gotten around to doing it. You might not be able to buy him a distillery, but you can put his own custom label on a cool set of whiskey stones and a double old-fashioned glass! He will love the unique western-inspired style of the design and that it's entirely unique just for him. No one else in the world will have this exact set, which will make it extra special. Who knows? This might be the Christmas gift that gets him started on his new hobby!